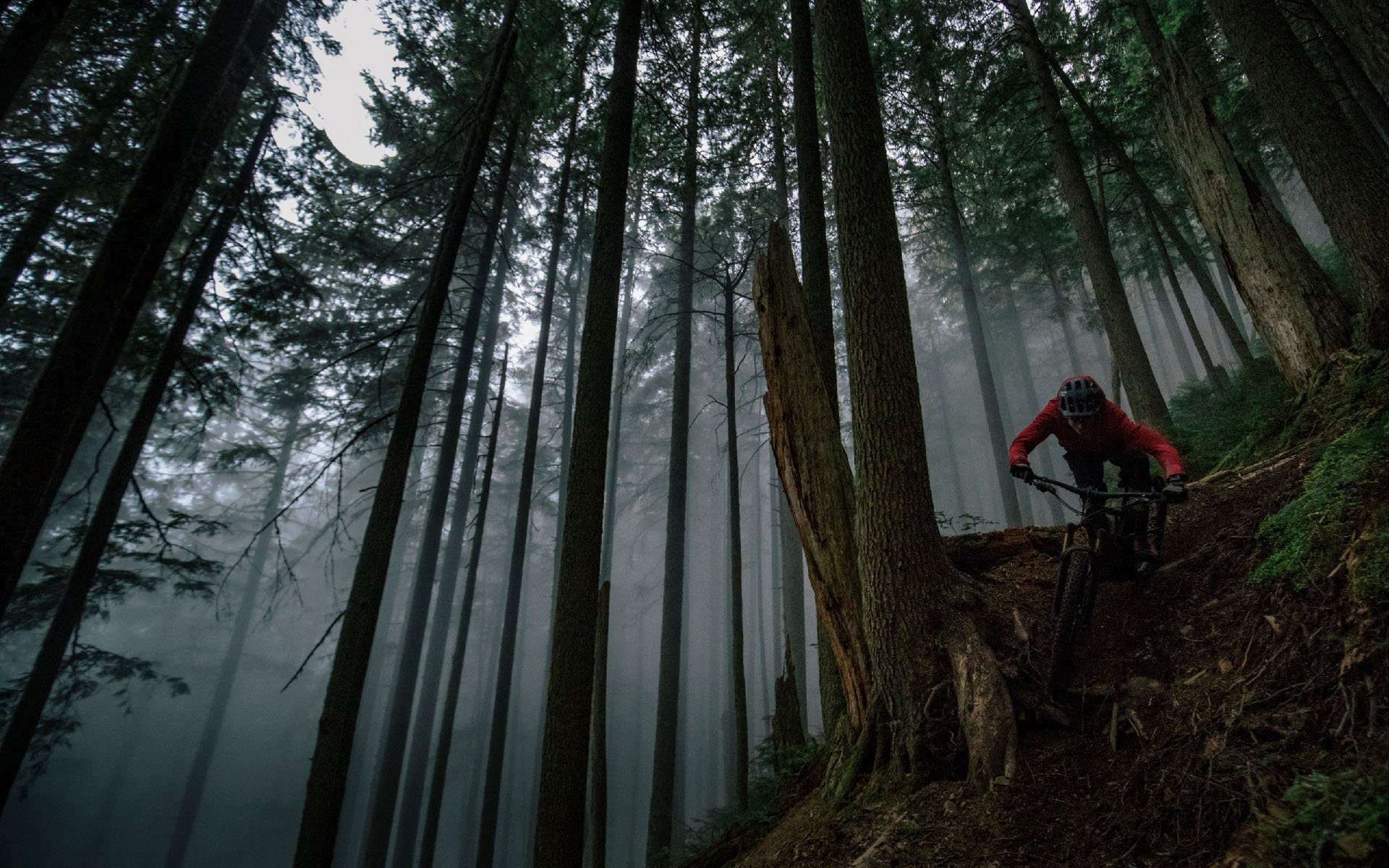 EDITORIAL
Progression and the Dreaded Plateau*
I know a few riders who are entirely content with their riding level and have no interest in either putting in the work or thought to improve, or to challenge themselves to ride harder trails and moves. I think that sort of contentment is noble and likely quite peaceful, but I'm not wired that way. I'm pretty sure if I was stuck there I'd buy a trials moto or something similar so I could get back on the learning curve. Most of the people I ride with have similar wiring and we take many approaches to clawing our way to the next level. There are off bike fitness regimens of various kinds, either yoga, pushups, or time at the gym, Youtube coaches, refinements of your setup and suspension settings, professional instruction, cornering and other drills, and of course the Visa plan; purchasing skills, or attempting to, by throwing money at parts and gear that we imagine will make us even more awesomer. I've done everything except go to the gym in the last year or so, and for the most part it was working, at least until this past spring.
*Cover photo - Adrian Marcoux
Until about 5 months ago I stayed on a relatively steady upward curve for my general handling skills and descending for more than two years. It used to be that I'd have a couple of good rides and then a couple of crappy outings, or worse, maybe 5 or 6 lousy ones in a row. Even more disheartening was the realization that I was getting a little worse every year. And then I stumbled onto a program where not only was I having a good ride almost every time out, I often had rides that were better than the last, and even some of my best rides ever.
For someone who dislikes Strava, progression can be tricky to measure but I have three good yardsticks. The best one is the most subjective but also the most important; my sensory experience on the bike. I don't think there's a way to say this that isn't cheesy, but I value becoming "one with the bike" more than I value speed, although they usually go hand in hand. There are times when I seem to be able to follow and interpret the contour of the terrain more intuitively, allowing me to float over rough sections and boost off little bumps on the trail to hit downsides. When this is happening I also feel more comfortable in the air and can sometimes move the bike in a way that warms the lump of coal in my chest. A bonus is that this give me more control in the air as well.
A result of this flow state presents another metric that is entirely objective. While I'm in that zone I see moves differently and jumps, rock faces, or drops that I didn't think I would ever do, come into focus and I start ticking them off my list. This binary sense of progression, when a move is ridden for the first time, is wickedly satisfying; there's nothing like nailing a steep chute you spent years riding around, especially when you're sure it'll be in your back pocket the next day out. The ultimate expression of this is when you ride something, ideally for the first time, and everyone else in the group walks away. It may not be great for the group ride dynamic, but those rainbow unicorn-tinted days make me feel a little special, just like Mr. Rogers used to.

I'm pretty sure if I was stuck there I'd buy a trials moto or something similar so I could get back on the learning curve.
Another relatively reliable measure is keeping up with my buddies. Among my core group, there are days when any one of us can be the fastest, and this parity makes all of us charge hard when we are together. If I'm keeping up, or more rarely, leading the charge, it may be that one of them is having an off day, but I generally interpret that as me crushing them anyway. And then I rub their noses in it over beers afterwards, just as they do to me. I also regularly find myself on the trail with riders who are much better than I am but some days I can keep them in sight for longer than usual or keep pace for short sections, allowing their prowess to drag me along on a wake of superior skill. It's remarkable how much you can learn intuitively behind first class mountain bikers.
Until the late spring, these measures were all indicating progress, and when it began to stall, it was a bit of a knock in the gnads. I wasn't sure what the problem was and aside from slacking a little on my yoga, I was pretty much following the same plan. I had made some suspension changes that hadn't been well integrated yet (more on that shortly) and I had some brake pad issues that may have contributed to me sliding back to some mediocre rides. They were always fun but the joy is tempered some when you are riding past moves, struggling to keep up, and feeling dodgy on the bike. Thanks to my recent progress, I was still riding better than I had been a year earlier but I was no longer pushing the needle and having amazing new sensations on the trail.
Luckily I had another measure of progress that I hadn't considered; the time capsule. You may have heard me mention that every summer I ride what has become my private trail in the B.C. interior. The Spanish Underpants is now behind fences, and while I don't own the land, but nobody seems to mind me riding it any more than I mind climbing over barbed wire. There was a time when trials moto riders kept it in good shape simply by riding but their access has been curtailed so I've become trail crew chief. And the intern. This year I put in a little more effort to cut back overgrown bush and grass and clear deadfall (and drag my rear tire on the way down to bed in the trail) and it paid off in spades.
Once things were cleared and I could ride it almost continuously, I discovered something about my progression. The trail is very steep and often loose and there are multiple places where you can lose control and go hurtling toward something hard and unforgiving, usually a tree. There was even a line I hadn't ridden yet. It was built by the trials riders who rode it uphill. They used to emerge from a long and treacherous shaley section and then climb the even steeper bony outcropping at the very top of the final section of trail. My normal route, and the main route in either direction, comes in below the rocky outcrop and makes a sharp left and it was still tough to control my speed through the shale. In 2020 I rode it from slightly higher than usual but was still too intimidated by the upper line but this year I made a point of checking out the top entrance and it didn't look too bad. I passed on it that first time since I was alone in the middle of nowhere but the next time I was there I rolled right up and dropped it. I hit the shale about twice as fast as I had before, but I managed to surf my back wheel in reasonable control and make the next corner about 50 feet down and the experience lit me up for the rest of the day.
It turned out that I was able to rein in the rest of the trail, including the longest steepest bits, with similar confidence. Even last year I had started to release the brakes a little more but in 2021, I felt able to charge into the maddest bits. This made me realize that even though I'd gone through a slump, the progress I'd made from the fall to the early spring had still left me ahead of 2020. I wasn't able to get a reference point riding my usual trails, but because I only rode the Spanish in the summer, the contrast was easily marked.
That's the thing about progression; once you get used to moving forward, standing still feels like being left behind. Another revelation about progression as it relates to mountain biking on aggressive terrain, is that anyone can improve at any time. With all the technical subtleties to pursue and improve, broadly relating to body position and weighting and unweighting tires together or individually, there is always something to learn. You don't need to be young and remarkably fit to get better atdropping your heels in the corners or weighting the front end when things get steep.
Progression also comes in several forms. Riding well more consistently is progress, and focussing on technique makes this almost inevitable. It's also possible to focus on one area at a time, like cornering or jumping, and you'll often find other areas improve simultaneously. A nice collateral benefit of riding better is that even though I'm riding harder trails and features at more speed, I feel safer than I did before because I'm more in control. Usually.
Thankfully it feels like my slump is over, and the solution was one you may be familiar with; lots of laps. I did a couple of bike park days this summer with my son, and more recently I did a bunch of shuttle laps on the Sunshine Coast in West Sechelt and Roberts Creek. That kind of repetition is magic for your skills and I found myself hitting some gaps that are among the largest I've ever done. In fact I left wanting some even bigger moves. I'm not talking about Crabapple hits or Fest Series, but that's how cool they felt to me.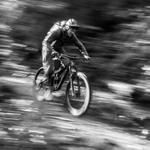 Cam McRae
Height - 6'/183cm (mostly legs)
Weight - 170lbs/77kg
Inseam - 34"/86cm
Ape Index - 0.986
Age - 56
Trail I've been stoked on lately - Boogieman
Bar Width - 760mm
Preferred Reach - 485-500mm (longer with 27.5 wheels than 29)