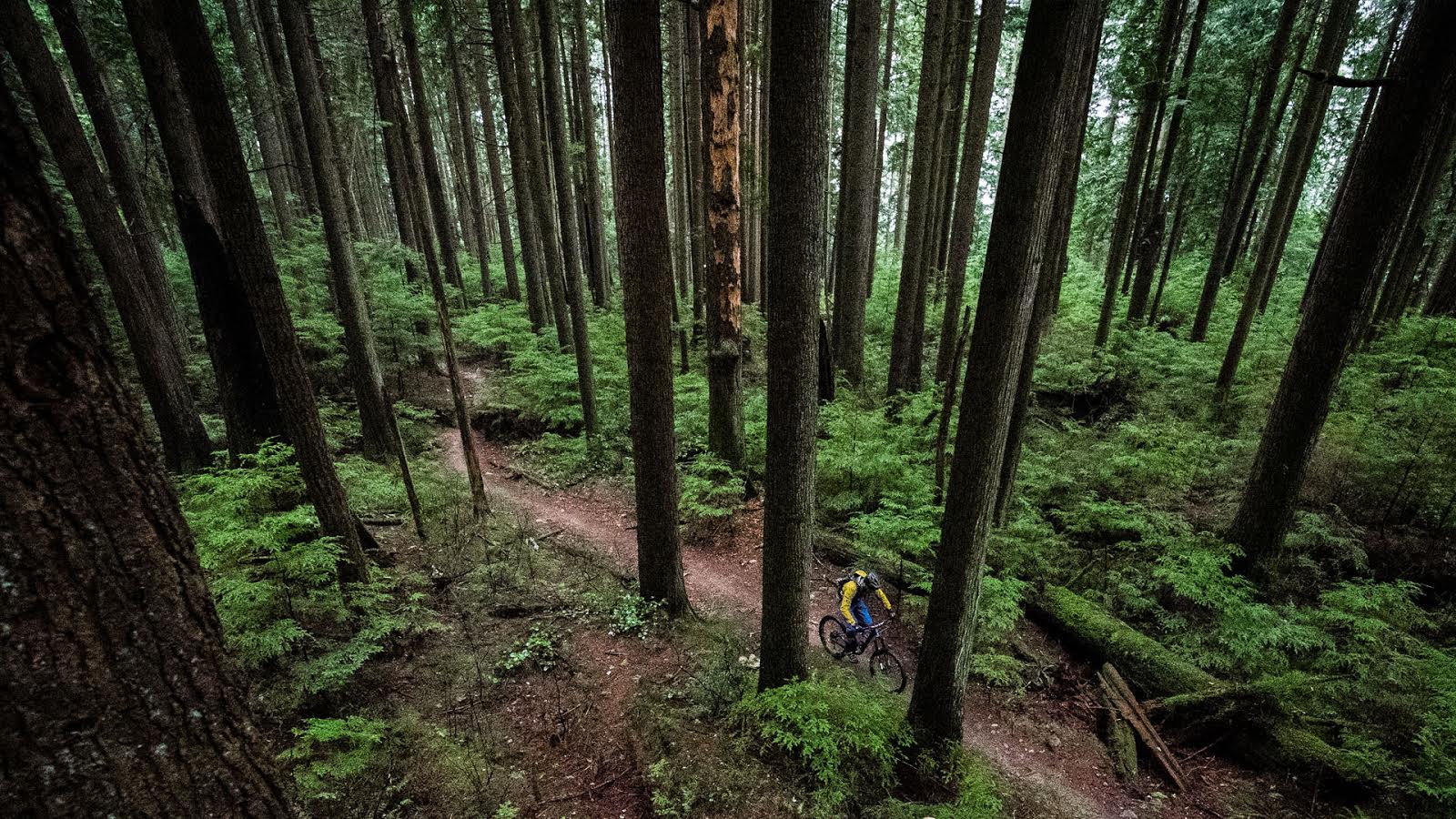 ProCore Review: For Trail Bikes
I've ridden it on the front. I've ridden it on the back. I've ridden it on the front and back. Big wheels? Small wheels? All wheels! I like it on most trails. Dual suspension and hardtails. It compliments most forks. And before this Dr. Seuss rip-off makes me look like too much of a dork: I am talking about a Schwable ProCore review on trail bikes of course.
ProCore for Trail Bikes
I am going to do my best to stay on point and focus on my trail bike (160mm travel or less) centred ProCore experiences. My intended focus is on all mountain, trail, Shore-to-Sky XC riding, or whichever term your prefer to describe riding aggressive up-and-down trails. NSMB.com resident ripper Tim Coleman will be following up with a DH oriented review and I won't stomp on his fast toes.
Tire Choice
I found that semi-reinforced casings like Schwable's Snake Skin or Specialized's Grid worked better with ProCore than thinner options. I also much preferred the livelier ride of these options to the more dead feeling options like Schwalbe's Super Gravity.
Because the ProCore inner chamber notably changes the volume inside the tire, (much like adding a spacer to the air can of your shock) I noticed right away how much more my tires ramped up as they compressed. The slightly heavier casings offered enough support off the top, compared to light weight single-ply options, to not feel too squirmy as the tire initialized.
They were also significantly easier to dial in to work well with suspension. With ProCore, I found I could adjust my tire pressure to match how my fork and shock initialized with the end result being this amazing feeling that my bikes' suspension and tires were working seamlessly.
Not for Carbon Rims
With the installation process being so easy and both 29″ and 650b kits at my disposal, I happily tried ProCore on almost every bike I could get my hands on. I say almost as some of our test bikes are equipped with carbon rims. In some cases carbon rims are too deep to function with the ProCore valve stems. Beyond that it would appear all carbon rim manufacturers are suggesting riders not use ProCore as the rims aren't designed to take the load of the ProCore bumper on the spoke bed area during a hard bottom out.
This realization was a downer for a number of riders I talked to who were looking to protect their significant wheel investments from bottom-out events.
ProCore Review: Front
I really, really, thought that ProCore would be a rear wheel specific product for me; increased traction, fewer rim strikes, and maybe even more comfort on my hardtail, enhanced wheel durability on a full suspension bike. In reference to ProCore for trail bike usage I was absolutely wrong.
With 20-22psi in the main chamber, depending on which tire I was running, and 55-60 psi in the ProCore inner chamber, there was a notable improvement in braking traction and an increase in support leaning the tire over even with running 5-7 psi less than I normally would.
I only bottomed the front tire on the ProCore a couple of times during this review. In both cases, it was a combination of a bad line choice, bad weight distribution and a bad braking moment. Bad everything. With the inner chamber set at 60 psi, there is a notable point of resistance during bottom out events but it is less distressing than the THUNK of bottoming your front rim.
One notable constant since my ProCore review began has been improved comfort on my personal hardtail. With big tires and long & slack geometry to get me into trouble, but only 100mm of travel to save me once I'm there, I tend to run my suspension on the firm side on this bike. ProCore made for a significant improvement in small bump performance and worked seamlessly with my fork to deliver great traction off the top.
ProCore Review: Rear
For the cost of a single rim replacement and rebuild, you can run ProCore on the back of your bike. The inner chamber may not save the rim from every type of hard casing event but it definitely reduces contact with my rear rim's bead even with significantly less pressure than I normally run.
Even in the case of a hard bottom, the inner chamber absorbed the vast majority of energy before any rim I was running had any contact. That's with 20-22psi in a few different tires.
Traction in loose conditions, or loose-over-hard conditions, was also notably increased. This was particularly evident on my single speed hardtail when the traction in greasy or loose conditions made up for the increased rolling weight.
ProCore & Suspension Setup
With the decreased volume inside my tubeless tires, it was very straight forward to adjust tire pressure (outer chamber) and suspension to work more seamlessly than on any non-ProCore bike I have ridden.
It isn't a weird 'two-stage' feeling but at the end of the test period, I am running less sag front and rear and a more linear setup on the fork (fewer volume spacers/oil) with excellent initial traction and a good feeling at bottom out. As with everything else ProCore related, experimentation is definitely the key to getting your suspension and ProCore setup working seamlessly. I was rewarded with better performance through tinkering.
ProCore Review: Issues
Other than the small increase in pre-ride preparation, I only had one issue with ProCore.
I once had tubeless sealant from the main chamber clog the valve which made it difficult to fill the inner and outer chamber. This was easily fixed by removing the valve core, setting the stem in its longest position – as if filling the outer chamber – and then flushing the stem with very hot water. I was careful to always fill the system with the valve stem and to leave the valve closed (in the inner chamber position) when not filling to try and prevent this issue.
ProCore Review: Buy it?
I hate flats, cringe at rim strikes and I don't mind some extra fuss and maintenance. I enjoyed the performance gains of ProCore to such an extent that I would run it front and rear on any full suspension bike covered by the scope of this review. The performance improvement offered in aggressive conditions has me recommending ProCore on trail bikes for our greasy off season conditions – if not all year.
For more info hit up schwalbe.com/procore
---
How much are improved tire support, traction, and rim durability worth to you? $275 CAD?