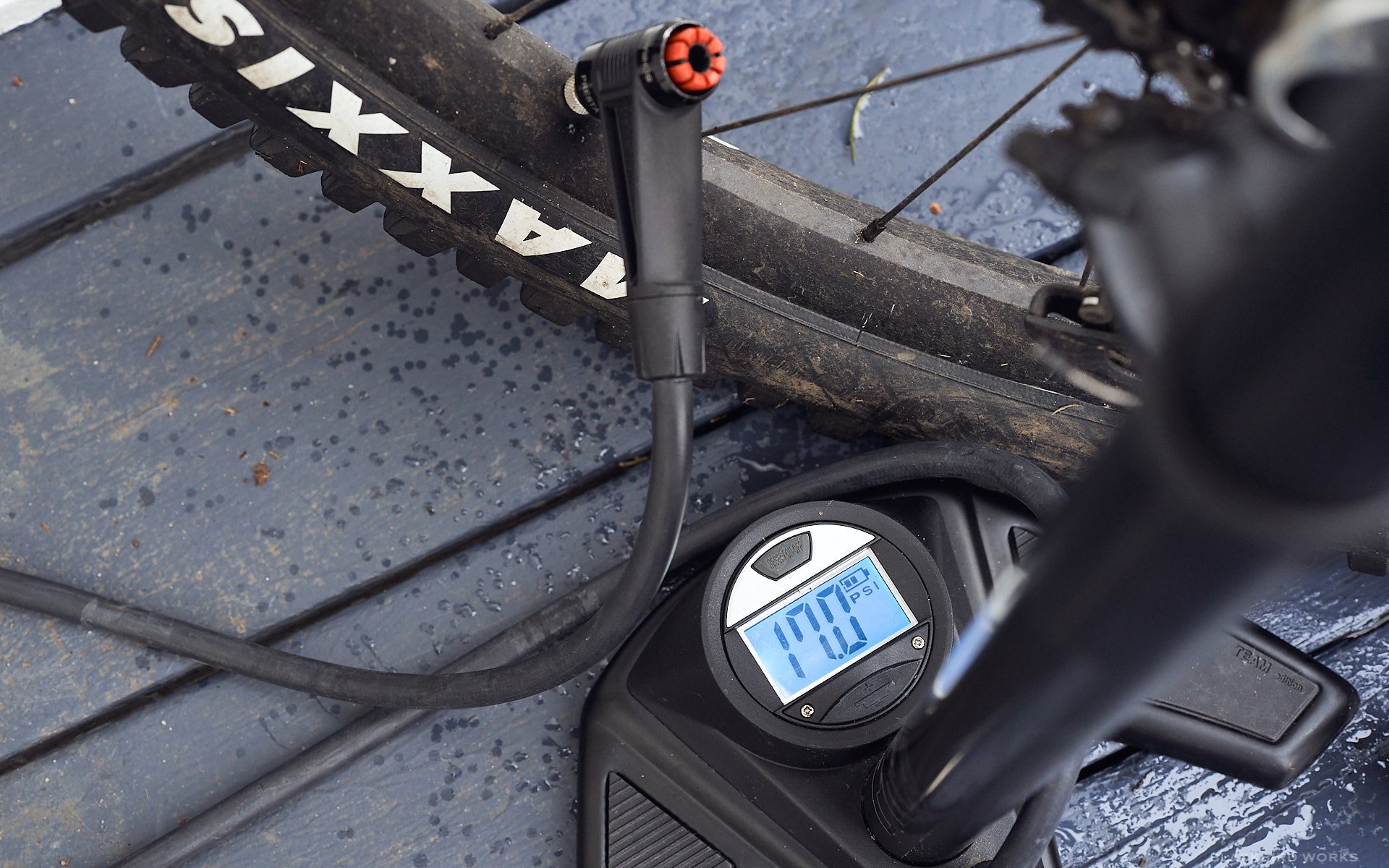 REVIEW
PRO BikeGear Home, Workshop and Trail Tools
I looked around in my bike room recently to eliminate redundancy. Also I needed to move some tools to the shed where the commuter bike lives (which isn't allowed to come inside the house unless it gets a wash and a perm).
I gathered some tools and worked out the hierarchy and the priorities. There was a very clear pattern that popped up at the end of that exercise. I use my PRO Bike Gear tools more than anything else. There is a Park Tool AW-10 folding hex set that gets a very regular workout, and a trusty 8mm for pedals that seems to be doing some overtime lately, swapping pedals between test bikes. The Pro tools have earned their keep in my arsenal so I decided to run you through what I use often and what I'd like to use more often but don't.
PRO Team Digital Pump
I won't shy away from admitting my addiction to data. Most of the time the data I am after is mental clutter that doesn't do me any good, but that's not the case with tire pressures.
The PRO Team digital pump has a wooden handle and a digital screen. Those are two of my favorite things when it comes to pumps. The handlebar-like feel of the wooden handle is always a pleasure when prepping the bike for a ride. No joke, I once used a 22.2 mm Ash wood handle as handlebars on my death-defying Urban Track Bike days in Montreal. Ash is one of the strongest long grain woods in the world that provide the best "noise cancelling" (©Andrew Major). It is used for hammer and axe handles for a reason. The experiment lasted two weeks on the bike. And not because the 500mm ash handlebars broke, either.
I want nothing but wood for my floor pump handles.
This PRO pump also delivers in the aesthetics department. The Digital display sits at the bottom of the air chamber and is backlit in a mood enhancing, blue light. The numbers are big and easy to read from a distance in various lighting conditions. Pre-dawn air ups or mid summer sun beams don't interfere with legibility.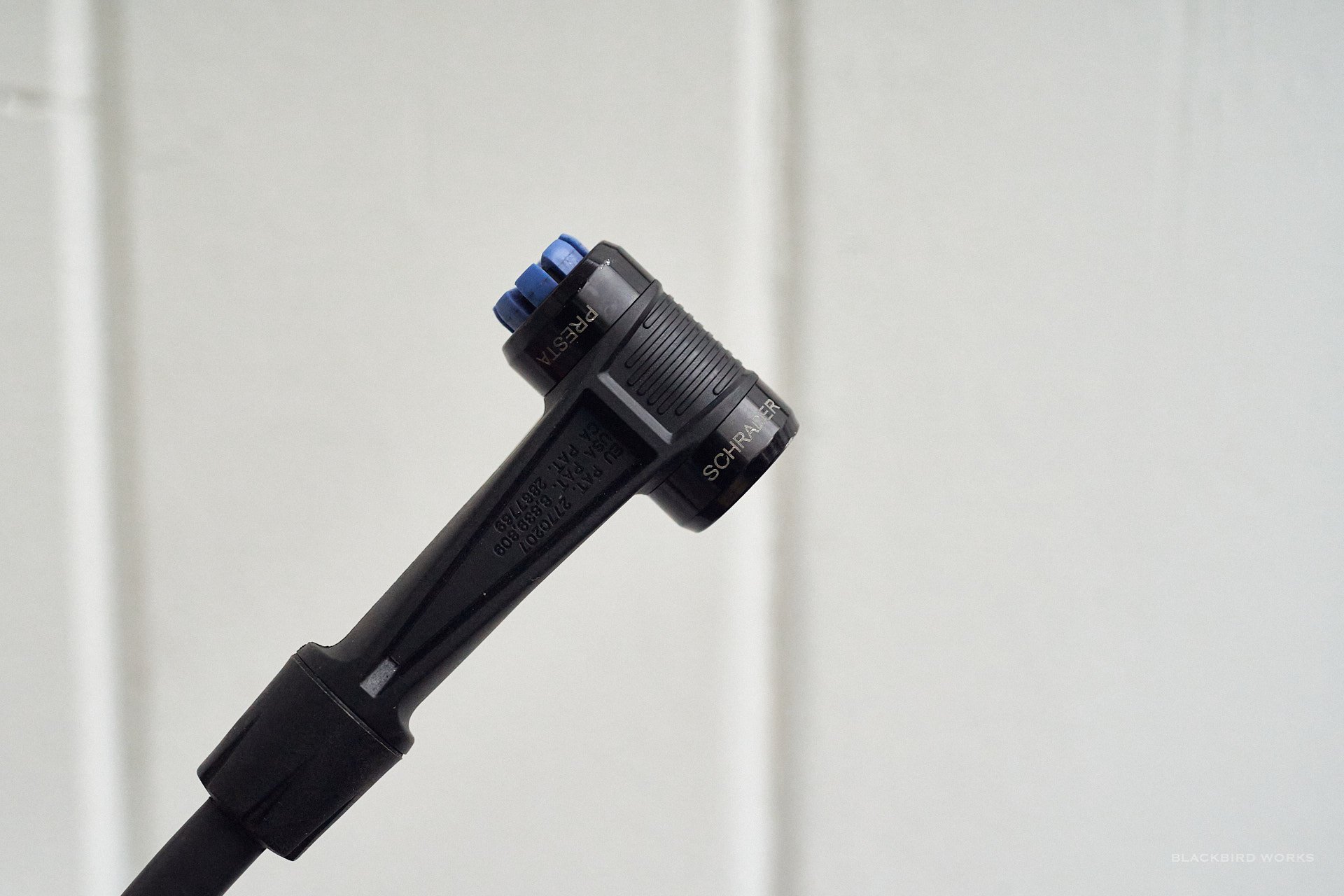 Its 2032 coin-cell battery is accessible behind the display, accessed by unscrewing 2 tiny Phillips head screws. After a year of regular use, it still shows 2/3rds of battery life remaining. The time-out for the backlight is 10 seconds and the pump goes to sleep in 40 if not attached to a valve. If it senses pressure and is giving you a reading, it stays on for as long as you keep the head attached to a valve. I waited 5 minutes for it to turn off and it didn't - and that's pretty much an eternity in tire inflating terms.
It does not however, automatically turn itself on when it senses a pressure change. I believe this would be a good feature as many digital shock-pumps have it. It eliminates a step required to get a reading and will make you use it more often. Fact! The on/off button is stiff and cannot be pressed with shoes on. A strong, shoeless big toe can turn it on with ease but I'd prefer a bigger button for a shoes-on powering up. Old backs don't like to bend over if it isn't necessary.
The PRO EZ pump head is low profile and has an interesting way of securing itself to the valve. The two-sided head has Presta and Schrader compatibility on either side. They use the same air channel, but the operation diverts the air to either side depending on which side is attached. You depress the opposite valve you want to use inwards to expose the collet-style head on the side you do want to use. Then a firm press on to the valve sucks the collets in and locks the EX head on to the valve. It does not provide a secure connection on presta valves with threadless shafts, but my experience with tubeless valves on mountain bikes has been trouble-free.
Each pump stroke pushes 1 to 1.5 psi of air into a 29" tire, which means I can be ready for a ride in about 5 pumps. However there is no air release button if I over inflate. This means removing the nozzle from the valve and manually releasing air. Not an issue in reality but a digital pump that provides a certain sense of accuracy should have a release valve on the head, which is a long way of saying that the EX head needs a revamp that includes a locking-lever design. Because we don't want Lezyne-style thread-on nozzles as they pull the valve core out at the worst possible time.
The unit's hose stays tucked away after looping over the wooden handle. The plastic keep that grabs onto the hose is not flexible enough and it damages the hose easily. I do not use it unless the pump is traveling with me in the vehicle. A softer, silicone like material on the hose keeper would improve this feature.
There is very little plastic overall in the construction of the PRO Team Digital pump. Visibly everything structural is made of metal. For about $160 CAD it is a hefty but worthy investment.
PRO Compressor Team Tubeless
The PRO Team Air tank is designed to seat tubeless tires. It can be charged with any floor pump that has a Schrader nozzle head. There is no pressure gauge on the tank itself but your pump must have one, so you can use that. Do not fear an explosion as the steel tank can withstand more than any floor pump can produce. If you did reach dangerous pressures, the relief valve underneath the will exhale the excess. This also allows you to drain the tank of moisture regularly.
I charge mine to the 150-160 psi range with a thread on Lezyne Pump. Why don't I use the PRO Team Digital pump you ask? Mostly because the EZ head design doesn't fit as securely as I'd like on the Schrader valves or some prestas for that matter. Reaching any usable pressure is difficult with this pairing. The grey air release lever has a presence yet no indicators as to whether you are charging or releasing the air. Not hard to figure out but annoying nonetheless. The steel tank is heavy and stable.
Filling up a 29 x 2.6 tire is a non-issue. The tank has enough capacity to seat and inflate a tire up to 20+ psi. But it's not a tool I reach out for everytime I need to seat a tubeless tire. It's a problem-solver for me and tires seem to seat themselves quite easily on the rims with just a floor pump these days. It is still great to have this solution in the bank; I bring it with me on road trips and it is great for blowing dust off my camera gear and debris out of linkages with a basketball needle or pool floater inflation adapter installed onto the Schrader head.
$75 CAD spent on this tank will save you a trip to the bike shop before a ride or gas station in the middle of a rain storm. Seems like a solid investment to me - if you change tires often enough to warrant one.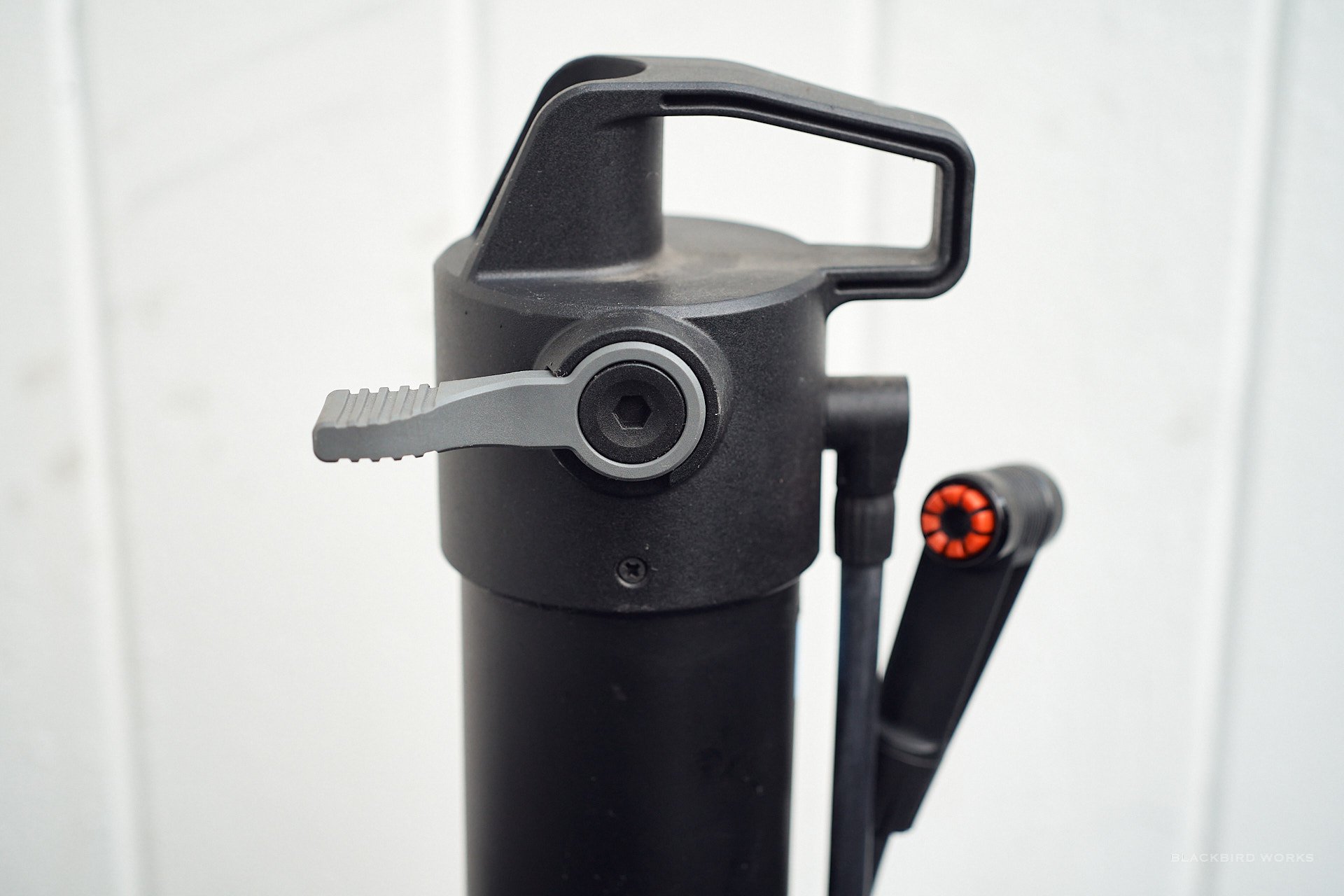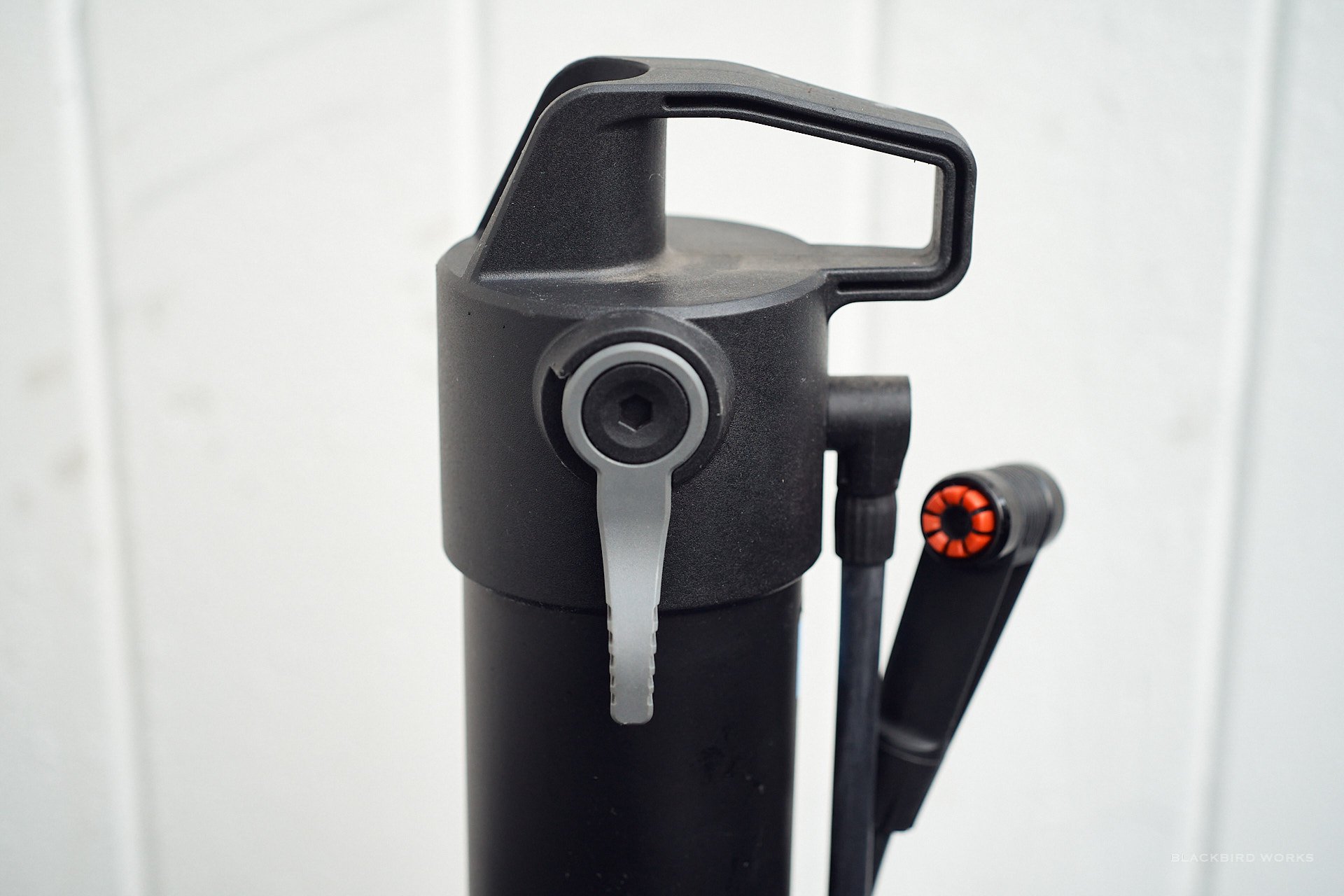 PRO MINI TOOL 22
There is definitely a lack of imagination when it comes to naming multi tools in the bike industry. But you need some sort of description in the name to give a reference of value. Just because you say it has 22 functions, doesn't mean you can't open a beer with one of its limbs, and that would make this tool a Mini Tool 23.
The name of the tool doesn't necessarily influence my purchasing decision but the industrial design sure does and just like my pizza crust, I like my trail tools to be thin. Some modularity and nooks to stash things are a bonus, too. I'd also like to see powder-coating, alloy bodies and full chrome plating on the bits. These things get wet on the regular and I don't want them rusting away.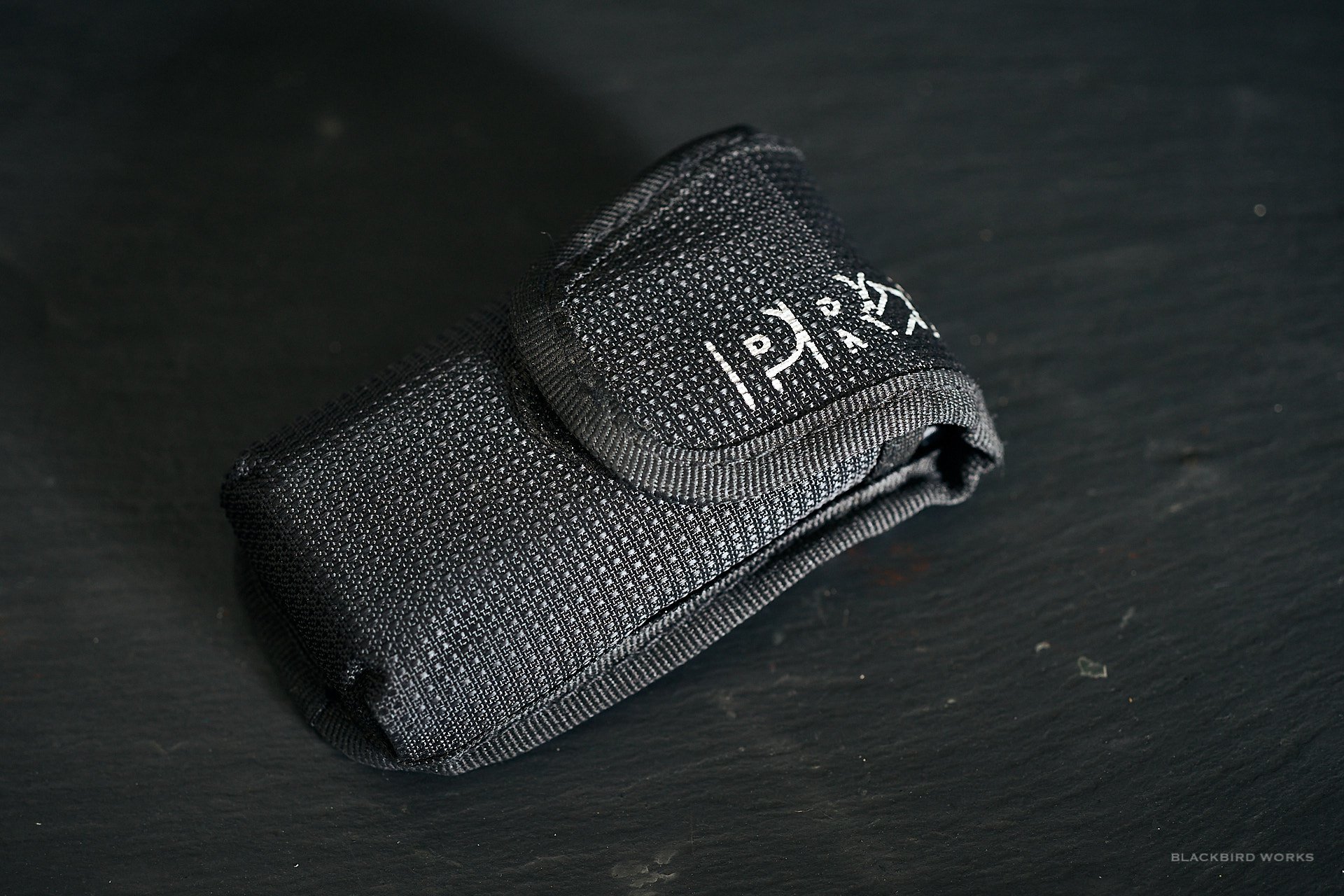 PRO's Mini 22 is my go-to tool for stashing in my bags. It lives permanently in my Evoc Capture 7 Camera bag and will get transferred to my other bags when the trip requires a different carrying solution. The pouch it comes in is handy for keeping it tidy and allows me to stash one function PRO forgot to include: master link pliers. Luckily OneUp makes a compact enough one that fits in the pouch like a glove.
Although I don't think it is designed for it, the cavity where the chain retainer wire lives is also an excellent space for a couple of 12-speed master links. The chain breaker slides effortlessly into the main bit handle and keeps everything tidy and far from the forest floor. It also seems to be shaped like a tire lever but no carbon rim surface is going to enjoy that kind of abuse. So make sure you have some plastic levers with you.
There is no integrated tire plug solution which is not a negative for me, because there are a couple of companies that make excellent and tiny tire plugs that reside in my bags already. Slug Plug and Samurai being two of them.
The PRO Mini Tool 22 is $55 CAD and it is worth every penny.
PRO Bike Gear Integrated Tool
"What a cool looking tool", I told myself and out loud, my voice reverberating off the walls. Someone at PRO was taking design cues from Sony when this tool was born: a ratchet handle that stores bits and tire levers and master links.
It has perfect form factor for holding and operating. You pull the tire levers, that resemble designer toothpicks, from the sides of the unit to reveal 5 double-ended bits that can mate with 10 different bolts. They are held in place with friction and the friction is good. Tight and secure without being impossible to remove. These bits then get attached to the ratchet driver but wait, what? No magnet or a spring-loaded ball or any sort of retention system? You turn the tool upside down and the bit falls out of the driver. Face palm!
There is a lefty, righty switch built into the driver if you want to loosen or tighten, but make sure that it's not being used for your axles because there is not enough meat in the driver for that kind of torque. The mechanism will detonate past 10nm or so. For every other bolt on the bike, this will do the job nicely.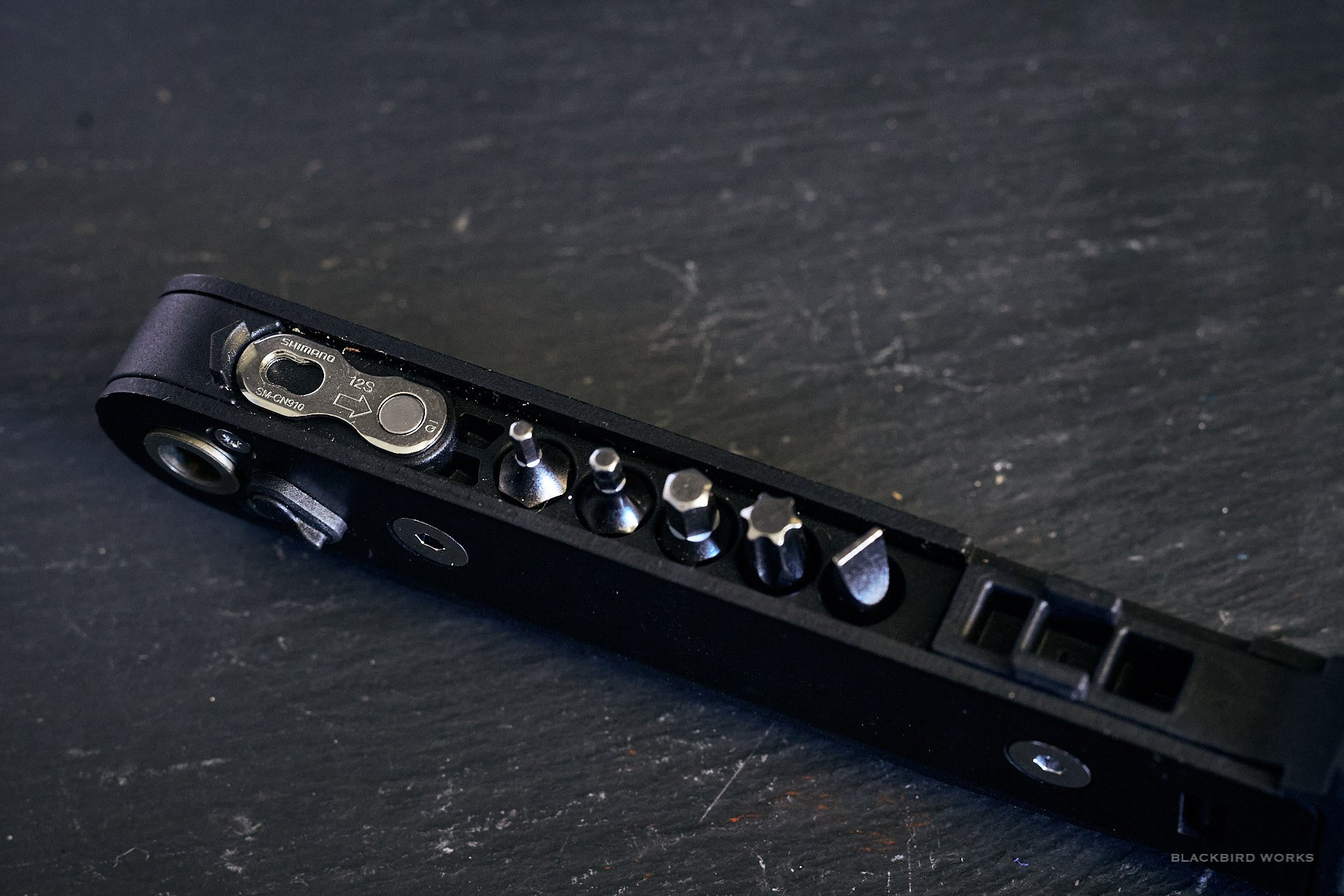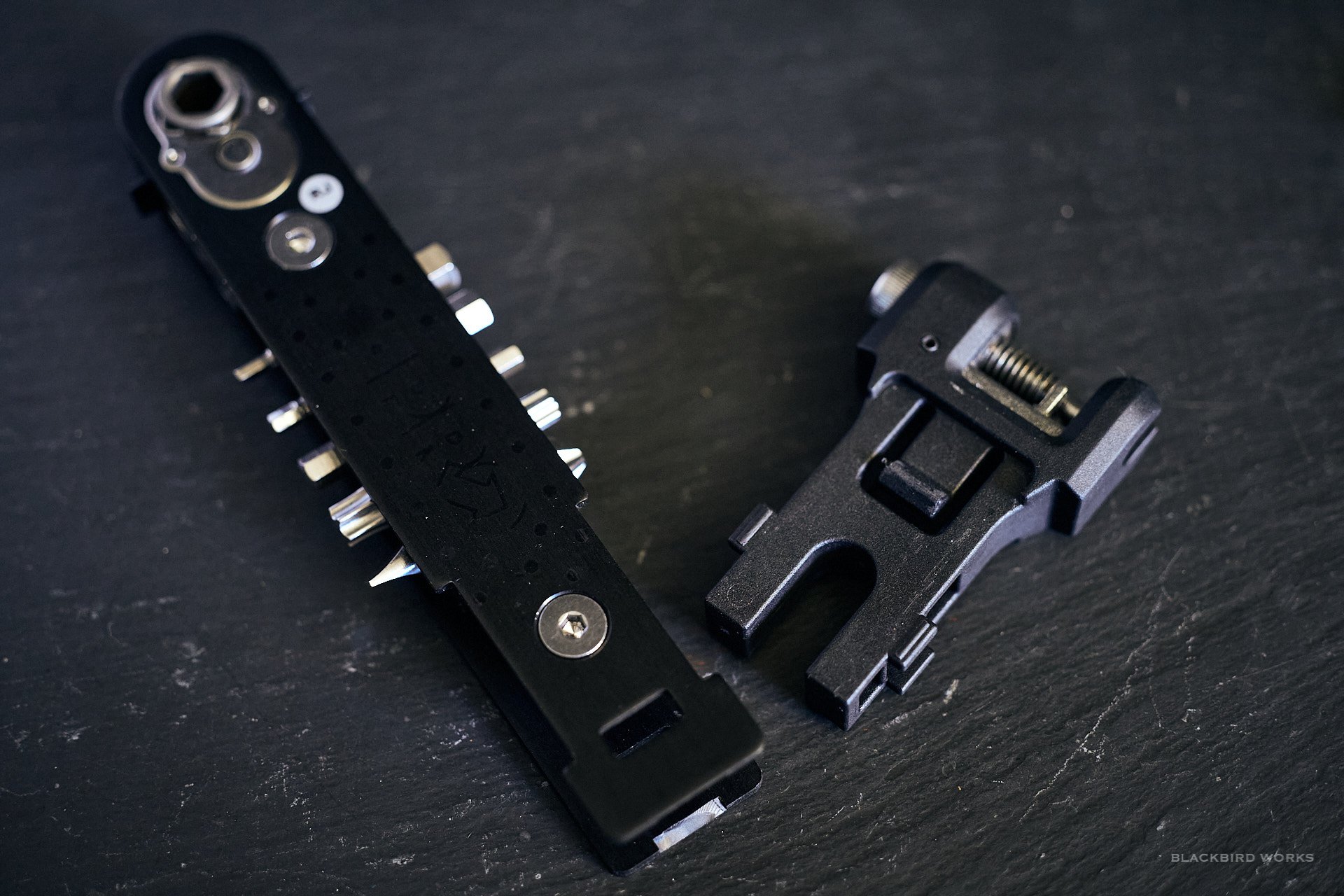 The chain breaker is neatly tucked in on the other end of the tool. But how do you drive the pin in if the bits attach on the other side? The chain tool comes off the tool with a solid yank. Solid enough that you will be afraid to break the tool while doing so. Once out, it is very small and kind of hard to hold - a rather frustrating affair but better to have the tool than not. If you have another 4mm handy, you can leave the chain tool in place and have the whole ratchet as a handle, which is the ideal form factor.
The tool itself would be easy enough to carry in a pack or a pocket, which is what I would do. But PRO went ahead and made sure that the tool mounts underneath your PRO saddle via a GoPro mount. The mount also would allow the tool to attach to bottle cage mounts or accessory mounts under top tubes of some frames.
I like the idea, but the more I think about it the crazier it sounds to have a tool like this exposed to the elements on a mountain bike. Then someone tells me that this is for road bikes. I get the joke now. And I agree that this is probably one of the nicest tools you can carry on a road bike. Maybe an off-road road bike too (gravelesque)
It costs around $65 CAD and it is a shame because although it is a great idea, it falls short on functionality.
Finally...
PRO is not a household name when it comes to tools but that does not mean they don't offer excellent value.
For the Digital Team pump, it was love at first sight for me when I borrowed one from my local bike shop. It was intuitive and delivered a great experience. It continues to do so in my household now.
The Mini Tool 22 is a great, permanent, every day carry option for anyone who needs to fiddle with bolts on their bikes. I don't have any doubt it will be in my regular rotation for a long time. Unless something better comes up and I'm not quite sold on the bike integrated options just yet.
The Compressor Airtank is a great problem solver for when you don't want to bug your already busy bike shop mechanic for a tubeless tire that is too stubborn to seat. It is so well made and heavy duty that you could jack your car up with it if you had to. Sure there are some pumps out there that will pump and seat tubeless tires with their built in air tanks, like the previous generation Bontrager Charger before they went to multi-lever operation. A simple separate air tank is what I need for most situations, so this earns its keep as well.
The Integrated tool is a tough one, as I don't see its value for a mountain biker but I am happy to be proven wrong. I like the industrial design but the functionality misses the mark for me. And that makes it a paperweight for the most part.
If you like shiny things and are in the market for a new pump or a tool, definitely give the PRO Bike Gear the time of day. You will be pleasantly surprised by the value it delivers.
Visit PRO Bike Gear.