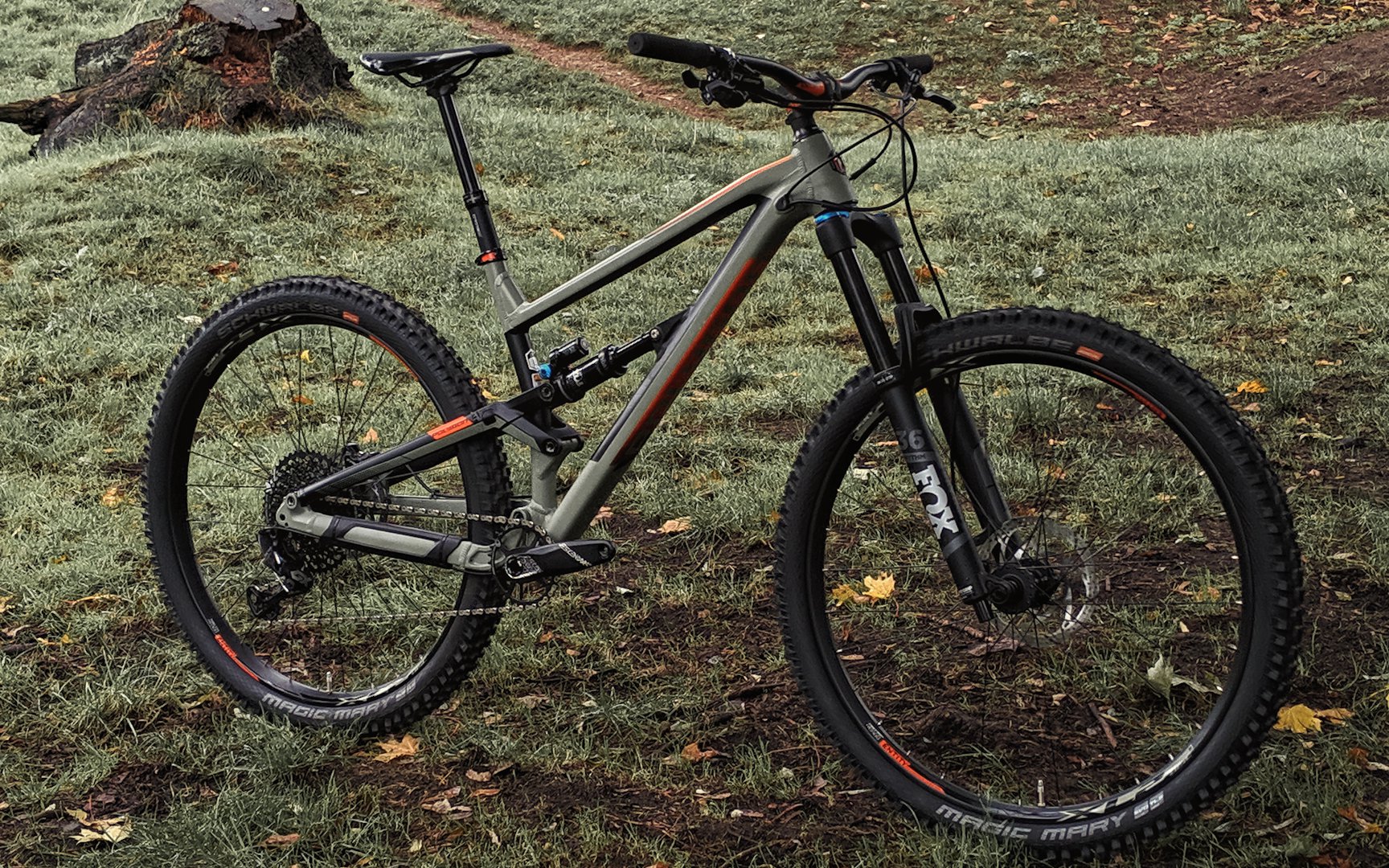 FIRST IMPRESSIONS
Polygon Siskiu N9 29er
Siskiu N
The 150-160mm travel 29'er is quickly becoming the bread-and-butter platform for medium-and-taller riders in every locale with rough, technical terrain. The current trends in suspension kinematics give them similar seated pedaling performance to shorter travel trail rigs and weight differences are more dependent on rubber than anything else. More notably, these longer-travel 29'ers have enough suspension capability to sort out the trouble their aggressive geometry will lead a rider into – an increasingly common complaint associated with long-and-slack 120-140mm travel bikes.
Polygon's answer to this category of bikes is the Siskiu N Series. Right away I appreciated the wheel size considerations with small and medium models delivering 170mm of travel and 27" hoops, and medium, large, and extra-large bikes sporting 160mm of suspension and 29" wheels. The frames look good, both in terms of paint and weld quality, and I'm always interested in testing rigs at the more affordable end of the spectrum.
It's easy to anticipate two complaints about this bike. Only slightly less notable than the lack of an in-triangle mounting location for a water bottle is that the geometry chart indicates every size is a bit short on reach and the effective seat angles are too slack, particularly in large and XL.
But what about price? With this Siskiu N9, Polygon is taking the most common path to demonstrate value, or at least the perception of value, by combining a quality aluminum frame, GX Eagle shifting, and Fox Suspension at the lowest price. In this case, it's 2800 USD for the package.
Online
Polygon is available in the USA through bikesonline.com and originally this review process was going to include a build-up experience. Bikes Online has been very successful in Australia and is up and running in the USA but the company isn't selling bikes in Canada just yet. This Siskiu N9 was delivered to me built so I can't comment on how they come out of the box for consumers.
I learned quickly that the stock grips are a terrible liability for a company relying on the average home mechanic to assemble their bikes. They are terrifying. As I discovered on my first test ride, with the lock-on clamp properly tightened the rest of the rubber grip can, and will, twist considerably under a heavy load. Luckily I discovered this torquing hard on the bar climbing out of the saddle but I can imagine more perilous situations. Polygon should either be gluing these grips in place or replacing them with a proper lock-on grip. At the minimum, a purchaser should remove the grips, spray them liberally with hairspray, and then reinstall them.
What You Get
After swapping grips it was time to look at what's impressive about the Polygon Siskiu N9. First off, the frame is very nicely put together. The tube set, forgings, and welds all look good as does the matte green paint with orange accents.
Push on the saddle and it's obvious the Siskiu drives the shock as nicely as any linkage-actuated single pivot and it initializes more easily than many of the suspension designs optimized around water bottle placement. There's a reason that my favourite, classic, best-feeling suspension bikes like the first edition Knolly Delirium-T and 2008 Specialized SX Trail use a similar shock configuration.
As a big fan of industry-standard R&D (Rip-Off & Duplicate), I'd point Polygon towards ridegg.com for some ideas on how to squeeze a bottle into the main triangle on the next edition of the Siskiu without changing the shock configuration.
Drivetrain
The general consensus is that SRAM GX is the best value Eagle drivetrain, when balancing performance and durability, which I suppose makes sense since it sits smack dab in the middle of the lineup. But GX is maybe more than that? I've heard some very strong arguments, when it comes to mountain bike drivetrains, that GX is now the standard against which all other drivetrains, including those from much larger Shimano, are measured. As a former 'core Shimanophile, it's hard to process living in a world where XT isn't the measuring stick but SRAM's GX drivetrain is both excellent and legion. I'm not expecting anything but great shifting over the test period for this bike and for a longer-term drivetrain review check out this piece by Cam McRae.
Tires!
The Addix Soft Magic Mary tires are a nice choice at any price of bike and while I'd personally choose the heavier Super Gravity sidewalls I think Schwalbe's 1.5x ply SnakeSkin sidewall is the best choice here. I was excited when I noticed the 27" sizes of the Siskiu N9 come with the 2.6" version of the tire, but alas the 29'er comes spec with the 2.35 which again is the more universal choice. Moral of the story? Really good job on the tire spec.
Brakes
The TRP Slate are great feeling brakes that bring a decent bite once the stock pads are upgraded to a set of sintered Shimano pads - specifically the fin-less Saint/Zee pads. The long lever blades feel good and make it easy to modulate the power, which compares to SRAM's Guides (as opposed to the new G2 version).
I've put the brakes in the win column because I think the mineral oil system is a bonus for folks buying this bike online and working on it out of their own homes. Shimano pads and fluids are compatible and readily available, the TRP brakes are rebuildable and easy to bleed, and there's no wandering bite point.
What You Don't Get
I think there's a strong argument that a brake like the Slate has no business on a 6" travel 29er. If you are going to down-spec the stoppers then there has to be an 8" rotor on the front wheel. Period. After the grips, a rotor and set of Shimano sintered pads are the next upgrades I'd make to the Siskiu. Considering I'm a buck eighty-five on the scale, I consider them necessary.
I am comparing the brakes to two really powerful four-piston systems I'm currently riding - the Hayes Dominion and Formula Cura4 - and even in those cases, a big front rotor makes sense for this application. It may pedal like a trail bike, but a 6" 29er can get up to some pretty serious shenanigans when pointed down. With an eye to the budget, I'd like to see Polygon swap these Slates out for a Code R or Magura MT5 system.
Next up on the mandatory upgrade list is the house brand Entity saddle. This wedge is unfortunately and accurately named the 'Assault.' I sh*t you not. I give bike companies a wide berth on saddle choice because touch points are a matter of preference but I'll bet if one hundred riders tried this seat none of them would choose it.
There are plenty of proven options for basic OE saddles that will work for a large cross-section of riders. In fact, combined with WTB's fit tool a direct sales brand could build some additional customer value, and reduce waste, by letting them choose a saddle from a short-list of perennial choices like the Volt, Koda, Pure, and Silverado.
Even if the Siskiu purchaser is still running tubes they're going to want to pull the tires off and tape the rims in place of the stock strips covering the spoke holes. This is just a matter of time as electrical tape works fine and costs nothing. I'm actually a bit shocked the bike doesn't come pre-taped for tubeless and with a pair of valves included in the packaging. It's clean and simple to ship a bike with tubes, but this is a little detail that costs nothing at the factory and will be appreciated by customers.
I believe the large Siskiu should come with a 170mm dropper post, and I'm not a fan of the stock model, but I wouldn't spend to upgrade right out of the box. Where I would be dropping more paper is a basic fork service and new seals right out of the box. As with the Santa Cruz Carbon Chameleon I tested, I'm certain that the lackluster initial performance of the basic Fox 36 Rhythm comes down to the lack of SKF main seals - the single biggest upgrade Fox has made to their suspension forks over the years.
First Rides
I'm not actually fully committed to the current geometry trend of all the reach with a really steep seat tube angle and I have to say the Siskiu fits like a glove with a 40mm stem. Arguably at 5'9" with T-Rex's ape-index, I should be saying that exact thing about a size medium frame. I do however believe every brand should have a 500mm+ reach bike in their lineup whether they call it an XL or XXL.
My personal suspension bike is a large Marin Alpine Trail 7 and the two companies share the same parent co. and factory and the geometry is very similar. Similar enough in fact that I'd say most of the difference in the basic fit comes down to fork offset.
The Siskiu and Alpine Trail both come stock with a 51mm offset fork but I've been riding the Marin with a 44mm offset which makes a notable difference in slowing down the handling with the sub-50mm stem. It's really not a big deal to adapt back and forth but the more steady and planted feel of the Marin is preferable. I'll swap the fork out on the Siskiu N9 at some point in the test period for a truer apples-apples comparison but with a short stem I think the short offset will be a winner on this platform.
Grips and saddle swapped out, rims taped, tires set up tubeless, bigger rotor and Shimano sintered pads swapped in, and my flat pedals installed and it's time to ride. As much value as the Polygon Siskiu N9 presents, these hidden costs need to be accounted for. That said, it's a really nice aluminum frame, GX drivetrain, and DPX2 shock for 2800 USD and some of those upgrades come down to personal preference, rather than necessity.
A couple of rides in I can tell you the suspension was very easy to set up and the Polygon has good trail manners. I'd call the size large frame a medium-large and some larger frame sizes are needed to accommodate taller riders.Now it's time for the real testing process out on the trails.
For all the specs, here's the link to the 170mm/170mm 27" and 160mm/160mm 29" Polygon Siskiu N9.