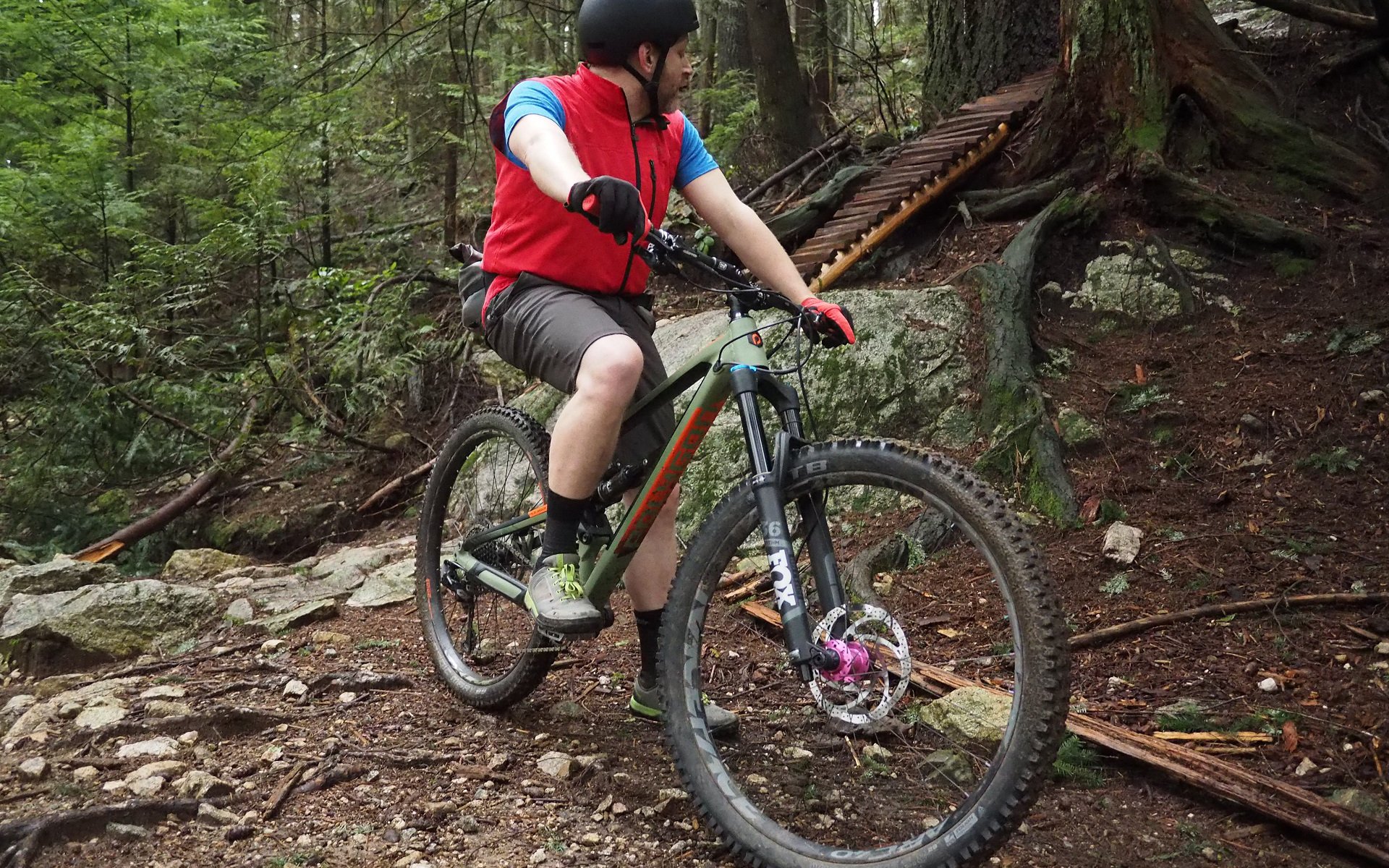 REVIEW
Polygon Siskiu N9 160mm 29'er Review
Polygon Siskiu N9
Polygon can't sell bikes based on a storied race history like Yeti, or from being developed with some of the most aggressive riding around in their backyard like Rocky Mountain, or because they have a massive, well established, dealer support network like Trek. Equally, they've chosen not to go the splash-the-cash route by hiring a long list of known riders like other online brands of which YT and Cube are probably the best examples.
With the Siskiu N9, a bike that would be purchased online by the vast majority of Polygon's potential customers, there is little nuance. It's a long travel, 160mm front & rear to be precise, 29'er Enduro bike that looks pretty damn good and has neutrally-modern geometry. At 2800 USD, it sports an excellent SRAM GX drivetrain, a very well-received Fox rear shock, Schwalbe's Magic Mary tires in a soft compound, a fork with Fox logos on the lowers, and a bunch of other stuff that adds up to create a complete bicycle. Did I mention it's 2800 USD?
And, the Siskiu absolutely wants to go. It wants to get deep-deep in its travel, eat bumps, track through corners, and hammer up short, gnarly climbs only to dive back into tight steep rock armouring down the other side. The potential that's unrealized with this bike is both impressive at the price and depressing at the same time.
It's just that it can be a f***ing terrifying prospect trying to reign in those big wheels when the terrain gets steep and deep. Long travel 29ers, like the 160mm Siskiu, need DH brakes and aggressive rubber. Right out of the box. For me that means Schwalbe Super Gravity, Maxxis DoubleDown, WTB Tough Casing, etc. This may be an inflammatory argument, but if a rider doesn't need that much tire, they may not need this much bike.*
Oh, and before we go any further, no, no it does not fit a water bottle in the main triangle. It should, it could, and it doesn't. More on that later.
*One factor here is weight, and at 160-165 lbs, this editor is generally fine on EXO, TCS Light and other mid weight casings - Ed.
The Hot Garbage
I'm not going to dwell on how dangerous the lock-on grips are and how absolutely crotch-murdering uncomfortable the stock saddle on the Siskiu were. And I say "were" because these are absolute throw-away parts. I covered it full throttle in my Siskiu first look. I will reiterate one more time that in the case of the 'ASSault' saddle, no matter how leathery your contact patch or meaty your thigh muscles, you aren't going to want to sit on it or clamp it between your legs. Saddle spec is not hard, if in doubt just follow Rocky Mountain's lead and put a WTB Volt on every mountain bike you sell from $1000 to $11,000+ and at least a significant percentage of your customers will be happy.
Buying a Siskiu? At the bare minimum, budget to replace the contact points straight away.
If The Shoe Fits...
The Siskiu platform fits my 5'9" frame really well, which leads me to classify it as more of a medium-large. As Kenny pointed out in the comments on the first look, that 470mm seat tube is not going to make every rider my height happy. I had plenty of adjustment left with the stock 150mm dropper post and could have run most of the 170mm options on the market.
I managed the shorter Reach and lower Stack of the Polygon versus my personal bikes by running a 20mm wider bar (800mm v. 780mm) with a bit more rise and achieved an excellent, modern fit. I have a good seated position for generating power on flats or climbing and only the steepest uphills had me choking up onto the rivet or standing to hump over the apex.
When standing in attack position, I had lots of room to move around and never felt like I was fighting the bike in either slow technical or faster descending situations. If I was building a custom frame, it would have a 30mm longer wheelbase which I'd accomplish through slightly longer chainstays, a slacker headtube angle (HTA), and only a touch longer top tube.
In my personal purchase history I have had very mixed experiences with the concept of 'test ride and then decide' when it comes to choosing bikes I love. It usually takes me months to get my rigs working optimally so love at first pedal doesn't necessarily mean happy ever after. Still, I think for a lot of riders it is a good phrase to live and shop by. The Siksiu however, is an internet purchase in most places and that's going to require very carefully comparing geo charts to make the right buy.
Dear Polygon,
You're not alone in the bicycle world by any means, but there are two issues with the Siskiu build that would be easily resolved at your end, are expensive to resolve at my end, and which both point to the fact your product manager either doesn't ride long-travel 29ers or, unfortunately just as likely, chooses not to spec bikes for customers as they would spec them for themselves.
Both come from the fact that this is not a 130mm travel trail bike. The Guide-esque power of the TRP Slate brakes and the unsupportive but relatively grippy Magic Mary tires wouldn't be at all out of place on an aggressive trail bike build, although even in that instance I'd be running bigger than the spec 180mm rotor on the brakes.
In TRP's defence, they bill the Slate brake as being for 'Trail' usage and Polygon has done them a disservice by selling them on a 160mm travel 29'er. Especially with the mid-sized rotors. Even with TRP's DH level Quadiems I jacked the front rotor up to 203mm and installed some sintered Shimano pads.
Put another way, if Polygon is going to spec TRP brakes then the Quadiems are mandatory on a 160mm travel bike. But, given the full GX build, the Siskiu would be an excellent candidate for the newest Code R brake from SRAM and at the risk of tarnishing my min-maxing reputation I question why they didn't just go full SRAM-duro with a Yari up front, a Super Deluxe in the back, and - yes - a Reverb dropper post.
I recognize that I was quite conciliatory to the tire spec in my Siskiu first look but it's either been a long time since I rode Schwalbe' lighter-casing Magic Mary on a long travel bike or Schwalbe has toned down the sidewall support a great deal. I like the Magic Mary, I don't even mind the Soft compound v. the Super Soft, but please give me the support of that Super Gravity sidewall.
One way to improve traction and comfort with a less capable fork spec is to upsize the tires and I think there is a strong argument for a 2.6" Magic Mary on at least the front of this bike. Take that with a grain of salt though as my preference is for Plus or +/- tires but a 2.35 Super Gravity Mary may be your cup of tea.
Mountain Bikers v. Industrial Designers
There is a vocal majority of riders who want the option to carry a bottle inside the front triangle of their frame and those riders are automatically going to scratch the Siskiu off their list because it has no bottle mounts and no room to add them. These folks do not care that industrial designers like the look of straight tubes. They killed Kona's unique looking, and awesome riding, 'Rocker' suspension Process lineup. They mean business.
The Siskiu is a great looking rig, and it wouldn't look as good without the straight downtube, but I'm sure as heck not trading a water bottle for a cosmetic upgrade. I suppose Polygon could contact Trek about licensing KnockBlock but there's a much simpler way to fit a reservoir shock and water bottle into the front triangle with pretty much any suspension design. It's just a bit kinky.
As examples, Guerrilla Gravity and Cotic Bikes both present possible bottle locations that Polygon could R&D that wouldn't require them to change to the Siskiu's vertical shock orientation.
I fully support the shock orientation of the Siskiu, mind you. It drives the shock beautifully with no mechanical redirecting of forces and I think there's a strong argument that Polygon could have gone with a less advanced shock than the Fox DPX2, spent the money elsewhere on the build, and still come away with very impressive performing suspension for their price level. I'm thinking RockShox Deluxe here, but there are a number of options that cost less than a DPX2 and are quality shocks.
Going Up
Moving on to the good stuff, the Polygon Siskiu uses its DPX2 rear shock beautifully with a smooth-off-the-top shock activation thanks to the shock orientation. The bike has both premium traction and decent support with the shock wide open without the harshness that can accompany bikes with more obvious anti-squat.
I'm happy to use a Climb Switch for longer uphill efforts, and I certainly did, but if you hate fiddling with knobs but want traction for technical climbs and a buttery ride when descending technical trails then this is actually a tough package to beat.
It's a 160mm 29'er so it doesn't exactly leap forward with every touch of the pedals but I've never ridden a bike that could deliver the best of both worlds with most longer travel machines either feeling a bit harsh off the top or requiring the use of some kind of damper support (Climb Switch / ProPedal / etc) to be rideable up steep grades.
Climbing out of the saddle, the Siskiu tends to use its travel more freely than other 150mm+ 29'ers I've ridden but I've thrown it out there on a few group rides and I'm apparently in a small minority of folks that care. The DPX2 has three modes for compression and either option other than open made a big difference out of the saddle but not to the extent that it was worth engaging it and losing traction seated in technical climbing situations.
Back to that 75° effective seat angle for a moment. I'm happiest in the 75-76° ballpark on a full-suspension bike so it's no surprise that it worked really well for me. I would like to see every company going to size-specific seat angles that get steeper as they go up in size but until that pipedream becomes reality I hope at least a few companies don't jump on the 77-78° bandwagon for M-L sized frames. I find 75-76° allows power on flats and regular climbs and then bending my elbows and sliding forward on the saddle gives me the extra power I need when the grade is closer to ascending a wall.
I think Cam did a great job of highlighting the GX Eagle package, so I'm going to say it shifted very well in all situations, although I always try not to shift under heavy loads, and I think that, while I'm not creating a lot of black and white over it, it's the highlight of the N9 in terms of presenting value in a 2800 USD bike.
If it was my own bike I'd be investing in a fast-engaging, high quality, rear hub ASAP because that's what I like and I find it makes a big difference to my climbing and technical-gnar riding. For the price, I have no qualms with the wheels other than they didn't come taped for tubeless.
Coming Down
The Fox Rythm fork was okay at best and the brakes were under-gunned even with a 203mm rotor and a significant pad upgrade but the Siskiu's potential still shone through on every ride. If it took a water bottle in the main triangle I'd be all over using it as a test mule because with the right component choices and a 170mm dropper for the steepest stuff, it has the potential to be one of my all-time favourite suspension bikes. And hey, look at all the upcoming reviews it could have been in. For those that don't care about a water bottle, the answer to your next question is no, it is not available as a frame only.
The fork just never felt right, which has been my experience with Fox Rythm product. It was sticky off the top and never seemed to break in. I had an impossible time finding the right air pressure to balance support and bump absorption. Swapping forks doesn't make financial sense, so if this was my bike I would have had the Rhythm serviced and then installed a set of the better Fox/SKF seals that come with their Performance and Factory forks and that would have made a big difference. As it was, out of the box I ran the low-speed compression open all the time, the rebound fairly slow, and the big WTB Vigilante made a significant difference for traction.
With my litany of 'blahs' all accounted for ,the Siskiu was a capable descending bike but it only truly shined, compared to modern 120mm to 140mm 29'ers I've ridden, in the roughest not-too-steep straightaways or on hits that took me deep into its travel as I was never fully comfortable opening the bike up for fear of not being able to slow it down or get the support I wanted out of the fork without having it feel overly harsh in other trail situations.
And then every once in a while when a solid run-out presented itself, which is less common on the Shore than anywhere else I've ridden, I'd get off the brakes roll into something janky and the rear suspension would squat into its pocket and give me the confidence to ram through a section of trail. And then I'd end up reconsidering how negative I felt about certain elements of the bike.
I like the stability of the 440mm stays and combined with the 65.5° HTA the platform is nicely balanced. That's not the same thing as saying I wouldn't love to try an Angleset in there just for sh*ts-and-giggles, but set-up with around 23% sag front and 28-30% sag rear the geometry is Shore-worthy.
Between my setup, the big wheels, and the rear suspension, I found the Siskiu to have a very planted ride, which I like being someone who tends to keep my tires on the ground. It is one of the machines I've ridden lately that has me thinking that for local riding I'd prefer either a shorter-travel 29'er or a similarly-suspended 27+ bike but that's maybe for another article.
Wrapping Up
I came to a point where I had simply invested all the time I was willing to put into this bike; however, if the rear brake was externally routed I wouldn't have been able to resist a stopper swap because with my Vigilante up-front I think that would be the difference that pushes the Siskiu into being one of the best buys under 3K USD.
There's a bunch of caveats to list from after sale support to getting the bike properly set up at a dealer, etc. But just comparing metal-to-metal with me assembling any bike in my basement, with my knowledge, with my tools, the potential v. price is full show if not full go. Beef up the tires and brakes and service the fork and this is potentially an entirely different review even with having to wear my Camelbak.
I can't recommend the Siskiu without some component swaps and, as it comes out of the box, many riders will be much happier on a shorter travel trail machine with modern geometry numbers. But, at 2800 USD, with a full GX drivetrain, and looking at what else is out there, it's quite possible that a smart home wrench can pick up the Polygon, service the forks with fresh seals, swap to a set of powerful brakes, and install their preferred beefy rubber option and still make out with a lot of bike for the investment. It doesn't measure up to their claim that it's designed to be "ridden in the most demanding of conditions" but it could.
If you'll take that straight-tube aesthetic over a water bottle mount, are handy on the tools, and want to be shifting GX for the least outlay, then the Polygon Siskiu N9 is worth a look.