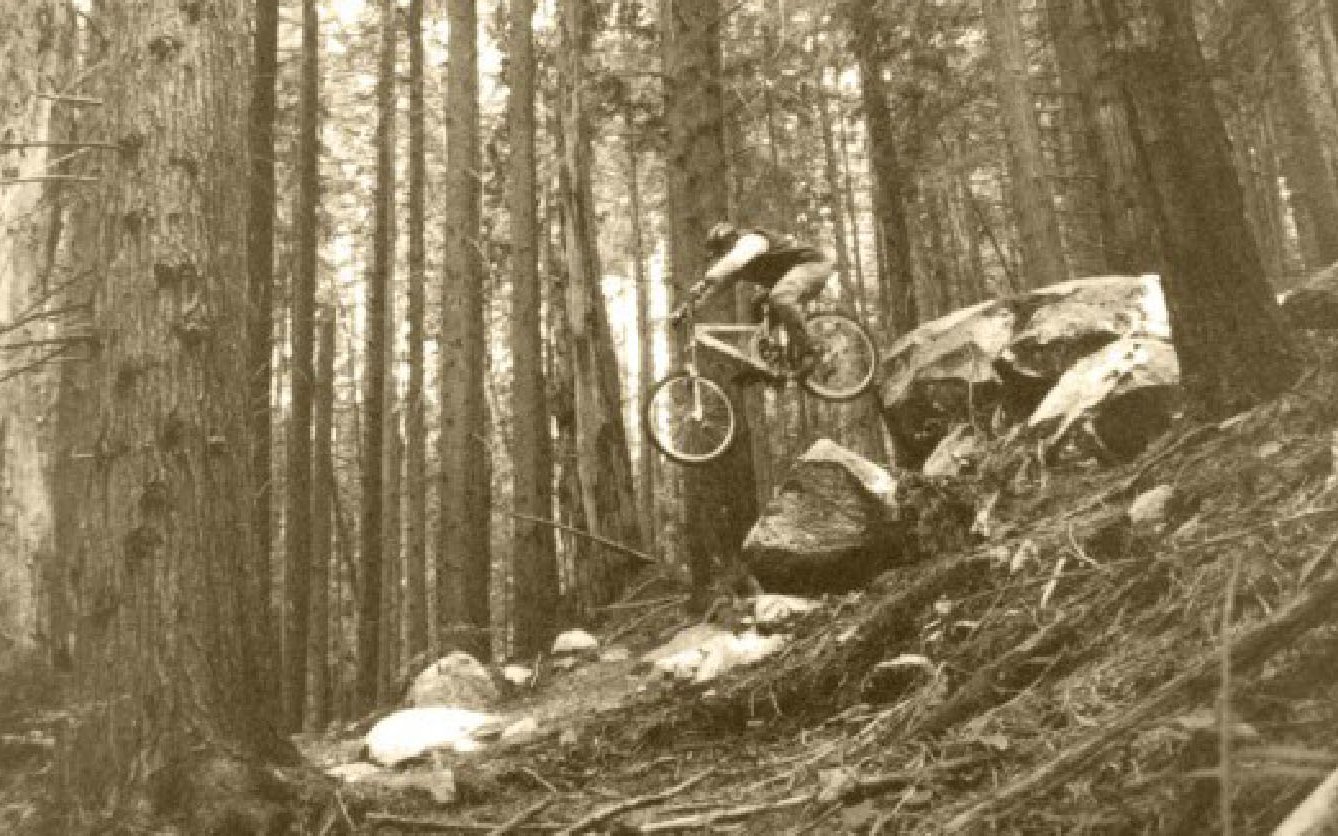 Editorial - The Birth of Freeride?
Pockets of Wisdom
Mountain biking's humble beginnings emerged from the perfect brew of characters and terrain. From those early days to present day, there have been areas on the planet that have created the culture of the sport and jolted it forward. Marin County was the first epicentre, where mountain biking's forefathers modified beach cruisers and raced them down service roads and hiking trails, perhaps the first to do so. Product development wasn't yet on the industry radar and these early bikes were fitted with fat tires and motorcycle levers so they could be ridden off road with moderate success.

Our norm was their hell, something we just took for granted I suppose.
We continue to be influenced by the path these incidental founders revealed for us. All of us. Big names were born from these locales, partially by accident, and because these personalities aligned with this oddball activity so perfectly, there could be no other result. As the sport grew, products changed. Early production mountain bikes were handcrafted and designed to adapt to the rolling hills of Northern California. If the word landmark can be thrown around, this was it.
I was working in a bike shop in North Van at the height of the freeride movement. I have to admit, just writing those two words, freeride movement, makes me cringe a little. It could be argued that freeriding was born the first day tires hit dirt. Throwing ourselves down the hillside was in our repertoire from day one, but let's pretend the this only started sometime in the nineties and continued on for about ten years or so. Perhaps we can say that was when commercial recognition of this freakish subset of mountain biking began.
Did any of us know that taking off our big rings and replacing them with bash guards would lead to the development of the single ring drivetrains we have today? Of course not, but everyone did it anyway. I was running a single ring drivetrain as early as the late nineties because I found the simplicity and durability outweighed the gearing range of the triple. Meanwhile, breaking bottom bracket spindles and bending crank arms were regular occurrences - almost every day we saw them coming into the store. Sheared and flared head tubes, folded wheels, destroyed pivots, and blown out shocks were things we dealt with constantly. The shop I worked at was one of many that rode this wave of exponential growth. And while some took to the rapid expansion successfully, others didn't survive. Eventually, they sank because of their refusal to adapt to this blossoming scene that was reshaping mountain biking.
I remember this time fondly. What happened here at that time was so influential despite being relatively tiny in the grand scheme of the cycling world, but the industry was taking notice. Product managers from the US couldn't understand the volume of broken bikes coming out of the North Shore. I recall a few of us shop rats taking out a couple of spandex-clad product managers from a major Californian brand with deep cross country racing roots. Let's say they were from Fisher (since they were). To give them a taste, we threw them down some of the less scary trails on Mount Fromme, and then introduced them to a couple of notables like Ladies Only and Upper Oilcan. Their tails between their legs, they hiked their twenty two pound hardtails down the mountainside, humbled and shaking. Our norm was their hell, something we just took for granted I suppose.

We didn't over-fork our bikes because it was cool, we did it because we had to.
Freeriding was an unprecedented moment that had to happen for mountain biking to flourish and fragment; a portion calving off and delineating itself from the lycra-wearing crowd. Everyone working in that shop (and mostly every other one) was aware of what was going on. We all knew that it was a special time, but none of us realized that our singular efforts would each be a spoke in the wheel that helped shape the progress of mountain biking. We were just trying to survive and keep our customers rolling, adapting to the countless "JRA failures" and burgeoning egos.
These visits were common. The big US brands were trying to figure out what was going on here. Why were so many product failures coming from this one area and nowhere else? Why were trail riders using modified downhill bikes? How could their best selling cross country race bikes not even be considered in North Van bike stores? Nothing made sense. After each visit, I'm sure their take home message was that something had to change at HQ right now.
A wholesale approach to product development quickly took place in response to what was happening in B.C. While product managers, designers, and engineers were trying to grab a capture a bit of this rapid development, riders seemed to be a step ahead. We didn't over-fork our bikes because it was cool, we did it because we had to. Most of us built our bikes from the frame up because stock bikes just weren't capable of withstanding these trails. Those off-the-shelf bikes seemed to be made of spindly chopsticks that would crack if you looked at them funny. Our "cross country" bikes had 150mm travel forks, bash guards, riser bars, and downhill rubber. Our trail bikes were essentially what enduro bikes are today - fitted with coil suspension and downhill wheels. It just took the industry that long to categorize it. Tell me I'm wrong, but I believe that even lock on grip technology came from a North Shore necessity. Lock ons were a response to riding the dank Shore because slide on grips jettisoned upon landing. These were incremental responses to a much bigger need; to avoid death on impact. We were just surviving.

Broken parts were replaced, broken bodies mended. Consequences were not the priority; pushing boundaries was.
The world took notice. The Californian market was still massive and dominating the industry, but B.C. was driving product development (even Fisher bikes joined the fray). The North Shore of Vancouver quickly became Dogtown. Everyone who rode here during this time contributed to this subculture, in spite of the giants running the show. A scene was emerging which necessitated building gnarlier and scarier lines without much consideration. Broken parts were replaced, broken bodies mended. Consequences were not the priority; pushing boundaries was. Camaraderie flourished and rivalries were formed. Bike shops hired warranty managers who soon had suppliers on speed dial. I know, I was one.
There were pockets of wisdom all over this province. Total unknowns seemed to know more about product performance than the engineers at the major brands. Tires that worked in Cali instantly proved useless here by shop rats. Brands that were at the forefront of technology disappeared because a handful of BC riders demonstrated their products didn't work.
I can only speak from my own perspective, but I believe this was the most important era in product development in mountain biking's history. I one hundred percent believe that all our kooky product adaptations led to the nearly perfect bikes we have today. This defining set of trails combined with influential riders who took risks advanced technology faster than in any other time.
What a time to be alive! Nobodies became somebodies, kids became veterans, and lowly shop rats became industry leaders. Mostly all of my coworkers went on to bigger and better things within the industry. I believe it was in part due to the rapid learning curve that they went through during the freeride movement. You don't truly learn unless you are constantly wrecking your bike and your body. Thrown into the wave and trying not to hit the pier. The industry as a whole had to keep up and try to learn from what was happening. Wisdom was earned and not acquired. The North Shore scene was the new "it" - something special was going down.
The industry's response to what was happening eventually resulted in revolutionary products. Certain brands dove right in and established their reputations during this era. Little brands were popping up everywhere much like the explosion of the early nineties in skateboarding. Everyone's learning curve was steep and the products that were being pumped out showed that. Our collective peak was reached when bikes started improving and riders became more calculated. Overbuilt and underperforming bikes that were made in response to this type of riding evolved into products that just worked better. And thus, the riding got better.
I believe that modern day freeriding was born on the North Shore of Vancouver, but I also believe that without this type of riding, bikes wouldn't have evolved to the level they have achieved recently. The unmistakable form of trail building, the riding, the bikes we were using, even the commercial success of hucking your meat was derived from this little part of the world. Not only that but this had to lead towards better products; there was no other choice. If we didn't have this set of extreme trails at our disposal next to a major city, our bikes may not have advanced as fast as they have.
Thanks to everyone who rode during that time on the North Shore. The bike shop employees, the highschool groms, and weekend warriors who were out breaking shit day in/day out. Because without your small contributions, we wouldn't have gotten to where we are now. Your dedication to pushing limits and giving a collective finger to the industry gave us good bikes and better trails.