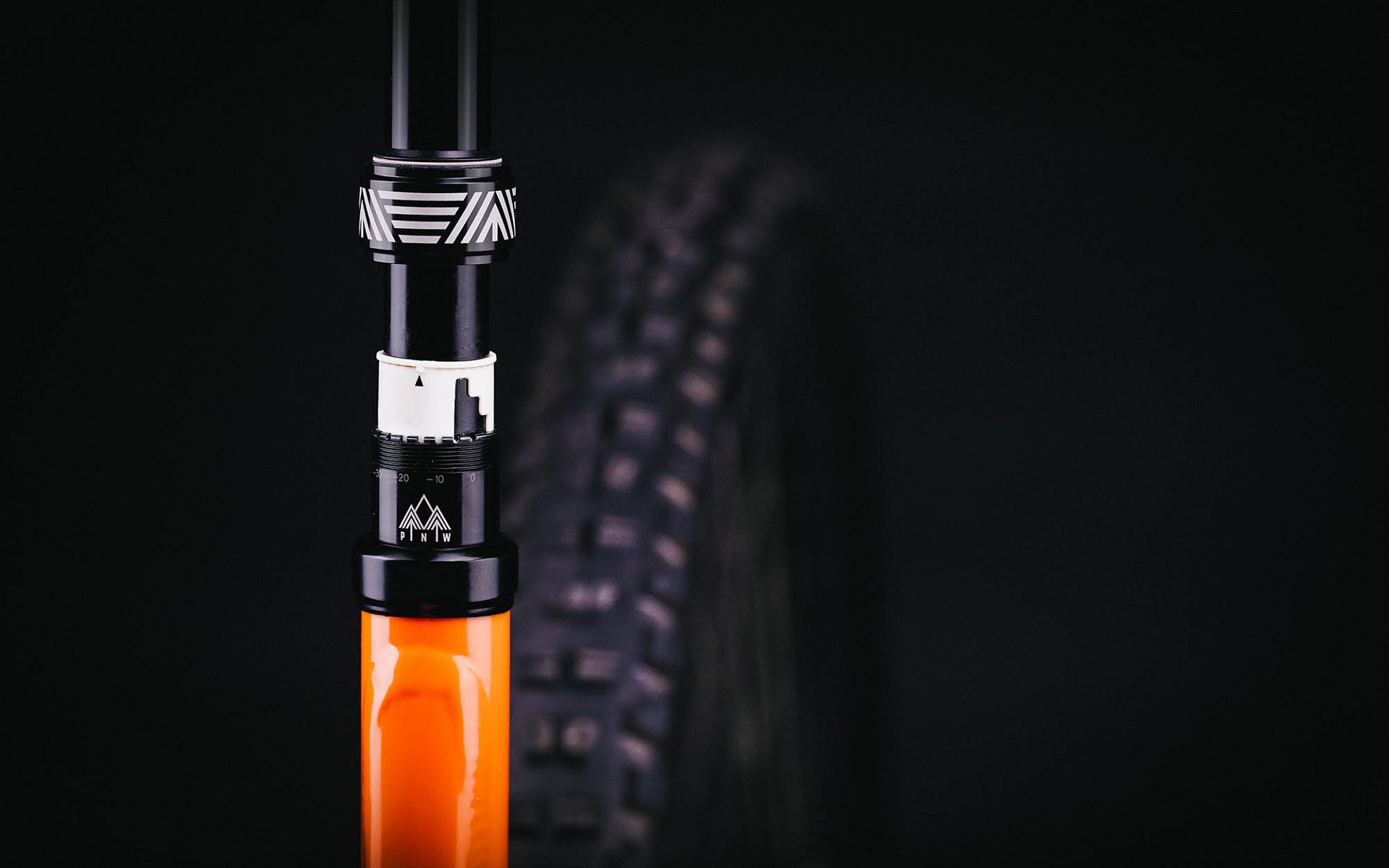 TEARDOWN | FIRST IMPRESSIONS
PNW Rainier IR Dropper Post - Travel Adjustable For 2020
What's Fresh?
PNW Components really storms out swashing their buckles with the new, third-generation, Rainier IR dropper post. For 180 USD | 240 CAD they're delivering options up to 200mm of travel with a shorter overall length thanks to a reduced insertion requirement. There's now about 30mm of tool-free travel adjustment in 5mm increments and the idiot-proof basic service requires only a 3mm hex key and an adjustable wrench. In addition to the most common 30.9 and 31.6 post sizes, they'll have the increasingly popular 34.9 option covered by summer.
Phew, and breathe. For 60 USD more, you can add on their excellent Loam Lever. It's now available in Shimano EV, Shimano I-Spec II, SRAM MatchMaker X, and of course a regular old hinged clamp 22.2mm set up for those that prefer the convenience for the minor trade-off of clutter.
*Cover photo: PNW
Install is a breeze, as one would expect. Well, mostly. I still can't come to terms with the plethora of posts on the market that need a tiny, easily lost, barrel-widget to hold the cable head in place at the actuator and I was thinking just that when the PNW one popped out of my greasy fingers and disappeared.
I'll spare you the song I wrote full of blue-language while trying to fabricate a replacement using the shank of a bolt with the head chopped off and a hand drill. I did eventually discover that the original had landed in a pair of shoes. Look, just don't lose the little barrel-widget okay? And then, everything will go beautifully.
That said, it's a basic plug-and-play install like the higher-end Bachelor, without any of the cable-measurings of the previous Rainier model.
The travel adjust feature is actually pretty cool but I wish PNW had sent a 200mm travel post and I could have winnowed it down 5mm at a time to find my maximum travel at full extension. I mean, I never want for more than 170mm of drop, and on most bikes, on most trails, 150mm suits me fine, but for the person that wants it all, this feature removes the need to choose between 170mm and 200mm when 190mm would work.
Travel adjust is accomplished by lowering the post below the max travel I'll be running, unthreading the seal head - which is usually tool-free but could require a strap wrench if Paul Bunyan tightened it, and then just aligning the indicator on the plastic bushing with the reduction I'm hoping to achieve.
Teardown Surprises
The external fit and finish of the new Rainier is excellent and it has a more premium appearance than the previous model. The seal head arrived dry for my liking but I've talked about rider perception v. excess grease purging before and I'm happy to take the 30 seconds to add a bit of Slickoleum. Twisting play is non-existent out of the box thanks to a pattern of key-ways, which were well greased, and I'm hopeful this will remain the case as it's obviously a focal point with the design.
That familiar-looking, non-serviceable, non-adjustable, gas cartridge is the first real sign that the 3rd gen Rainier is meant to be the budget sibling of the +60 USD Bachelor model I've tested previously. There's no Wintek sticker, but there's not much doubt that's who makes the cartrdge. The user-serviceable cartridge on the Bachelor is a really nicely made piece, and it's covered under a three-year warranty, but all things being equal it's pretty hard to argue with any company following X-Fusion's lead down the Wintek path. Through X-Fusion, Crankbrothers, FSA, and Bontrager, I've had varying experiences with the posts, but I've never had a cartridge issue.
It was probably the Beeres fault, but it took a bit of faffing about to get the cartridge to stop spinning with the 3mm hex bolt that lives under the saddle clamps so that I could finish taking everything apart. It's easy enough to re-mount the actuator, which is the best thing to clamp, create some downward force, and then spin that 3mm out.
A full teardown, excluding doing anything with the non-serviceable cartridge, is maybe a 1/2 beer job so there's really no excuse for riding around with a dirty Rainier. At the very least clean under that seal head and apply a bit of Slickoleum, or your preferred light grease, once in a while and function should remain excellent.
In Action
Travel adjustment aside, whether the Rainier is the PNW post for you or not is going to come down to 60 USD and what you expect from a dropper post. There simply is not a comparison between the okay action of the Rainier and how damn smooth the Bachelor post is out of the box. The Bachelor adds another level of serviceability with its cartridge, but inside of warranty, it's just as quick to swap across a cartridge. It has adjustable air pressure to dial in return speed, and the actuation - using the exact same remote - is also lighter and at the same time more positive with the Bachelor.
It's certainly 60 USD well spent for the rider who raises and lowers their post more times on a ride than they shift.
On the other hand, the Rainier IR is certainly smooth enough and it is early days so I'm anticipating a bit of a break-in. The difference in price over the Bachelor scores me a free Loam Lever with the Rainier and, while it doesn't matter for me, the travel adjust feature is nifty. In all honesty, I actually don't raise and lower the seat that often on most of the rides I do since I'll often stand and climb short technical pitches even on my full suspension bike.
It's a bit silly to be the guy arguing that dropper posts should be cheap and simple based on what we actually require them to do. Cheap and simple with a solid warranty and great customer service being even better. And then, at the same time, to be advocating for spending a bit more to get sweeter action, but neither post is approaching rideable-suspension-fork pricing territory.
I'll be crushing the PNW Rainier IR with high expectations as I've yet to be disappointed with any product that's come out of Emily & Aaron's brand. I'll report back when it's been thoroughly pounded. In the meantime, check out PNW Components for more information.