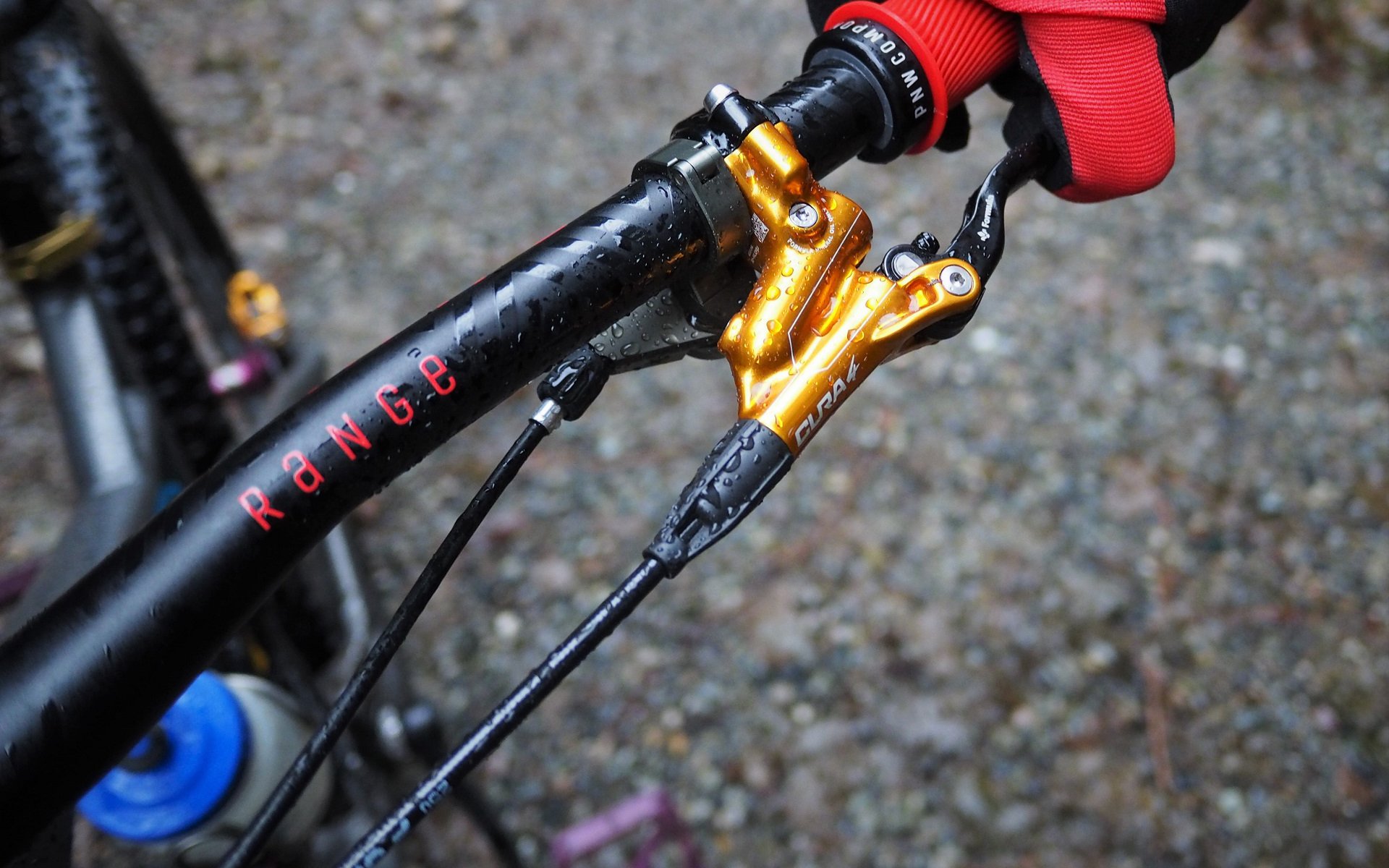 REVIEW
PNW Loam Grips & 10° Range Handlebar
PNW Components
At this point, Emily & Aaron Kerson's component brand may not need much introduction. PNW started with the mission to deliver the best customer experience while producing thoughtful products at a reasonable price. Their customer service and communication have a reputation that most companies in the bike industry could learn from, and my experience with their Bachelor Dropper Post & Loam Lever was excellent, so I'd say they're on target.
I've been riding two of their newest products. The first is their lock-on 25a-rubber Loam Grips, which made my 2019 Christmas list and their 10° back sweep Range handlebar which aims to balance ergonomics, experience, and bike fit.
Range Bar
For the purpose of this review, a 'normal' mountain bike handlebar has somewhere between 7° & 9° of backsweep. A true trail-worthy 'alternate' handlebar has at least 16° of backsweep and in the middle, there is a range (pun intended) of bars imbued with their manufacturers' best blend of what riders know and may need.
With their KW-Edition Range bar, PNW delivers their take on the sweet spot between something that feels normal, works with long modern bikes and super-short stems, and plays nicely with wrists and shoulders in a wider format (780mm) where most wide bars are based on geo from when bars were a lot narrower, Reach numbers shorter, and stems longer.
The bar is made from 2014 aluminum, is 780mm wide, and has 10° backsweep, 5° upsweep, and a 30mm rise. It sells for 69 USD and the KW stands for Kyle Warner, a PNW sponsored athlete whose signature translates to 5% from every bar sold being donated to NICA. The Range bar also carries a 3-Year warranty.
I'm a big believer in test ride and then decide, and I think it's unfortunate that there aren't any local shops with a lending library of bars and saddles to help riders sort out their needs. Check out BikeBike in Alberta for a sustainable way to operate such a program out of a for-profit business.
That said, if you're generally happy with a bar in the 7-9° range, this PNW is going to work for you. In addition to a little extra backsweep, the 2014 aluminum bar is claimed to deliver more compliance than 7075, at a lighter weight than 6061, and I'd believe that as it's as forgiving as any 31.8 aluminum bar I've ridden.
I normally choose more sweep for my bikes - 12° to 16° depending on the application - but with seat angles getting steeper and steeper, the huge jumps between most companies large and XL frame sizes, and reduced fork offsets limiting sizing adjustment by stem, the difference between the 10° Range and my 12° SQLab was really noticeable on my size large Marin Alpine Trail mixed with a 40mm stem. At the same time, my wrists find it more comfortable than the bar I was using as a place holder while I sorted out my fit.
The PNW Range bar is available in black with four different graphic colours for 69 USD. If you are seeking out a different bar shape for your wrists, elbows, or shoulders you may be well served by the PNW. It could also be the perfect answer to delivering a small reduction in effective-reach on a just-too-long nouveau-geo frame with no stem length adjustment left.
I went years without giving a shake about which way the bolts on my lock-on grips pointed until Cam McRae ruined things for me forever by pointing out grips made by companies that didn't bother making mirrored clamps. And how hard is it really to have them pointing in the same direction?
These are the kinds of little details that the folks at PNW fuss over so these single clamp grips definitely meet the McRae test for cosmetics. They also come in five different colours which can match up nicely with the Range bars and at least two of them, Safety Orange and Seafoam Teal, scream 'Yeti' loudly.
As rubber goes, PNW's 25a material is soft to the touch and grips well when wet whether I'm wearing gloves or not. It's proven durable thus far with a few solid diggers. I don't generally ride without gloves except climbing in the summer, but there are only a few grips I've tried that are stickier (the Renthal Ultra-Tacky is an example) so I'd be surprised if those rocking bare hands year-round don't love them.
The single-clamp 133.5mm width should work for everyone but I am surprised that these are only offered in one average 30mm width. A second 'Big Loam' model with a 33mm or 34mm average width and the same pattern would likely be very popular.
The Range bar is a product that will likely appeal first and foremost to folks that are seeking out something different either for bike fit or ergonomic comfort reasons. I think it's as nice - from a ride and materials perspective - as any aluminum bar I've ridden so if 10° backsweep and 5° upsweep sounds like it might be your sweet spot in a 780mm wide (or narrower) bar, then I recommend it without reservations at 69 USD.
The Loam grips, on the other hand, I'll recommend to anyone looking for a fresh pair of lock-on grips in a width around 30mm. They are the perfect combination (not blend) of traction in all conditions and extra comfort specifically where most folks need it in the palm of their hand. These are easily my new favourite lock-on grip; and 19 USD is a steal.