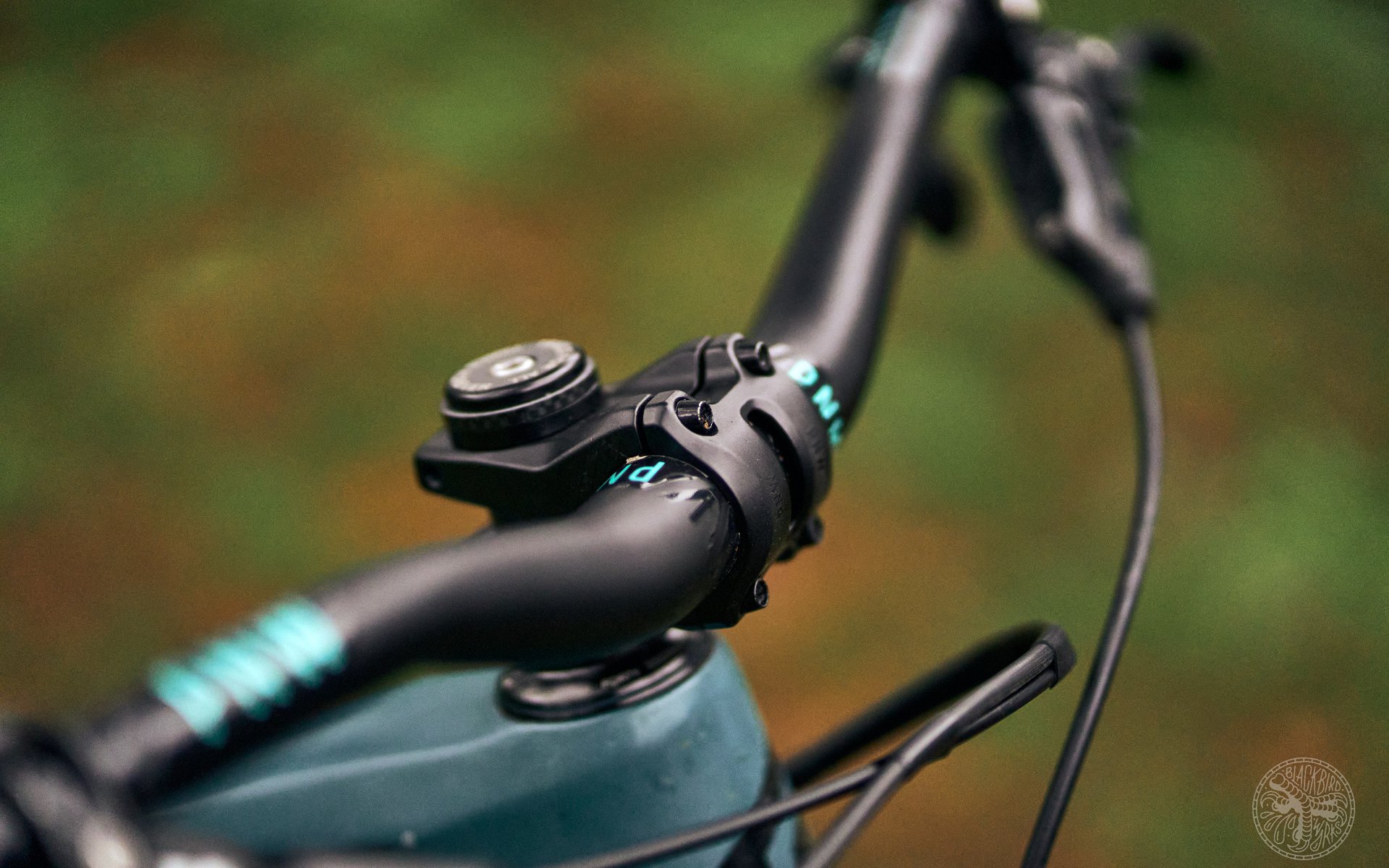 REVIEW
PNW Components Range Gen 3 Bar and Stem
There's only so many words to say about a handlebar (the PNW Range Gen 3 does have a couple nice points we'll get into later) but unless you're into the world of big sweep or extra wide about the only real things to comment on are stiffness and compliance. So before we get that out of the way, let's have a quick chat about your handlebar. Do you know how old your handlebar is? Are you sure you haven't over torqued your control clamps, or scored the bars with them? What about that scratch; how deep is it?
If you've never had a handlebar fail catastrophically mid-ride, I'd bet a lot of these questions seem silly to you. I'd also bet there's a few Tales of Woe that show up in the comments. If you've ever broken a bar, that's your cue; tell us the story below, assuming you lived to tell it. My story is from the mid-00s. during my stint working as a high school grom at the greatest bikeshop (and bar?) the world has ever known, laps of Teton Pass were a daily occurence, especially on Sunday when the shop closed early so we could all knock off and go ride. This was the early days of Teton Pass freeride; no rules, lots of Kona Stinkys and Stabs, and onions on our belts (it was the style at the time). The day's lap on Unmedicated Ritalin Monkey (named after the builder) included sessioning a large log ride to drop known as Snuffleupagus. To keep this under 1,000 words, the right side of my bar snapped off at the stem on landing. Through some combination of luck and limited skill I managed to only lightly smash myself into the ground.
For the twenty odd years between then and now, I've maintained a strong aversion to ever breaking a bar again. I replace my bars regularly, every 12-18 months. I'm careful with torque for stems and control clamps. I check for scoring under the clamps (anecdotally, most of the breaks from other people I've seen have been here). And, if I crash and scratch a bar, I replace it. Which brings us back to the PNW Components Range Gen 3 handlebar.
Highlights
| -- | Range Handlebar Gen 3 | Range Stem Gen 3 | The Coast Stem |
| --- | --- | --- | --- |
| Price (USD) | 69 | 79 | 69 |
| Clamp Diameter (mm) | 31.8, 35 | 31.8, 35 | 31.8 |
| Width or Length (mm) | 800 (tested at 780) | 40, 50 | 60, 70, 80, 90, 100 |
| Weight (g) | 31.8mm/314, 35mm/310 | 148 - 170 | 111 - 136 |
| Material | 2014-T73 heat treated alloy | 6061 aluminum alloy | -- |
| Other | 10 deg backsweep, 5 deg upsweep | GoPro/Accessory Mount | GoPro/Accessory Mount |
I received the Range Handlebar and Stem, cut the bar down to my preferred 780mm width, installed both onto the Transition Spur, chucked everything on the back of the truck, and off we went to Vancouver Island for a weekend. Whereby after doing all the hard parts (pedaling to the top) after about 9 seconds of descending I proceeded fold the front end, go OTB, and smash myself all over sharp pointy rocks. In the process I torqued a shoulder up, put a disconcertingly deep scratch in the bars, right between the MMX clamp and grip, and a couple decent dings in the Spur. F!#$%.
The scratch probably wouldn't cause a failure. But, there's two components to hazard assessment; risk and consequence. While the risk of this bar breaking was relatively low, the consequences can be high, and its not a game I play after Snuffleupagus tried to take me. I sheepishly emailed PNW, explained I'm an idiot, and they graciously sent a fresh handlebar.
Installation
There's only so much you can say about installation of a stem and handlebar, but there are a few differentiating features that I look for. Having the stem machined such that one half of the faceplace closes completely save attempting to torque four bolts down in unison. Well registered marks on the handlebar for centering and roll alignment are also critical, there's cut lines if you prefer narrower bars, and some markings around the control attachment points to keep things symmetrical without a measuring device. Everything comes in nice recyclable boxes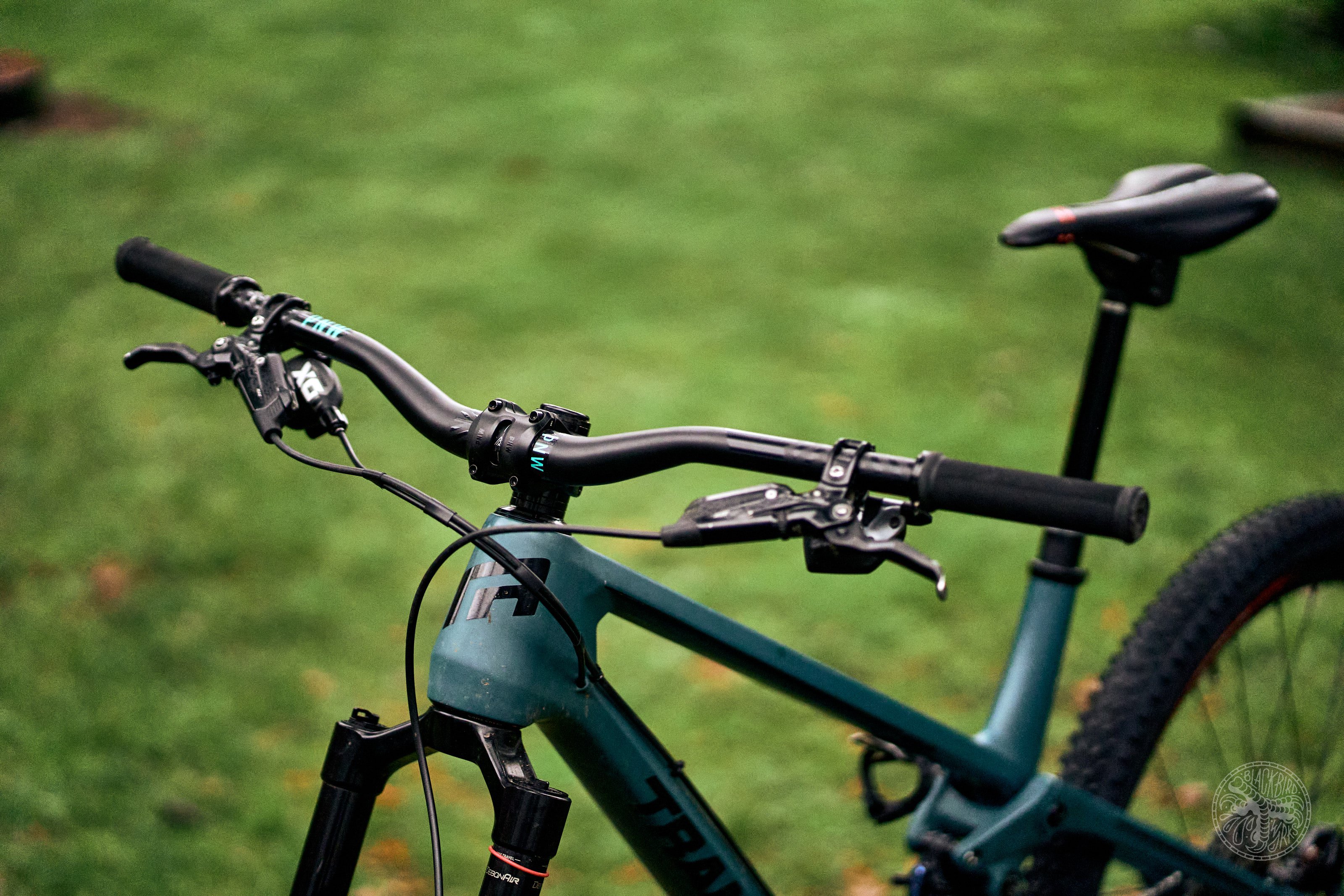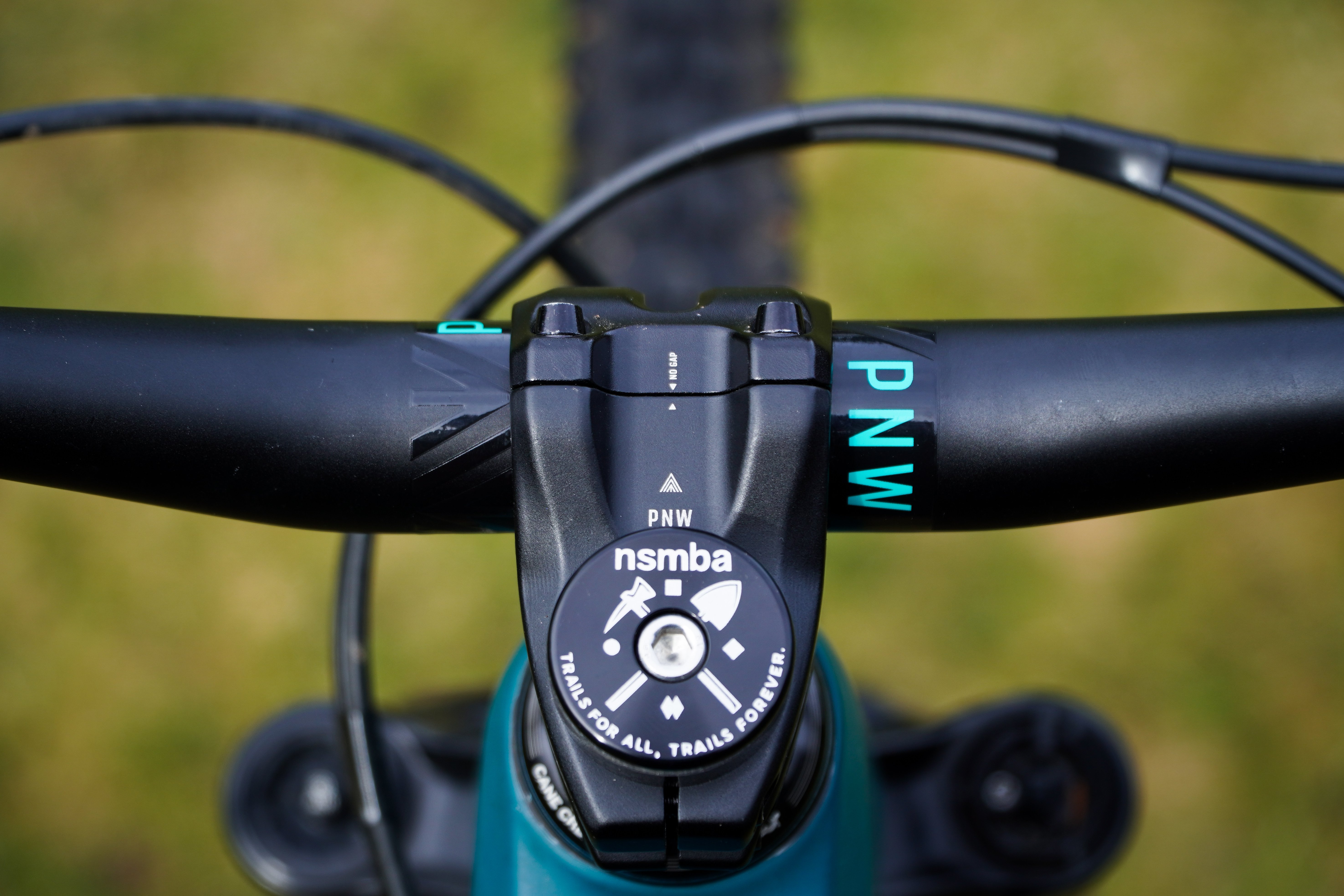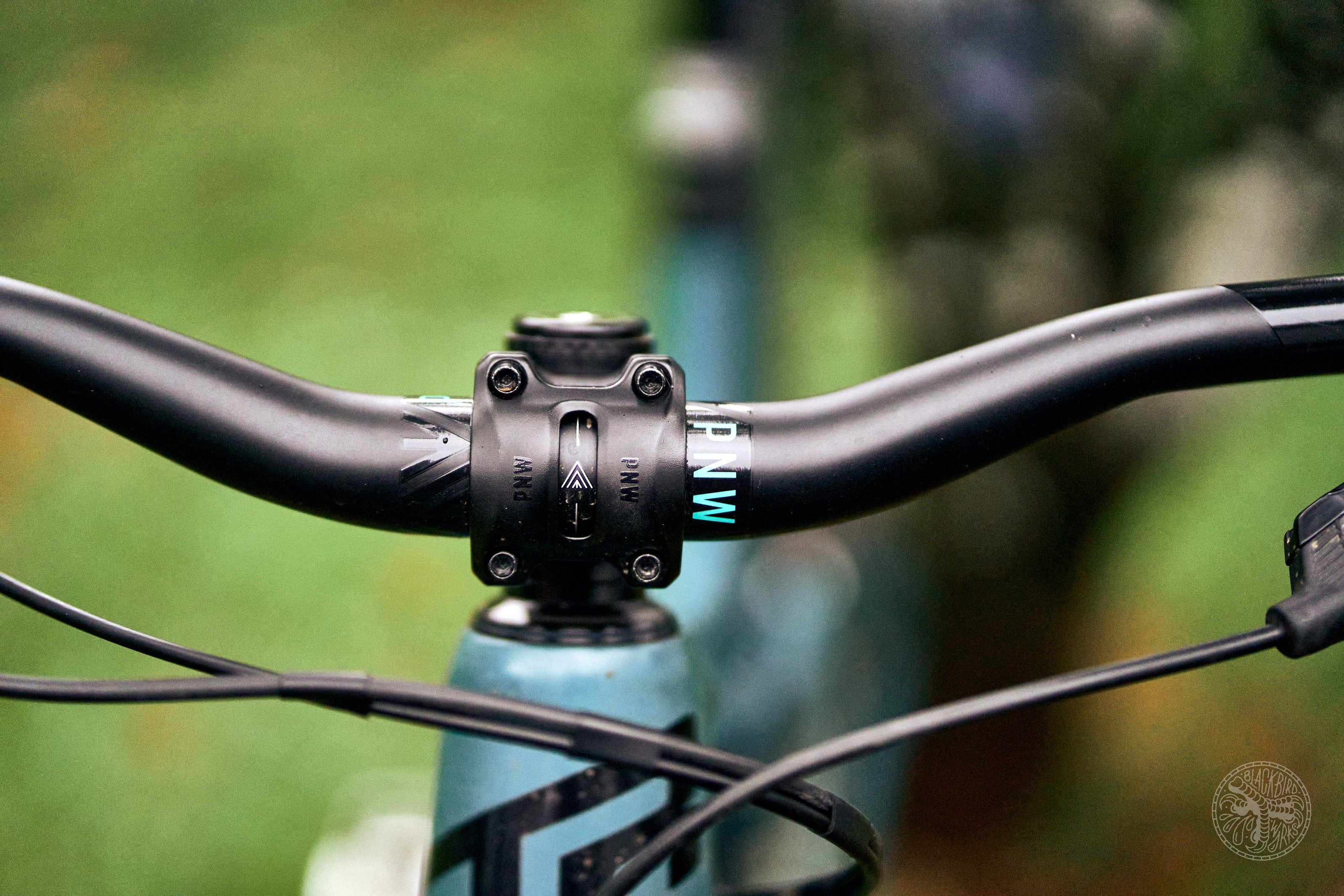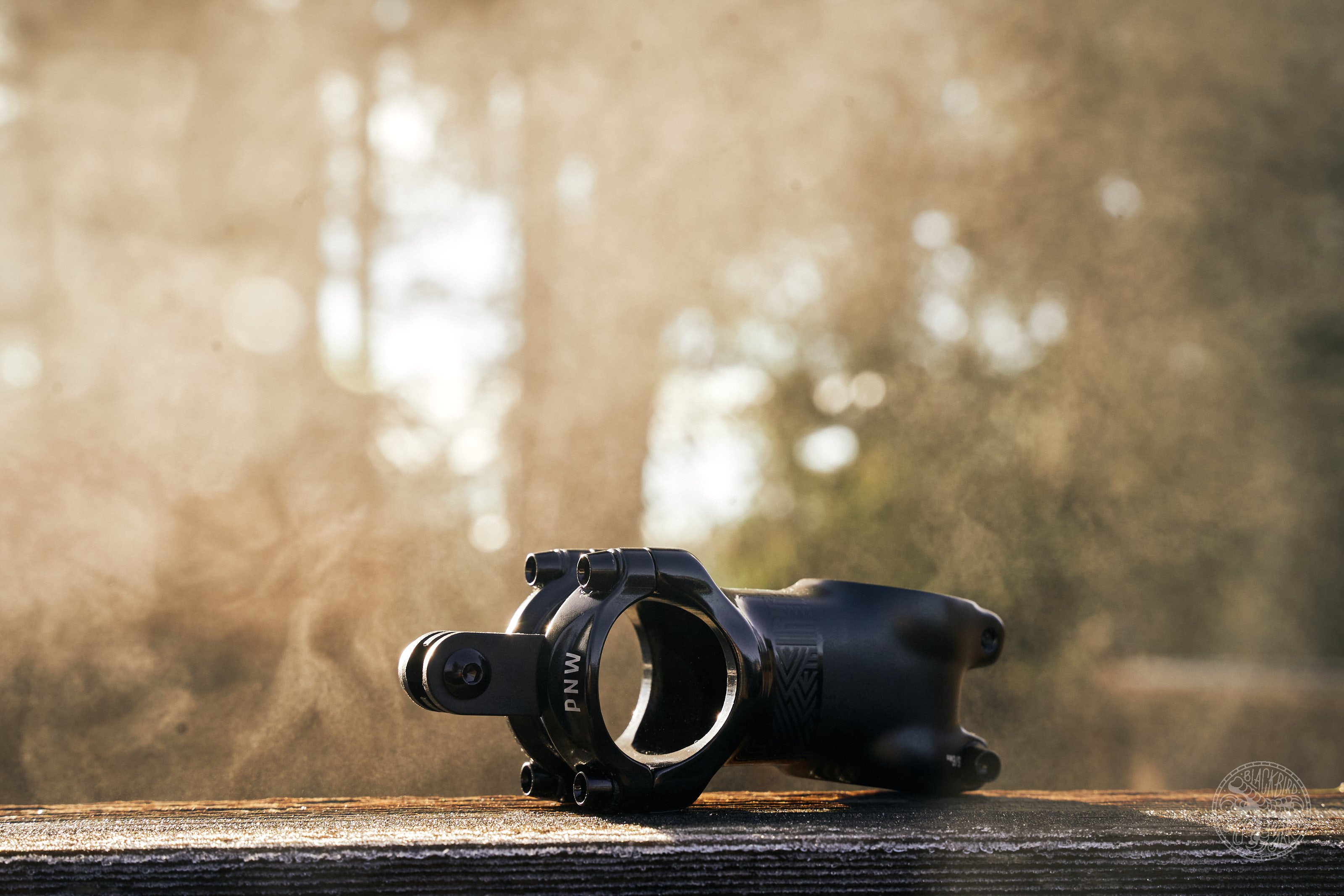 Riding Impressions
After a touch of adapting to the higher rise (+10mm) of the previous OneUp bars, I settled into the Range cockpit nicely. It's not a particularly flexy bar, but they do a good job of muting trail chatter; a very useful feature when mounted to a shorter travel machine like Transition's Spur. The upsweep and backsweep suit me just fine. Finding a comfortable roll position was a matter of one on-trail adjustment (I'm also not super fussy here). Once roll was settled, I just rode. And rode some more. And in the best way, the cockpit just faded into the background and became part of the bike, neither too flexy nor too stiff.
I haven't been able to take advantage of the accessory mount on my mountain bikes, but I do think it's a clever bonus feature for lighting. Keep an eye out here for that Coast stem to make an appearance at some point - with lights!
Conclusion
If you're looking for affordable cockpit options, be it a replacement for an aged handlebar, a solid no-fuss stem with some nice features, a case of upgradeitits, or all of the above, the PNW Range...uh... range... would be on my list. There's a few diameter and length options, and as long as you like 30mm rise, you should be able to find a colour that suits your bike nicely. Sure there are lighter and fancier options, but do you need them? PNW Components is a company that cares about their products, consumers, and the environment; always friendly, and I've heard nothing but good experiences from regular folks running the product, or dealing with ordinary customer service concerns. If you're in the market for a dropper and on a budget, keep an eye on thePNW Cycled section of the website where lightly used but returned products are checked over and sold through the website.

The handlebar is available here, and the stem is here, and if you need any additional deciding factors... they're in stock!