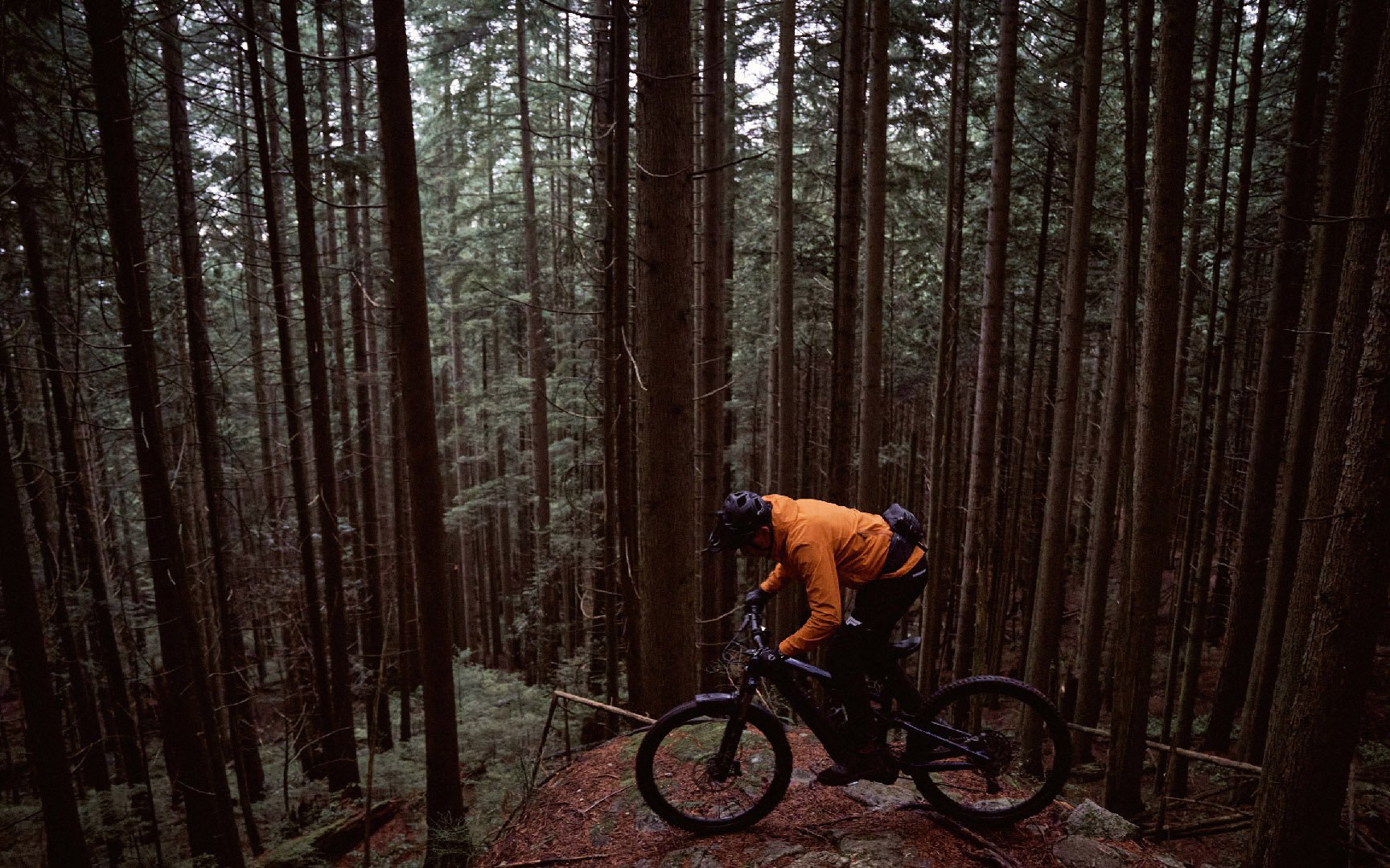 Review
PNW Components Hip Pack, Jacket, and more... (pricing updated)
Veering from your core product line is a tricky business, particularly if you make technical products for a discerning clientele. And yet there are some great exceptions in mountain biking. I've long marvelled at Specialized's ability to make great bikes as well as incredible shoes, and even socks (etc.). Bike Yoke is another that comes to mind. They began making niche shock linkages and now produce some of the best dropper posts you can buy.
PNW components, despite being a relatively young company, has already begun to pivot. Up to this point PNW has made solid-performing components at competitive prices, but more impressively the company has led the way in terms of customer service, warranty policy, and by up-cycling and refurbishing products that have been returned for some reason, so they can be resold rather than tossed in the bin. This is all impressive stuff for an upstart firm, but moving out of their lane and into apparel, outerwear and packs? I'll admit I was skeptical about this strategy considering how technical each is and how vital every detail is to both products but I was eager to check them out all the same.
PNW Rover Hip Pack
I've been moving towards riding packless in the last year, but it doesn't always work out. I probably use a fanny pack about half the time, and more than that now that it's winter. There are several factors that tip me toward the bum bag; longer rides, the need for a tube (if I'm not riding run-flat inserts), extra clothing, or the desire to carry a malted beverage for the top of the climb. I don't need a lot of room, but I like to put my multi-tool, a tube, some sort of hole-plugging apparatus, my OneUp EDC pump, occasionally a shock pump, a few random items like a mini Leatherman tool and finally some glasses so I'm not doing trailside repairs blind. Even with that slimmed down kit, PNW's Rover hip pack seemed actually a little small for my needs. It wasn't quite that simple in the end though.
The Rover holds 2.7 litres. My usual bum sac, a 2.5 litre Camelbak Repack, is meant to be used with a 1.5 litre bladder. Ditching the water off my back boosts the volume available to 4 litres, which makes for lots of versatility. In place of a bladder, the Rover has a detachable water bottle holder, which I assumed I would only use occasionally, and only for a tallboy. Instead I realized the holder is a decent place to roll up a pair of gloves or a stuff-able jacket, improving the versatility and volume of the Rover. When empty I don't even notice it's there, but when needed it can come in very handy.
There are two mesh dividers in the main compartment of the pack and a secondary pocket on the back, with another divider, and two zippered hip pockets in line with the belt, which also have mesh dividers. These side pockets are a great idea but their size, shape, the length of the zippers, the mesh dividers and the slim design makes getting things in and out a little awkward, particularly with gloves on. Even my relatively small Crankbrothers multi tool is tricky to fish out. This could be solved by making the zippers a little longer if the design makes that possible and to have the outside fabric cut a little longer to give the pocket some volume. Removing the mesh divider from one would also help. These are a great idea but a little better execution could make them more user friendly imho.
The back pocket is big enough for a large phone and it is completely lined with neoprene for some protection and waterproofing. I like to have my phone at the ready for photos so I either keep it in my pocket or, when using the Camelbak, in one of the hip pockets. Knowing it's made for a phone makes me understand the volume of this pocket but the design means that anything placed within takes up some of the space of the main compartment. I'd prefer it if this pocket pushed out a little with a dedicated orifice.
The strap system worked well for me and it's nice and tidy. The front cinches have loops that keep them from flopping around and there are supplemental cinches that pull your load in tight and make the fit a little more snug as well. These are easily adjusted without removing the pack. There is also a wide range of adjustment to fit riders of all shapes, from 24" to 48" around the middle.
There is a lot to like about this pack. The sailcloth that makes up the outer seems rugged and relatively water resistant, the strap system stays snug and can easily be made more snug with one hand. While the two hip pockets could be better, they are handy and one has a clip for your keys. The neoprene provides structure of the main pocket keeps things secure. Ideally I'd like the pack to be a little bigger for times when you need to stuff in some clothing but the size isn't bad when the bottle sleeve is factored in. I don't love waterproof zippers in use, because they are a little sticky but I appreciate their utility. The construction, materials, detail, and design are all top notch and would compare favourably to any mountain bike pack I've used in the past. Now that I've completed testing I haven't had any desire to swap everything back into my Repack. For me all of these factors make the 69 USD/86.63 CAD retail price quite reasonable.
PNW Lander Jacket
Considering the North Shore receives 2351 mm (92.6 inches)* of rain per year, my preference for waterproof outerwear isn't a shocker. I can put up with a lot if my body is relatively dry, but once I start to get wet, chills and misery are likely on the way. PNW hails from a similar climate, which is why I was surprised when their first jacket was not aimed at being completely waterproof. But then I did a little research and discovered that Seattle gets a mere 940mm or 37" of sprinkling per year. Emerald City my ass! It's practically brown compared to North Van.

*during November 2021 alone, North Van's Capilano weather station recorded 1047mm of rain
Seriously though, there is much to be said for leaving a breathable waterproof membrane out of a cycling jacket. If you like comfort you can have some nice stretch (4 way!), a less clammy feel against your skin, and much better breathability. The garment can be made to have better abrasion resistance and it should be able to come in at a lower price, particularly when compared to Gore-tex. Obviously if your goal is to stay as dry as possible without sweating like a boiled wiener, you should probably look to a membrane.
For low precip. days or for extremely sweaty humans, the Lander's soft shell is a wise choice. The material is soft and stretchy and, on one particularly cool day, I even found the breathability a bit too much for my chosen layers. One day I got pissed on a little wearing the Lander and it kept the light shower out capably. I did the same on a heavier rain day and got a little soggy.
Feature-wise the Lander is quite unique. There are two zippered slash pockets in the front, that can also work as vents, and there is a huge tube pocket accessed by two zippers in the rear. The jacket comes with a web belt meant to stabilize any load placed in the rear pocket, but I didn't find this feature useful. I might put a spare pair of gloves back there but nothing heavy enough to require the supplementary belt. I guess if I was wearing a wool jersey underneath the jacket and I got too hot I could stuff that in the back pocket, but in those situations I normally remove my jacket. At first I assumed the jacket could be turned inside out and stuffed into this pocket, and then worn around your waist like a K-Way, but this is not the case. It does however stuff into the front right pocket, but there are no loops for the belt.
Once I corrected for the extra breathability, the Lander has been my capable choice for most of the snowy riding I've been doing lately. The fit is great, it's comfortable, and the hood does well enough over my helmet. The price is 149 USD/187 CAD, almost like they were mashing the keyboard. Those figures are reasonable for a well made jacket with well-thought out features. If you jump up to the 200 USD mark you can get something that at least claims to be waterproof, like Leatt's 5.0 DBX jacket or Race Face's Conspiracy.
Not everyone wants or needs a fully waterproof jacket, or not for every day, and this meets a need for those people. I have a couple of Gore-tex garments that bear pedal scars, which is an expensive mistake. This fabric feels tough enough to easily fend off knife attacks from angry pedals.
For me, living where I do, this would not be my only mountain biking jacket, and my 149 USD/187 CAD would likely be spent elsewhere. As someone lucky enough to have multiple jackets, I can see it filling a role between a full waterproof jacket and a very light and packable wind shell. As with the Rover, construction and all materials are top shelf.
I've also been riding in the Ozone Trail Jersey as an under layer. It's an 80/20 poly wool blend and I quite like it. The glorious PNW Wool Socks have been in heavy rotation during the recent cold streak, but the Shuttle Short will have to wait for the spring thaw.