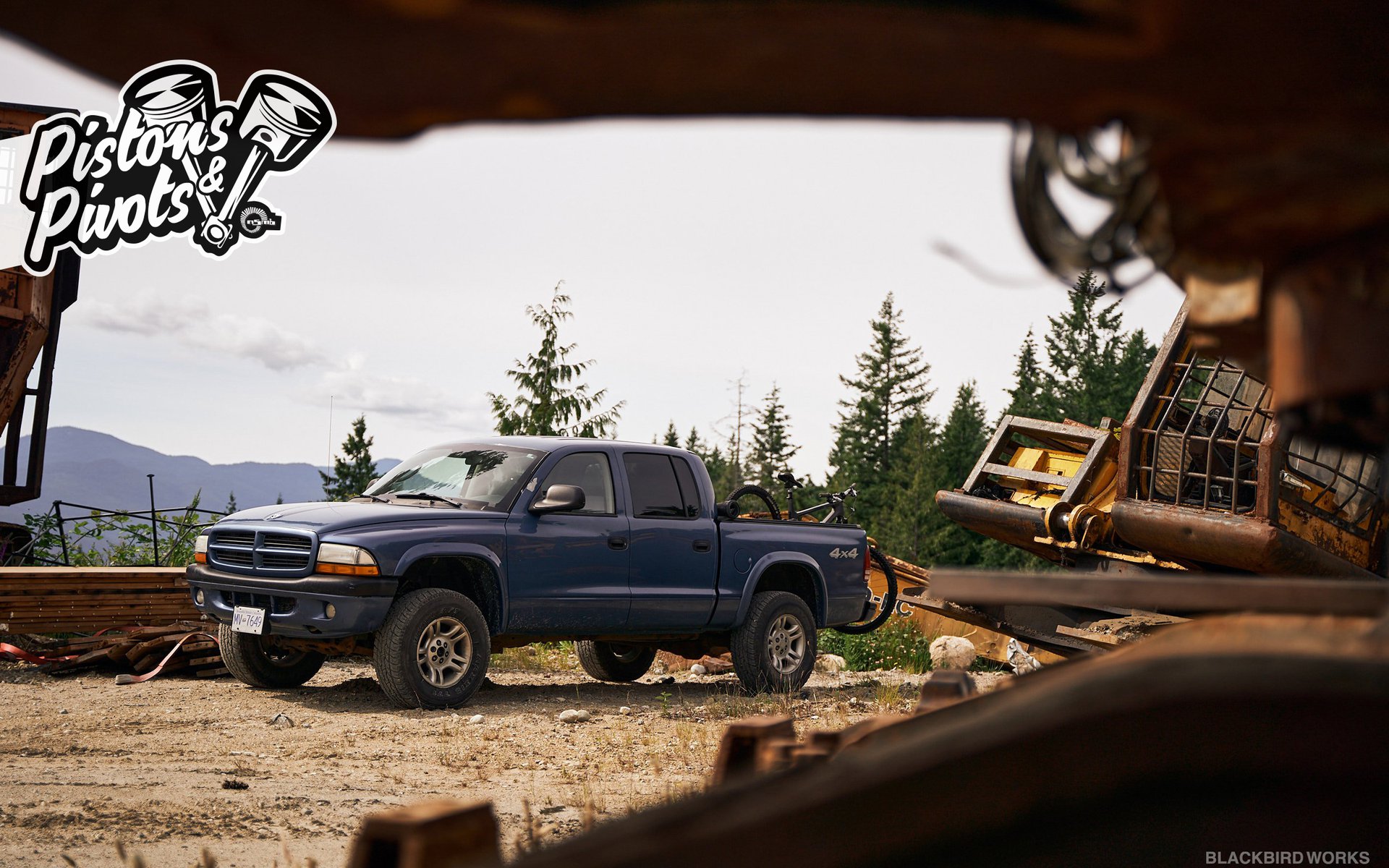 PISTONS & PIVOTS
Pistons & Pivots - Pete's Dodge Dakota V8 Magnum
Presented By

Pistons and Pivots features cool vehicles with character, and a little about their owners and the bikes they ride.
If you've got a vehicle and bike that fit the series, we'd love to help you share them with a wider audience, and you can take a crack at winning some prizing from Maxxis (tires are hard to come by in the days of Covid, so Maxxis has kindly offered to pay for two trail association memberships - one for you and a friend or two for you!).
You can enter in one of two ways:
Send photos and articles to submissions@nsmb.com. Make sure to include 'Pistons and Pivots' in the subject line.
Or simply post a few vehicle and bike photos and details to Instagram and use the hashtags #pistonsandpivots and #nsmb.
We'll pick a few winning submission and feature them on the site, and the person that submitted it will earn a membership to their local trail association as well as one other (for another trail association or to share with a friend) courtesy of Maxxis.
---
Deniz Merdano/NSMB: Tell us a little about yourself and some of the more interesting rides you've garaged.
Pete Roggeman: The first car I owned was the old family Ford Taurus wagon that got handed down to me. It was a V6 in a sexy gold with tan interior. Oh baby. It had a lot of mileage on it, but that didn't stop me from caning it up and down the Sea-to-Sky highway back in the good old days of the roller-coaster section north of Squamish, when it was tough to pass and there was a lot less traffic on the road (most of them were still terrible drivers). At that point I was more concerned with having room for skis, bikes, and friends. It served me well for a year or two. I sold it for $700 I think to a family that was moving to Saskatchewan.
Selling a car on my own at that age was a great lesson. The guy that bought it from me just needed it to make it to SK. I walked him through the car, including all the things I thought he should watch out for on their trip. As he shook my hand I remember him asking if I was a Christian. I asked him why and he said: "because you're so honest - people are never like that when they sell cars". I've been lucky with stuff I've bought over the years - maybe some of that karma rubbed off. Anyway, they made it without any trouble.
Next I had a 1985 Honda Prelude 5-speed, you know the one with the flip up lights, angular lines, and a little sunroof? That was actually the car in which I learned how to drive e- and how to drive a stick. No power steering. I still remember my dad getting out as we crossed the border at Sumas on our way to Mt Baker, and as he handed over the wheel, he said: "let's see if you can make it all the way to Glacier without using the brakes". I think I needed them twice (there are some tight turns on that road) but it was a great education in how to flow on pavement.
I moved to Europe to chase adventure and eventually ended up in a VW Eurovan (it could do 180 in 6th on the fast roads in Europe) and several wagons. One was a Skoda, which was the opposite of a rad car but actually ended up being a bit of a sleeper - it was super easy to slide around slow hairpins with the e-brake and then regain traction whenever you wanted. Every so briefly I drove my colleague Troy's Land Rover Defender 90 - cool vehicle, so shit to drive (I didn't have any opportunities to use it as it was intended, to be fair). Funny thing, though, he had a roof top tent on it - this was back in 2005 or so, waaaaay before I'd seen one before except maybe in something Attenborough narrated. Anyway, I still love Defenders, but not because of their road manners, that's for sure. Lastly, I had a really sweet 6-speed Passat TDi wagon which was not über quick but it was heavy and stable and would haul ass if it had a long launch pad. I got it up to 220 kph once on a trip in Germany and the thing that struck me was that the car was still stable as hell, my eyes were the size of a 50-tooth ring, and everything came at you seriously fast. I would never drive anywhere near that fast over here - North American drivers are clueless and checked out - but over there, driving is a verb and people pay attention. Flash those lights and *bam* your lane opens up. That Passat was FWD only but with good rubber I took it with confidence over a lot of treacherous passes in the winter Alps and Dolomites, and it was just great. I almost brought it back to Canada with me.
Back home I came, and for a while I drove the first of NSMB's Toyota Tacomas (#it'sthelaw) and they're fantastic trucks, of course, but it ain't no shooting brake. Eventually I got an industry job though and it wouldn't have been appropriate to be driving the NSMB truck so I bought a Subaru Outback - mostly because I'd wanted one since I was young and didn't think I was old/established/confident(?) something enough to drive an Audi or BMW wagon. Too bad. That Outback was fine but after a few years I sold it in favour of a 2004 Subaru WRX - now we were cooking with gas. It was chipped and had a JDM STi tailpipe and a few other goodies, and about 250 hp at the wheels with great rubber. So much fun around corners and I spent a lot of time recapturing the memories I'd made in the Prelude when I was younger. Eventually all things come to an end, though, and I knew the next big bill was just around the corner, so the WRX had to go and was replaced by - and this is a little hard to believe - a Ford Focus EV. It just came off its four year lease and my wife and I have just bought it - it's really a great car for getting groceries, etc, but we've taken it to Cumberland and the Okanagan several times. It's still a kick to 'fuel it up' for free or almost free.
So what's the story behind Blue Thunder?
And there we were, a happy one-car EV family. Granted, the Focus EV doesn't have a ton of range (about 185kms) nor cargo space, and only accommodates two bikes on the hitch rack on the back (I had to have the hitch custom made), but for our day to day purposes, it was interesting to see just how useful it was. Not all that fun to drive (better than any truck, though). And then along came Anders and Eva...I was on a mini boys' weekend trip - Cam, Trevor and I headed down to Bellingham for two days of riding and one night of beer-can-emptying. On day one of the trip, we were running laps in a lesser known part of Bellingham's trail network and there was only one other vehicle there - a blue Dodge Dakota with BC plates. After our second lap we pulled back up to the truck and sat down for a snack, and along came the owners of the Dakota: a Norwegian couple, Anders and Eva. They were friendly and immediately struck up a conversation, and in the way travelers do, within about three minutes we were sharing each others' beer and snacks. Eventually Anders mentioned that they were selling their truck and moving back to Norway and did we know anyone that wanted a truck in good running condition for $800? Cam had his Tacoma, so he was happy, and for a brief moment Trevor and I eyeballed each other about splitting it but he blinked first. I texted two buddies I thought might be interested - at this point I didn't want to take on another vehicle (we were doing fine with one, thank you very much - so I thought) but splitting the insurance - and frankly the risk of a big repair bill - with someone sounder about right. One out of my two buddies was into it and all of a sudden I had a handshake deal for 50% of a truck for 400 bucks.
And what a truck! It's a 5.6L V8 Magnum with about 320k on the clock when I got it. It had a tonneau cover and tailgate pad, plus a chain and padlock. When the brake light burned out a month later, I found a spare bulb in the console that worked! Too perfect. So I'm all set to make arrangements and Trevor pulls me aside and says: "dude, this guy will take parts in a trade for sure! Offer to barter instead". I hadn't even thought about it because $800 was already, what? one month of Tacoma payments for all the pavement princesses driving around NV with heavy 35s fucking up their mileage and massive tents on top. But then I thought a barter acquisition was a way better story. And they were SO into it! Truth be told Cam put up the key piece, which was a used but cherry RockShox Lyrik, and I had a Smith helmet in the size Eva needed (all bike parts are expensive in Norway but apparently she had a thing for Smith and their stuff was next level spendy over there). We had a deal.
When I got it, the thinking was that if the big sick ever came for the truck, I could walk away from it and even if that was after a few months, it would have been worth it. Here we are 2 years later and Blue Thunder is still going strong. I've just moved, so it paid for itself 8 times in the last two months, and just today I picked up some salvaged wood shelving and a propane heater in North Van, and drove all over downtown and the lower mainland all day looking like some hick from Sechelt - which I basically now am (and damn proud of it). We've had it on nasty roads, water bars and squirrel catchers, no worries. It's been on some road trips just loaded to the teeth with bikes and camping gear. I've overloaded it with 2 yards of crushed aggregate (way over payload) and it handled it for a short drive. I love pulling into wineries in the Okanagan in a dust-covered beater, tasting a few Pinots and then walking out to the parking lot to see it parked next to some pristine Beemer...have fun driving back to your foofy B&B, pal, I'm gonna go burn some firewood and sleep in a tent with purple teeth. That's what I love about Blue Thunder - it's rough and a bit rusty but I don't care if it gets dinged up, and that's how a truck should be.
Other than the AC, the only other thing I've changed are the tires. The ones it came with were kaput and I was able to organize some from Maxxis (available in the US only for truck tires but man do they have some sweet off-road rubber if you're into mud and crazy trucks!). The Maxxis 771 Bravo A/T is a very competent tire that made a huge difference in Blue Thunder's manners on- and off-road (and pretty decent in snow, too). Thanks for the help with those, Aaron ;) Am I plugging our sponsor? Hell yes, I am, and they bloody deserve it.
Were you a tinkerer or more of a take it to the specialist kind of petrol head?
I'd like to say a tinkerer but sadly no. The first few cars I owned needed major work or none at all, all the German vehicles were loaded with computers or corporate policy preventing me from doing much, the electric car has needed zero maintenance in four years...I guess Blue Thunder is the ticket, and I came close to buying a few tools I would have needed to do the spark plugs, but then I researched the job for this truck and it looked like it could have taken 8 hours to do...so I had a mechanic look at it first and they said I could just replace some fluids and call it a day. The thing is, it keeps running great but it could die anytime, so I'm a bit wary of investing too much time or money into it. Remember when Kramer pushed the gas level in Jerry's Saab as far as he could in that episode of Seinfeld? It's kind of like that, but instead of running out of gas, we could be in for a catastrophic failure. That's probably being dramatic - the reality is this old Dodge V8 Magnum may never quit.
RWD, AWD, or 4x4?
I've never owned a RWD car, and I love German wagons because of the look, the way they drive, and the fact that a sports wagon can be practical...but that includes being able to rally up winter roads on the way to the ski hill, so I don't know if I'll ever end up with one with RWD. That brings us to AWD, and I've owned two Subies (a boring but excellent Outback 5-spd and a not boring 04 WRX 'peanut' with a few 'neighbour-hater' mods), and a Golf Sportwagon (briefly). The WRX was the only AWD vehicle with any kind of grunt, but the others drove well in their own way. I feel like I'm torn on my next vehicle now between the insane practicality and ability to access remote areas of a 4x4 or the fun of driving a wagon. People who have driven only trucks have no idea...I mean, I like getting dumb on gravel roads but there's nothing like hitting a corner as close to flat as you dare in something that really grips.
What are your thoughts on Hybrids and electric cars?
The earth-friendly part of me loves them as well as the tech involved, and actually electric cars have some stink, but there will come a day when I'll miss burning gas from time to time. If Blue Thunder keeps running this well, the replacement will probably be an electric truck in a couple of years. Unless I bump into a few more Norwegians looking to unload a jewel of a beater Dodge V8...
Do you see any environmental benefits in new electric cars vs. upcycling an already existing vehicle like the Dakota?
BC has the cheapest electricity in the world, so electric cars make a lot of sense here. In other places, the formula is a bit different depending on the power grid and how it's managed. Once we can establish that battery lives are long enough to offset the environmental impact, I don't think it'll be any contest. Everyone knows about the benefits of not having to drill, refine, and burn fossil fuels, but one thing people don't realize is the impact of driving quiet cars is going to change how our cities and highways sound (and look - in Europe a lot of downtown cores are moving to EV only which is giving rise to lots of plug-in EVs and hybrids so commuters can flick it to electric mode for driving into downtown - this is also reducing diesel fumes and the need to clean those beautiful old buildings so often). A moving car will still make noise as it goes faster, but at slower speeds, that peaceful quiet is so nice. Having just moved to a much quieter neighborhood than I lived in before, I have a renewed appreciation for how important it is to control how much noise pollution you're exposed to.
Until electric cars really start to take over, though, I think that dragging as much practical life as we can out of vehicles like the Dakota makes sense, and I take a bit of pride in that. I've driven brand new cars and trucks and it's nice - really nice - but it didn't make me feel better about myself. There's enjoyment in appreciating a new vehicle, and of course a comfortable interior goes a long way when you're in the car for 10 or 12 hours or more in a day, but I think it's important to get a bit of perspective, too. Same thing with bikes, and I'm vulnerable there, having ridden so many beautiful brand new bikes over the years...sometimes you have to be reminded why you love things, not just for the sake of those things when they're new and shiny, but because of how they make you feel. Driving around in a new car will do that for me for a few minutes, but then I just want to feel myself getting punched in the ass or railing turns, and you don't need a new car to do that.
Any fun/annoying quirks on the Dakota?
There's nothing in Blue Thunder that isn't a fun/annoying quirk.
sometimes it won't shift out of P, so you have to turn it off and on again and voilà
no A/C when I got it - the biggest investment I've put into it was about $700 to get it fixed...it 'works' now but it's not bad-ass A/C, just fairly tolerable
in the first week of owning our Mexican rescue mutt, Gordie, he got a bit nervous inside the cab after we left him for a few minutes, and chewed partway through the driver's seat belt strap...I really do need to get that replaced.
the window lock button is mostly stuck in lock - I'm the only one that can operate the windows, so passengers have to ask for their window to be dropped or boosted
engine light permanently on - obviously (I ran the error codes - exhaust leak)
the tailgate doesn't close well - you have to hold it in while you slam it firmly
the tonneau cover also doesn't like to close, so I devised a spread-eagle hold down trick that I seem to be getting pretty good at. Hey, it was free!
the headliner is torn and starting to sag. It ruffles very prettily when I blast the AC though.
there's a shimmy on the rear left wheel under braking.
the rearview mirror works perfectly, though.
But the thing is, the things that matter all work great. It fires up and runs pretty well. The 4x4 is great and the transmission is...fine. Brakes work well despite the shimmy. And it's a handsome truck. For so long I had eyes only for Tacomas but that's changed lately - now I like 4Runners and Tundras, too (j/k, I'm also into F-150s and the new Ranger is a sweet little number).
If it was a drag race between the Dakota and the Trek Rail to 30km/h which one would win?
I can get that Trek to 30 in about three seconds, so it's no contest. But once that V8 starts to rumble Blue Thunder can make a little noise and get on down the road.