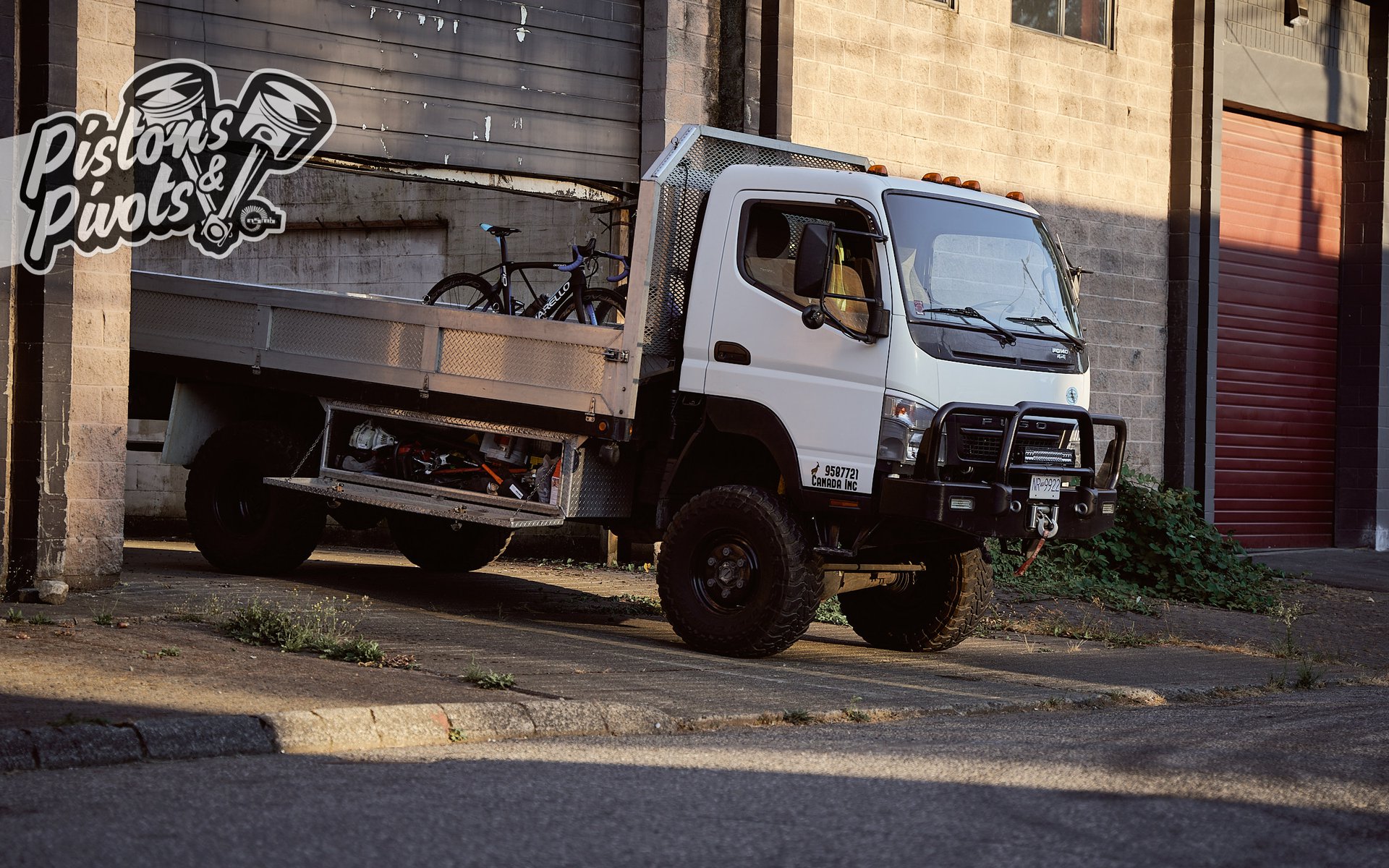 Pistons & Pivots
Pistons & Pivots - Brad Lever's Mountain Goat Fuso 4X4
Presented By

Pistons and Pivots features cool vehicles with character, and a little about their owners and the bikes they ride.
If you've got a vehicle and bike that fit the series, we'd love to help you share them with a wider audience, and you can take a crack at winning some prizing from Maxxis (tires are hard to come by in the days of Covid, so Maxxis has kindly offered to pay for two trail association memberships - one for you and a friend or two for you!).
You can enter in one of two ways:
Send photos and articles to submissions@nsmb.com. Make sure to include 'Pistons and Pivots' in the subject line.
Or simply post a few vehicle and bike photos and details to Instagram and use the hashtags #pistonsandpivots and #nsmb.
We'll pick a few winning submission and feature them on the site, and the person that submitted it will earn a membership to their local trail association as well as one other (for another trail association or to share with a friend) courtesy of Maxxis.
---
Not another Tacoma. There is a calming, reliable and universally digested boringness to all the off the shelf trucks we see on the roads here in North America. As a sharp-eyed scouter of all things exciting on wheels, I am constantly trying to one up myself. I ache in anticipation of the banality of another photoshoot with a vehicle from the Big T.
Its not that I don't like the machine. They are reliable as hell, relatively good looking and fit the purpose of hauling bikes around on the rugged roads of British Columbia really well, while staying manageable in the mall parking lot. I would love to own a 4Runner myself at some point but the Toyota Tax, which has never been higher, is too hard to swallow for a cheapskate like me. There are people out there with a more creative agenda, looking for rare, off-kilter vehicles to build their dreams on, even though these thoroughbreds always have high price tags and inconveniences attached.
Brad is one of those creatives that set out to find a truck platform that not only turned heads, but also earned it's keep in the driveway. Brad's 2010 Mitsubishi Fuso is a full-time working truck that is also an apocalypse-ready expedition vehicle in disguise.
Brad's day involves building up and tearing down elaborate shooting locations for movies and shows. Do you need a UFO crash site with a flying saucer and carnage? He'll build it. Do you need BC Place turned into a desert landscape for a big scene? He is the guy.
The Fuso never stops, neither does Brad... The folding bed can turn into a flatbed in a minute and take over 9000 lbs of payload.
The Mountain Goat Fuso is a unique vehicle on the streets. How did it come about? what year is it?
Brad - The Mountain Goat is the result of my desire for the ultimate truck: big capacity and bigger capabilities.
Tell us about the upgrades and special tricks it has up its sleeve.(suspension, bed, wheels etc)
Brad - As the trucks stands, the Mountain Goat is equipped with a 4" lift, 37" tires, super single conversion from factory dualies, locking differential, air ride seats, bull bar, 18,000 lb winch, 13x7' flat deck w/collapsible aluminum side and rear gates, headache rack, off-road lighting set up, and 3/16 aluminum belly/tools boxes. It also has roof rack and basket, which includes slash guards waiting to be mounted (slash guards protect the windshield from large branches…when you're out blazing trials).
Any cool places it has taken you so far?
Brad - We spend a lot of time climbing around the West Cost mountains.
Lets talk about your bikes. What do you ride and why?
Brad - For off road I'm currently riding an Ibis Ripmo,
and for on road a Pinarello Dogma F10. Both because they're light, nimble, fast, and they seem to handle anything thrown their way with great poise.
How has mountain biking impacted your life?
Brad - Mountain biking has brought a new level of excitement and vigour to my life. I crave endorphins and adrenaline, and mountain biking delivers both in spades.
Anything else you'd like to add?
Brad - Just that I love living on the West Coast, there's no better place to be.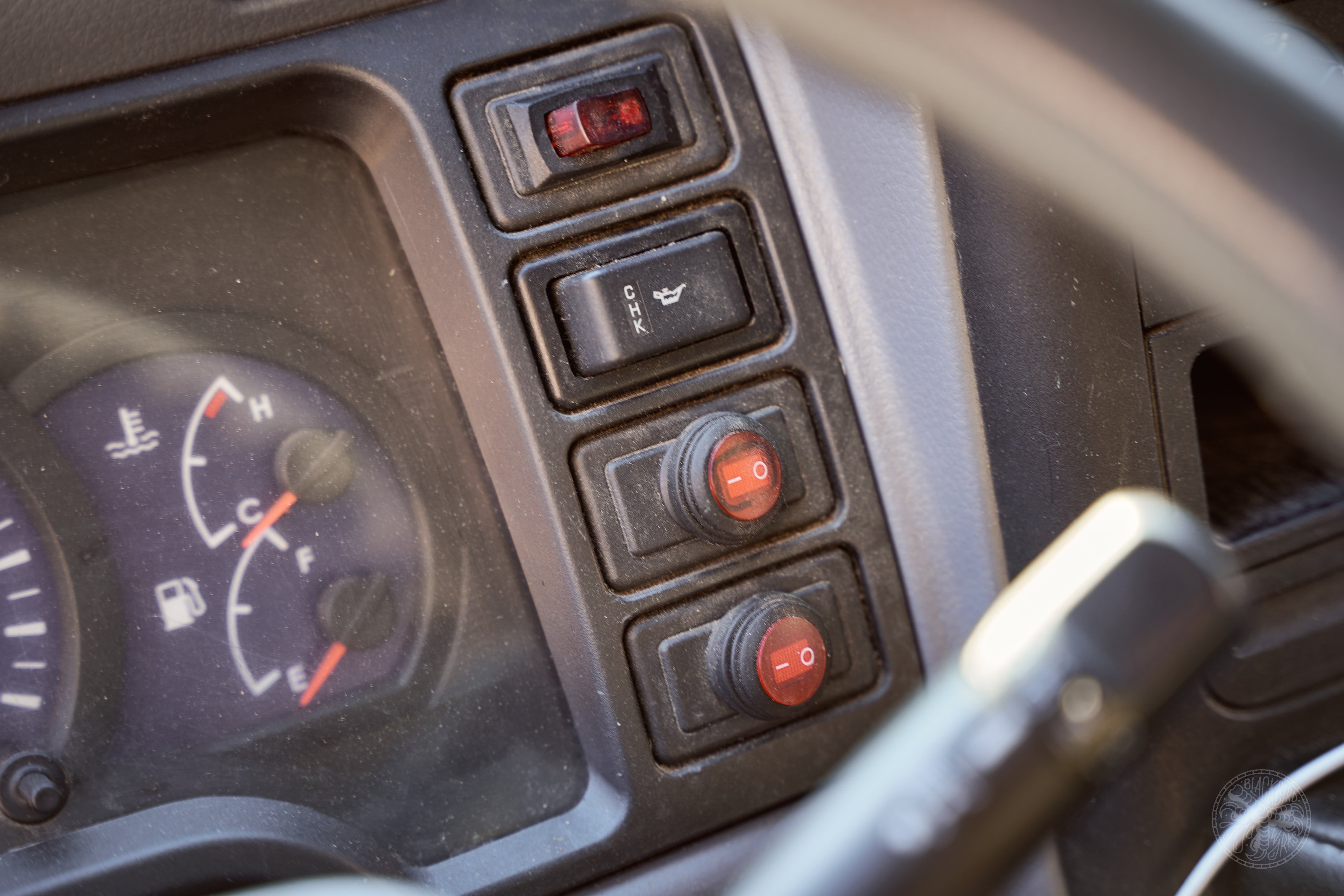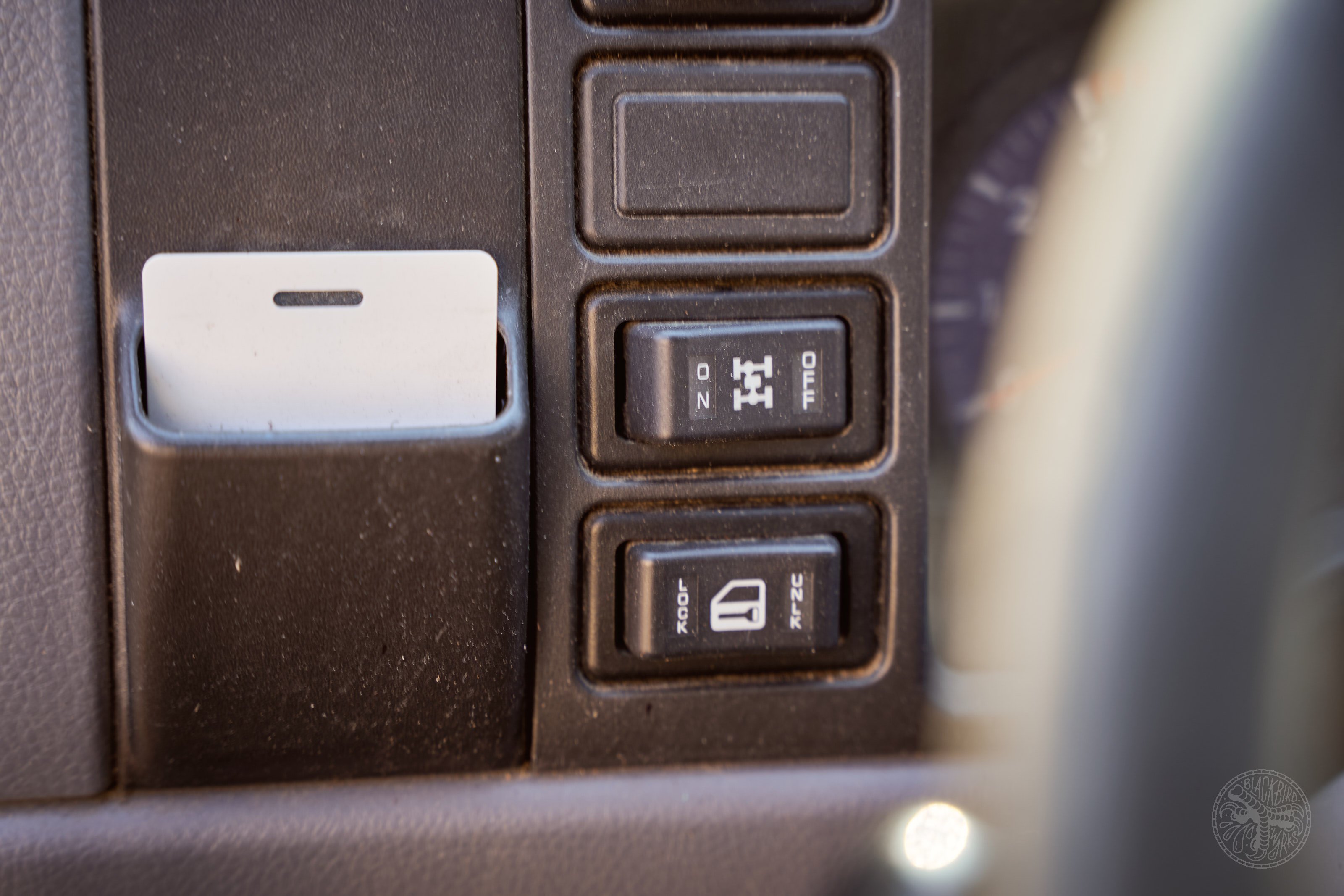 Backstory
When Brad found the Fuso for sale on Craigslist, it had a Camper Trailer with its wheels removed on top of the bed. It was well done and fully functional because the fellow wanted to take his wife and drive down to South America and live off the grid. He had done all the hard work himself, at his property but failed to calculate one crucial step.
All it took his wife was a cruise around the block to say "Hells No" to that idea. The Fuso's cabin is built for day to day work and lacks the luster and passenger comfort of a world traveling RV. It is brutally straightforward and simple and the addition of the air seats was necessary vfor Brad.
Brad however wanted a burly work truck that would pay for itself, so he told the seller he would buy it if he could leave the camper behind and take just the truck. The seller agreed and apparently put the axles back in and sold it separately. Brad, with his fabrication connections, got all the boxes and the folding bed built to his specifications. The frame is pre-drilled for a dumping bed and all the accesories you can imagine attaching to a lightweight truck. As the Dual rear wheels are not very offroad friendly, Brad converted to singles and put on the meatiest tires he could without going absolutely broke in the process. It was still about $1000 for tires, per corner.
You can see Brad's work here.