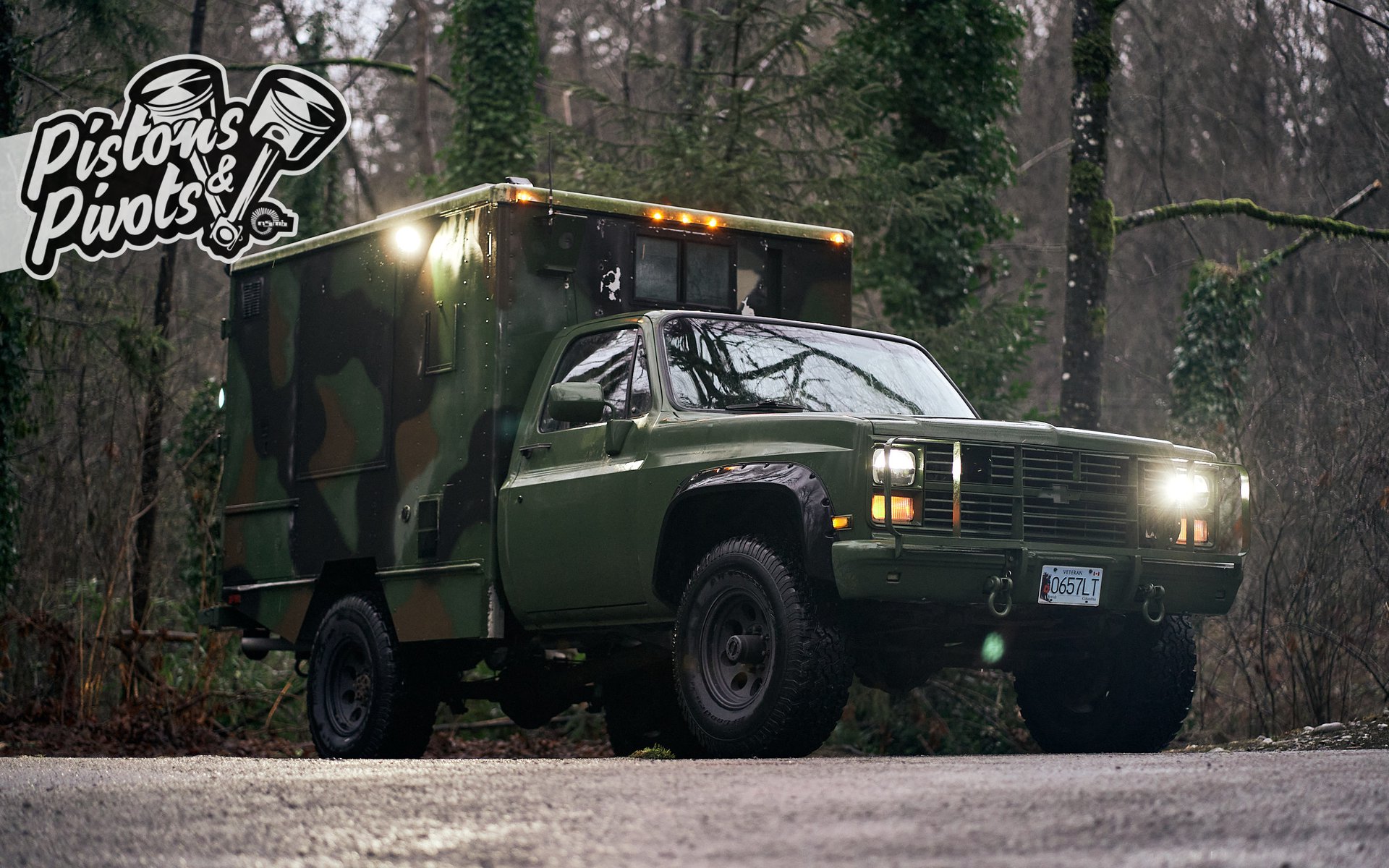 Pistons & Pivots
Pistons and Pivots : James Cowan's Ex-Military Ambulance & Cannondale Jekyll
Presented By

Pistons and Pivots features cool vehicles with character, and a little about their owners and the bikes they ride.
If you've got a vehicle and bike that fit the series, we'd love to help you share them with a wider audience, and you can take a crack at winning some prizing from Maxxis (tires are hard to come by in the days of Covid, so Maxxis has kindly offered to pay for two trail association memberships - one for you and a friend or two for you!).
You can enter in one of two ways:
Send photos and articles to submissions@nsmb.com. Make sure to include 'Pistons and Pivots' in the subject line.
Or simply post a few vehicle and bike photos and details to Instagram and use the hashtags #pistonsandpivots and #nsmb.
We'll pick a few winning submission and feature them on the site, and the person that submitted it will earn a membership to their local trail association as well as one other (for another trail association or to share with a friend) courtesy of Maxxis.
---
Deniz Merdano - Hi James, Please introduce yourself a little.
I'm a couple years younger than my truck and work as a mechanical engineer here in British Columbia. My wife and I moved from Ottawa to North Vancouver in 2018, a move back home for her. As a lifelong mountain biker who grew up watching Kranked 3 – Ride Against the Machine on repeat, our move to B.C. was a dream come true for me. Having spent the last four years exploring the trails here on the North Shore, the Sunshine Coast, on Vancouver Island, and up the Sea-to-Sky corridor, I feel like I've barely scratched the surface.
I have my dad to thank for my interest in mountain biking. He's been riding, racing and bikepacking for decades and always made the time to take my friends and me out on the trails as kids.
Well the reason everybody is here today... the 1985 Military Ambulance (does it have an official name?)
­This bucket of bolts is a 1986 CUCV M1010, retired Canadian military ambulance. Based on the limited information I have on its past life, I'd guess that the truck spent some time as an airfield ambulance at CFB Bagotville. We've officially named it 'Rolling Thunder', but often just refer to it as the Campulance.
The M1010 is basically an up-fitted 80's Chevrolet K30 chassis cab truck with a big aluminum box on the back. There were several different CUCV (Commercial Utility Cargo Vehicle) variants. Some had PTO driven generators and air compressors, command shelters or fire fighting equipment, but they were all based on 'off the shelf' GM trucks.
Rolling Thunder is powered by a naturally aspirated 6.2L V8 Detroit Diesel, paired to a TH400 3 speed automatic transmission (Turbo Hydra-Matic, dude). It has leaf springs and solid axles front and rear with a Dana 60 up front and a 14-bolt full floater rear axle with a Detroit locker. It's a '1 1/4ton' truck with a GVW of 9,450lbs.
How did you end up with a military ambulance?
I had been scouring the classifieds for a budget trailer that I could build out and use as an all-season basecamp, when I came across an ad for the truck. It had less than 74,000 kms on the odometer and was cheaper than any of the utility trailers or campers that I had been looking at. What could go wrong?
The used car dealer who posted the ad had picked it up at a government surplus auction a few years earlier, and hadn't really done anything with it since. It looked to me like the truck had been a giant lawn ornament to draw people onto the lot. There was a family of mice living in the coolant reservoir and the fuel system was leaking all over the place. The military had removed all of their radio and medical equipment before selling it at auction and had cut hundreds of wires, leaving a tangled mess of unidentified live wiring. The tires were rotten and cracked, the batteries weren't charging and half the instruments on the dash didn't work. Needless to say, I bought it on the spot.
Why is it called Rolling Thunder?
It's big, it's slow and it's loud.
In university, my roommate had inherited a 90's metallic turquoise-teal Pontiac Grand Am from his grandparents that had the nickname Rolling Thunder. We used that car to get to mountain bike races and to and from our job trail building in the summer. It broke down several times and always seemed to have a flat tire, but it got the job done. The nickname was inherited by my truck, in memoriam.

Why is it called Rolling Thunder? -It's big, it's slow and it's loud.
How was the drive across the continent?
It was slow… and loud [see above].
The truck is geared low, with a 4.56 ring and pinion ratio and that three-speed transmission with no overdrive. It's got the same power as a modern Toyota Corolla, at more than double the curb weight. On a flat road with a tail wind, we were barely able to hold 85 kph, making for a long couple of days crossing Ontario and the prairies. We didn't want to push the truck too hard though. With no tachometer or temperature gauges, it's hard to keep tabs on the engine except by monitoring the frequency of vibrations rattling through the cab.
Despite all that, Rolling Thunder hauled the two of us, our dog, and all of our belongings almost 5,000 kms across the country with no issues. We made the trip in January and it was -30 or colder in Saskatchewan, but the truck performed flawlessly (with frequent fluid checks and top-offs).
That cross-country haul was definitely our biggest trip in the truck to date. We drove through a whiteout blizzard north of the great lakes, raced trains across the prairies and crossed half a dozen mountain passes to make it all the way to the Pacific Ocean.
Run us through how it is to daily drive it.
Rolling Thunder is happiest on a winding gravel road, cruising along with the windows down; not a parking lot in sight and far from the glares of passing Tesla drivers. I've used it to commute around the city for work and to run errands, but it's just not practical as a daily driver. It's too big and has too many blind spots, making city traffic and parking very difficult.
It also draws a lot of attention. Could be the paint job.
I recently got my motorcycle license and have been getting around the city on a new-to-me 2008 Honda XR650L.
What's on the to-do list for the big rig?
Between the truck and the camper fit-out, there's an endless to-do list that seems to grow faster than I can check things off. I try to tackle one or two big tasks or upgrades each year, along with the regular maintenance and repairs.
I'm still dealing with mysterious, whack-a-mole type electrical issues that seem to manifest themselves in increasingly strange ways. Turn signals, dash lights and switches sometimes have a mind of their own.
The next big upgrade for the truck would be suspension. I'd like to replace the front leaf springs and add a few inches of lift so I can clear a crossover steering kit to improve the steering geometry. The rear leaf pack is rusty and coming apart, so it needs to be rebuilt or replaced as well.
In the camper box, the obvious next step would be to get some wall panels up. I'd also like to install a big window on one side of the box to let in a bit more light back there. The long-term goal would be to have a little food prep area with a sink and running water, as well as some more built-in storage.
There's no real rush on any of this stuff, as the truck works just fine as it is.
What's the coolest place you've taken it to?
Probably Yoho National Park in the Rockies, where we spent a night at Emerald Lake Lodge on our drive across from Ontario. We liked the spot so much, we went back and got married there.
We had a pretty memorable trip down through Washington and Oregon, with stops in Portland and Hood River. Admittedly not the most exotic destinations, but it was a great trip.
That's a big part of the appeal of this truck for me. We can just throw some gear into the back and hit the road with very little planning. Having the truck ready to go in the driveway makes it easy to get out for a weekend or even just for a night.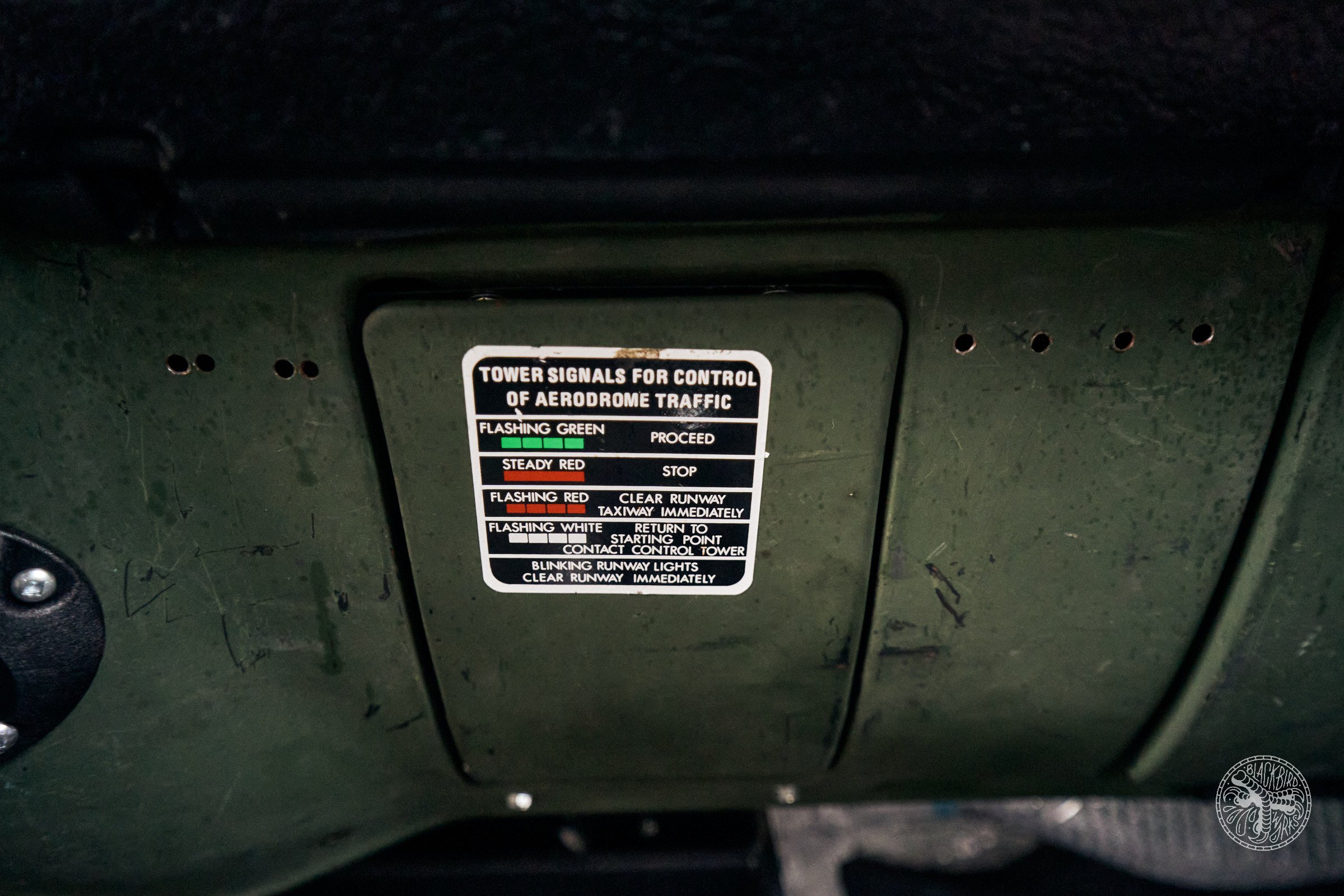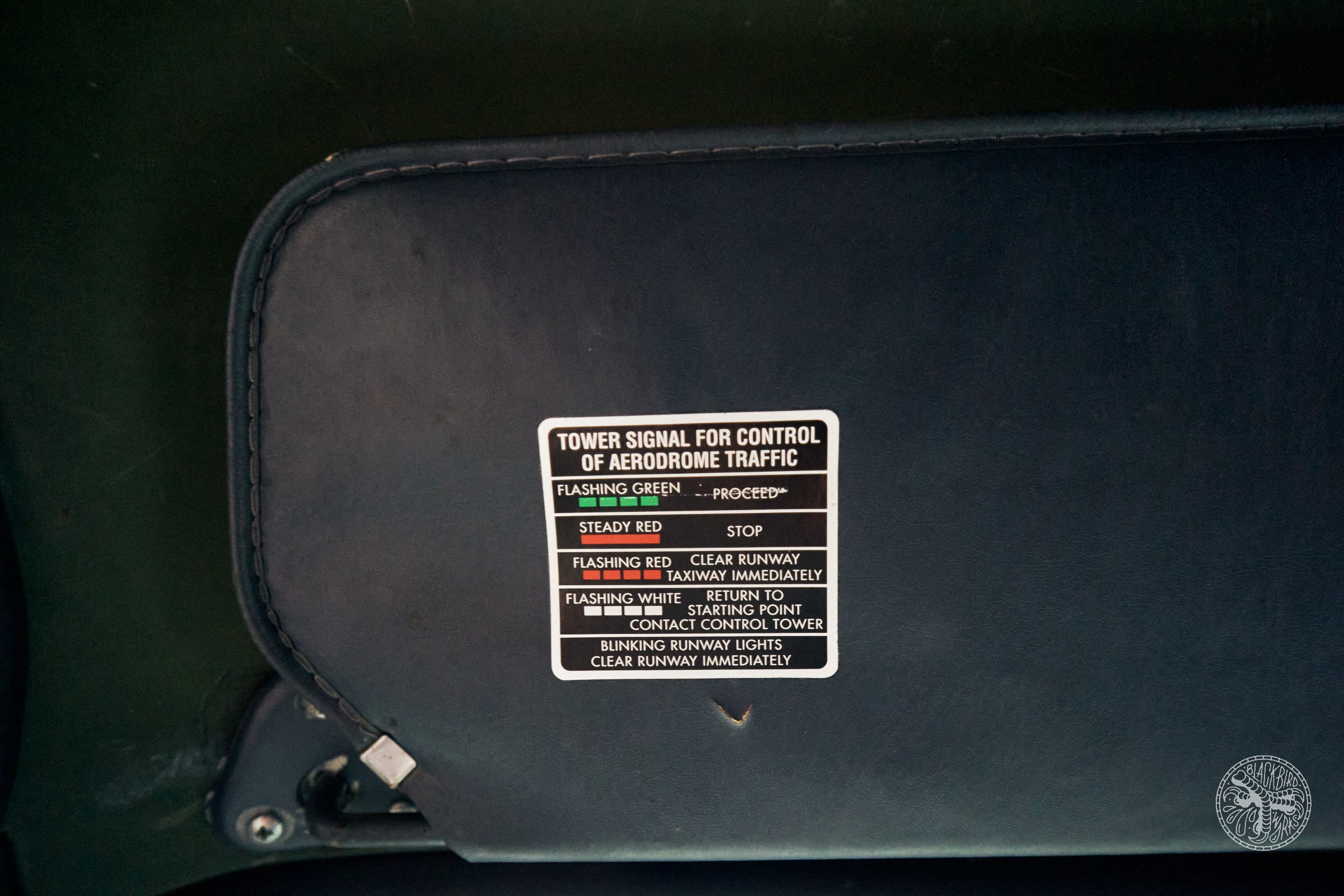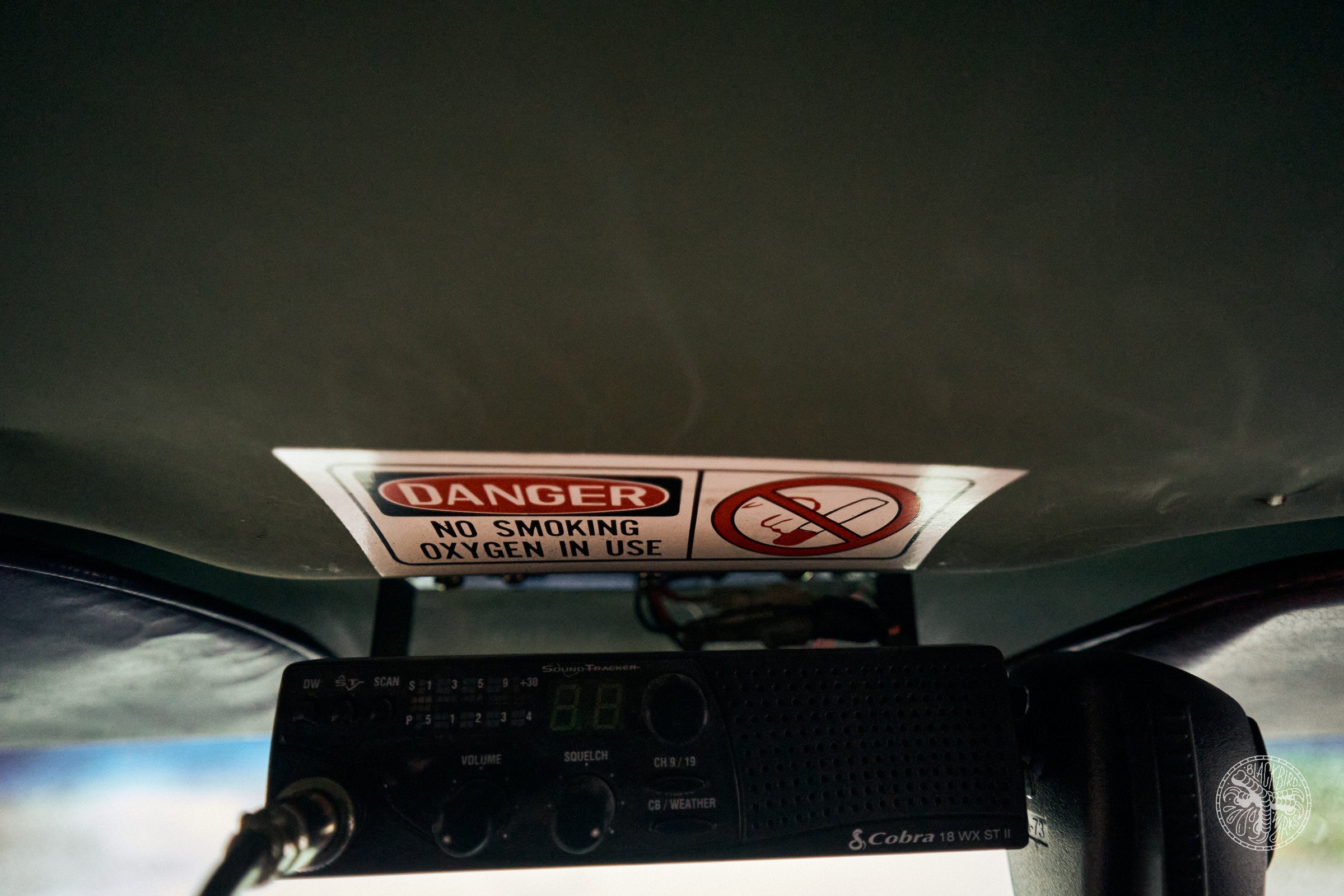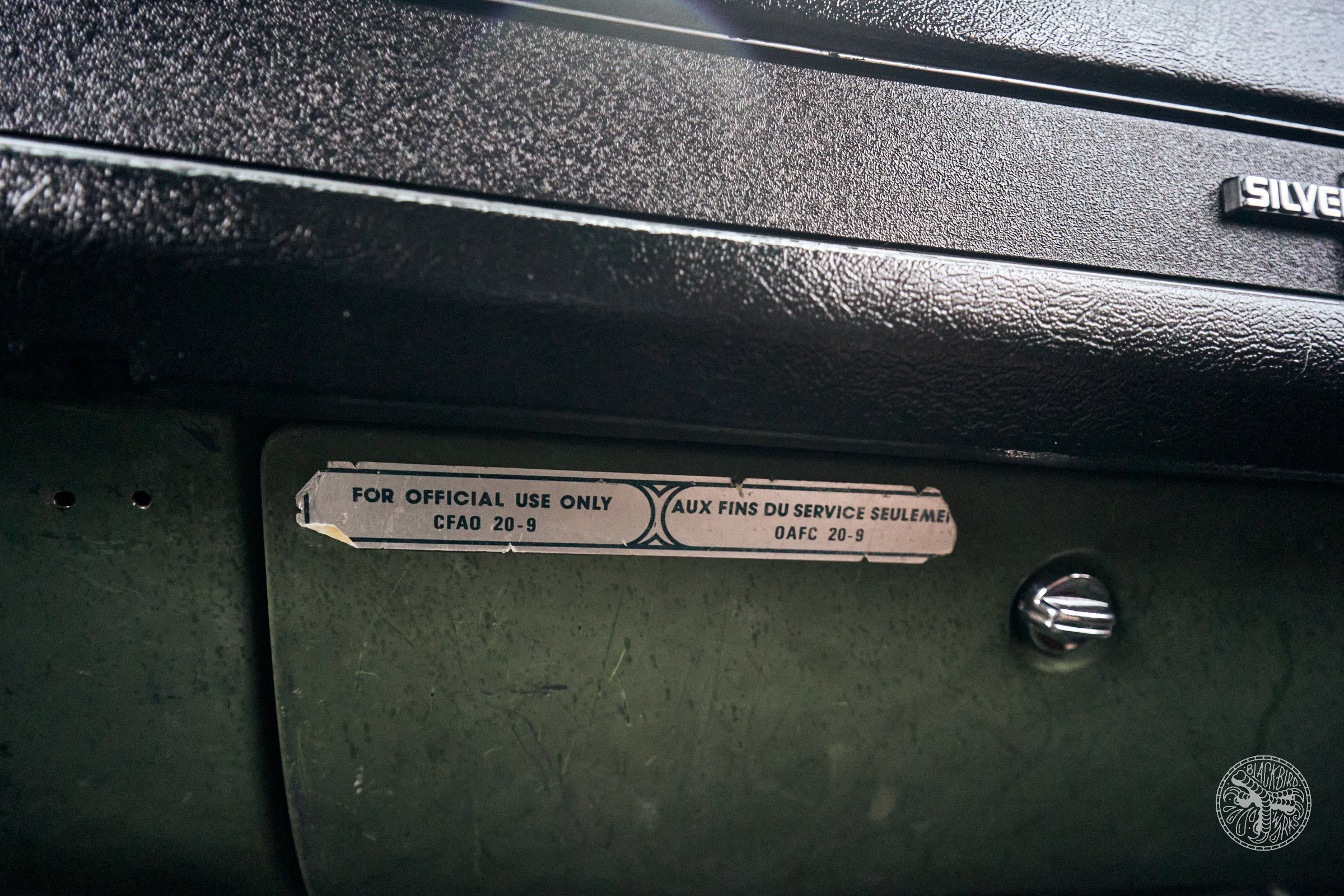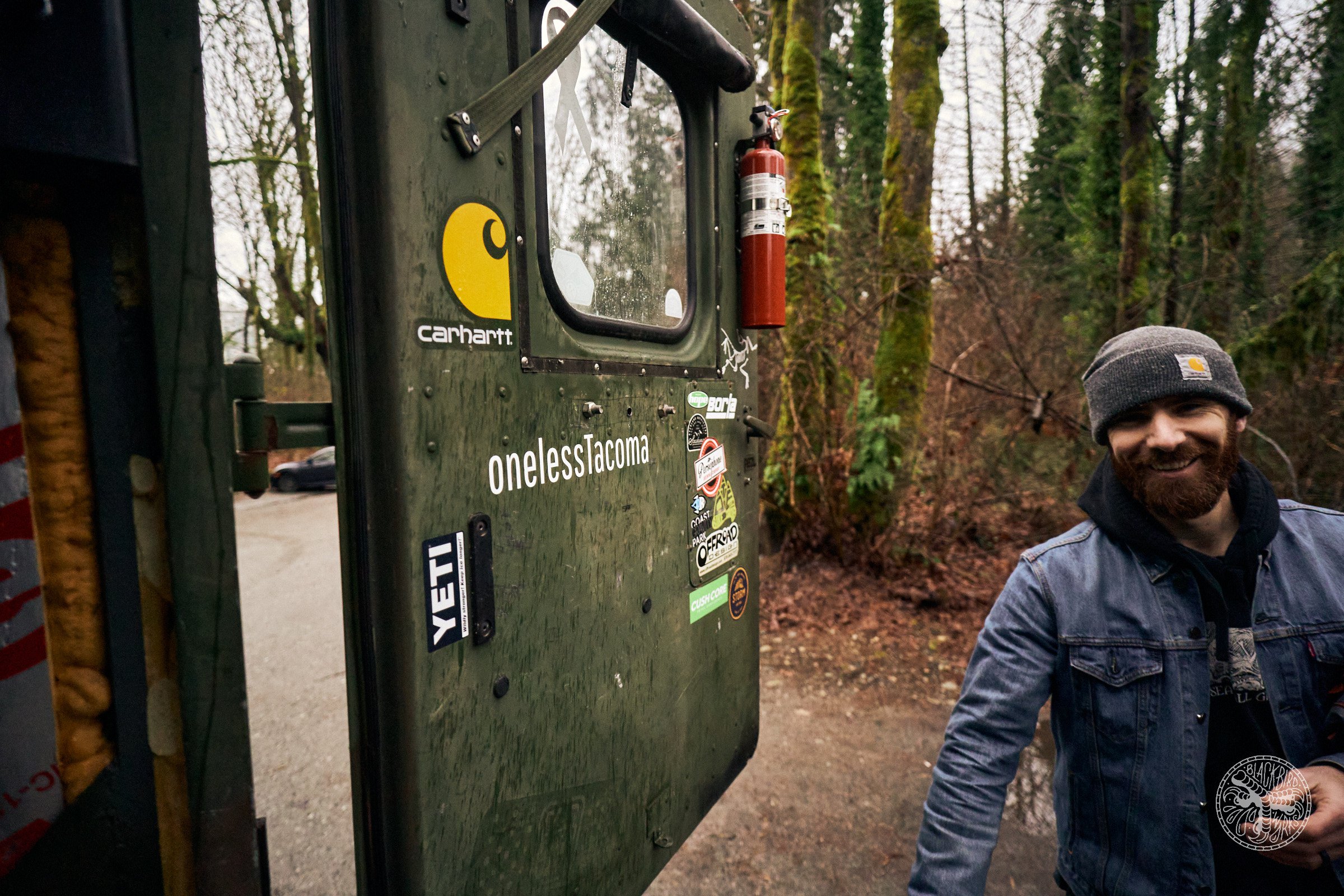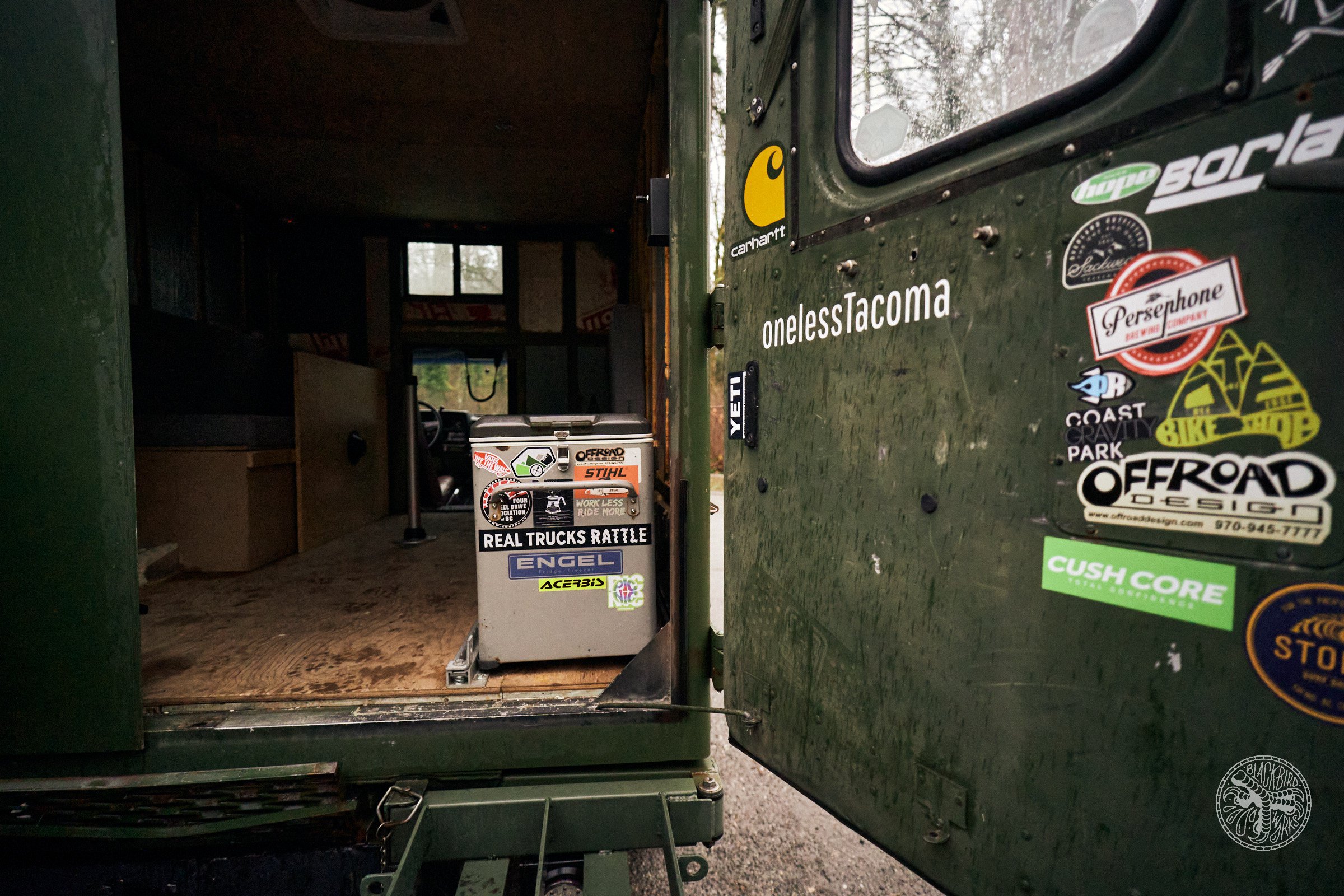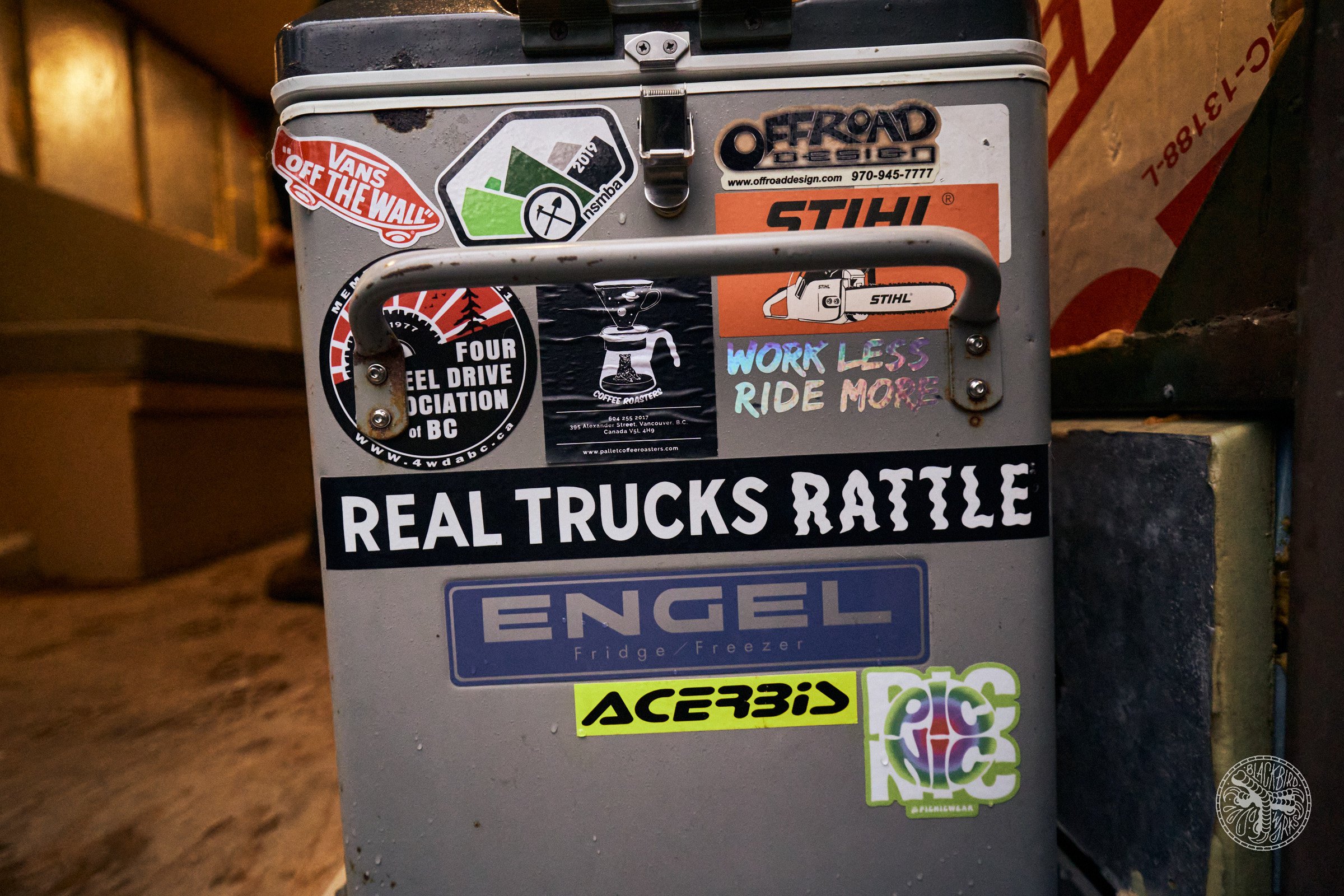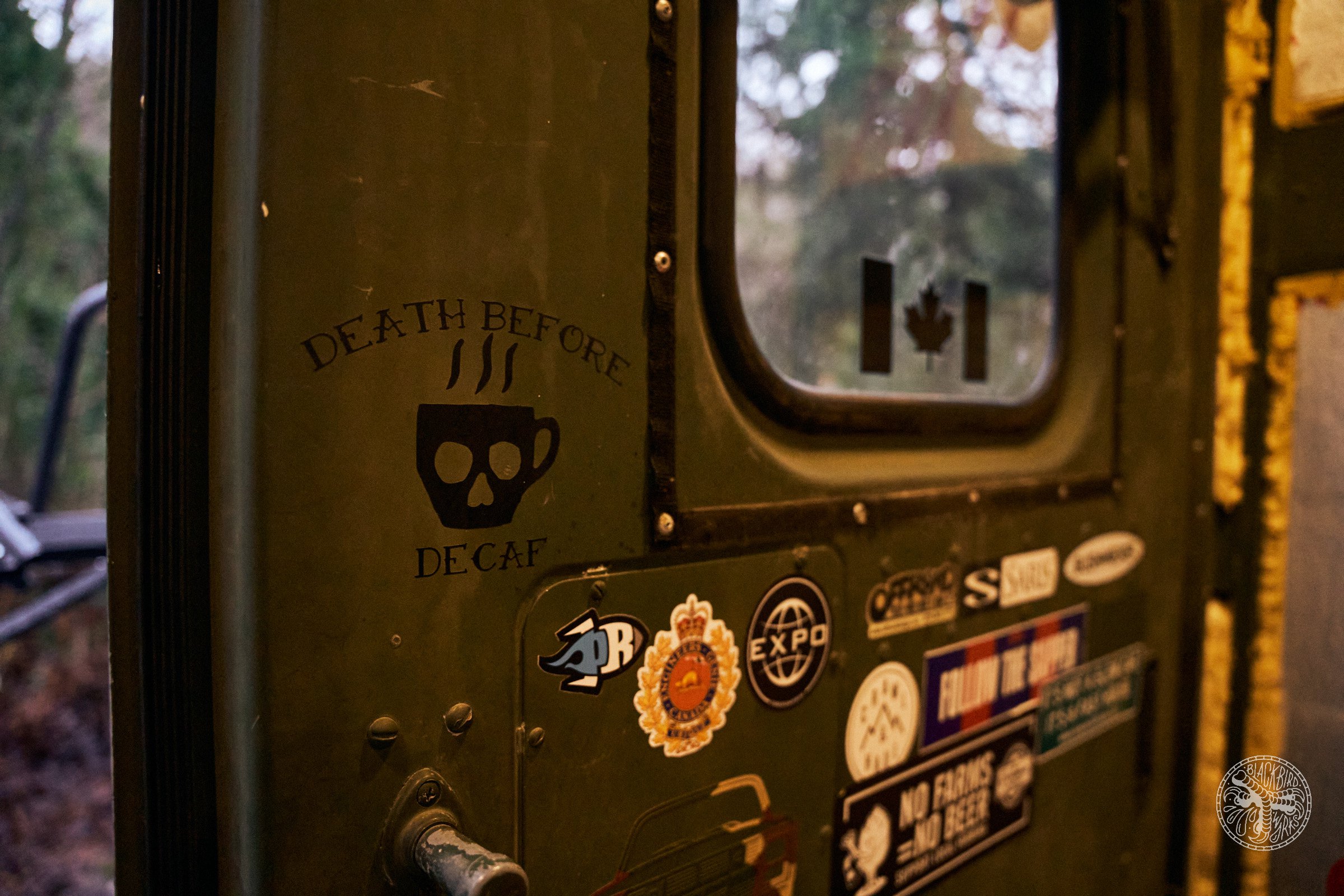 Tell us a little bit about your bike.
I'm riding a 2018 Cannondale Jekyll 3, but the only stock parts remaining on the bike are the front wheel and the frameset. I've replaced and upgraded parts as they've failed or worn out, slowly piecing together a more robust build for the riding here in BC.
I brought the Shimano XTR 11-speed derailleur, shifter and cassette over from my last bike. The cassette eventually needed replacement, but the XTR shifter and derailleur are still performing flawlessly after 8 years of hard use (despite several hard hits on that derailleur).
Here's a spec for reference, not sure if you want to include any of this, but here ya go:
Frame: 2018 Cannondale Jekyll 3, 165mm travel, Size L
Fork: Fox 38 Factory 170mm
Rear Shock: RockShox Super Deluxe Coil Ultimate Remote, 230x60mm, 450lb Spring
I replaced the stock bushings at the shock mounts with an RWC needle bearing kit at the upper shock mount and a bearing mount kit from a Santa Cruz Nomad on the lower shock mount.
Front Wheel: Formula Hub, WTB Frequency Race i29 Rim, Cush Core
Rear Wheel: Industry Nine Torch Hub, DT Swiss FR560 Rim, Cush Core
Tires: Maxxis Assegai 27.5 x 2.5" WT 3C EXO
Pedals: Crank Brothers Mallet DH
Crankset: Race Face Atlas Cinch, 175mm
Chainring: Race Face Cinch Direct Mount, 30T
Chainguide: OneUp Bash Guide
Rear Derailleur/Shifter: Shimano XTR M9000 Shadow+ 11 Speed (w/ Wolf Tooth GoatLink)
Rear Cassette: Shimano XT 11 Speed 11-42t (w/ Wolf Tooth 45t cog)
Handlebar: OneUp Carbon Handlebar, 20mm rise
Grips: OneUp
Stem: OneUp EDC Stem, 35mm
I had some trouble keeping everything tight with the EDC stem preload system, so I abandoned that and went back to the threaded steerer tube. I haven't had any issues since (looks like they've discontinued it).
Headset: FSA No.42 / ACB-A
Brakes: Shimano ZEE, with 203mm/180mm Shimano Ice Tech rotors
Saddle: Fabric Radius Scoop (my second one, as I bent the rails on the first)
Seatpost: OneUp Dropper, 31.6mm, 180mm drop