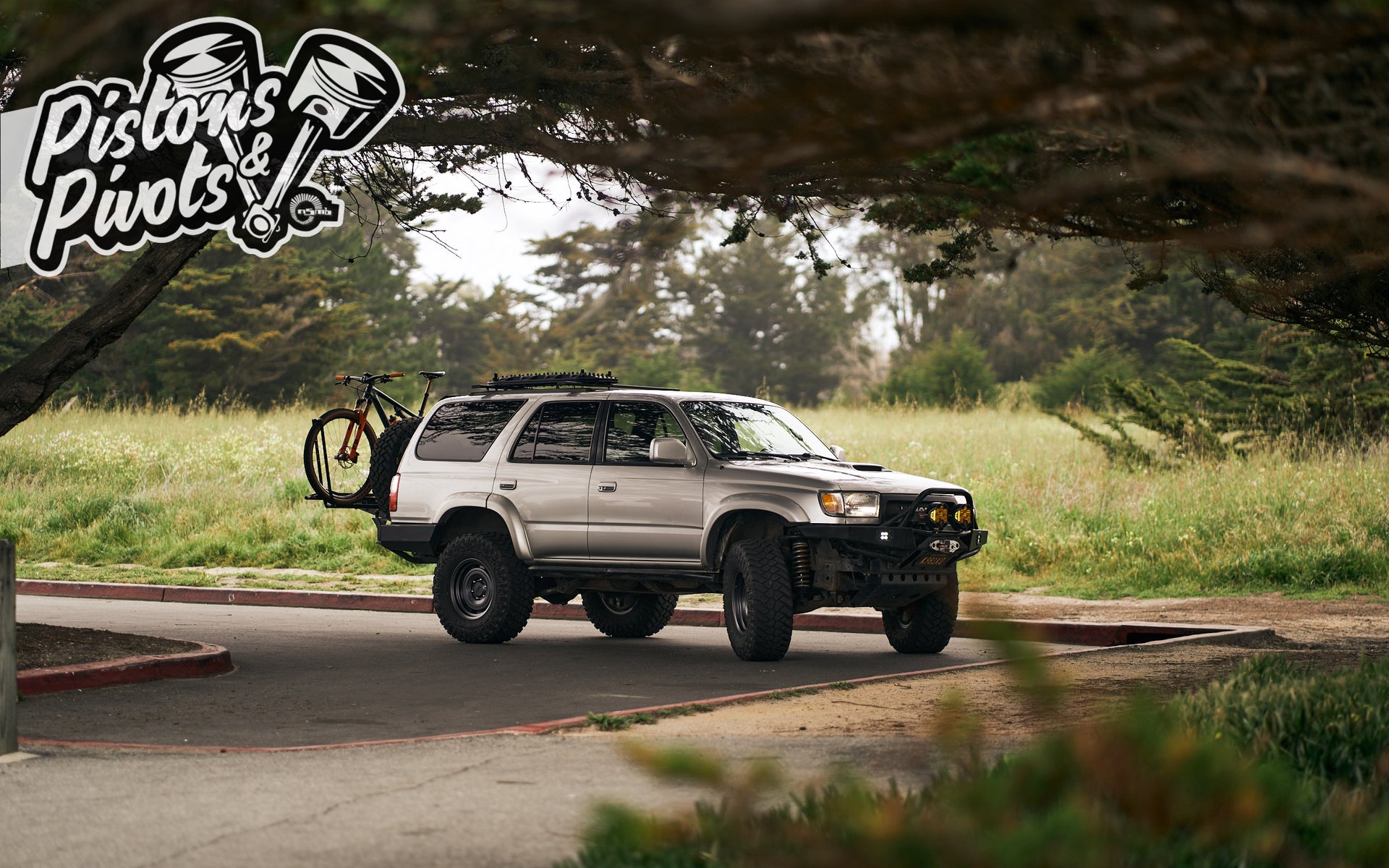 Pistons & Pivots
Pistons and Pivots: 2000 Toyota 4Runner SR5 and Specialized S-Works Epic Evo
Presented By

Pistons and Pivots features cool vehicles with character, and a little about their owners and the bikes they ride.
If you've got a vehicle and bike that fit the series, we'd love to help you share them with a wider audience.
You can submit your vehicle in one of two ways:
Send photos and articles to submissions@nsmb.com. Make sure to include 'Pistons and Pivots' in the subject line.
Or simply post a few vehicle and bike photos and details to Instagram and use the hashtags #pistonsandpivots and #nsmb.
We'll pick a few winning submissions and get in touch to work on featuring them on the site.
---
Not another Toyota...
Well yes it is. But hear me out. There are a million ways to skin a cat, and building a classy 4Runner for the bike centric family is just one way. There are a few distinguishing features amongst 3rd Gen 4Runners from 1998 to 2001 and the true connoisseur will pick the right one for their build. With salt and rust slowly disintegrating the supply up north, crazy builders down south with ill driving skills love totalling spotless specimens in the deserts for fun. Some get rebuilt better than ever but most get turned into scrap metal, and one thing is for sure: there are fewer rust-free ones to buy every passing day.
The distinct sound of the 3.4L V6 with a decent exhaust can be recognized from blocks away and that's how Sean Estes from Fox Suspension ended up as my guest for this Pistons and Pivots Feature. He built one of the classiest daily 4Runners we've seen.
During Sea Otter 2023 I had my car-dar engaged for any interesting vehicles that may have been roaming the parking lots. To my surprise most were uninteresting. Disappointed but not overly surprised, we carried on with all the other 2-wheeled distractions surrounding us. On our last day in Santa Cruz, we heard the rumblings of the V6 while we were strolling in search of our morning caffeine jolt. Around the corner came swinging a beautiful 2000 4Runner SR5 with a sweet bike on the back. Pete recognized the driver before he even he had his coffee; it was Sean Estes from Fox Racking Shox. Sean immediately agreed for a quick shoot on the shoreline surf Mecca that is Santa Cruz before he went on with his day. Our time was limited too, as we were heading back to Canada.
NSMB/Deniz Merdano: So to get the ball rolling, It's a 2000 SR5 Sport from Portland... right? How did you end up with the truck? Were you looking for a certain year in certain condition?
Sean Estes: Correct! It's the third 3rd generation 4Runner I've owned and I've always wanted a manual but they're really hard to find. When I came across this one, I knew it was the one. The guy I bought it from in Portland acquired it from an auction. It was a one-owner vehicle with only 100,000 miles on the clock, in great condition inside and out. The owner had sadly passed away and his wife traded it in to a dealer because she did not drive a manual. The dealer didn't know they had a unicorn, they just wanted to sell the lady a car so they took the trade-in and turned around and flicked it at auction. The guy I bought it from scours these auctions for vehicles such as this one that might slip by underappreciated. Another cool detail is that the truck did not have the factory locking rear differential, a feature I really wanted, so I tried to use that as leverage to get the price down. To my surprise, the seller told me he had a parts truck that a tree had fallen on and that he would pull the locker from that and throw it in. I told him it was a deal but he had to give me the complete rear axle plus the front differential and housing plus the 4WD ECU and a few other small parts, to which he agreed. As soon as I got home with the truck, I swapped in the front and rear diffs and wired up the locker. The reason I wanted the front diff as well is because the manual trucks came with 4.1:1 axle gears but the automatic trucks came with 4.3:1 axle gears, which work better for the 33" tires I wanted to install.
Tell us about your other projects.
SE: I also had a 2005 Tacoma 4-door 4x4 with long travel, 35" tires, wide body, and pretty much all the goodies. That was a fun truck but it was a bit big for the trails I like to drive. Great for the desert though! My other rig currently is an imported 1993 Land Cruiser troop carrier from Australia. It's RHD and has a solid inline six diesel motor. That thing is a tractor! But it also has heat and AC and can comfortably cruise the highway at 70 MPH, so it's actually pretty practical as well. It's still a work in progress so maybe we will have to do a feature on it some day in the future!
Can you tell us more about the rear bumper and the ways it can swing and open?
It's a CBI bumper that I had customized. I added a second receiver to the swing out so you can mount the 1up bike rack directly to the swing. This makes accessing the rear door of the truck super easy as everything pivots out of the way all in one motion.
Any memorable trips?
We've taken this truck on so many memorable trips. It's been all over the western US and into Baja California, Mexico as well as Canada. Our favorite place to take it is the Mojave desert, Death Valley specifically. We love going out there in the middle of summer when it's well over 100º because no one else is stupid enough to do that so we have the place to ourselves.
What is the function of Clutch Start Cancel?
It just allows you to fire up the engine without pressing in the clutch. You have to have the gear shift in neutral for it to work, obviously. It's a cool feature that has been present on Toyota trucks with manual transmissions for decades. My first Yota, an '87 Xtra Cab, had the same feature. It's nice when you want to warm the truck up in the driveway, you can just reach in and fire it up without having to climb all the way into the driver's seat.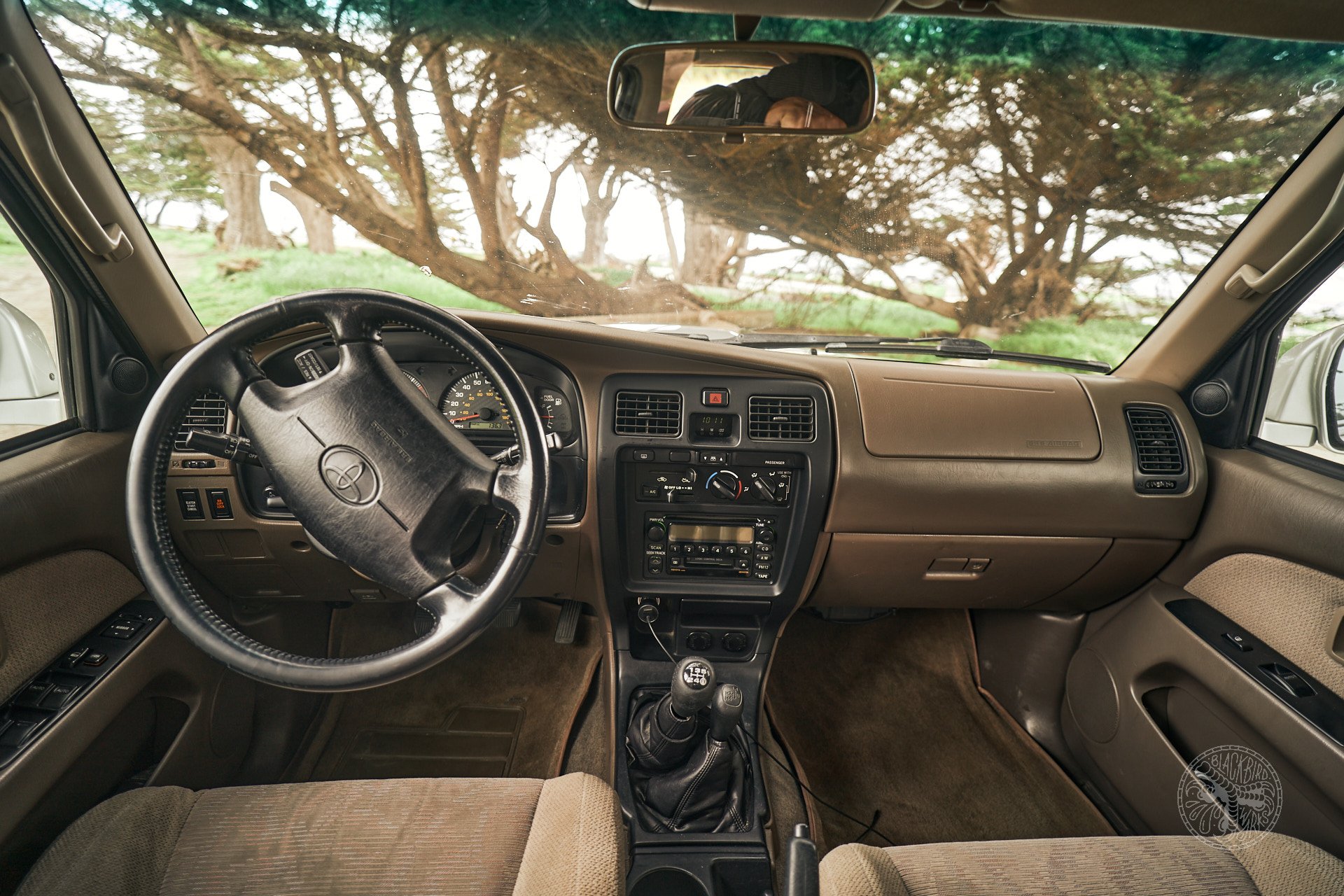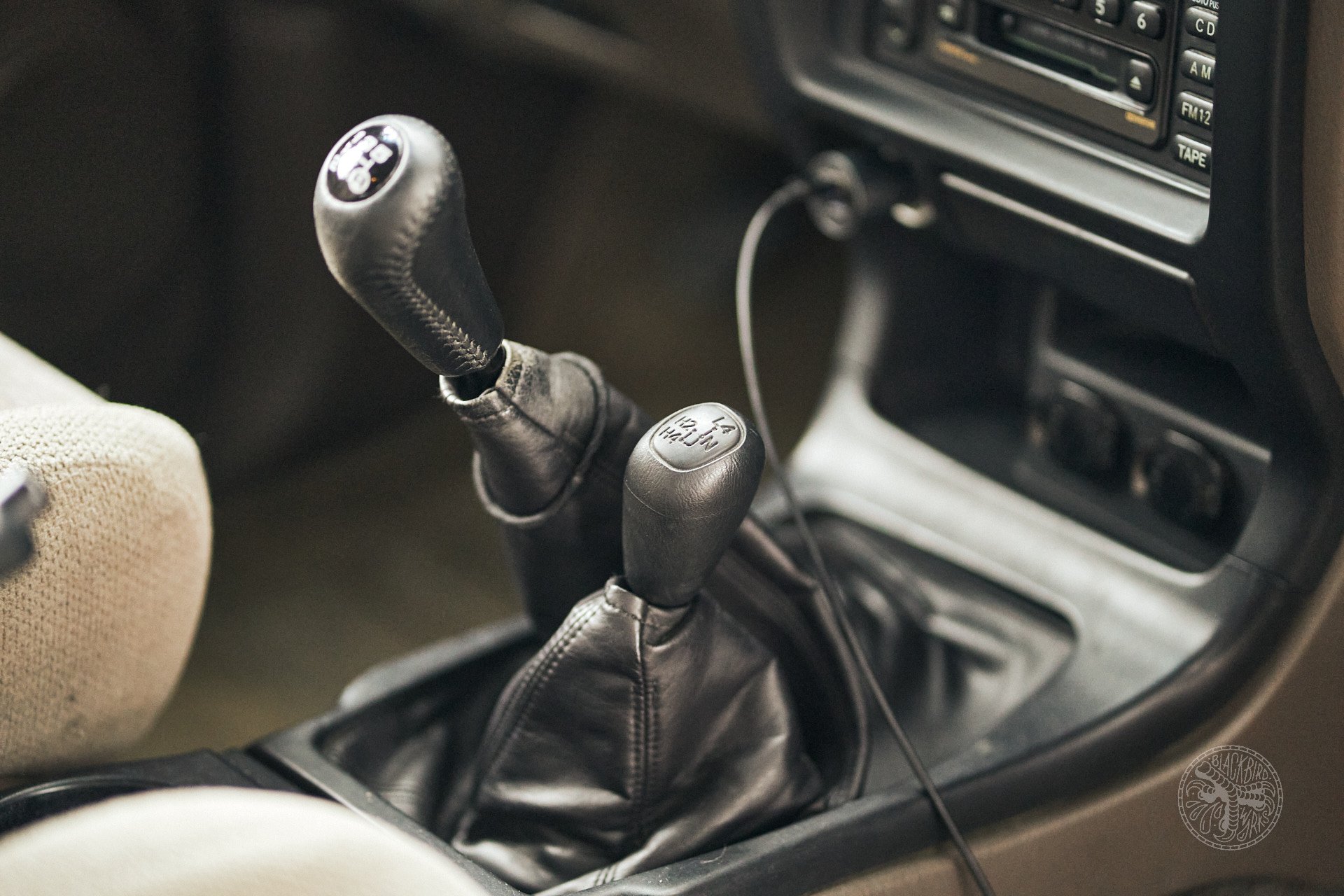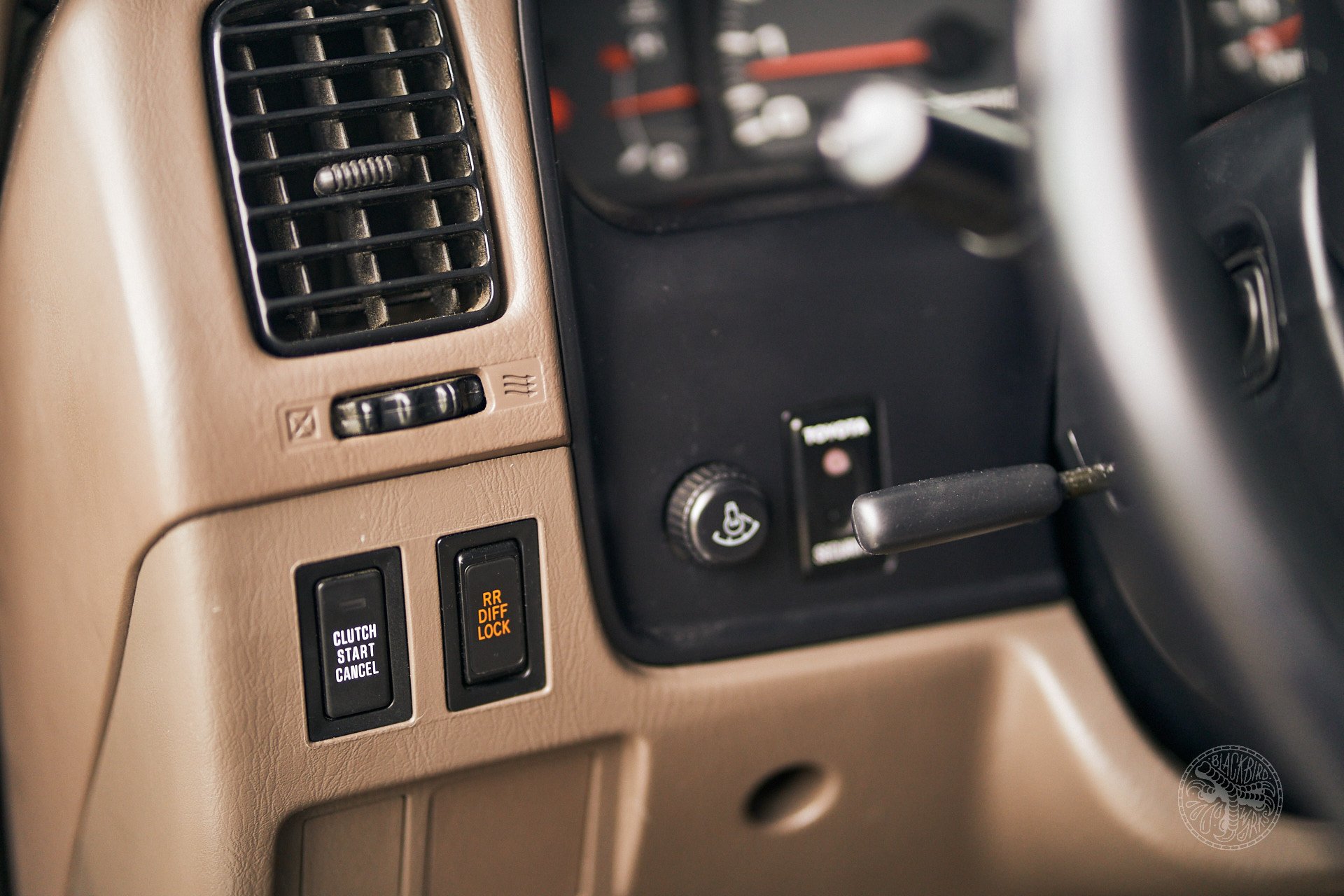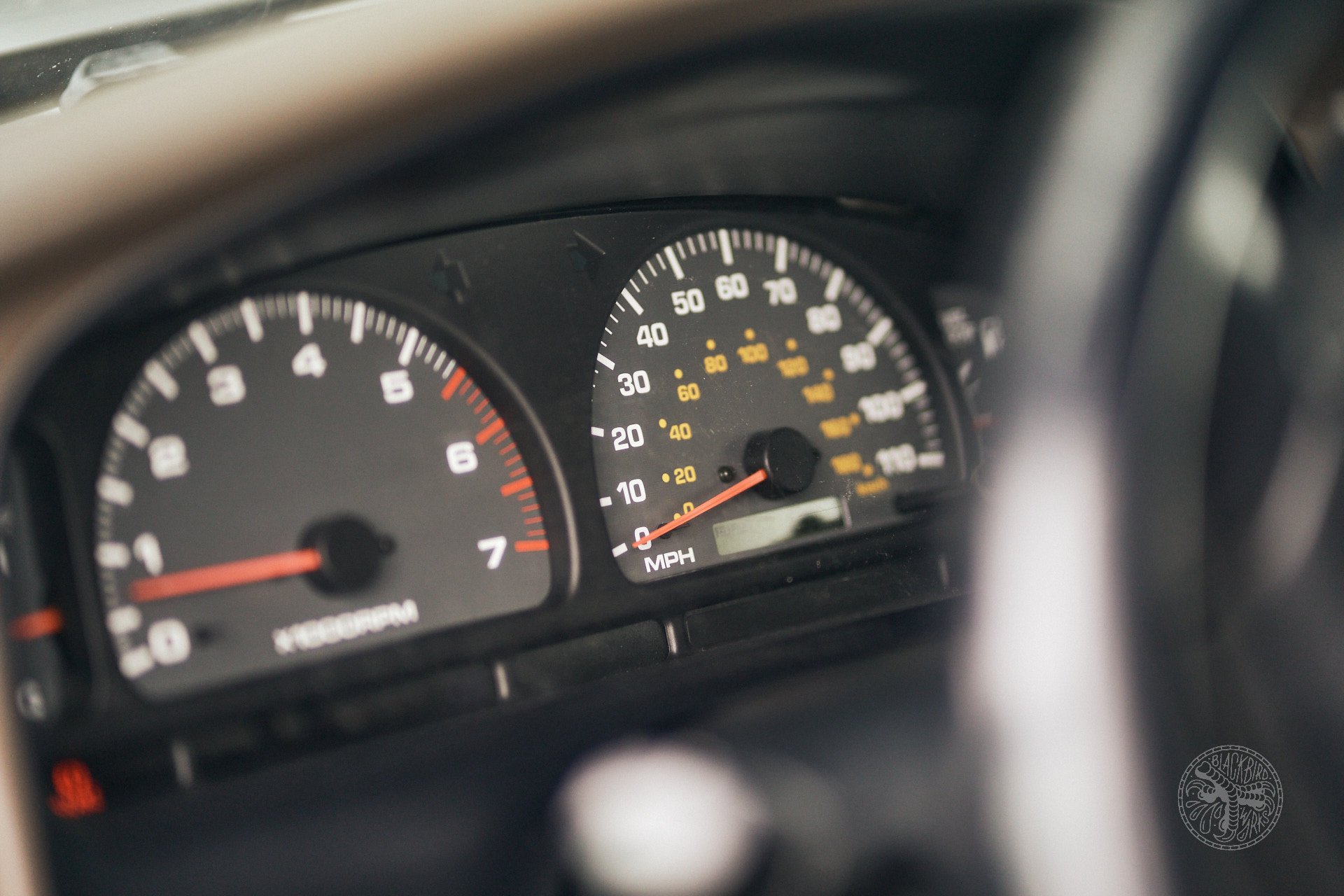 Do you still like the manual or would you like an automatic next time?
There are pros and cons for sure. Ultimately I do love the manual. I'm old school and I like feeling connected to the vehicle. That said, it can be annoying in traffic and when you're driving low-speed off-road. The automatic is easier to use and it also has more gear reduction via the torque converter, which is also a plus. I have always wanted to put a Marlin Crawler secondary transfer case in this truck though, which would give me more than low enough gearing to rock crawl smoothly. I would go manual if I had a do over but not gonna lie, I do get a little jealous whenever I drive my buddy's similar 4Runner with an automatic or my wife's BMW 328d X-Drive wagon.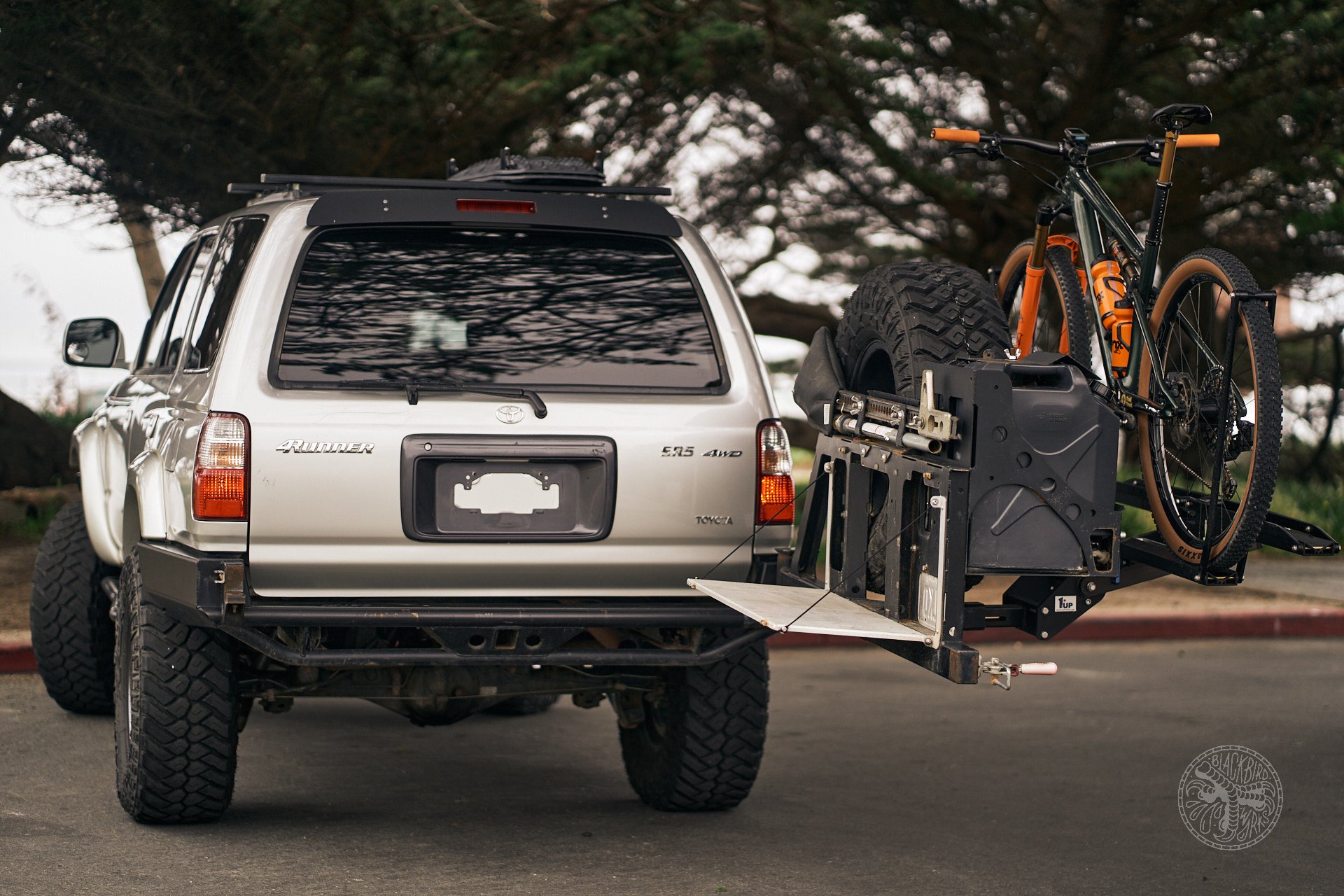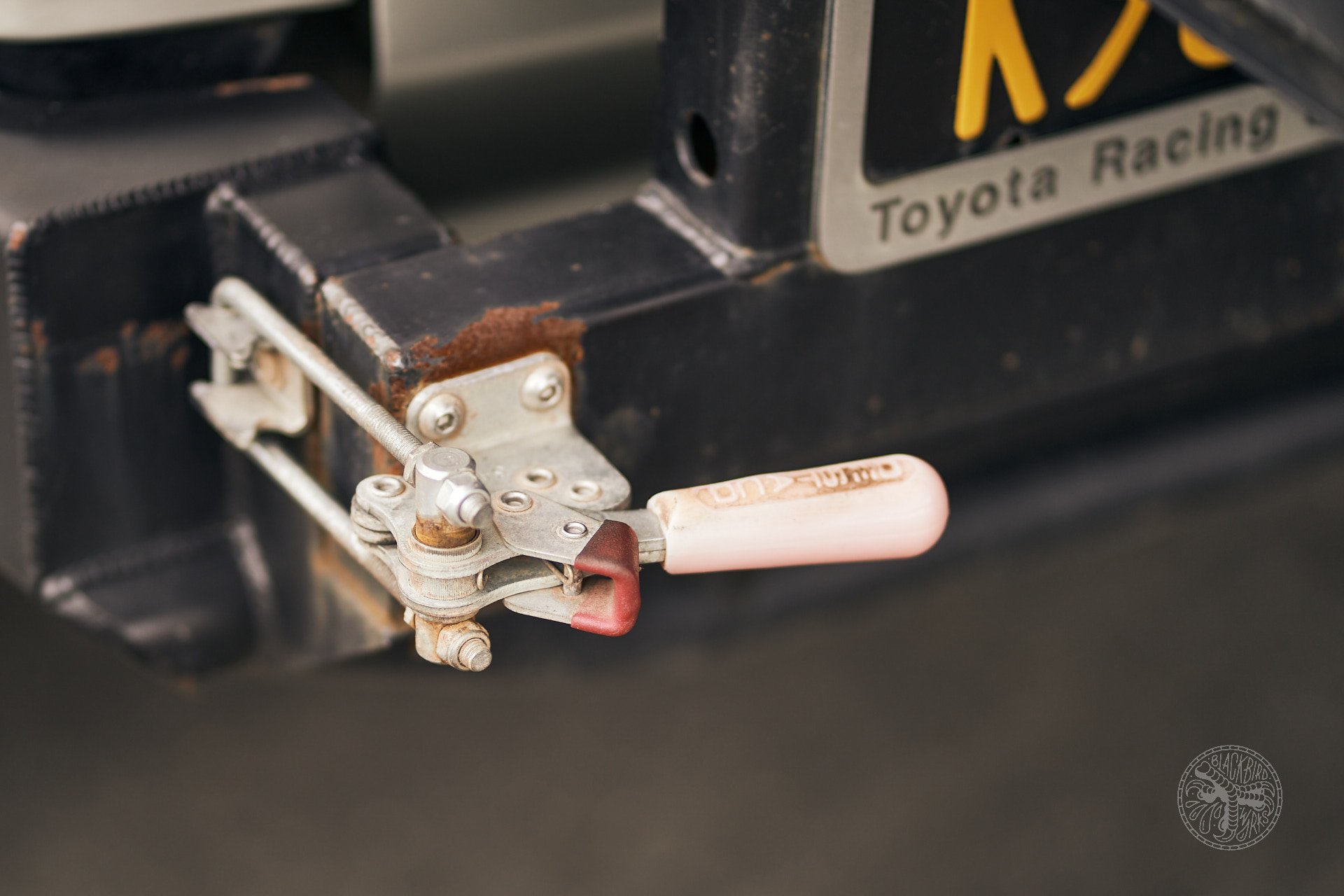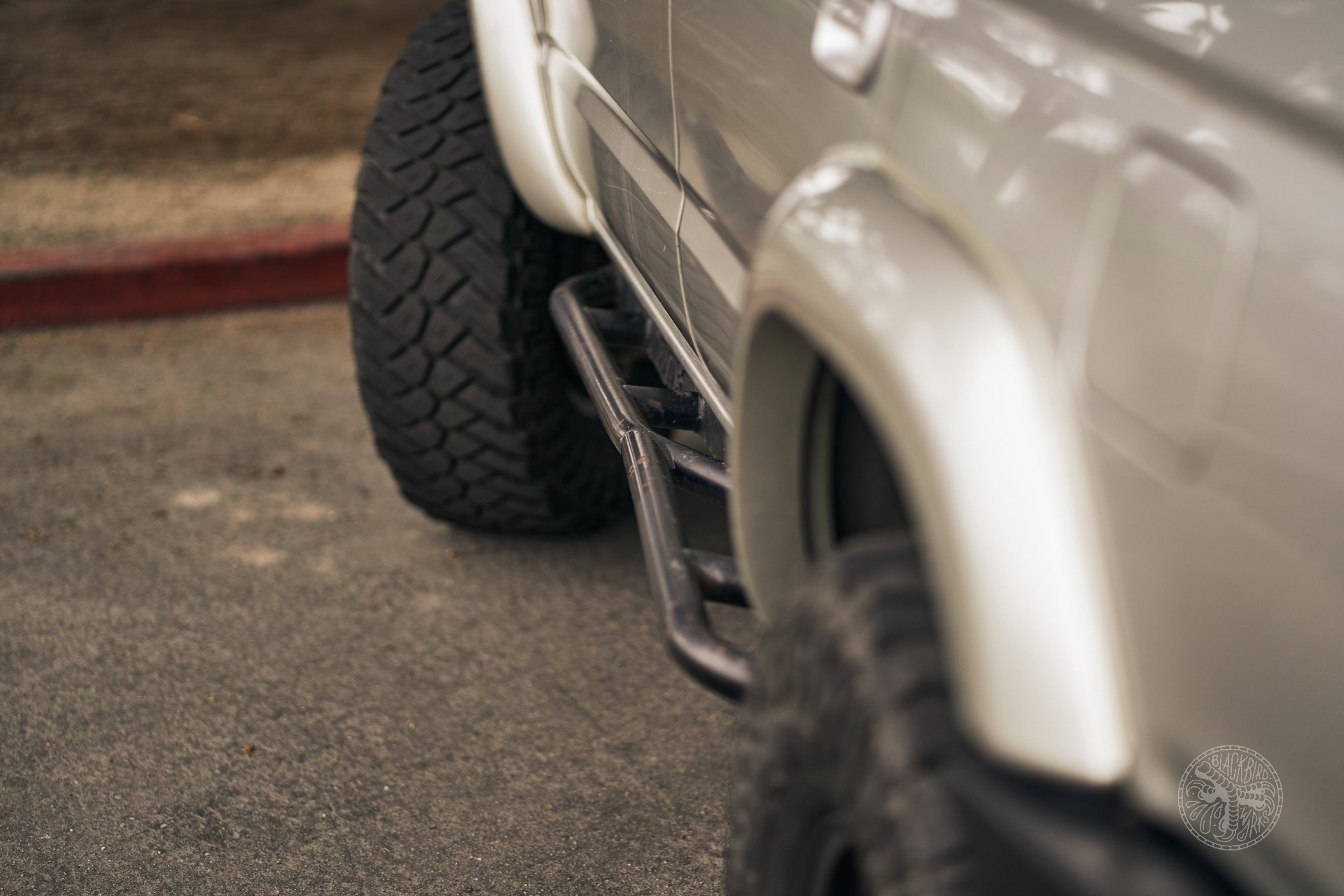 Time to talk about the bike a little. Tell us about your biking background and why the Specialized Epic?
This is the bike I had just raced the Fuego XL XC race at Sea Otter on when I ran into you guys in Santa Cruz. I typically have this bike set up in more of a downcountry mode with 2.4 Maxxis Ardent EXO tires and a 130mm FOX 34 fork but because the Fuego XL race was almost 70 miles long with roughly 8,000 feet of elevation gain, I opted for a more traditional XC race spec and put on Ikon 2.2 tires and a 120mm FOX 32 Step-Cast fork. I made a few other little tweaks to the bike as well. What I love about the Epic Evo is how versatile it is.* You can swap a few parts and take it from a 28-pound lively trail bike to a 23-pound XC weapon. I have never owned a more versatile bike. It's the closest thing to an actual quiver killer.
*Sean comes by his affection for this S-Works machine honestly, having spent several years as the Global Marketing Manager for Specialized. -Ed.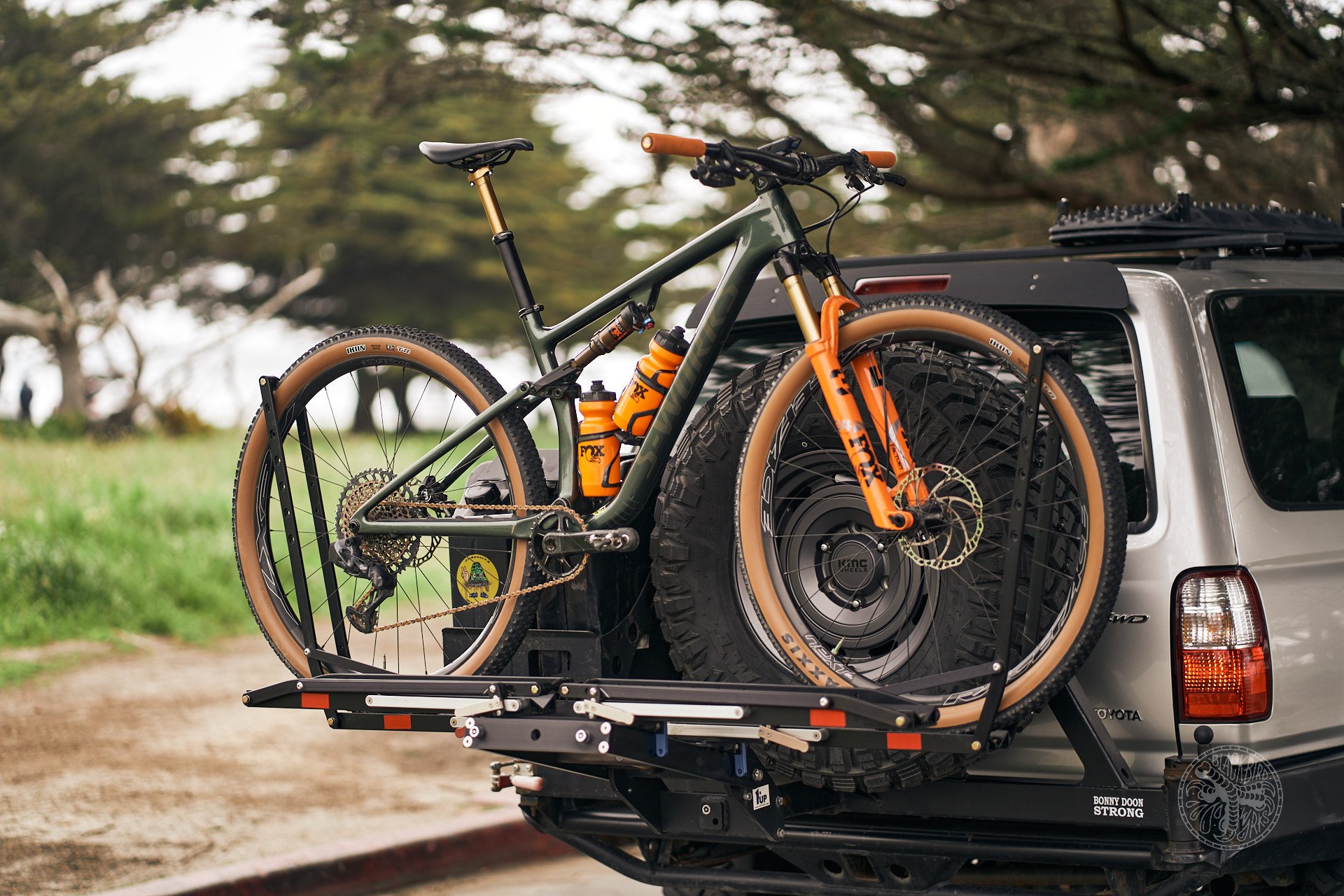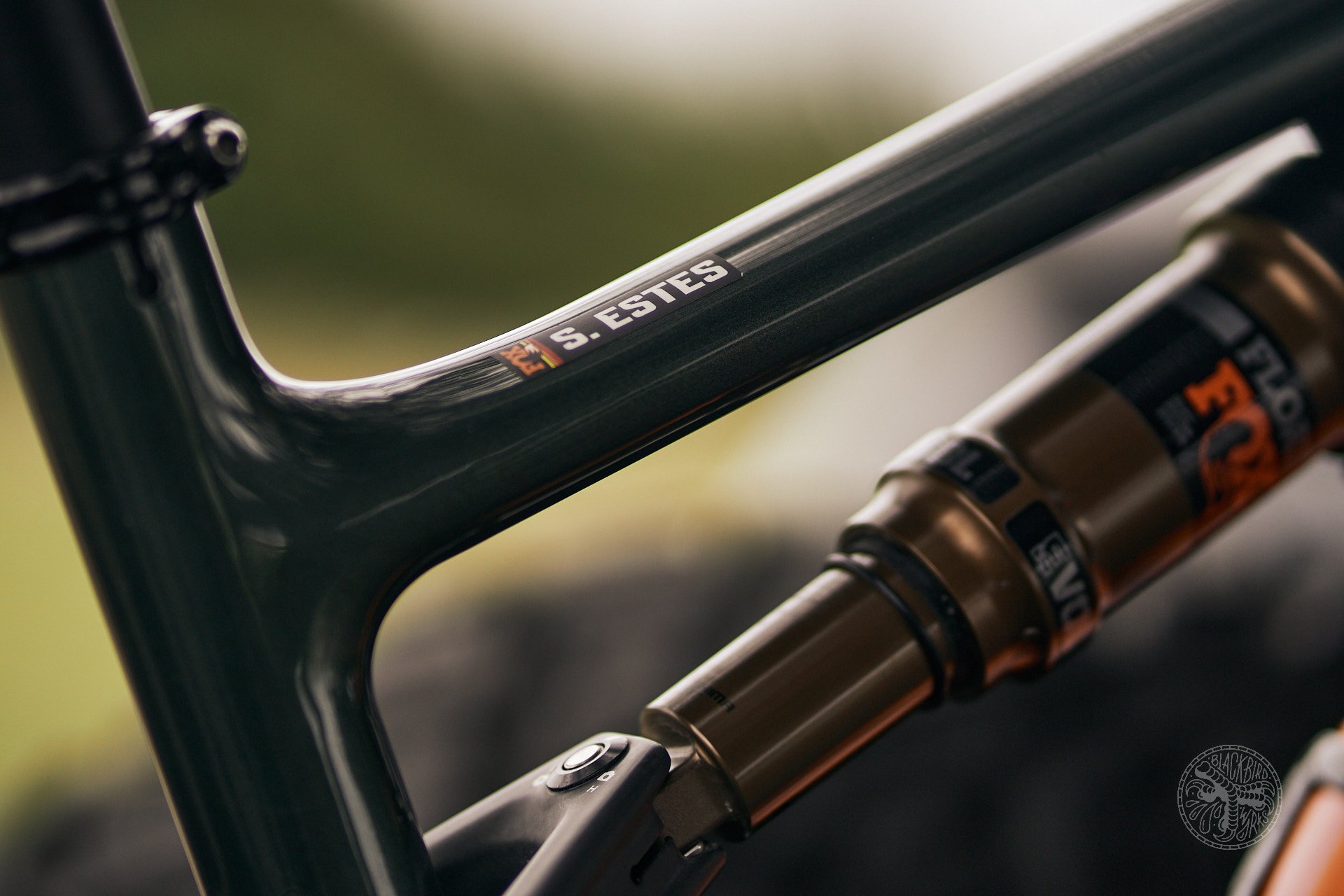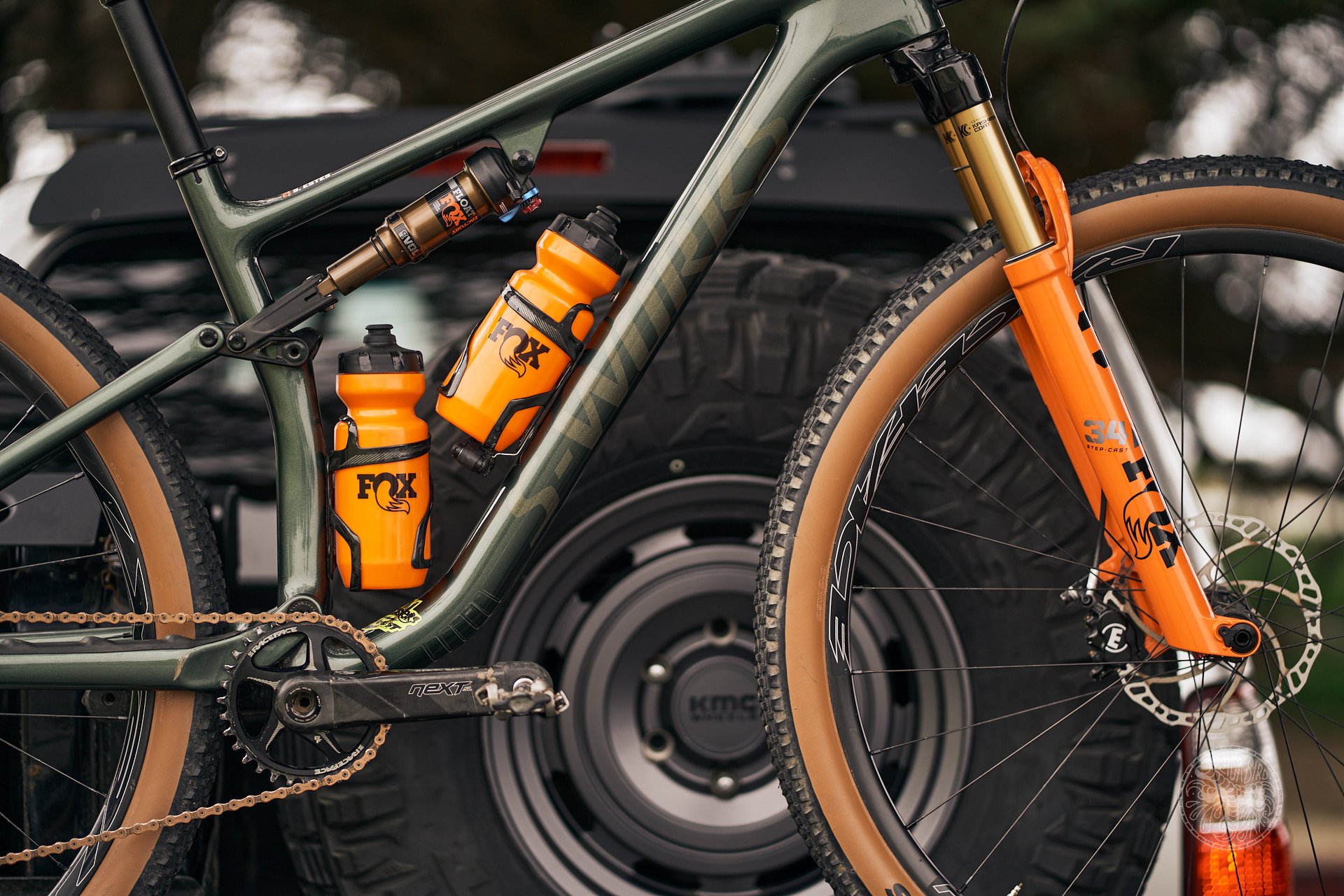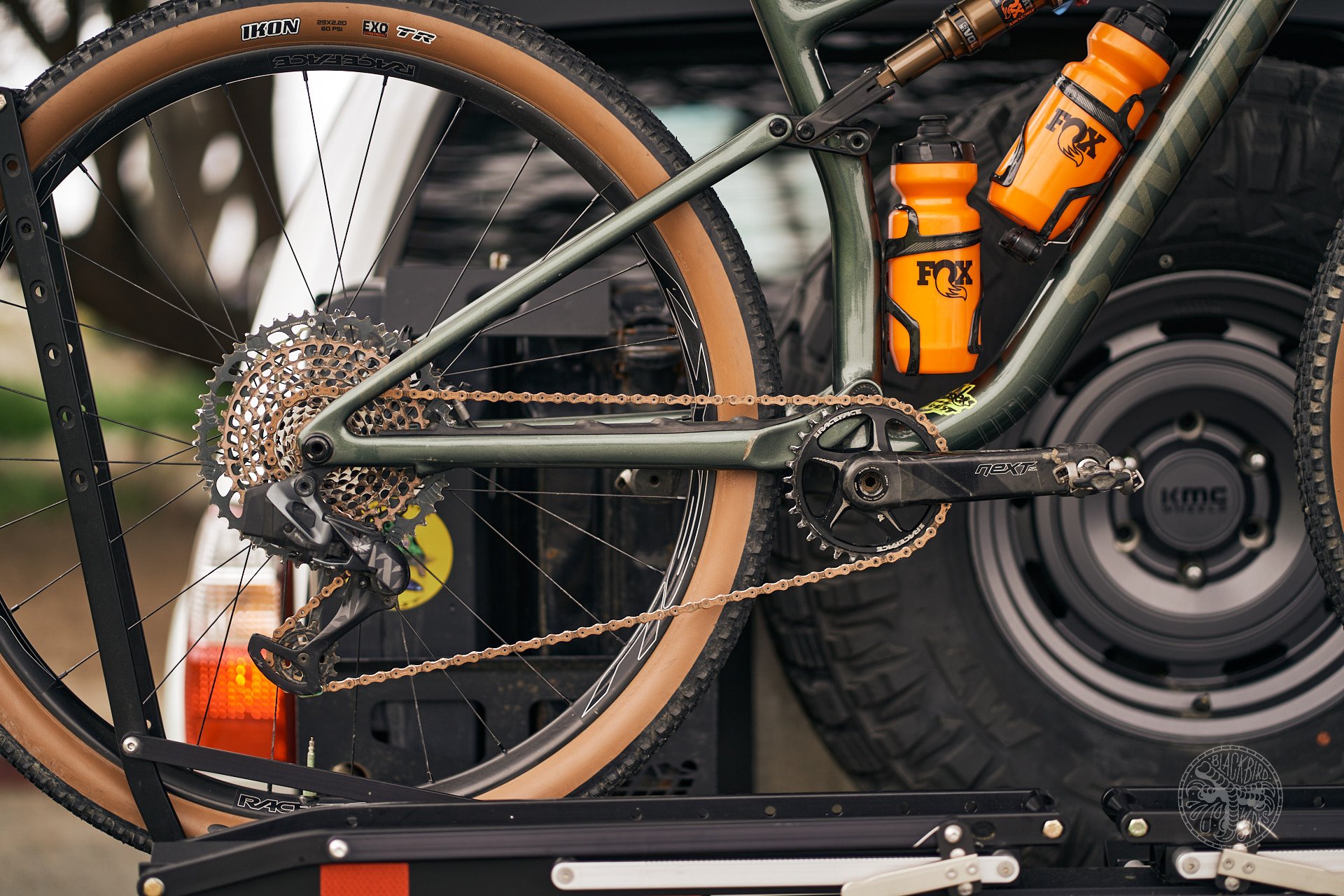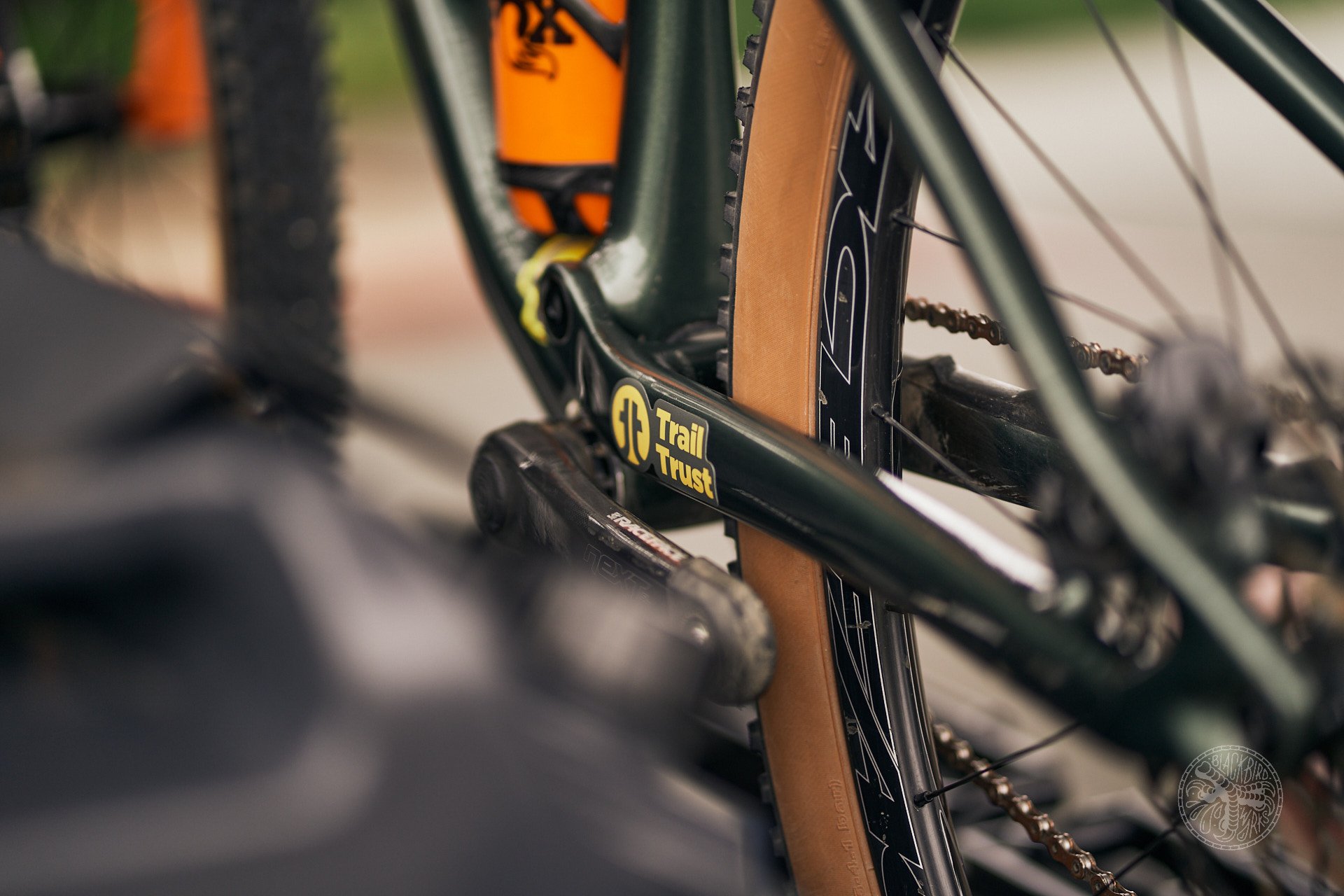 Any custom bits to talk about?
The rear shock is totally custom. I increased the stroke by 2.5mm over stock, which gives you an extra 7.5mm of rear wheel travel. I don't know if this is an approved mod but as a rule I always cycle the suspension and check for proper clearance at full compression any time I over-stroke a shock. The Epic Evo has a flip chip, which is great because in the high BB setting you have plenty of clearance to over-stroke the shock by 2.5mm. With nearly 120 rear and 130 front, this little bike is a crusher! I also worked with the techs in FOX's product performance team to help with a custom tune that makes the Epic Evo a little firmer as far as a pedaling platform. I love how lively the bike is stock but since I do a lot of endurance racing and I have the bike over-stroked to 120mm,  I wanted something a bit less active when pedaling but still capable of taking the bigger hits. I will be switching back to the burlier setup for The Downieville Classic later this summer.
Much thanks to Sean Estes for taking time from his busy schedule to meet for a photoshoot.
If you reside in BC (or even if you don't) and want to be featured in Pistons and Pivots, give us a shout and let us know about your unique ride. If you live far away from the North Shore, we'll have to talk about photography.
Either way, send us a message on our Insta - and give us a follow while you are there!

Deniz Merdano
5'8"
162lbs
Playful, lively riding style
Photographer and Story Teller
Lenticular Aesthetician