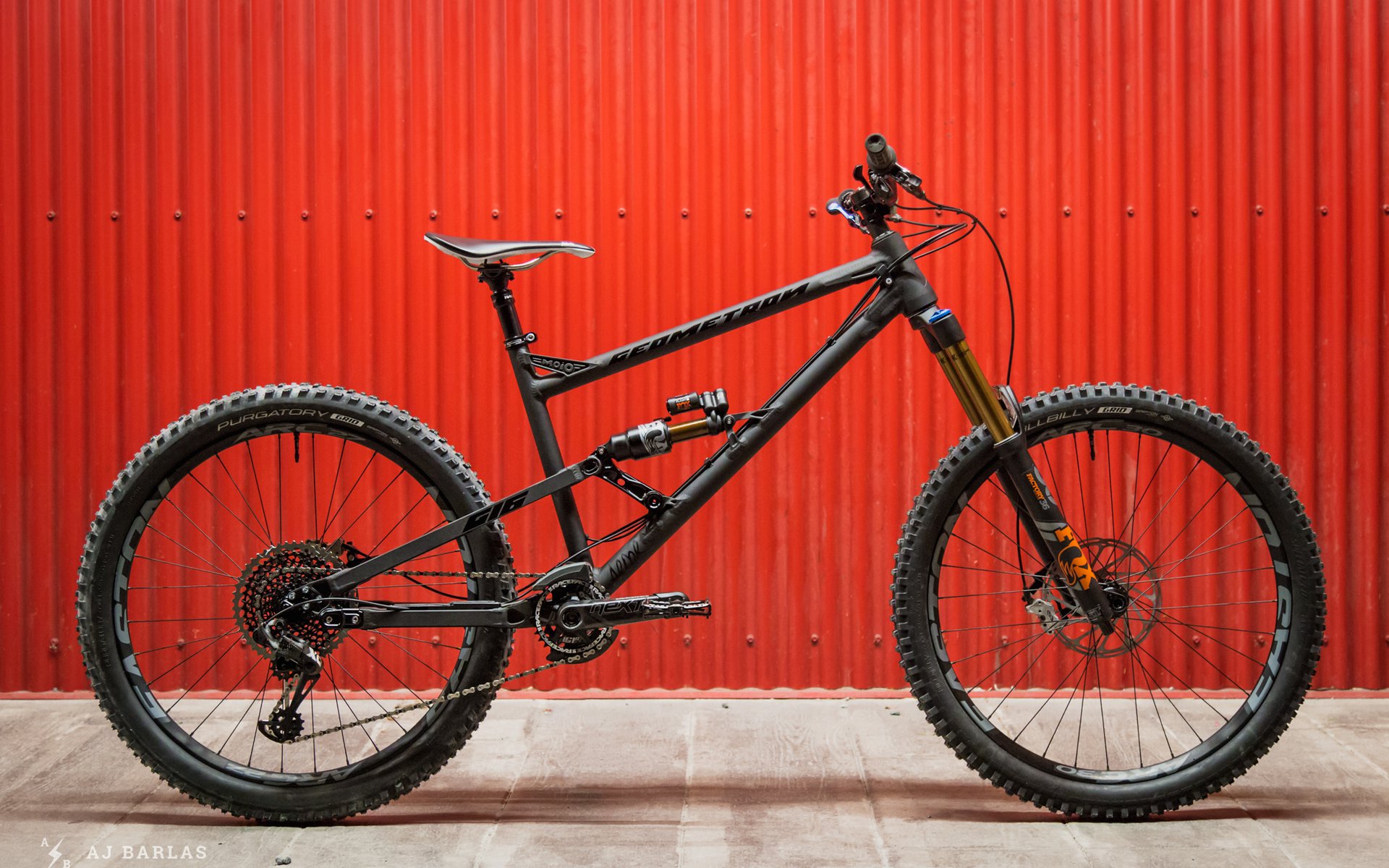 Something Old, Something New…
Personal Rides: GeoMetron G16
Chris Porter is a name some may recognize for his challenging theories on bike size and geometry. The mastermind behind Mojo Suspension and now, GeoMetron Bikes, he is a constant tinkerer and someone who regularly questions the way things are done. In 2014 I stumbled across Porter's Size Matters articles, a series that highlighted a number of points which I agreed with and left me pondering many others. I dabbled with the ideas for a number of years but mid-way through 2017, when I jumped aboard the Mondraker Dune, things changed more drastically. 
The Mondraker Dune is a great bike that offers some adjustability and going from the short chainstay to the longer one made it even better. I still wanted more, though; more size, stability, and compliance—so I dove in and spent three days on a GeoMetron G16. During those three days, I found the answers to all of those desires and more. I learned that I needed to be more open-minded than I was, I learned that individual numbers on paper mean jack in the real world, and I learned that until trying something very different, you never really know.
You may have read in my Best of 2017 that I had acquired my own GeoMetron G16. While the bike will be riddled with test parts for years to come, initially I wanted to build it up with my own parts but without spending a fortune to get it there. Sure, new parts and insanely expensive "dream builds" are great to look at but this is something a little different—it focuses on functionality rather than how much money I could spend because really, I don't have enough to do that anyway. I feel that geometry and suspension are the most important elements—the heart of a bike if you like—and this is where I was most willing to spend for top dollar parts. The rest is a mix of stuff I had laying around and bits and pieces that were obtained in the leadup to building my next bike.
FRAME: GeoMetron G16

Size: Longest  •  Travel: 155mm  •  Shock: Fox Float X2 (215 x 64) 
As mentioned, prior to jumping in one-hundred percent on the G16 I first spent three days riding one, that was set with the 175mm rear travel setting. While the 175mm was incredibly efficient and there weren't any problems with momentum on mellow, flat trails in Squamish, like Rob's and Cliff's Corners, I still felt that I didn't need that much travel. Having ridden a lot of 120–170mm travel bikes over the years, the 150–160mm travel range seems to be my happy place when rolling on 650b hoops. I have no regrets with opting for the 155mm travel option and have found the bike to be incredibly efficient both in its use of the travel available and its momentum on the trails.  It's also incredibly versatile, proving to me again that numbers on paper don't tell the full story. A recent XC loop in Bellingham solidified this with only my (lacking) fitness being a problem.
The bike is suspended with a 2018 Fox Float X2 which sees an improved damper over the 2017 model, giving the dials more usable range. It's also the shock that the G16 is typically sold with though there are a number of builds around with X2 coils and other shocks. I opted for this shock because the 2018 functions very well and I was really happy with it during the few days spent on a demo. Lots of adjustability is also preferred and the X2's high and low-speed rebound and compression damping allow for this. The can is filled with bands adding to the bike's already bottomless feel, while the damper settings aim to prevent harsh feedback deeper in the stroke and take advantage of the traction the well configured Horst Link design provides.
Current experience is that the G16 rockets through chuck and minimal rider input is required to squirt momentum out of features on the trail. Traction is the best I've ever experienced and the confidence provided in corners has had me laughing like a mad scientist on numerous occasions. While it's early days on the bike, this is a great start.
FORK: Fox Factory 36
Model: FIT HSC/LSC  •  Travel: 170mm 
Over the last 18 months, every Fox fork I've ridden has resulted in a very positive experience. The new 2018 36 continues on that trend, providing an incredibly efficient use of the 170mm travel. Nothing is perfect, though, and I am currently working on eking out a little more from the mid-stroke while balancing the top and bottom ends of the travel. Still, this is the best single crown fork that I've ridden to date thanks to the firm chassis paired with a fantastic damper. 
One change I made immediately was to drop the QR15 axle in favour of Fox's own Kabolt, a 15mm through axle threaded in securely with a 5mm hex key. So far there have been zero issues with the sleek setup, with everything remaining in place. Another change that may be in the cards is to throw in a 180mm air shaft, which will be done more for bike shape than for the travel. The G16 is currently being run by the staff and many riders at 180mm and is said to provide an even better ride. My current stance has me leaning that way, but I won't make a decision on the move until I finish working on the mid-stroke support that I desire.
WHEELS & TIRES
Easton Arc 30/27 laced to DT Swiss 240s Hubs  •  Front Tire: Specialized Hillbilly Grid 2.6  •  Rear Tire: Specialized Purgatory Grid 2.6  •  Extras: Wolf Tooth Boostinator Set. 
A couple of years ago I invested in a set of custom wheels. Without question, the hub was going to be DT because I've found them to be very reliable and easy to maintain when required. I opted for the 240s over the 340 to save some weight in the wheels, but at the time rim widths were still in their infancy. After a number of good experiences with Easton's Arc rims (now under the Race Face brand) and their availability in a number of sizes, they became the rim of choice. 
I opted for a wider 30mm internal width front rim and a slightly narrower 27mm internal width rear. Of all the wheels I've spent time on this range seemed to be the happy place and moving forward a couple of years since first purchasing these, it appears to be the case for many brands. But why opt for a wider front than rear? The idea behind it was to provide a slightly wider profile front tire to help with steering and comfort in rough terrain—also to assist in those "oh shit" times of need—while the narrower rear wheel makes the bike slightly quicker in direction changes. I've found it provides a really enjoyable dynamic whenever these wheels are thrown back on a bike.
The only problem was that when I bought these wheels bikes were more commonly sporting 15x100mm front axles and 12x142 rear ends. With the wheels sitting in a corner and having seen little use, I couldn't part with them and opted to try out Wolf Tooth's Boostinator kit, which would allow them to be mounted to the GeoMetron. The kit requires a slight re-dish to the wheels, but it ends up providing a more even dish than stock, which should result in a longer lasting wheel. So far, so good.
With it being winter here in the Northern Hemisphere I opted to try Specialized's updated Hillbilly up front and not needing that much tire out back, their Purgatory, each in a 2.6" size, and with the Grid casing. The tires provide excellent value at 60 US MSRP and feature Specialized's most up to date carcass and rubber compounds. The new 2.6" tires measure closer to 2.4 under the calipers, which for me is perfect. Volume is similar to the current range of e*thirteen TRS tires and they feature Specialized's new Gripton tire compound. So far these have been great in the wildly varied conditions that we've been experiencing here in Coastal B.C. They've been reliable in everything from snow and thick frost to wet roots and rock. The Grid carcass has provided a great trail feel for the conditions.
DRIVETRAIN
SRAM X0/GX Eagle Mix  •  e*thirteen LG1r Chainguide  •  Race Face Next R Cranks  •  Deity T-Mac Pedals
After spending some time on test bikes with Eagle drivetrains, I was left really impressed. Admittedly, when SRAM first released Eagle the thought of it simply being the 11-speed system with an extra gear was prominent, but did it ever prove me wrong. The shifts are lighter than any other drivetrain I've ridden and the setup runs so quietly that it's hard to believe. I can't speak to long-term durability at this point but Cam will in his soon to come review of the GX Eagle drivetrain. 
The drivetrain here consists of an X01 Eagle cassette and derailleur, paired with the GX Eagle chain and shifter and is working well. Not much makes me happier than a quiet, well-functioning bike and the Eagle drivetrain is certainly holding up its part there. The only possible change I would make is thanks to more recent experiences: with it now being available I'm leaning toward GX replacements to save some coin when the time comes in the future.
The e*thirteen LG1r guide has been on three of my bikes now and it's still going strong despite many connections with obstacles. Moving it onto the G16 was an easy decision and it provides extra piece of mind that the chain will stay put while also providing protection when going full ham and snagging things like a complete hack. The Race Face Next R cranks are the only test product on the bike here and after a set of Shimano Saints got lost in the mail from a Cyber Monday sale gone wrong, they've been working flawlessly. It's also fantastic that they offer the Next R with a spindle that covers an 83mm BB width and while I generally prefer a crank to be alloy, these have been great so far. (Look for a review in the spring.)
Having ridden a lot of different flat pedals over the years, and especially in the last 12 months, the Deity T-Mac is one that I keep coming back to. The large platform is great, but it's the shape of the platform that really makes this pedal so good. For some shoes, like the updated Specialized 2FO, I find the platform is too big for my size 10.5 US foot, but for Five Ten, Giro, Shimano, it's the best I've ridden to date, providing loads of traction and a nice planted feel.
COCKPIT
Deity Black Label Bar: 38mm x 800mm (25mm rise pictured)  •  Renthal Apex Stem: 40mm (31mm pictured)  •  Saddle: Fabric Line  •  Race Face Turbine Dropper: 175mm
Up until last year, I swore by Renthal's Fatbar but began to suffer from new issues with hand and arm pain. No matter what I did elsewhere on the bike the discomfort persisted until the bars were swapped. Trying the larger 9-degree sweep Deity Black Label bars resulted in an increased level of comfort and that's what I've ridden since. 
I prefer 31.8 bars because, in my opinion, the move to 35mm was unwarranted and I haven't come across a bar that changed my opinion. With reports of some brands only developing 35mm to appease demand and putting R&D time into designing them to feel the same as their popular 31.8mm bars, it's safe to say the jury may still be out on that one too. 
Initially, the bike was built with a 31mm Renthal Apex stem and 25mm rise Black Label bar, with more spacers beneath the stem. I have since opted for a 40mm stem and placed it lower down the steerer with taller 38mm rise bars, enabling a much closer feel and shape that I was after from the bike and am very happy with the fit currently.
Saddle choice is incredibly personal and currently, the Line from Fabric has been quite comfortable despite my having been off the bike for 10 weeks due to injury. The Race Face Turbine post is my preferred dropper to date, with the 175mm length being great and the smooth actuation thanks to the very well designed thumb trigger, the best I've experienced. This was mounted on a previous test bike around mid-summer last year and so far is still going strong, and as a result, I wanted it on the G16. Could I run a 200mm? Definitely, but I'm not sure that it's needed—though I said the same thing when on a 150mm a couple of years ago…
BRAKES
Frankenstein Avid/SRAM Code  •  Extras: NSB 180–200mm Brake Adapter
These brakes have been hanging in my garage for upwards of four or five years now and after continually being disappointed with others for one reason or another, I decided to breathe some new life into them and use them on the GeoMetron. Why did I hang onto them to begin with? I had nothing but good memories using them. Reliable, little need to be serviced, and great stopping power—the lever feel is still one of my favourites too. By all accounts I hear, the new Code brakes offer the same experience but I didn't want to spend the money if I didn't need to.
After a much-needed rebuild—anything sitting for this long would need some love—the brakes were mounted up and have been working great. Stopping power is excellent and they're always there when I need them. The only potential problem I foresee is finding replacement pads in the sintered variety, which I am seeing fewer of. Changing the pads is also a considerable struggle compared with more recent brakes.
---
It may not be any exquisite dream build like you may see elsewhere but to me, there's no need to spend exorbitant amounts of money on parts that don't really add up benefiting a rider. A few grams here or there aren't worth the dollars if you get the same functionality for less and with the exception of the hubs I've stuck with this. I don't know what the bike weighs anyway and I honestly don't care, the ride is fantastic and I want to spend as little time wrenching on it as possible, which makes for more time riding. The quality of the frame and the attention to detail are very high and it pays off on the trail. This is the quietest bike I've ridden to date, both in terms of sound and trail manners.
The GeoMetron range of bikes aren't so much the outliers they were even as recently as a couple of years ago. With brands like Pole, Starling Cycles, and Nicolai Bicycles (who also manufacture the GeoMetron for the brand) to name a few, also looking to place the rider in a position more central in the wheelbase. The goal is improved handling and confidence in a range of situations thanks to more comfort and greater traction. Read the reviews on any of these bikes and you will see that there is a reason a number of manufacturers are moving in this direction, only some more confidently than others.    
You can learn more about the GeoMetron G16 and the other bikes available on GeoMetron website.
---