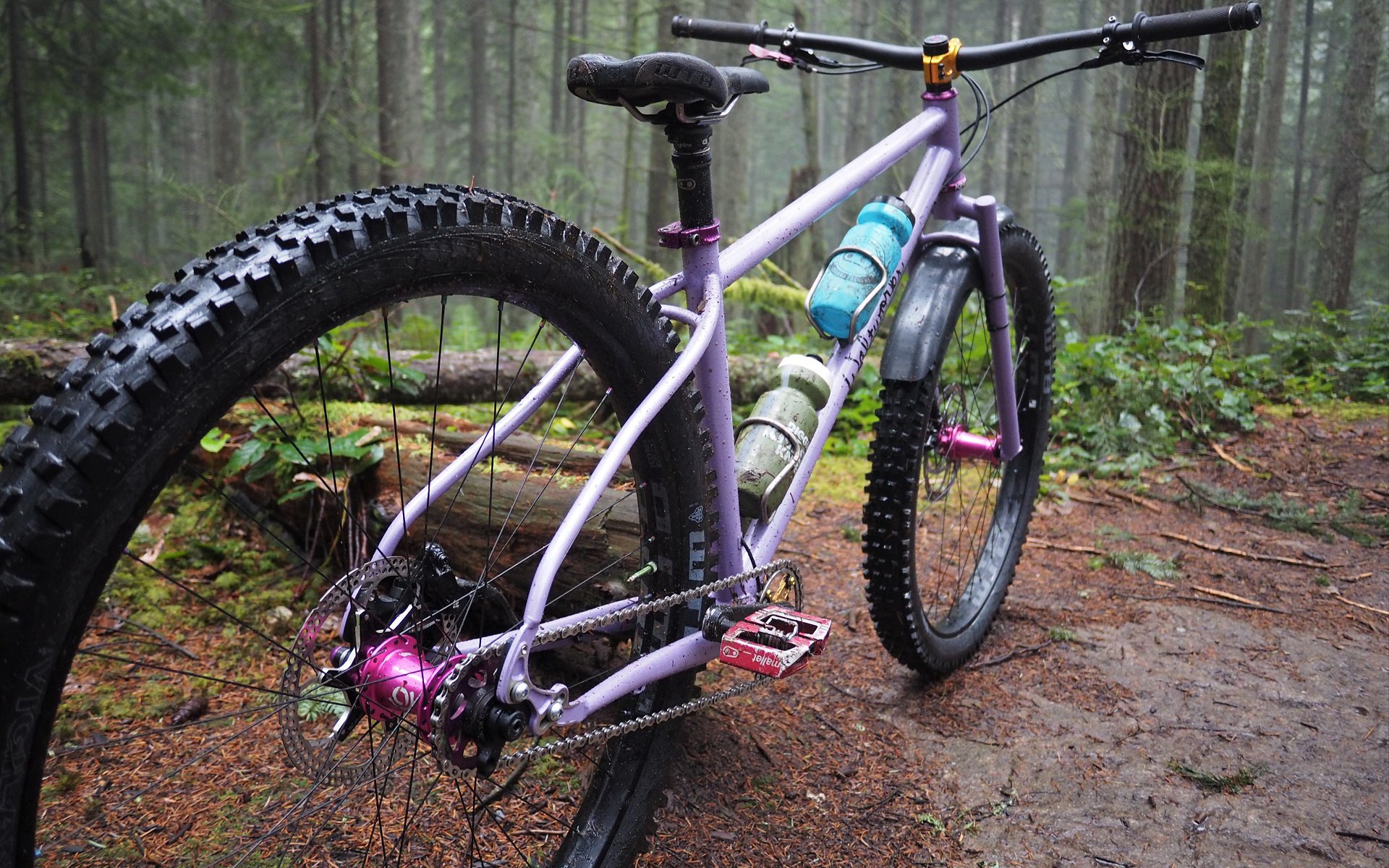 EDITORIAL
Personal Rides: Andrew's Custom Waltworks V2

I guess mostly I want to say I wear regular clothes, mostly listen to a mixture of opera and children's music instead of punk rock, and have no facial hair or tattoos, so I'm obviously faking it." - Walt @ Waltworks
Writer's Rides
This is not a review. I could probably spend half an article testifying to the litany of biases I have when it comes to this sexy assembly of Cosmic-Lilac powder-coated steel but I'll leave it off with a few of the biggies. First off, I paid for my Waltworks. Second, the bike's geometry is fully custom for me and, at a minimum, fairly unique so add a big dose of confirmation bias on top of the hit to my bank account. Third, I completely love this bike. Fourth, Walt is one of my favourite people I've never met and this is the fourth project he's done for me. I could go on.
My Waltworks V2 is longer, slacker, and meaner than the first one and, without any caveats, it's the most wicked bike I've ever owned. This purple-powdered collection of steel tubes has completely cured me of newbicycleitis. When I'm looking at bikes these days it's decade-old used bikes for fun rebuild projects or best-on-a-budget options, like the Growler 20, to write about for NSMB. I have to say that it's beyond cool to get something custom made that you wouldn't change a thing about. Well, I mean, maybe a couple of tiny things.
I'll dig deeper into the evolution of this bike then you'd ever want to go, however, for now I'll say that it was born out of scaring myself on my favourite local trails on the rigid plus bikes I owned before it. My Walt V2 is intended to be my ultimate North Shore rigid trail bike and it is just that. The wheelbase is long and my weight balance is dialed to make the best use of all the suspension I was born with. The frame & fork are stiff enough to hammer my one gear up No Quarter out of the saddle and to resist braking forces with an 8" rotor but still relatively comfortable as hardtails, and indeed fully rigid, bikes go.
Like any hardtail, it is also highly adaptable. I regularly ride to the trails, spun out as I am in my gear that is always too hard or way too easy, and I have a set of wheels with true semi-knob XC rubber mounted up in the event I want to get my single speed North Shore gravel-XC riding on although I'll admit that 99.9% of the time I'm happily turning over 1354-gram Tough Casing WTB Vigilante tires with 334-gram CushCore Plus inserts. Bike weight is in your head.
It's funny that folks often assume that single speeding is about weight savings. The places I could cut weight on this machine are endless, starting with ditching the fender bridge on the rigid fork to go with butted legs or choosing a short-travel XC fork instead of my sweet & stiff lowered Helm. Tires, ditch the inserts, go to an aluminum chainring, carbon bars, and I could go on.
So to answer the question, no. No, I have absolutely no idea how much my bike weighs and don't care at all to find out. Let's say that it's competitive for rigid or short travel hardtails with 2-ply Plus DH tires, inserts, and parts otherwise chosen for durability.
I use my Walt as a test mule for NSMB, generally testing hubs, cranks, dropper posts, or other items that need a thorough long term beating. Single speeding has been proven to destroy everything and it's particularly hard on bottom brackets, rear hubs, and crown-steerer-units. The bike serves as a great complement to my much more 'normal' Marin Alpine Trail which has gears and front and rear squishy bits.
I mention the juxtaposition as V2's influence on bike tests is very apparent to me particularly in how unbalanced I think a lot of bikes are in order to keep the chainstays short. I can only imagine how out of balance that would feel if I was tall and had to jump from the medium-large* bikes I ride to an XL or XXL with the same rear centre.
*Usually tagged as large by manufacturers
Whether I mount the rigid fork or run suspension, I know my Walt is really cool because folks tell me that all the time. Well, specifically they tell me things like "sweet Chromag," "that's the best colour of Chromag I've seen!" and "how did you get a Doctahawk with stays that long." I've even had another rider tell me how cool it is that my Chromag doesn't have Chromag decals because "I must be all about the ride, not the brand." I sh*t you not, when I pointed out the Waltworks decal on the downtube he told me he wasn't familiar with that model of Chromag but assured me my bike was "f-ing cool anyways." Maybe my 31mm Ranger stem doesn't help‽
Waltworks
My "Chromag" may be cool, but Walt Wehner is decidedly not. He has no tattoos, no style, kids, makes plainly functional bicycles, and has plenty of bold opinions about mountain bicycles he's happy to share. He's basically like me except he has a useful skill. Walt's welding is exemplary.
For how obviously impressive his manufacturing quality is, his bikes don't feature superfluous tubes or bonus-bending and he openly states if you can buy what you want off the shelf then why not just buy it? He plays LEGO and rides bikes with his kids, teaches one-on-one frame building classes, and he's been quietly producing custom bikes for twenty years. In his own words:
"I guess mostly I want to say I wear regular clothes, mostly listen to a mixture of opera and children's music instead of punk rock, and have no facial hair or tattoos, so I'm obviously faking it."
In those twenty years, Walt has made around 1000 frames, over 1000 rigid forks, and "numerous weird objects that weren't quite 'bikes'" which may include my V2 and almost certainly references this Penny Farthing with disc brakes and suspension.
Why Waltworks in Park City, Utah when there are a plethora of brilliant builders geographically closer, many of whom don't carry the cantankerous currency contrast and duty? I was looking to get a custom rigid fork made for my project Kona Explosif rigid single speed plus mullet bike. A couple of my friends who ride single speeds, Adam and Scott, both had Walts and were beyond impressed with the ride, quality, and ordering experience and a quick online search made it obvious he had built hundreds of them so I figured, why not?
The quality of the whole experience was so good that when I was ready to move from the Explosif to a custom dual-29" take on the same bike, with the industry standard longer & slacker treatment thrown into the mix, it was an easy choice to work with Walt and when he translated my napkin drawings into exactly what I wanted on the trail there was no reason to look back. After V1 we added my 5' tall wife's 27+ "Magic Bike" to the mix and then V2 became a thing.
I know there are plenty of great builders in Canada, I follow a bunch of them on social media, but a custom bike is a huge investment in money but beyond that, it's a personal risk because they're your ideas for how a bike should ride. It's your bike and aside from the manufacturing itself whether it's awesome or not is up to you. Although, great builders certainly work with you to make sure what you want is really what you want.
I get asked regularly "what kind of tubing" my frame uses. Sometimes the questioner means the brand, and sometimes they mean the blend, and sometimes they mean the individual wall thicknesses. The truth is, I have no idea on all accounts. I'm not a frame builder. I'm a rider with a very good idea of what I want on the trail who needed someone to translate that for me onto paper and then into a physical bike frame. Once Walt had a draft of my crazy ideas I put my trust into his 20 years of experience to make sure my bike would ride the best it could and hold up to janky North Shore trails. As someone who was turned off custom bikes in the past because of bad experiences, I'll say that trust and compatibility of ideas are at least as important as pretty welds in getting the bike you want to hammer.
As much as I love checking out prime examples from the history of mountain biking - from the beautiful to the weird to the horrific to the hilarious - I'm not into collecting showpieces and if I own a bike it's meant to be ridden often. My goal is to ride V2 until it breaks.
But, I think it's fair to say that my V2 is a head-turner. Walt will help you with anything when it comes to designing your dream bike but he won't pick the colour for you. He won't even help you choose between two options. Lost flipping through shades, trying to pick the best likeness to Toyota-Tan, or deciding which red are you? Just order 'Waltworks Purple!'
Personally, and I'm only half joking, I think Walt should adopt this colour as his signature shade. And yes, as people keep asking me, I will let you in on the secret and it won't bother me at all if we have matching Walts. You're looking for Prismatic Powder PMB-2237 aka Cosmic Lilac.
V0 v. V1 v. V2
The geometry of my Waltworks V2 is based entirely on my experiences with V1. That is to say, my experiences vomited into text for Walt to interpret and then tweaked via conversation and finally adjusted to being suspension-corrected where V1 was rigid specific.
The geometry of V1 is based on the bike I'll call V0. It's a titanium Kona Explosif that I bought years back to experiment with mulleting bikes and slack, short travel hardtails. The idea is simple: take a 27"-wheeled hardtail frame optimized around a 140mm fork and slap a 100mm 29er fork with a 29" wheel on instead. With my Suntour Auron RC2 I was running just north of a 67° head tube angle (HTA) at sag.
When real Plus tires became available, that is to say, tires with enough sidewall support to run low enough pressures for aggressive riding, I decided to try riding rigid again. It's a passion I'd given up as I rode less and less on XC trails. Walt built me my first fork, which was an exact match to the sagged 100mm Lefty I was running at the time, and off I went.
I love mullet bikes and I think they're especially perfect for full suspension Shore rigs. The 27" rear tire offers more clearance for knobby rubber and your ass crack, it's much easier to spin up steep climbs, the wheel is arguably more durable and tire clearance is not an issue at all if you want to go mid-fat. There's even enough weight saved through the system to absorb a CushCore insert. At the same time, the 29" hoop rolls over everything better, and thanks to the rear squish its smaller sibling will generally tow any line. If you haven't tried a mullet setup I'd highly recommend you give it a go.
But, maybe not on a hardtail or rigid bike you want to ride down janky Shore-To-Sky lines. I loved how the Explosif accelerated and turned over uphill, even if it didn't roll over terrain as well as dual-29" hardtails I'd owned in the past, but on manky, malevolent, and moist downhills I knew I wanted to return to the big hoop in the back. Additionally, I was running my chainstays full long, a 60mm stem, and felt that HTA could be a bit slacker with no detriments.
Enter my Waltworks V1 with a dirty fade from Toxik Harald. It has a 66° HTA, static, with 430-450mm chainstays and a 460mm Reach. The seat tube angle (STA) is 73.5°. Rear clearance is healthy with a 29 x 2.6" knobby at any rear centre length but I also ended up running V1 as long as possible through experimenting with my setup.
It didn't take much time on V1 to know that there would eventually be a V2. The beauty of hardtails is, of course, they're very adaptable to different purposes so I knew V1 would make a fantastic Gravel or XC-bike depending on whose definition you're using. I have a 2.6" SE2 / XR2 tire combination on some carbon rims that I'm excited about.
First off, V2 was going to be slacker still with a 64° static HTA. It was going to have longer reach. Actually, it was going to have the longest reach I could comfortably ride with a 31mm long stem which ended up being 480mm. The chainstays needed to start where V1 ended which is at 450mm giving me approximately 450-470mm through the swingers range. Bottom bracket drop remained the same at 65mm. I pulled the trigger when I was 100% certain what I wanted and kept happily riding V1 in the meantime.
Rigid
None meaner. It's not intended as braggadocio, I simply have never come across a longer, slacker, meaner rigid bike than my V2. To a lot of folks that probably sounds stupid because at some point tires, brakes, and geometry and going to boost the capability of a bike to where the suspension is essential. Right?
I don't think V2 would have ever happened without the magic combination of CushCore 29+ and WTB's 2-Ply 2.8" Tough Casing Vigilante tires. When it comes to pounding down rough trails fully rigid it's not that V2 is comfortable by any means, although the long wheelbase certainly helps, it is capable as all. Traction is substantial and confidence is king. This thing is a truly capable mountain bicycle, even without shocks.
There's indeed an argument to be made that the bike is too good for my own good. Where V1, combined with my moderate skills, needs to be pushed into the hardest terrain that I wanted to ride, V2 carries me with more speed and confidence and it has resulted in a couple of wear-and-tear injuries that I suspect would not have happened on my other rigid bikes.
In either configuration, I'm running a 30t oval chainring mated to a 22t cog. Adjusted for my gearing that puts the chainstay length around 460mm, which means a 1255mm wheelbase in the rigid format. The HTA is static at 64° and the Reach is 480mm. Standing weight balance with a 31mm stem and 760mm bar is perfect. When seated, the bike has a long XCesque fit thanks to the sagged 73.5° STA. For reference, I'm 5'9" and like to joke I have T-Rex's ape index.
On the subject of sizing, I call this bike a medium-large. As a thought experiment, if I was making a production run of V2s then each size larger would gain 20mm of Reach, 1° of STA, and 10mm of chainstay length and vice-versa for smaller bikes, although the next size down would be a mullet and the small and XS sizes would be 27+. For reference that puts an XL at 520mm Reach, 75.5° STA, and 470-490mm stays. That STA probably sounds slack by 'modern' terms but remember that with sag a hardtail's STA actually gets steeper. Put another way, on even the steepest climbs it's never slacker than the static geo.
There are a couple of skinnies I can't hit anymore without a little rear-wheel hop and I certainly have to set up better for few weird corners but in general, I can carry more speed and lay the bike over more with V2 and all the extra wheelbase is absolutely worth the above efforts for the additional comfort and control when trails turn steep and rugged downhill.
When I account for rubber, V2 is no slower on the climbs than V1 and I actually find that some tight switchback corners are easier now as I can lean the bike harder at slow speeds thanks to weight balance and stability. I haven't cleaned as much of the Warden's climb on Fromme (that could also be my COVID-conditioning), but otherwise I'm not feeling the longer wheelbase is a penalty anywhere going uphill.
Suspension
I've been struggling to manage a couple of minor upper body injuries vs. my desire to spend a lot of time on V2 and the end result was mounting a suspension fork. My Cane Creek Helm air to be exact, although I also plan to try it with my Durolux dropped to 120mm combined with a bigger negative spring.
Originally I had set the fork at 100mm as intended but it occurred to me, thanks to a comment by Ken Perras from Rocky, that, especially on a hardtail, that I'm through the 25% sag point on my geometry chart a heck of a lot descending the local trails I enjoy. Even running my Helm with <20% sag, where I love it, and lots of damper support, the Stack height that is perfect on my rigid setup started feeling quite low as my bars moved down through my fork travel.
The fix ended up being bumping up my fork another 20mm, and easy and free operation on the Helm, where I've been running it since. That pushes the wheelbase out to 1275mm and the sagged HTA is around 63.5°. I also bumped up my handlebar with an additional 10mm in spacers under the stem.
It's bizarre where I'm not actually any faster downhill compared to the rigid versus the trails where it's no contest that the 120mm travel makes me come alive. It's certainly more comfortable all around and the traction goes from good with the sticky Plus tire to silly once the suspension fork is mounted. The main negative of running a suspension fork, even more than the added maintenance or weight, is cosmetics. I think V2 looks significantly better rigid, but we mountain bikers don't get hung up on appearance‽
I love riding a rigid bike, but I've decided to stick with the suspension fork exclusively for now just thanks to the extra margin of error it gives on the trail. It's been easy to bracket in settings I like and in general, having ridden hardtails for a long time, there wasn't a learning curve to combining a suspension fork with the longest, slackest, example I've ridden.
The one curious factor has been fit. It's been such a revelation I'm going to write an addendum to this piece at some point, but the short version is that this bike shares the best 'XC' fit I've had with my past machines like my Kona Unit or Niner One-9 run with 90mm or 100mm stems while being more capable than any hardtail I've ridden. It's not rocket surgery, of course, I'm combining the stability of a long wheelbase and slack head angle with a truly stretched-out XC fit where my saddle-to-bar length with a 31mm stem is quite close to my past positions with a 90mm.
I fully admit I arrived here by accident, optimizing my rigid setup, but I love it. I may move my bar higher for more aggressive trails when I'm confident hitting them again; however, for my regular routes right now it's ideal.
I know that's a lot to take in but I love my bike and the process I took to get here. It's bizarrely the first time in all the years I've been riding where I'm not thinking about what my next bike will be. Yes, it's weird. If I missed any details you're curious about or you have questions about the custom process in general, or Walt specifically, please hit me up in the comments.
If you think riding rigid single speeds on the North Shore is stupid that's okay too but I hear it all the time so you really are welcome to go ahead and keep it to yourself. Especially if your frame of reference is your 90's mountain bike with crappy 26 x 2.1" tires, a 150mm stem, and a HTA that gravel-roadies would call steep.
Cheers!