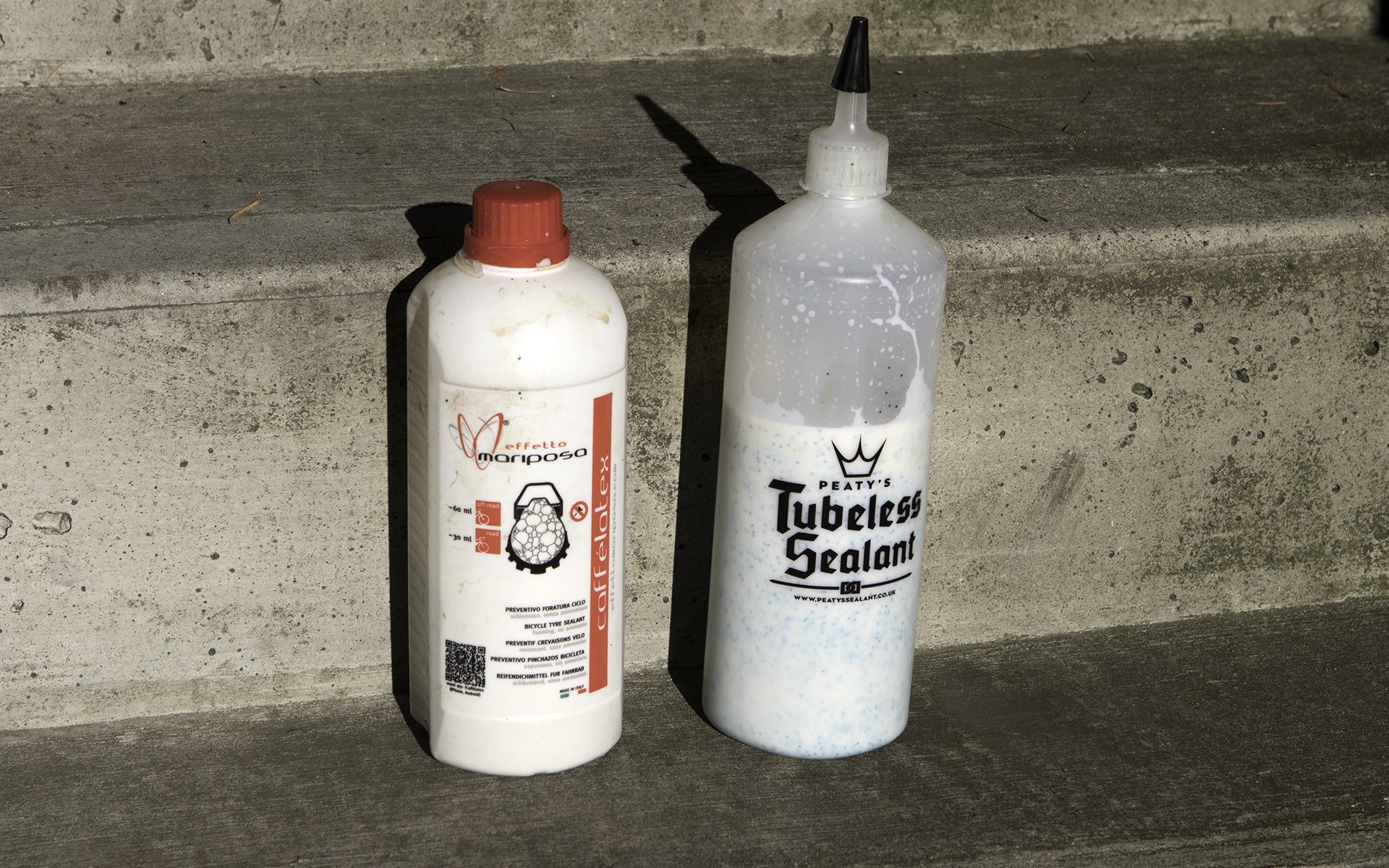 Product Review
Peaty's Sealant VS. Effetto Mariposa - Mano a Mano
Sealant sucks. It gets all over everything and it often stinks. But it sucks less than flat tires so I soldier on. Lately I've been installing and changing so many tires I've left a towel on the floor of my shop to use as a mop under my shoe to clean up all the spilled spooge. There are less messy ways to dispense the stuff, but I always seem to spill. 
I'm sure German publications have figured out a way to do science with sealant. They can probably give you a measurement in some obscure units that determine which is superior down to the third decimal place. Or they could puncture a bunch of tires and see how they perform, which isn't such a bad plan, unless you have an issue with wasting good rubber, as I do.  
Instead my methodology was to use the two brands of gunk for my regular riding over a period of months to see if I could see any difference. Until recently there wasn't much to go on because they both failed me once and the rest of the time they did the job well enough for me to not notice them, which also means neither clogged my valves. In fact lasted long enough without me having a puncture, to give each a thumbs up. 

Peaty's sealant valiantly attempts to avoid the use of ammonia, because it's harmful to the natural world, but there is also glitter in there to provide larger particles to plug holes. I asked Tom Makin of Peaty's and he told me the glitter they use is biodegradable. I have no way of verifying this (no reason to doubt it either) but a quick web search reveals that plant-based glitter is readily available.
Effetto Mariposa (which translates to butterfly effect) is a Swiss company that makes what they call 'technical cycling products,' and sealant was one one of their first releases. Like Peaty's, Caffelatex sealant is ammonia free and contains particulate, in this case silicate. Effetto Mariposa takes a different approach however, using microscopic particles, meaning less than 2 microns in diameter, which shouldn't clog your valves. They even make a syringe that allows you to pump fluid in through your presta valve, without removing the core. In theory at least. 
I have had mixed results with sealant. I've had several holes which I felt should be easily plugged that would not seal. In some cases the sealant was a little old but in others there was a good volume of fresh gunk in my tire. 

The most recent one was a small puncture near the sidewall that produced a very slow leak. I had relatively recently added 90ml of Peaty's sealant but the small puncture would not seal. I tried to shake the sealant down to the point where the puncture was and leave it over night, to no avail. I opened up the tire and found that the sealant was clinging to the inside of the tire, which is good, but so much was clinging that there was no sealant that could be sloshed around to the area where the puncture was. A case of reduced sealant motility. And any that did slosh around failed to plug the wee hole. Normally I'd fix a small hole once I got home, with a vulcanizing patch on the inside and some shoe goo on the outside, but this one was in a bad spot near the bead. It was too small to see so plugs seemed like a bad idea as well. Instead I cleaned out the Peaty's sealant and gave the competing product a chance. 
The EM sealant sealed the small hole I mentioned above and has held fast for more than a week, after several rides, and seems to be a permanent fix. Another way to distinguish between the two goops is mess. Peaty's fluid is a blue that is almost fluorescent. Add the glitter, that can dry and stick to anything it comes in contact with, and it's a an OCD nightmare. If you get to it quickly it rinses off easily, but when it dries it requires some elbow grease. Because the Peaty's wasn't completely fresh this isn't a perfect comparison, but I would have expected this hole to seal on the trail despite the difficult location. 
An added bonus of avoiding ammonia is that neither sealant stinks. I wouldn't want to bathe in either, but these are much less scary than most of the competition. 
Peaty's has taken a more realistic approach to adding sealant after the tire is fitted by including a simple tube that connects the bottle to the valve once the core has been removed. The EM syringe is amazing when it works, but until I figure out why it sometimes fails it's not much help. 
Peaty's Sealant is 40 USD for a litre while you can find Effetto Mariposa for 38 USD. And both do an admirable job. If you don't mind adding a little extra, you may find Peaty's suits your needs just fine, but if you like to keep the gunk in your tire to a minimum Effetto Mariposa might be the way forward. 
Check Peaty's products here
Effetto Mariposa here.