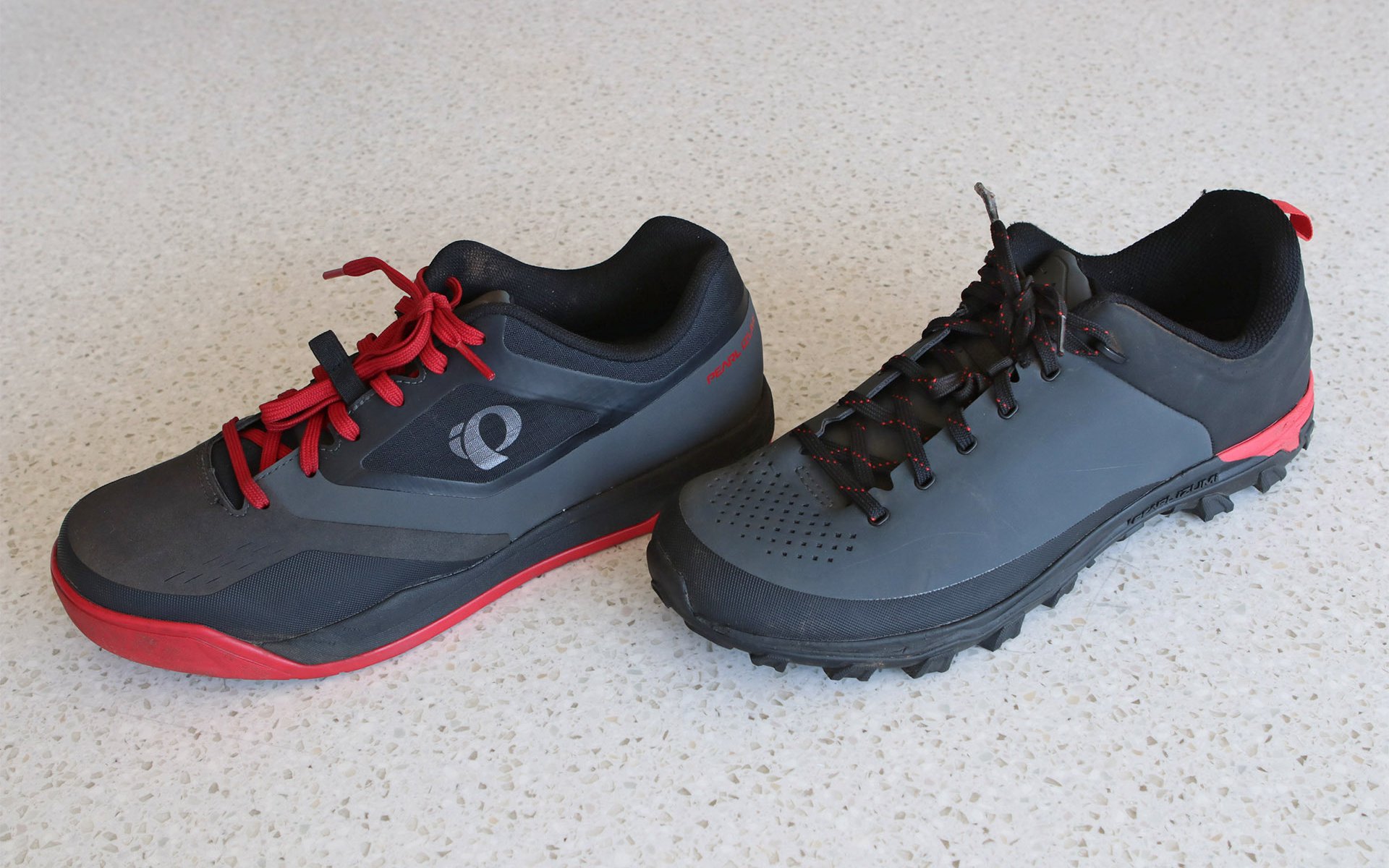 Mano a Mano
Pearl Izumi X-Alp Peak vs. X-Alp Launch SPD
Two shoes from the same company aimed at the same purpose. How different could they be? The X-Alp Launch SPD shoe is vying to attract riders who are used to skate-style shoe comfort and looks, and in appearance it's identical to the flat pedal version. The Peak shoe provides the performance, fit and comfort of the Boa-equipped X-Alp Elevate* in a lower-priced lace up version. Both shoes are pointed at the trail/enduro market with a balance between pedalling efficiency and walking comfort.
*All three shoes I'll be referencing are labelled X-Alp. When men's and women's models are accounted for, there are a total of 25 models in the X-Alp line up, so I won't be repeating it further.
I had a good feeling about the Peak shoes from the outset having been very impressed by virtually everything about the Elevates. Stiffness was good, walking grip was much better than most clip in soles and durability and fit were excellent.
Peak
While the outsoles of the Elevate and Peak are virtually indistinguishable, the uppers differ beyond the closures. Rather than the 'three layer seamless upper' used on the Elevate, the launch mixes a few different materials and has two sewn and bonded seams rather than the single one at the heel used by both the Elevate and the Launch. The entire heel cap is one piece that is attached to the rest of the upper on a diagonal line from just ahead of the heel to between the first and second eyelets on both sides. Pearl Izumi calls this a 'bonded seamless upper' - which is accurate aside from the two seams - but at least one of these phantom seams could cause a wear issue.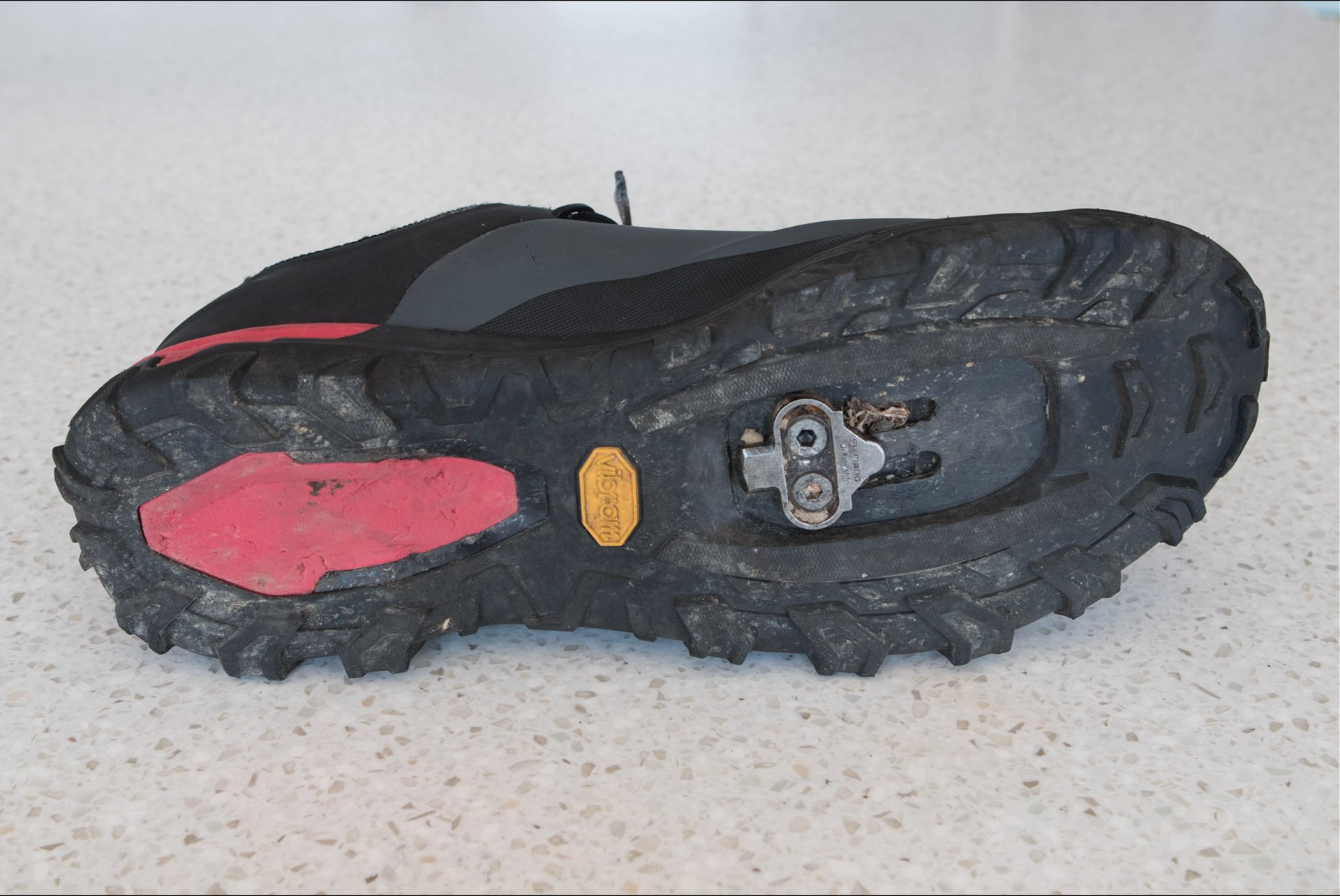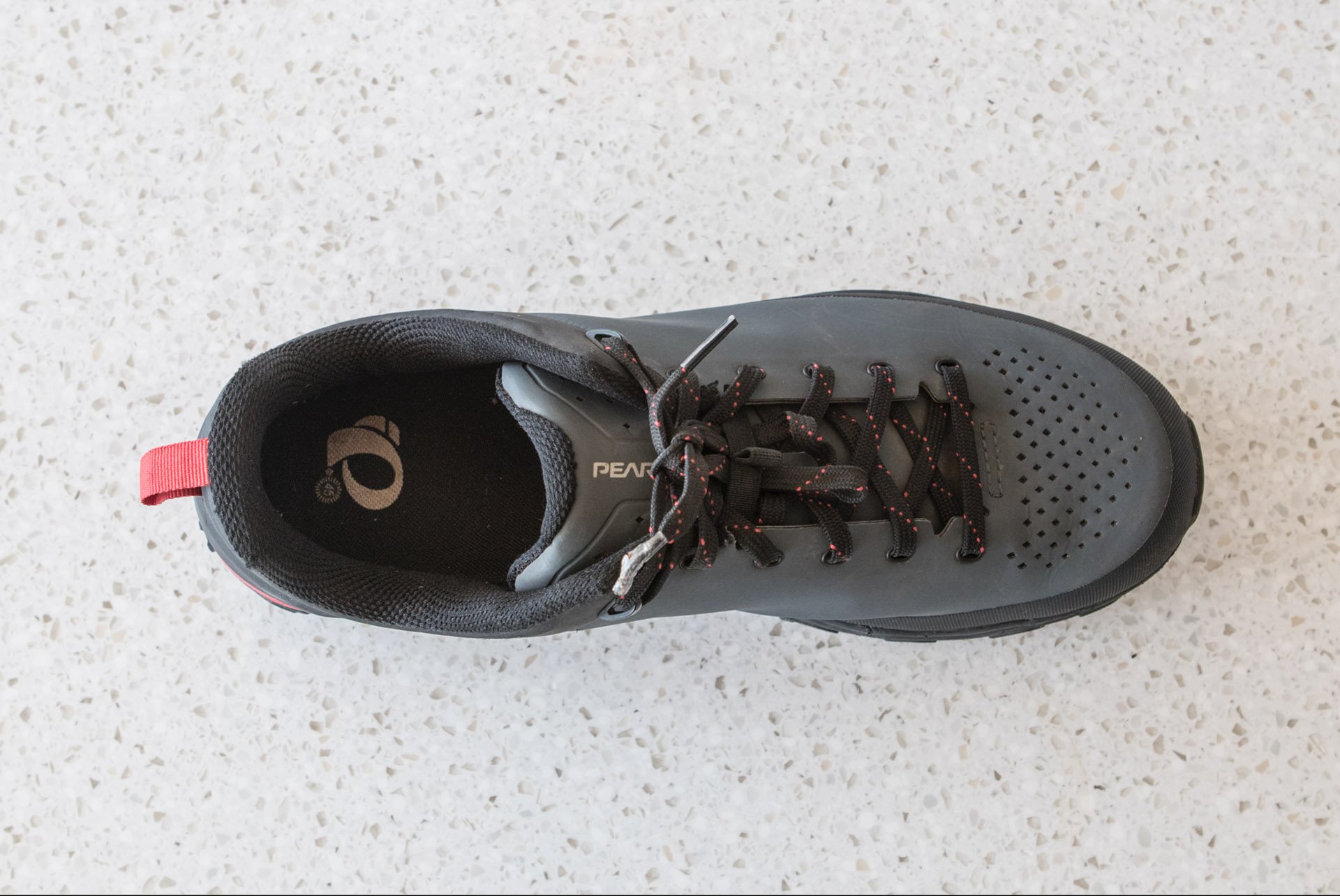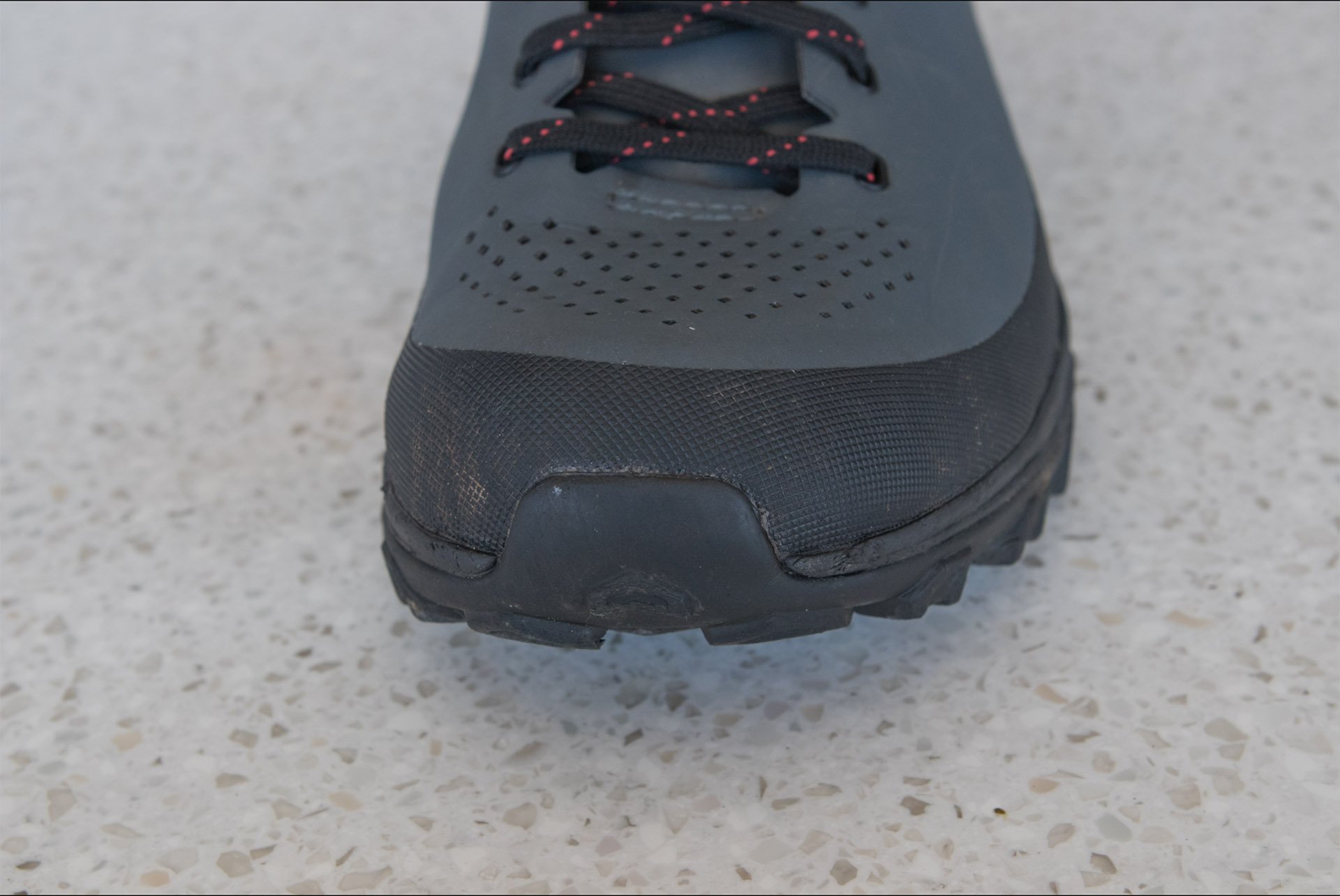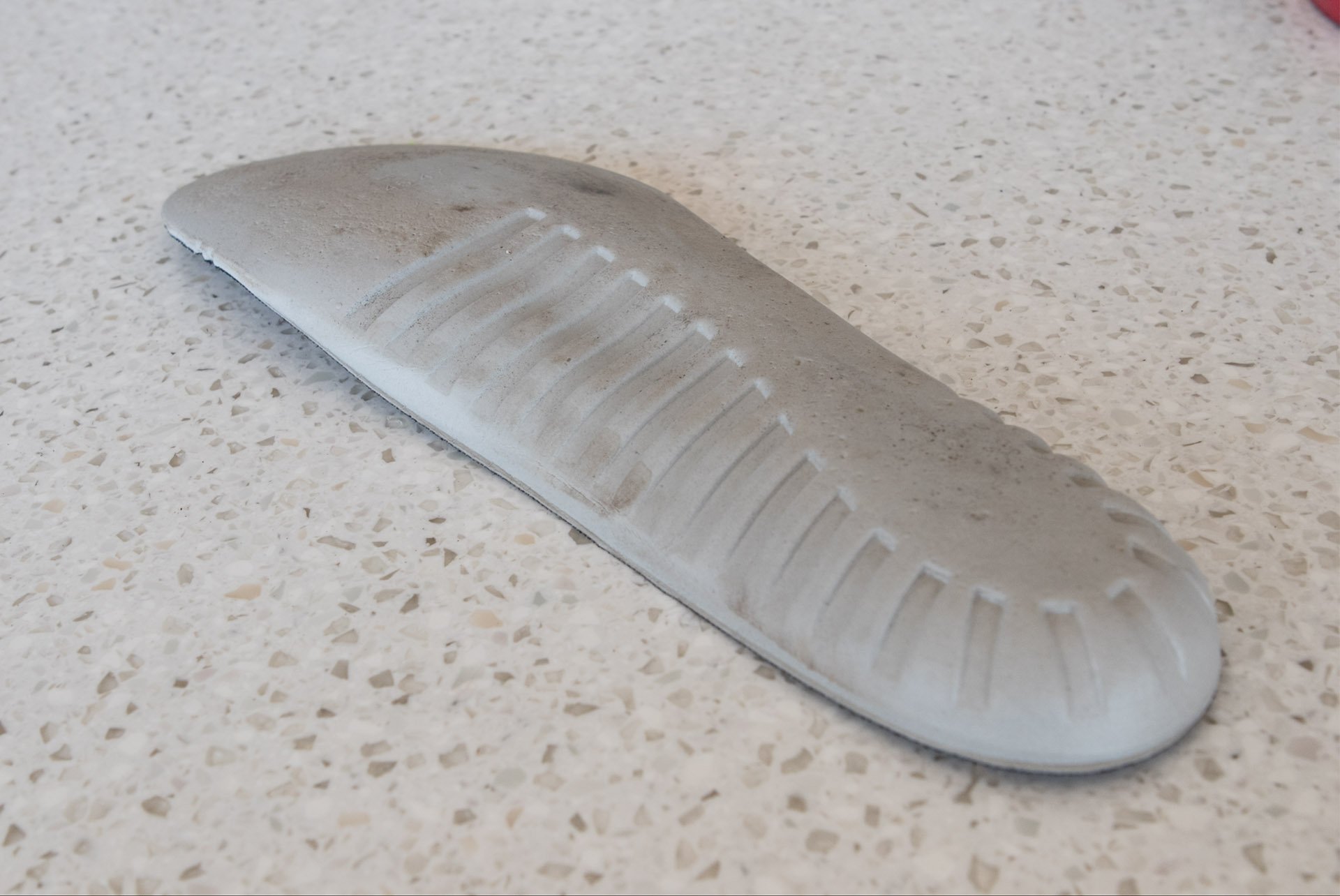 I've learned that my left foot tends to make a some contact with the crank arm, which is unsurprising considering it is my front for descending. The instep seam on the Peak and the cuff bulge create two ridges that have begun to show some wear because of crank arm friction. On the Elevates this area simply appears to be polished with no damage visible despite perhaps 4X more trail time.
I haven't had as much time on the Peaks as the Elevates but durability, previous minor issue aside, seems to be similarly spectacular. In fact I kept wearing the Boa version long after I wrote my review and there is very little damage or wear and no delimitation at all. Overall I'm very pleased with virtually everything about these shoes, but they don't quite get to the level of the Elevates for me, which has a superior upper and a Boa closure.
Going back to laces after several months using a Boa Shoe highlighted the benefits of the dial closure. It's very easy to adjust the tension of a Boa shoe, even from the saddle, there are no laces to tangle with bike or chain, and once adjusted, it stays at that tension, unlike laces which can stretch or loosen. It can also be a bit of work to get even tension in these lace ups, and I generally pull a few loops lower down on the tongue to get a firmer closure. And exit and entry from the Boa version is incredibly quick and easy. If however, you are a lace person without the need to look like a skater, these would be an excellent choice.
Launch SPD
While I find the styling of the Peak shoe inoffensive, the Launch SPD is easier on my eyes. Proportions are balanced and the red accents aren't overdone. There are several material shades and textures that combine well, with bonded seams, to add visual interest and emphasize protection where it's needed. Unfortunately there were a couple of issues with these shoes that are mission critical. One is easily remedied and the other is not.
The first issue took some sleuthing to sort out. Once the cleats were in, I saddled up to see how they felt for entry and exit.I immediately found the cleats difficult to clip in and once it was time to exit I perceived excess friction. The cleats were new as were the pedals and tension was right where I wanted it. I had used two other PI shoes with these pedals but these were sticking and inconsistent. Reducing tension made getting in a little easier, although the engagement felt even more vague, and I began to get unwanted and random releases, one of which caused me to bail.
The main suspect was immediately the cleat channel. I assumed it was too deep, which would explain the issues I was having. After comparing channel depth with the Peaks I became more confused because they were virtually identical. On my second ride I was using standard cageless XTR pedals with no cages and these worked fine.
More measuring and fiddling left me more puzzled but I eventually figured it out. Looking at the outsoles of the Launch SPD and Peak shoes it became clear that the Launch SPD is entirely flat, while the Peak has an external arch recess like a running shoe. I had been using Shimano's new XTR 9120 pedals which support the sole behind the cleat for more security and contact.
Once I noticed that the problem was partially alleviated when I slid the cleats forward I figured it out. The absence of an external arch recess means the flat middle of the outsole pushes against the pedals, effectively increasing the depth of the channel and pushing the cleat too far away for effective engagement. A simple shim will solve this problem without issue, but be aware if you buy a set of Shimano's new XTR trail pedals. Shimano put out a notice warning owners of non-Shimano shoes that these pedals might not work as they should, having been designed to work with Shimano's AM9 shoe model. Older Shimano XT or XTR Trail pedals work just fine. And of course any shoe can be shimmed.

Those M9120 Trail pedals were designed to engage exceptionally well with the Shimano AM9 shoe. There was a note, possibly with the pedals, stating that if you use those pedals with a non Shimano shoe (PEARL iZUMi included) then you may need to install a thin cleat spacer to prevent unnecessary difficulties with engagement/disengagement. - From Pearl Izumi
Although that issue was solved I had another problem with the bottom of these shoes. A few manufacturers have figured out that having a virtually flat outsole increases friction between sole and pedal pins. This can make walking tricky, since the flat area corresponds with the ball of your foot, where traction is most important, but many riders feel the trade off is worthwhile.
Pearl Izumi decided it was a wise idea to carry this flat area over from the flat pedal shoe to the SPD version. While some hybrid pedals include both platforms and pedal pins, much less friction is required because the binding does a great job of keeping your foot attached - and if it doesn't you can increase retention pressure. Which makes the smooth rubber surrounding the cleat channel unnecessary. That would be no big deal if mountain biking was performed on dry pavement, but in mud, snow or on loose ground, this area is very slippery. Walking traction is reduced where you need it most with no associated performance gain while clipped in. This is a big miss.
Now that the bad news is out of the way, this is an otherwise solid shoe. It feels slightly clunkier than the Peak, and the sole seems slightly thicker, but weight is very similar. The skate styling also provides more rubber around the area where the outsole meets the upper adding a little protection. The fit isn't quite as nice as the Peak but that shoe feels like it's custom made for my foot, and these fit very well compared to most other shoes I've worn. Like the Peak the 3/4 shank allows for excellent power transfer and the laces tighten up relatively well with a pull from the ends, but for a really snug fit tugging on the lower loops is required.
Many riders appreciate the simplicity, low cost and reliability of laces, but I have become a Boa fan. I don't dislike laces, and I prefer them to velcro closures and I will happily wear them, but the uniform tension, the ability to tweak your fit from the saddle and the ease with which Boa shoes come on and off combine to tip the scales that way for me.
If you are among those who prefer laces with your SPD shoes, these could serve you very well indeed. Fit is excellent for both and I would push that to incredible for the Peak shoes, and the finish of both shoes is better than any athletic shoes I have worn. You can walk well in both models but power transfer is good enough to for racer types as well, with the added bonus of some protection in heels, toes and tongue.Avoid the Launch SPD if you ride in slippery conditions and might be required to spend some time on foot, but they would be great on Slickrock in Moab.
Both shoes are available in men's and women's sizes. The Peak retails for 150 USD while the Launch SPD will set you back 160 USD.