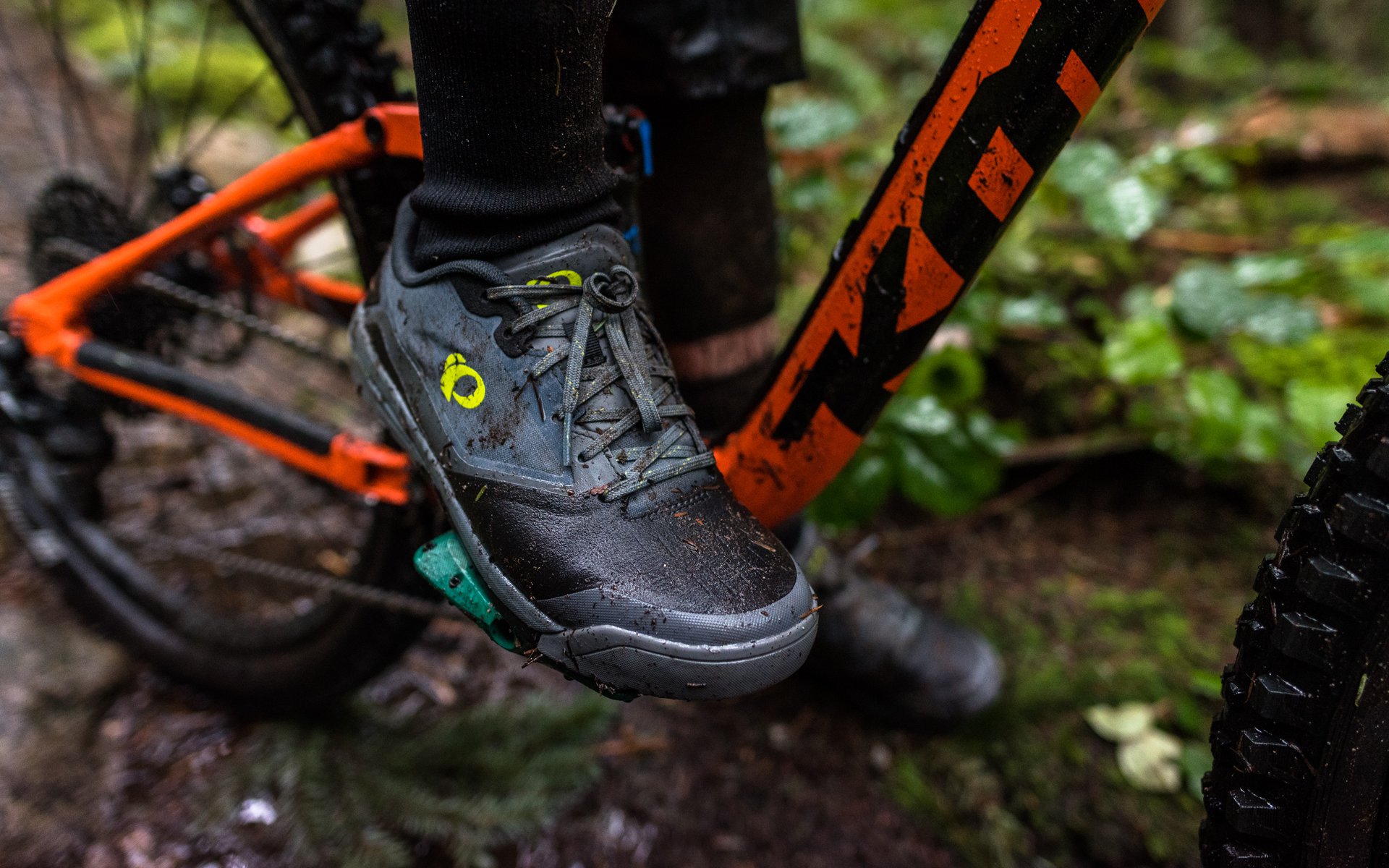 Two-Minute Reviews
Pearl Izumi X-Alp Launch Flat Pedal Shoes
X-Alp Launch
An incredible amount of thought and technology are packaged into Pearl Izumi's X-Alp Launch flat pedal shoes. At first glance, the bright green PI logo is the only thing that separates them from the grey DCs I was riding in circa 1999. That's a compliment.
The shoes are light, damn light, at 356-grams/shoe. For reference, that's 24-grams/shoe lighter than the fantastic Shimano GR7, which is a lightweight shoe itself. Impressively, the X-Alp is also a stiffer shoe when it comes to laying down the power.
The X-Alp has a one-piece laser-cut upper that is firm and comfortable like the perfect hug. The material is also hydrophobic so it stays light even when soaked through. Breathability is excellent. On cold days I'll wear a fairly thick wool sock to compensate for air flow and in the cold-and-wet I sport a pair of Showers Pass or Sealskinz socks.
On Trail
The X-Alp uses a Vibram rubber insert in the sole to enhance pedal grip and traction with the right pedals is excellent. The sole is fairly stiff and I had my best results with a combination of mean pins and ample concavity. Any pedal that falls into the 'it only works well with Five Ten shoes' is definitely a pass with the Pearls. Of the pedals I've been regularly riding, the X-Alp mates best with the Blackspire Big Slim. I also had a chance to jump on a friend's Chromag Scarabs and that combo is amazing.
With judicious pedal choice, the X-Alp's are excellent for long rides on flat pedals. I know a fair number of people who only run flats, even for all-day XC-epics and a spot of XC racing, and to them, I say the extra level of support makes a big difference after hour two.
The Alp-X Launch Customer
I make no secret that the Shimano GR7 is my favourite flat shoe. I like the lightweight, grippy Michelin sole, the fit, and every shoe - including these Pearls - should have oval eyelets for the laces. Even so there remains an ample market for the Pearl Izumi Alp-X. If you're putting in off-road centuries, punching out epic, single speeding, or racing XC on flat pedals these shoes are worth checking out. Likewise, the extra support could be the answer for anyone getting foot pain riding flats.
If that sounds like you, you can pick up the 150 USD Pearl Izumi Alp-X here.