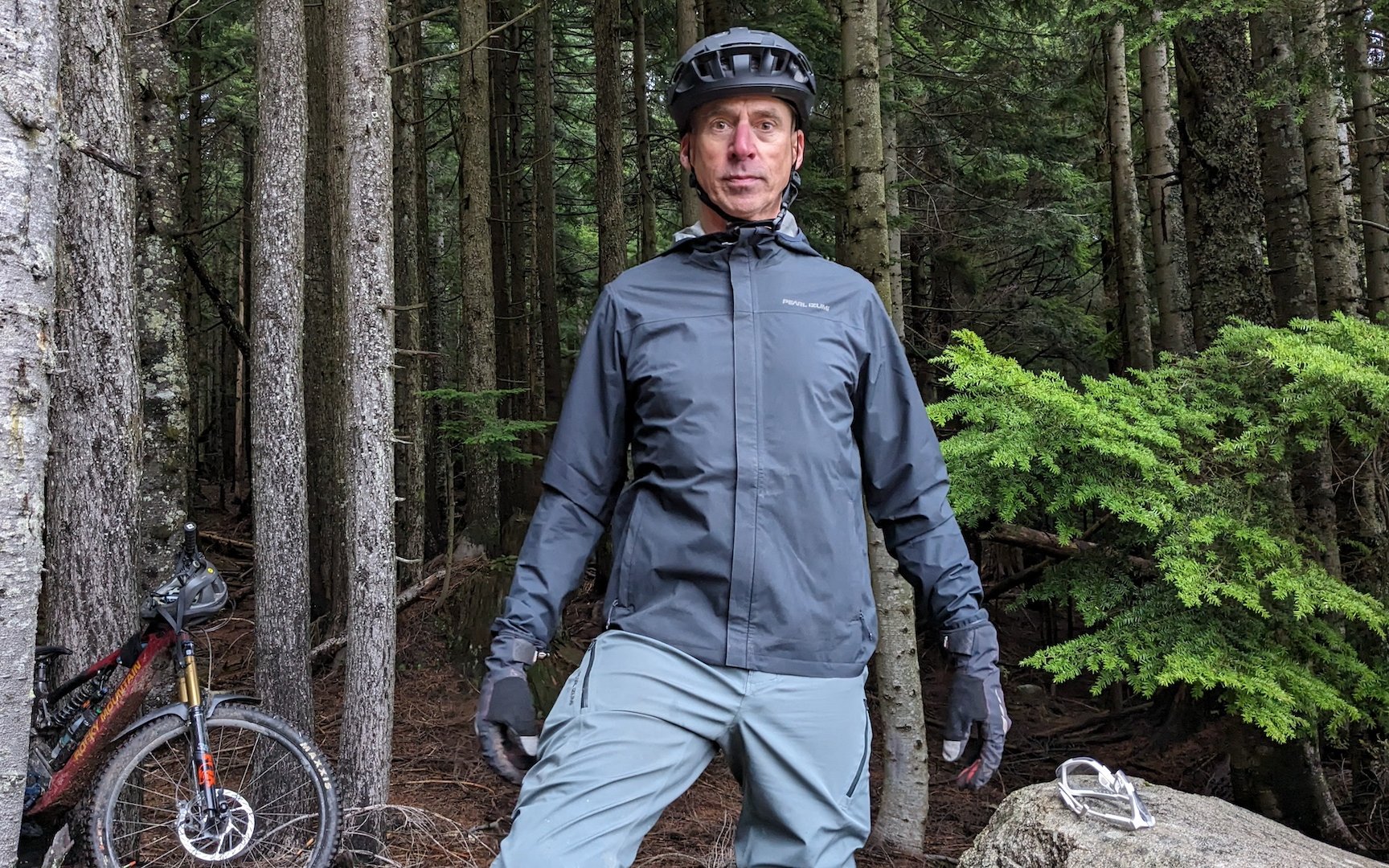 Review
Pearl Izumi Waterproof pants and Jacket
By the time pants came back to mountain biking in a big way, a few years ago, my winter riding life had already been elevated by waterproof shorts. Shorts do the majority of the work keeping your thighs, and particularly your landing strip, from getting wet, muddy and uncomfortable; trousers however, took everything a level up. The big advantage to pants is that they help keep your feet from squelching by protecting your socks, and the biggest hole in your shoes, from getting too wet. You don't need fully waterproof pants to get this benefit but you do need a long cut and a close fitting cuff. Nobody cares about wet shins, but wet feet on a cold day can suck much of the joy out of your ride.
I've had limited luck finding a no-compromise pair of wet weather riding pants. Patagonia came up with the very promising Dirt Roamer pants and I loved them, until I wore the ass out of two pairs in short order. I took them to the Patagonia store to be repaired, and they came back looking great, but the replacement fabric in the ass was more sponge than Gore-Tex, making them all but useless in the wet. They had two waterproof pockets and were very comfortable, but a little pricy at 375 CAD, and sadly useless because of the ass failures.
7mesh entered the market with their 3-layer Gore-Tex Pro Thunder riding pants with some interesting but goofy-looking features like a trimmable gaiter, complete with cutting guides, almost full-length waterproof side zippers, and a no-zipper, no-opening, drop-front waistline. Don't tuck in your shirt if you are wearing these because they look pretty awful. They keep the water out very well but the Gore-Tex Pro fabric is stiff and loud and there is only one pocket. They were 450 CAD but are currently on sale for 325 CAD.
My hunt has continued and I have two solid candidates at this point; the first one is Pearl Izumi's entrant.
Pearl Izumi Summit 3L WxB Pants
I've had some mixed experiences with any Pearl Izumi clothing claiming to be waterproof in the past, so my expectations were moderate when I pulled these on. The first thing I noticed was how comfortable they felt, and this only elevated my fears. The inner fabric is soft and it has never felt clammy, even when things got a little moist from perspiration. Beyond that, the fabric has a small amount of stretch, which is pretty much unheard of in garments claiming to be waterproof. Oddly this isn't mentioned at all on the website, despite it being one of the best features. The fabric also hangs well, another distinction between this garment and most waterproof pants, particularly Gore-Tex. In fact, they feel so nice to wear that I often choose them on cool days when it's not even raining and the ground is relatively dry.
Features and Fabric
The fabric felt so good I figured I was destined for disappointment on wet days. So far that hasn't been the case and I have ended some pretty mucky rides feeling dry, aside from normal perspiration-induced moisture. That's no knock against the breathability though, which has also been first class. The front closure has a fly but no button and there is a single cinch. This means you'll have some bunched up fabric if the waist isn't perfectly your size, as I have found with the size 32, but this hasn't been uncomfortable. The cinch has a hook that mates with a loop on the other side of the fly so you can keep it adjusted when you need to drop trou' for whatever reason. Another advantage of this system is that it's easily adjustable, as things loosen up over the course of the ride. I was skeptical of this buttonless solution but so far it's been great. The one thing missing is a good hook to hang these up to dry, an omission I've mentioned before regarding PI clothes.
Features (as listed by Pearl Izumi)
Pedal to Zero™: Going by bike 35mi / 55km offsets the climate impact of this garment
Fully waterproof construction
Fabrics made from recycled materials
Main Body: 100% recycled polyester Pocket Bag: 95% recycled polyester, 5% polyester
Kneepad compatible
Trail Access pockets
PFC-free Durable Water Repellent treatment sheds light precipitation
Adjustable waistband
Standard fit
In the Saddle
On the trail the comfort continues. Nothing bunches or binds and these pants are as comfortable as shorts. The pockets are easily accessible and have decent capacity but I'd like an open front pocket for keys and other items you may want to keep handy. Four discrete pockets is a great number for riders wanting to leave their pack at home. I had concerns about the unusual front closure but none of them were realized and it works very well.
Waterproofing and Breathability
Do they keep the effing rain out you ask? I've been in some never-ending drizzle and some short deluges wearing the Summit 3L pants and they have kept the water out very well indeed. I haven't yet been in a never-ending deluge thus far but that's not where most of the trail riding drenching comes from; it comes from your rear wheel. I've had plenty of experience getting sandblasted by the fire hose of high speed riding on wet trails and my ass remained comfortable and never became soaked. I haven't yet been in fully biblical conditions so I can't say these could compete with three-layer Gore-Tex, but thus far they have been damned close. I have more expensive waterproof pants that make more monumental claims, but I'm just as happy to reach for these so far.
These pants are also damned good at transferring water vapour through the membrane. Part of what makes them so comfortable to ride, even when it's not raining, is their excellent breathability. I have never felt like I'm wearing a boil in the bag pouch wearing the Summits, and I've ridden on some some fairly mild wet days. I'm not a super sweaty dude but I can generate some heat when I'm on the pedals. Full points in that category as well thus far.
The best thing about these pants might be the price. South of the border these are on sale for 138.75 USD, down from 185. Here in Canada you can pick up a pair for 185 CAD, down from 249. There is also free shipping on both sides of the 49th currently if you order online, but if you go to a shop you'll be able to try a pair on. I was unable get information about pricing in other locales at this time unfortunately. It also seems there isn't currently a women's version of these pants, although there is an alternative in the Women's Monsoon WxB Pants which are also on sale. We haven't tested these yet I'm afraid.
---
Men's Canyon 2.5L WxB Rain Jacket
While I've had some disappointing times with waterproof pants, I've done very well with jackets I've tested. The current leader in my books is the 7Mesh Skypilot. It's a 3 layer Gore-Tex shell that keeps you dry deep into any stormy adventure while delivering excellent venting, and solid features. You might expect that from a heavier jacket, like the 7Mesh Revelation, which is made from Gore-Tex Pro, but the bonus of the Skypilot is that it's made of Gore-Tex Active 3L and it will easily pack into a small space, like a bum bag. The Skypilot's downside is the 550 CAD price tag. I'd say it's worth every penny, but that's still a lot of pennies.
Those are big sleeves to fill and I haven't been amazed by Pearl Izumi waterproof jackets in the past so again, I tempered my expectations.
Like the Summit Pants, the Canyon 2.5L Jacket uses a no-name fabric. This fabric isn't exactly Pearl Izumi's answer to Gore-Tex because they claim to have had slightly different aims in terms of comfort and breathability. As a result Gore-Tex should perform better once the animals start lining up in pairs, but this may do better if you're trying to head for higher ground because it is more breathable. It also incorporates a little stretch for comfort and so it can be used in tighter fitting garments, like a Speedo.
This is a pared down jacket in terms of features. There are no drawstrings or Velcro straps. Instead elastic inserts do the job at the waist, the wrists, and in the hood. Thus far all have been comfortable and effective for me. I've even had to deploy the hood over my helmet and it did the job well. Fabric flaps are used rather than waterproof zippers and I think I prefer this system, assuming it continues to keep the water out. When you are getting sprayed with water and mud, waterproof zippers tend to get sticky, which is less than ideal if you are trying to gear down or up without losing your buddies. They also add expense.
Since I've worn this jacket in parallel with the pants, it hasn't been atmospheric river-tested yet either, but I've certainly worn it on wet days with success. It has kept me dry and it vents very well indeed. It's also comfortable (thanks to both breathability and stretch) and very packable, taking up about a third less volume than my already very squish-able 7Mesh Skypilot when packed tight. It also weighs 20 grams less (240 vs 260 grams on my scale). A downside to this breathability, aside from a little less protection from the rain, is a less robust wind barrier. On a cool day you are going to feel a little more of the weather wearing this jacket when compared to Gore-Tex, but since you should sweat less, it may end up even.
I honestly didn't think I'd like this jacket much when it arrived but it too has exceeded my expectations. It fits very well, packs very small, and is incredibly comfy. On top of that it performs very well both keeping water out and letting it escape in vapour form, just like the pants. The only downsides thus far have been an occasional clammy sensation when bare skin touches the smooth inner fabric and some minor pilling showing up on the elastic fabric at the cuffs. If we get hit by a weather bomb, particularly along with cooler temperatures, I'll reach for the SkyPilot, but in some other cases, I'll be perfectly happy wearing Pearl Izumi's Canyon 2.5L. A bonus is that this jacket is priced even better than the pants. It normally retails for 160 CAD or 125 USD but it's currently on sale for 120 CAD and 94 USD.
This product isn't available in a women's version but Pearl Izumi has some other choices for women.
Strangely, this is jacket is tough to find on Pearl Izumi's website.* Fortunately the google found it for me: Canyon 2.5L in Canada and Canyon 2.5L in US.
*Perhaps a consequence of the turmoil that accompanies a change in ownership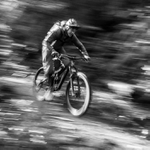 Cam McRae
Height - 6'/183cm (mostly legs)
Weight - 170lbs/77kg
Inseam - 33"/84cm
Ape Index - 0.986
Age - 57
Trail I've been stoked on lately - Lower Digger
Bar Width - 760mm
Preferred Reach - 485-500mm (longer with 27.5 wheels than 29)