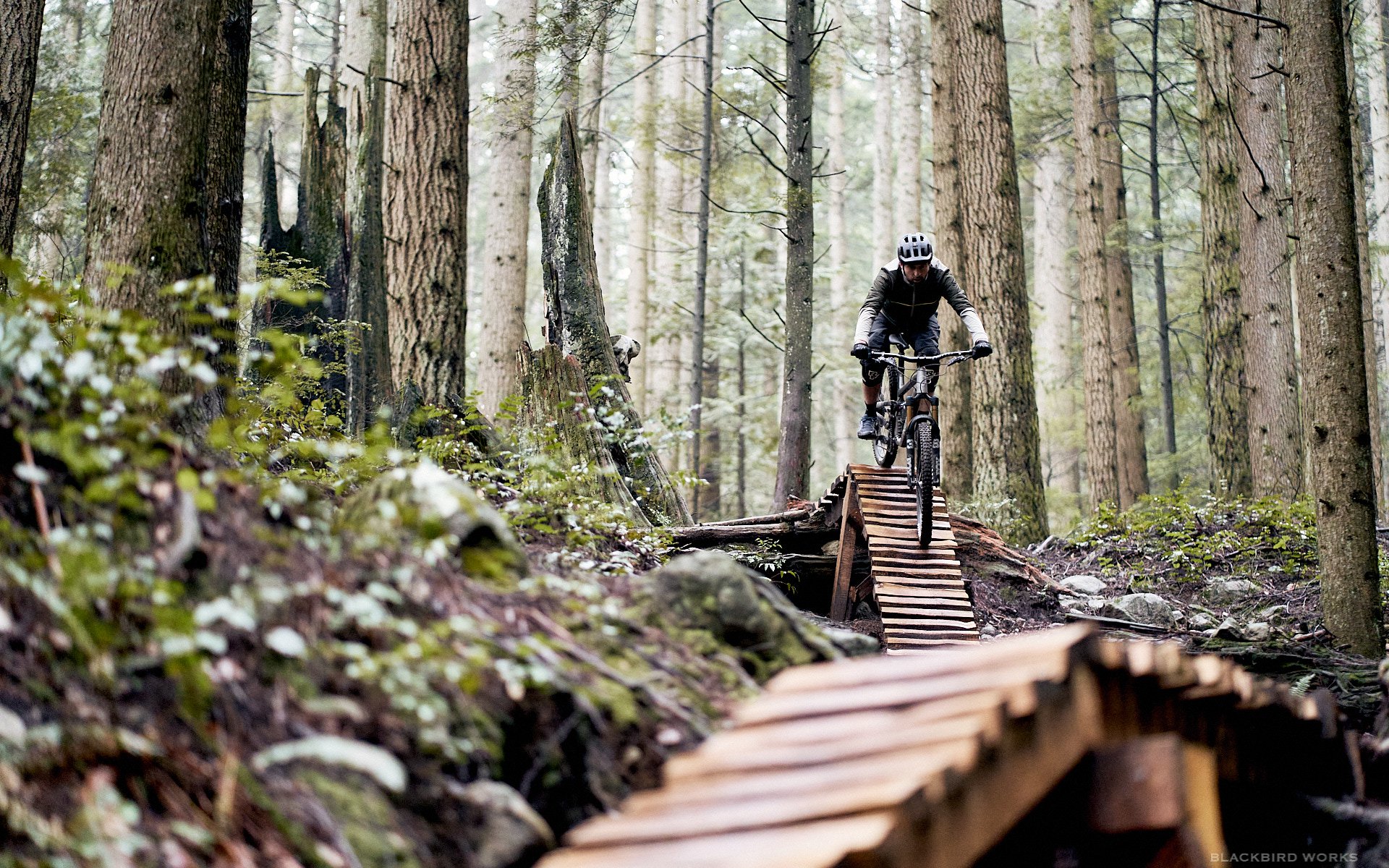 OUTERWEAR REVIEW
Pearl Izumi Elevate Jacket and Summit Shorts - Reviewed
There's no bad weather, only bad clothing.
This phrase gets bandied about 'round these parts so often, you'd think we were hosting some sort of old timey parenting forum. The implication is that if you're complaining about the weather, you're some kind of soft, ill-prepared cheapskate. This phrase rattled through my brain several times on my ride yesterday. And, as my rear wheel bombarded my crotch with a steady stream of mud, water and slush, I determined that whomever coined that phrase might be some kind of idiot.
They're not necessarily "wrong," but they're not exactly "right" either. There probably is the 'correct' clothing for just about any kind of weather, but the practical implications of this philosophy will fairly quickly run headfirst into the brick wall that is reality. First, and foremost, having the perfect clothing for every combination of moisture and temperature will leave you with no money and will require a walk in closet full of gear. Layering will take you a long ways towards your goal, but only so far. To put it another way, the requirements for 18º C and raining vs. 3º C and puddly have a lot in common, but less than you'd think.
Next, you have to remember that even if the clothing starts out "perfect," we're regularly subjecting them to things like the aforementioned crotch shower and other heinous acts of abuse. That expensive piece of synthetic clothing might perform perfectly for several rides/months/years, but every time you spend a few hours sandpapering it between your ass and your saddle, it inches closer towards its end of life.
So, with that, I've decided that there is such a thing as bad weather, and the best we can hope is to find a piece of clothing that eases our suffering without costing a fortune.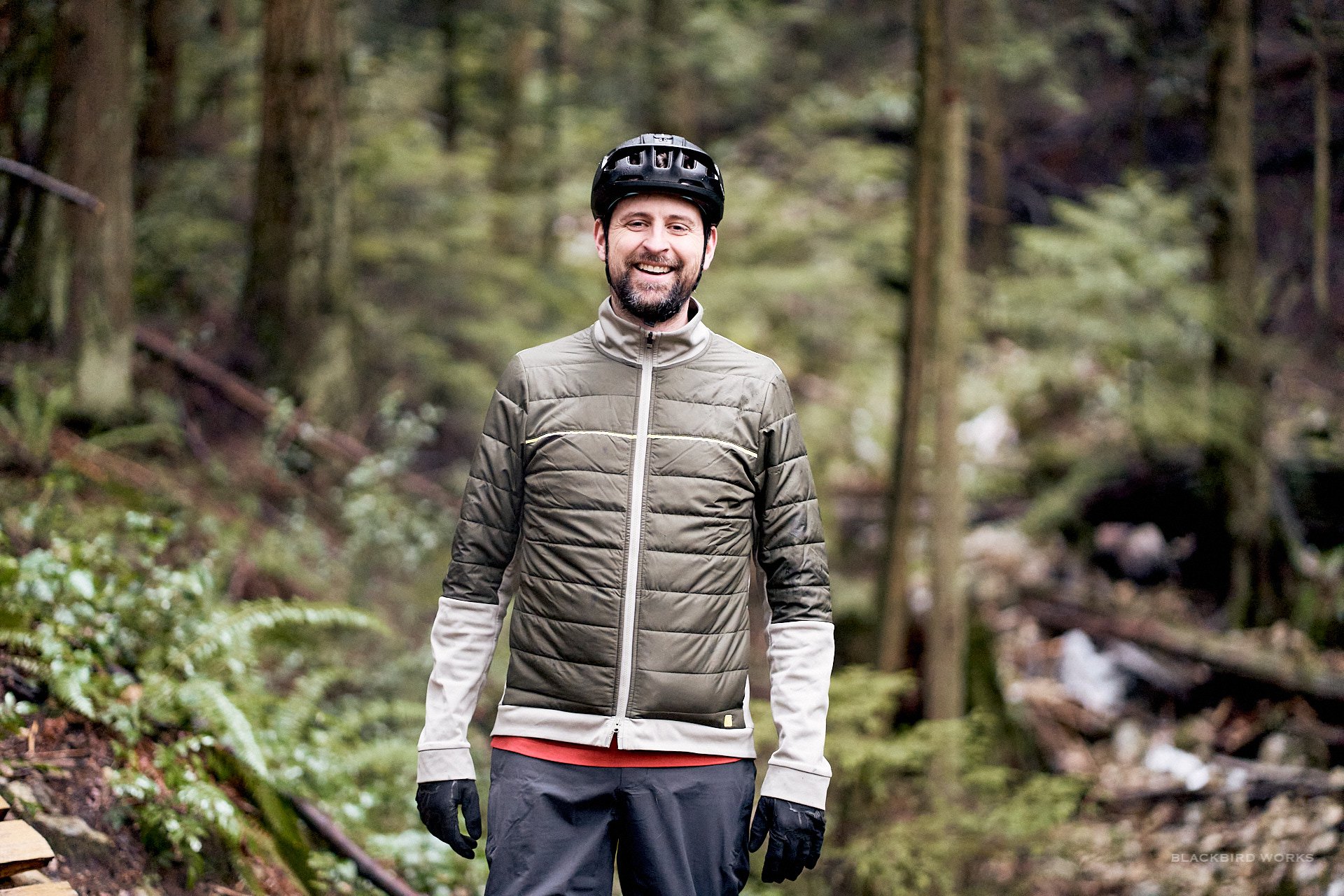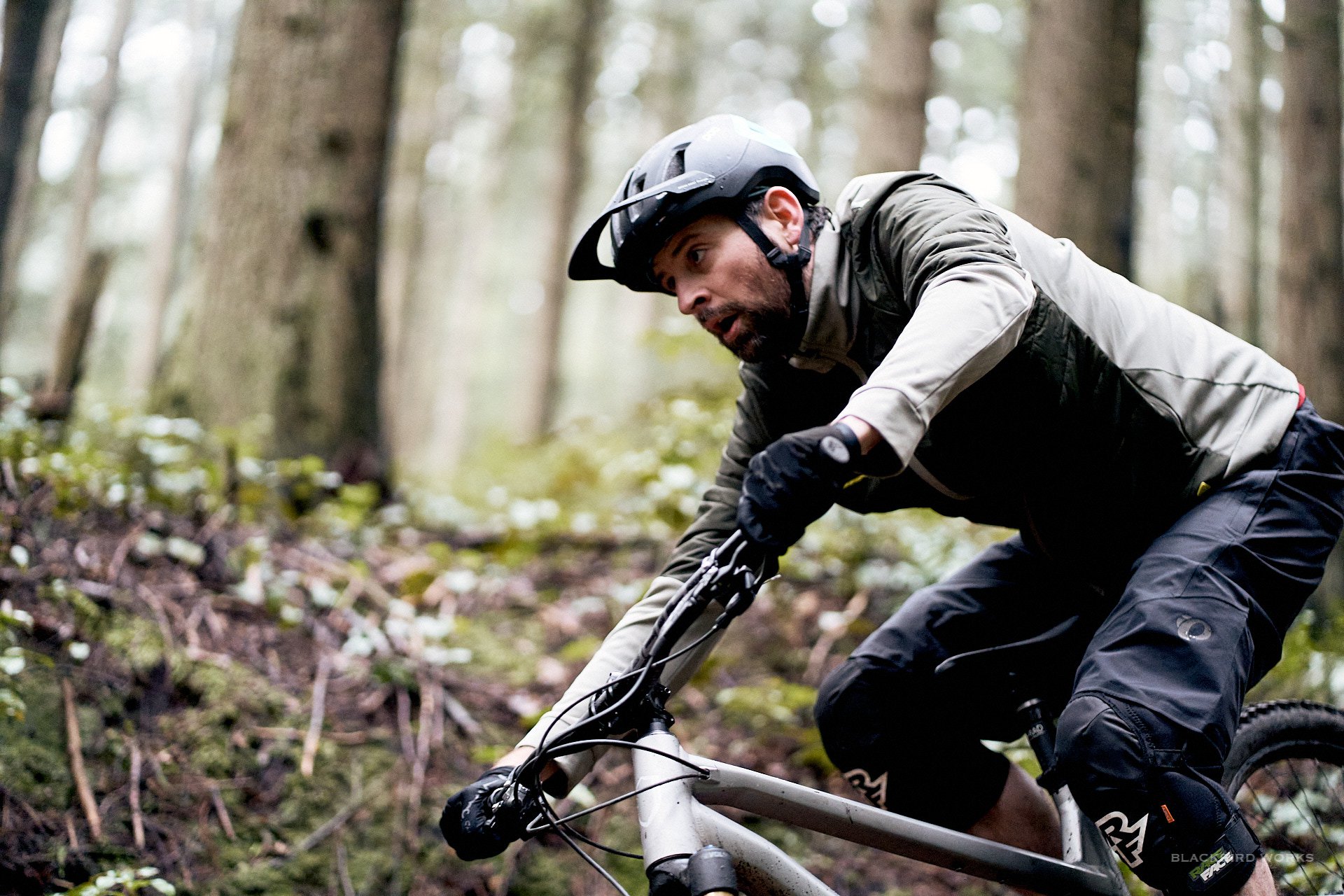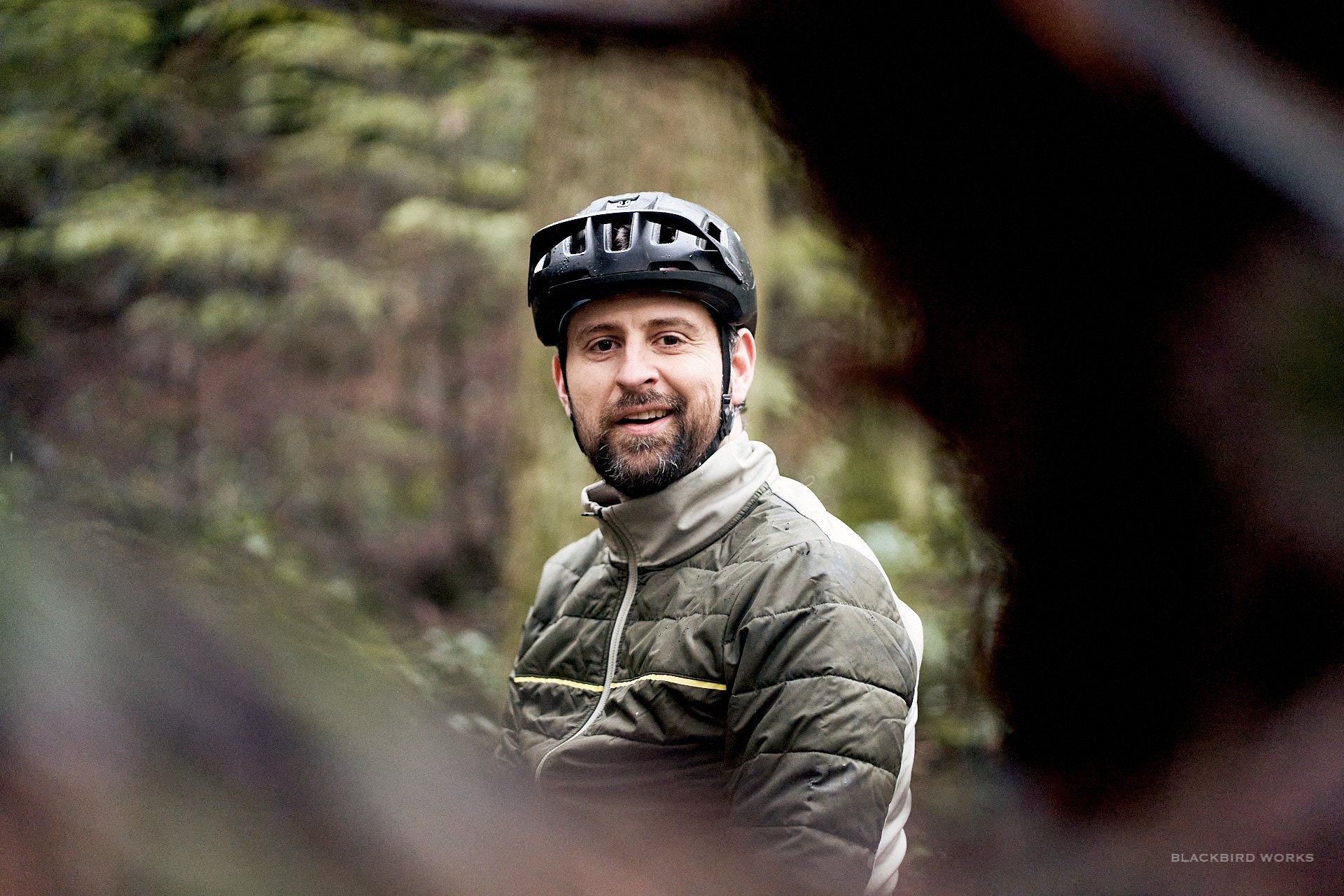 Elevate Insulated Jacket
In a world of imperfect clothing, this piece is pretty darn great. I was a bit judgmental towards it when it first showed up. I'm always a bit suspicious of any piece of mountain bike clothing that comes in a light colour (you're pretty much asking for stains), and I was a bit curious by their combination of softshell and the more typical bits of polyester on the exterior. It felt like at least one part of the jacket was going to form some kind of compromise every time you wore it.
But it works! It all just works. It fends off a surprising amount of moisture and it provides a healthy amount of warmth. It winds up being a really great option, all on its own, when the temperatures are lowish and it's anything less than raining. Light drizzles and puddles are no problem, but it's not something I would trust in a full monsoon. It also works quite well as an insulating layer if it's near zero (Celsius of course) and raining, though you can fairly quickly get too warm in these conditions.
What I really like is how many things you can stash within. There are two zippered pockets, right on the very side of the garment. They're not where you would normally expect pockets to be, but they put things in a good place when riding. I generally ran a phone in one side and a multi-tool and keys in the other.
On the inside, the backside of the external pockets gives you two healthy internal pockets/sleeves to jam all kinds of stuff into. I would generally run gloves in one side (I like to climb bare handed) and a toque (if necessary) on the other. If I rode in this jacket, I had no need for a bum bag or anything else to haul my stuff. It all fit and none of it was too cumbersome.
Why bother with an insulated cycling jacket, though? Why not just throw a warm layer under a shell? Well, I know that everybody says that a nice technical shell should last you for years if you treat it correctly, but more often than not that isn't my experience. No matter what I do, or the cost of the clothing, none of them last as long as I would hope for. It usually starts at the seams, where they abrade away and water starts to seep in. But it could just as easily be a delamination. I once had a solid run where I warrantied 4-5 jackets in a row from the same company, just on membrane self destruction.
With every new waterproof shell that I receive, I start making calculations as to how to extend its longevity. This generally involves not wearing it. So, I find that owning a jacket like this one here, is a wonderful way to avoid wearing those expensive shells. There's no membrane and no exposed taped seams. Yes, there's a DWR coating that will probably need some maintenance, but I have far more faith in this jacket performing to its full potential in 3-4 years than I do with most shells. Every ride I can get away with in this jacket is one more ride I can expect out of my shell when I actually need it. This is impeccable logic, right?
Wrapping things up, I've ridden in this coat a fair number of times over the course of the winter, and I've started wearing it around the neighbourhood as well. It has held up well to numerous washings and had been functional in some surprisingly awful weather. It's stain free, and happily in my rotation of clothing.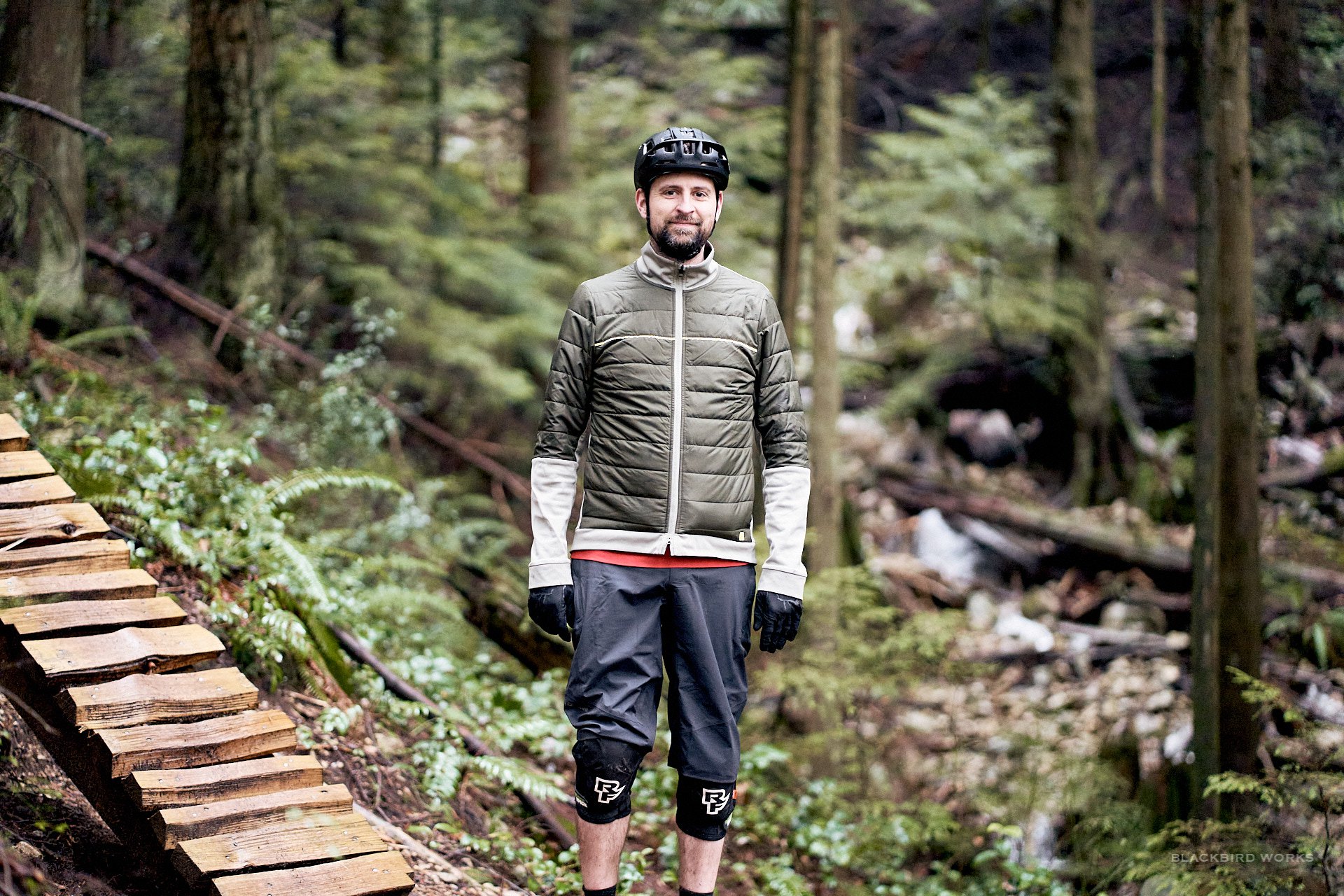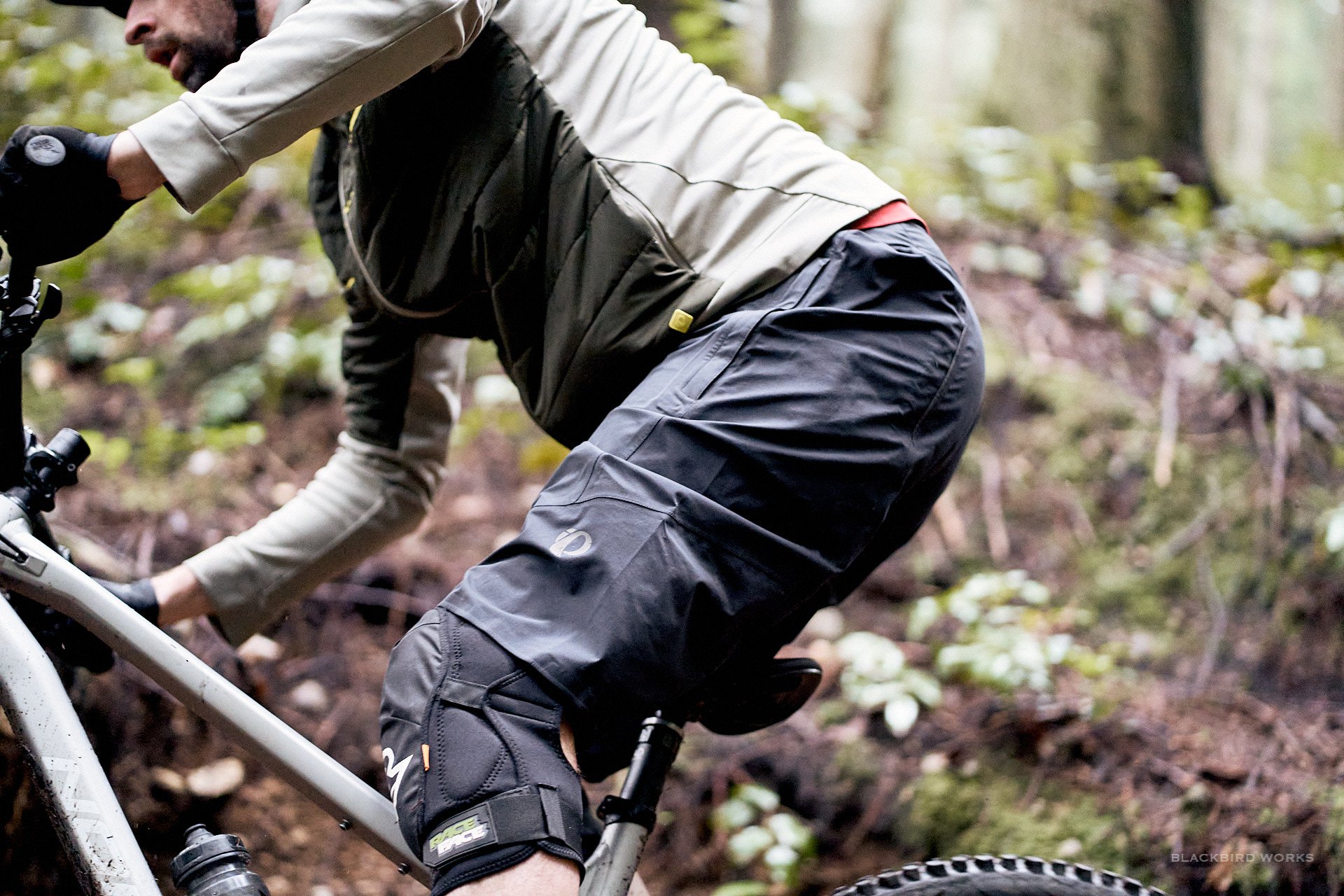 Summit WXB Shell Shorts
I've never been the biggest proponent of waterproof shorts. If the weather is warm, I'll generally just wait for the rain to stop before I go for a ride. Most of my really wet weather rides are in the cold, where I prefer to wear pants. So, waterproof shorts don't tend to see much use from me.
However, right now all of my wet weather pant options suck. Every pair I own is some combination of not-waterproof, not comfortable or no longer functional. One pair has totally self destructed, one pair was never that great to begin with, and one pair looks like I'm setting out for a snowmobile ride. The only pants that I have faith in are my NF DP3s, but they aren't designed for extreme wet weather. A month or so back as I drove home with my pants in a puddle around my ankles, I decided that I needed another solution. The following ride, I dusted these shorts off and made peace with trading cold knees for a dry ass.
So far, they've performed really well. Even though they're a bit large for me (36 waist, where I normally wear a 33 or 34) they stay put with the waist elastics cinched up. They have nice, easy to use pockets on the side that will hold my phone and multi-tool when I'm not rocking the Elevate jacket. They function like a nice pair of riding shorts that just happen to be waterproof.
One nitpick would be that I've taken to wearing my knee pads on most rides, just to keep my knees warm, and these don't fit perfectly over top of them. It's never much of an issue, but it would be better if they didn't tend to bunch up on top so easily. That's the most glaring issue I can think of.

Everything down there was fairly cold and unhappy, but if they only realized the cold ice bath that they had avoided, the mood might have been brighter.
If we want to talk about waterproof performance, let's look back on the slush filled crotch bath mentioned in the first paragraph. Is there worse weather to ride in than near freezing conditions that have caused 1-2 inches of fresh snow to turn to slush? How about leaving the house prepared for a few puddles only to discover this is what you're up against once you hit the parking lot?
I finished the ride cold and miserable. My socks, shoes and kneepads were soaked. But as I dropped trow and scampered into my nice, dry jeans, I realized that my (cheap cotton Uniqlo) underwear were totally dry! Everything down there was fairly cold and unhappy, but if they only realized the cold ice bath that they had avoided, the mood might have been brighter.
We may have to re-visit them for durability in 6 months to a year (not that I'm suggesting I expect them to fall apart, it's just that time will tell), but they certainly do what they're supposed to.