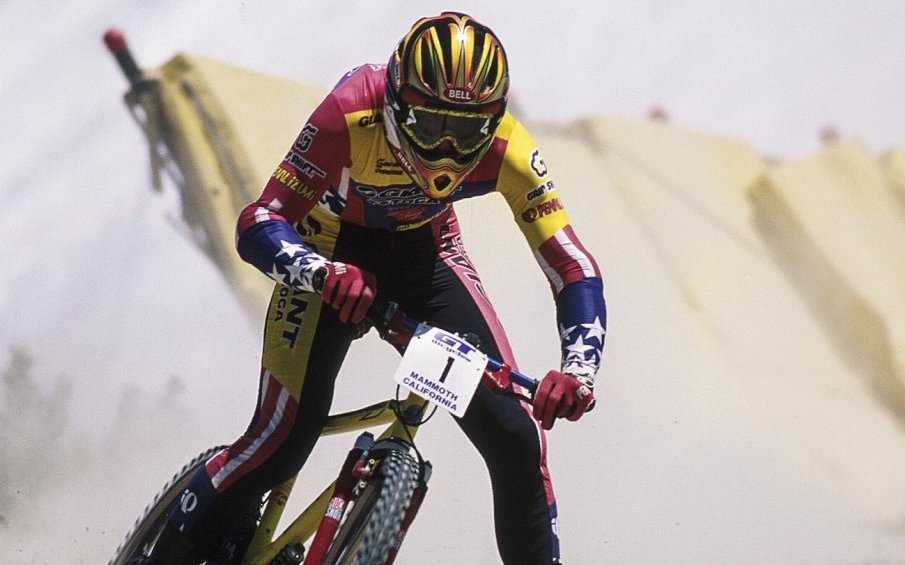 Beggars Would Ride
Peak Advisory
Fashion, when it comes to mountain biking, is the kind of thing that would be easily chalked up to some sort of "form follows function" ethos. Except it doesn't. Form does not really logically follow function when it comes to how we, as mountain bikers, dress to ride. And it probably never really has.
I mean, maybe, way back in that late-1970's haze of summery yellow grass, sepia-tinted dust and marijuana smoke, there might have been some sort of exploratory consensus that cutoff Levi's and Hi-Tec hiking boots and terrycloth headbands were the right kind of thing to wear when riding them newfangled knobby tired things. Fingerless gloves with crocheted backs. Vuarnet sunglasses. But it could have been argued even then that the commonly accepted ride uniform was a nod to regional fashion more than sensibly functional riding garb. We then, as a sport, fell headlong into a decade and a half long experiment with spandex riding gear that was basically just the same shit that road riders wore, but with more questionable color choices. And then, emerging from that cultural myopia, the pendulum swung completely in the opposite direction (as pendulums do) and many of us spent the following decade dressing like some cross between colorblind motocross racers and unemployed rodeo clowns.

Palmer departed the DH scene relatively early, but his sartorial legacy echoed on.
There was some arguable function to be found in those DH racer pajama suits of the mid 2000s, but really, no. They didn't breathe very well, didn't shed heat very well, didn't blend in with anything, and didn't really do a whole lot to protect the wearer from abrasion or injury. But at least they didn't make everyone with a bodyfat percentage of greater than about 4% look like so many kilograms of nylon cased sausage. Somewhere in there, at the tail end of the spandex era and ushering in the pajama suit years, our helmets sprouted mandatory visors.
I got a new helmet last week. I intend to ride off-road with it. It has no visor. I feel weird. How the hell did we end up here, where I have been habituated to feel naked without some kind of plastic thing of very questionable function stuck on the front of my helmet?
Shaun Palmer, Steve Peat and Troy Lee. It's their fault.
Huh? Bear with me here... Palmer was Palmer, and everyone wanted to capture some of his swagger, even if they only managed to grab just a sliver of it. He had swagger for miles. Peaty, well, hard to say exactly where he really sat in there, but he was friends with Palmer, and the two of them wielded so much image influence, and were so vocal about what was happening with helmets and clothing in DH racing, that they exerted an almost planetary pull on the fashion of the time. And what they said, loudly and often, was that Spandex was for roadies, and roadies are not cool. And if mountain biking is ever going to hope to be cool, then we need to stop looking like roadies and instead lean into the motocross gestalt, get baggy, wear helmets with visors. Aaaand it just so happened that they were both sponsored by Troy Lee, who had carved out a business in moto-land.
Palmer departed the DH scene relatively early, but his sartorial legacy echoed on. A few years later, citing that the skinsuit look was detrimental to the evolution of the sport, and backed by apparel sponsors who sensed a whole lot of money to be made by controlling the look of things, the anti-skinsuit/pro-helmet visor cabal managed to pressure the UCI into banning skinsuits and visorless helmets by the end of the 2008 season.
Here, now, we all ride helmets with little bills on the front of them, because "mountain bikers need to have visors on the fronts of their helmets," and nobody really gives it a second thought. The POC Tectal that I have been wearing for the past couple years is an awesome helmet. It has a teeny little visor on it. That little visor, even in the lowest position, doesn't really do much to shield my eyes from glare or protect me from being roosted by the motorcycle in front of me (oops, wrong sport, sorry). It does mesh well with the lines of the helmet, and is aesthetically pleasing, but as far as function goes, it is useless. It also sometimes gets tweaked and then sits at a jaunty crooked angle, signaling to anyone who encounters me that I am a hopeless loser. Maybe that's the functionality of a visor – it serves to advise other, more hip mountain bikers as to just how out of touch you are, or how bad a rider you may be. Most helmets with visors on the front of them offer some version of this potential function. If the visor is adjustable between four positions, one will look "decent", one will look "a bit dorky but passable" and the other two will look like "a bucket of smashed assholes." But none of them will really keep the sun out of your eyes or the roost from smashing your goggles (damn, wrong sport AGAIN. I just can't shake it…).

Wait'll I start riding in a kilt. A plaid kilt in the same colors as mossyoak camo!
If John Tomac was just a couple years younger, or if Palmer and Peaty had come along a couple years sooner, I hypothesize that none of this may have happened. It was pretty easy for Peaty and Palmer to look for any fraction of a second's excuse they could when it came to trying to rein Nicolas Vouilloz in from relentlessly schooling them on the World Cup circuit. He was French, small, and didn't party; an easy target. Tomac, on the other hand, was a colossal badass. An icon. An institution. If he wanted to, say, wear a jet black rubberized skinsuit and a visorless motocross helmet painted with an eagle, he could go right ahead and do that and nobody, NOBODY, would dare point the finger at him and talk shit on his choice of attire. But if Nico was doing it, well, then, doesn't that just smack of some sneaky little Frenchy trying to swindle our baggy clad brethren out of precious fractions of precious seconds? In the case of the women, that's EXACTLY what Rachel Atherton implied about Tracy Moseley in 2008. Thus, in the interest of "leveling the playing field", in a sport where hundredths of a second actually matter and one would think aerodynamic advantage would be something every rider should rightfully seek out, skinsuits and visorless helmets instead got hit with the ban-hammer.
And now here we are. A decade and a half after that ban, we now have the trickle down results of those decisions. One of which is that "mountain bike" helmets are identified by the not-very-functional visors mounted to them, and this is how they can be differentiated from "road helmets."
I get the flat versus clipped thing, and that there is room for both types of pedal and a massive range of footwear in mountain biking. I understand that this can have actual implications on how and where and even why we ride. Both flat and clipped pedals serve a purpose and have a place in mountain biking. I absolutely honor the notion of not wanting to wear a skinsuit on a Saturday rip through the local trails that may end at a café or brewery. Hell, I am even thankful that a knock-on effect of those hideous pajama suits is that we get to wear functional, quietly effective long riding pants that work real well in terms of keeping the poison oak at bay without anyone getting all side-eyed at the trailhead. But I don't really understand why we have so completely, across all aspects of mountain biking, defaulted to visors as helmet necessities. Especially when most of those visors seem to serve little purpose other than to act as a sort of shelf for goggles.
Admittedly, even Tomac looked a bit dodgy wearing a full-face helmet with goggles and no visor. There is something unbalanced and off about that look, in a Feng Shui sense. But it wasn't very long ago that any attempt at wearing goggles with any open face helmet – visor or no – was a sartorial choice viewed by most with great suspicion. If we follow the thread of begats all the way back to when Torsten Hallman upended the entire world of motocross and ushered in visors for everyone, there were solid functional reasons for helmets to sprout them. Anyone who has ever been showered with roost from the motorcycle in front of them can attest to the effectiveness of a quick head duck in terms of keeping goggles clean, eyes intact. Visors are good like that. I just do not really see how this translates in any functional sense to mountain biking.
So I got a new helmet. Without a visor. It's a Bell XR Spherical. There was not an analogous visored helmet in the Bell lineup that offered the same features – Spherical MIPS, my alien head able to fit into a medium, lightweight, well vented, and available in camo. My first ride wearing it, I ran into one of the more garrulous locals. He stared at my head for several pointed seconds as he said hi, then immediately followed his greeting with; "Dude. What happened? Did you wreck? Where's your visor?" Then he launched into an extended riff about not being able to see my head, because camo, and how everybody knows that camo and plaid don't mix.
Fine. I'm a dork, and proud. Wait'll I start riding in a kilt. A plaid kilt in the same colors as mossyoak camo! It's gonna blow his mind.