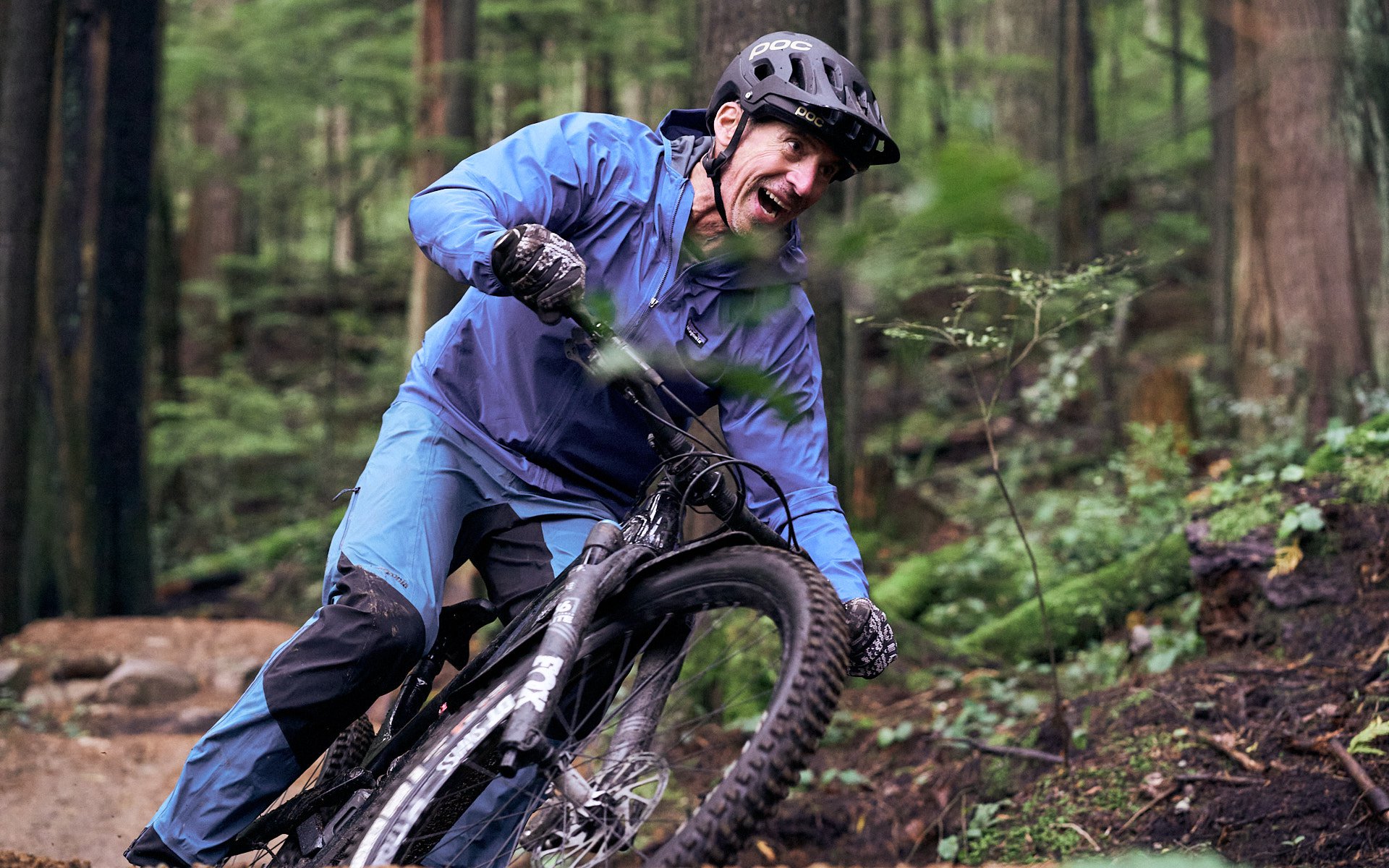 Outerwear Review
Patagonia Dirt Roamer Storm Pants Review
I feel like my skepticism about Patagonia is justified, because I've been disappointed before, several times. Arc'Teryx at one point hired Richie Schley as a sponsored rider to explore the mountain bike sphere. I'm not sure a single product came to market but I can't be sure. Richie had some though. Lululemon made small runs of a few products and even had a popup store in Whistler during Crankworx (where you could practice Yoga with Abi for free!), and I believe they continue to support athletes, but their products also seemed to die on the vine.*
*Lulu did however purchase an interest in 7mesh, which was an excellent strategy, at least in terms of allowing 7mesh to keep making top notch outerwear for riding. The business strategy remains to be seen.
The North Face was already Mike Hopkins' sponsor in the winter, and he began wearing North Face gear on his bike, with the promise that gear for all of us was on the way. You likely won't be surprised to learn that, although some products were actually brought to market, the company lost interest in our dirty, sweaty ilk in short order.
And then, like a granola-eating, van-dwelling knight in duct-taped but still breathable outerwear armour, came Patagonia. If, like me, you've read founder Yvon Chouinard's book, 'Let My People Go Surfing' you may be an admirer of Patagonia. Chouinard, along with Craig Mathews of Blue Ribbon Flies, also founded 1% For The Planet, an initiative to encourage corporations to donate that portion of their gross sales to certified non-profit organizations that help preserve and clean up our fragile blue marble.
On top of that, they make cool and expensive stuff for outdoor pursuits, often with an eye on the impact that stuff has on the environment and even on the people who make it. This is a company I'd like to see making gear for our silly little fringe sport that others have found unworthy of (or not profitable enough for) their attention. And now on to the subject of this review.
Pataonia's Dirt Roamer shorts, despite having a rather cheesy name (and no - I likely couldn't do better) fared well under AJ's critical derriere. I've had a pair of the Dirt Craft shorts (better name?) for a few seasons and I really like them as well. They are nicely cut, easily adjustable, stretchy and they have lots of really good pockets for those of us looking to ditch our packs. The come with a chamois, that I used without complaint before I eschewed adult diapers until they become a necessity. These are the sort of shorts you could race an EWS in and wear to the pub after a ride without screaming "MOUNTAIN BIKER!" The kneepads and helmet already gave you away though.
I liked the Dirt Roamer Storm Pants (Mud Stormer?) from the moment I pulled them out of the Fedex box. The fit is perfection, they have nice stretch, seemingly in every direction, and the hand feel and texture against your skin are both, well they're lovely really. They are so soft you'll want to wear them to bed. And you could quite comfortably.
The Dirt Roamer has a single sturdy snap at the waist as a closure and a one-hand adjustable 'Opposet' pull that magically tailors the fit to what you had for breakfast. And that adjustment stays there, despite being easily released. Everything is articulated and there are seemingly endless panels everywhere to achieve this, with internally-taped seams.
The two perfectly-placed side pockets are low-profile enough to be invisible when empty, large enough for a phablet with some space left over for an energy bar, and they seal with smooth pulling waterproof zippers. The fit at the ankle is pleasantly snug but can be released with the knee-length zippers, allowing you to drop trou without removing shoes or pads, which is a surprisingly fetching look. They are roomy enough, but more importantly cut well enough, to fit pads underneath without any restriction, and they have a pleasing retro-outdoors look that doesn't tell anyone you are a mountain biker, for better or worse.
But all of this doesn't mean shit if they don't perform well on the trail, breathe spectacularly and keep your delicate posterior dry after being blasted with a mud cannon for two and a half hours. And they do. Or they did, as you'll learn. In fact they performed so well that I stopped wearing anything else for quite a long time. They breathe as well or better than any waterproof membrane pants I've worn, and the waterproofing performs valiantly for up to 3 hours on the trail. All of this while never sounding like a blue tarp while you pedal or feeling like musty rubber boots against your bare legs.
I kept wearing them while our weather became increasingly foul and wet thanks to La Niña. And when I say I kept wearing them, I mean I neither washed them or cleaned them off between rides. For weeks. If the last ride was muddy, I saddled up with a caked assy area and sat on that until it was replaced with improved trail snot during the ride.* And then, just as I was about to declare wet-weather riding perfection, I noticed a change in the texture of the three layer H2No-backed fabric where it regularly meets my saddle. There were waves that made me wonder if things were starting to delaminate.
*While I am sometimes lazy about my own gear care, I treat test gear badly deliberately so faults can be revealed more quickly
I stayed the course, without proper care of course, and the situation continued to deteriorate. A split in the ass seam began to appear revealing the delicate white membrane. Unfortunately, unlike gear made by more experienced purveyors of mountain bike apparel, like 7mesh, that seam is positioned right in the middle of the pants, where there is maximum wear and tear. The rupture of course continued to get worse, and even began to leak a little.
This wasn't actually the first or only indication the honeymoon could be ending however. Before the backside breach, I managed to tear a triangular split in the fabric behind my right calf. Then I did that again, in a slightly different location. Undoubtedly these were caused by pedal snags, although I didn't notice either at the time of the incidents, but they seemed to indicate there was a price to pay for that silky texture. There is heavier-duty fabric in some high wear areas, like the knees, seat and crotch, but you could argue that for mountain bike gear, there are only high wear areas, an certainly the lower legs, on both sides, fall into this category. Patagonia realized this for the shins and added an interior layer of heavy cordura-like material. It seems some may be needed out back as well however.
I got in touch with Patagonia about the seam failure and they told me they hadn't heard reports of problems like mine, and weren't sure if my pair was a a pre-production sales sample or not. They were kind enough to send me another pair, which I have been wearing with similarly excellent early results, but it remains to be seen if they'll survive the North Shore torture their predecessors succumbed to.
One of my favourite aspects of the DS Storm pants is their versatility. They have worked great for hiking and coaching soccer and would do just fine for every nasty weather outdoor activity that doesn't require a gaiter. And they are comfortable enough to wear all day or while doing some Yoga with Abi, which I would highly recommend.
I'm hopeful my experience with the first pair of Storm Roamers was an anomaly, but I'll do my best to make sure by replicating a worst case consumer scenario. Until that time, while it's too early to give an unqualified endorsement, if you are better at gear care, or if your riding conditions are somewhat less wet and mucky, I'd encourage you to pick up a pair of these almost entirely excellent trail trousers.
Another proviso is that, if you're male, you'll likely have to be size XS or XXL to purchase these online. Women interested in doing some Dirt Roaming (in the storm) have every size to choose from. I found the fit true to size and my size 32 waist was happy in size medium.
The Dirt Roamer Storm pants will cost you 269 USD or 339 CAD. A lot of cash but worth it for the quality, designs features and performance if (this is a very large IF) my experience with the first pair turns out to be a highly unusual one-off.
More on these and other Patagonia MTB products here...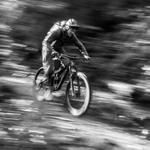 Cam McRae
Height - 6'/183cm (mostly legs)
Weight - 170lbs/77kg
Inseam - 34"/86cm
Ape Index - 0.986
Age - 56
Trail I've been stoked on lately - Boogieman
Bar Width - 760mm
Preferred Reach - 485-500mm (longer with 27.5 wheels than 29)