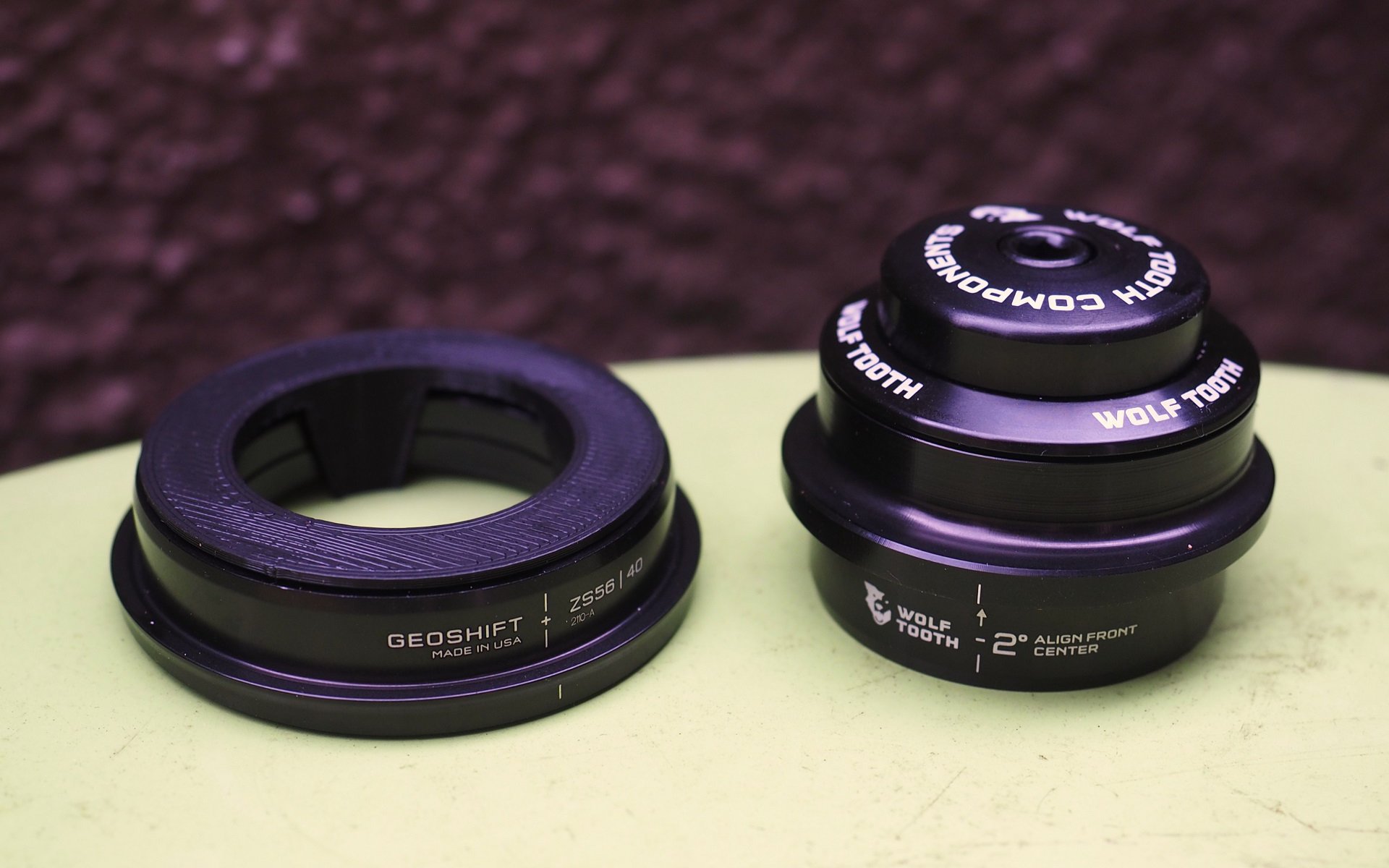 EDITORIAL
Parked Projects: GeoShift -2° Vs. Budget Hardtails
The best laid Schemes fo' Bikes an' then...
I've had to plant or postpone some projects because of my injury this year, and the one I was most excited about was an at-least-monthly series looking at budget hardtails. To qualify the term 'budget' here, I'm talking about bikes placed between one-thousand and two-thousand Canuck-bucks, with decent pedals, even after all the price increases that have come down in '22. Rigs like the 1400 CAD Devinci Riff 29, Brodie Bike's 1200 CAD Khan Sport, the 1200 CAD Lava Dome or 1500 CAD Mahuna from Kona, and maybe a 1800 CAD Giant Fathom 2 with their in-house suspension fork and 150mm dropper post. My plan was to be riding Blue, Purple, and easier Black trails on hardtail bikes under 2K CAD, brand new.
I learned a lot from riding the Rocky Mountain Growler 20 in 2019, with 29x2.6" tires, and their previous-generation Growler 40 with 27-Plus, the year before and I was stoked for the opportunity to highlight other entry-level, trail-worthy, mountain bikes. As I've mentioned before, good geometry is free, and the tweaks bike companies can make to drive a better trail experience without sacrificing the flexibility and usability of their bread-and-butter bikes. This highlights the second facet to this recurring concept. In addition to riding the bikes bone stock, given that they all have 44/56 headtubes of similar lengths, I was planning to install the same Wolf Tooth Geoshift -2° headset in every bike and experience the difference.
The headset wasn't the end either. With my trusty tub of Slickoleum, fresh rubber for the front, and proper rotors for the poor sleds clod with the 'Resin-Only' versions, I had grand plans to push the performance well past stock with the most limited investment possible. I'd take the time to lube the shitty cable-and-housing combos that most of these bikes come stock with, and report when it's actually the good stuff out of the box, and perform any other sweat-only upgrades that would drive up performance out of the box. I'm getting positively fired up thinking about it.
The good thing about waiting another year, is that it gives companies a bit more time to get on board with modern mountain bike geometry for their budget hardtails. Look at that Giant Fathom, 66° HTA with a 130mm fork, 465mm Reach on a size large with a 75° STA. It's build around the current trend in fork offsets (44mm on a 29er) and the stays are a very reasonable 435mm. It's nicely done and it looks fantastic too. But, how about for next year we trickle down the real trail bike geo to the lower-priced Talon lineup, where the otherwise well-equipped Talon 1 is looking pretty prime at 1200 CAD.
Value
There is a lot of conversation about how expensive mountain biking has become and also how amazing budget mountain bikes are now compared to years past, so which is it? I like to lean on Kona here since so many of their model names have carried over through the years. Take the Lava Dome I mention above. In 2002 a fresh LD would have run you 650 USD and now, twenty years later, a Lava Dome will is 950 USD | 1200 CAD.
In '02 your fresh Lava Dome had a 71° HTA, 26x1.95" Tioga tires that were very sketchy even for the time, an absolute POS 80mm RockShox Judy TT elastomer fork (still featuring rubber boots on the stanchions, a practice that RockShox had ditched years earlier with their premium forks) basic Avid rim brakes, and a Shimano Deore drivetrain in the days when that was the bare minimum to achieve any amount of off-road durability.
In '22 your fresh Lava Dome still has 9-speeds! But now it includes what has really become an offroad expectation in the form of a clutch derailleur to keep the chain in place and quiet the drivetrain down. There is also a 1x system with a narrow-wide front ring to keep the chain from derailing and the MicroShift drivetrain delivers a solid range of gear options with a 9-46t cassette and a 28t chainring. It has rideable WTB Trailboss 29x2.25" tires, and Tektro hydraulic disc brakes. Certainly, the basic 100mm Suntour coil fork isn't going to deliver equal performance to riders in every weight bracket and the geometry needs to take a step toward the current Honzo lineup but I think it's impressive how much more capable the bike is 20-years later for only 300 USD more, which essentially covers inflation over that period.
That story plays out over many brands. The 1500 USD you'd spend for that Giant Fathom 2 would be worth 950 USD in 2002 dollars. Never mind the, size-specific, 125-to-170mm dropper post and the very descent Giant Crest 34mm stanchion suspension fork that would stack up against any top-end fork from '02, but you'd have to buy a DH bike to get geometry that touches on what the Fathom provides now. It's, I think, one of the nicest looking bike in Giant's whole lineup and while it pushes up against my 2K CAD window, the return on your dollar for a 12-speed Shimano Deore M6100 bike harkens back to Giant's '90s reputation as a proper value leader.
GeoShift -2°
And for the record, I'd still put an angleset in that Fathom. A static 64° HTA on the a 130mm travel sub-2K CAD, Deore 12spd-equipped hardtail? Heck yes. It would be extra sweet if that Deore M6100 build included the matching four-piston brake system, but if they included those then I'd want some Aeffect R cranks too. I'm just never happy. This brings me to the second part of this project; the 'GeoShift -2°' bit. All of the, size large, budget hardtails I was looking at happened to have the 44/56 headtube in the size range that could be covered by a single Wolf Tooth -2° headset. Coupled with the fact that my daughter's favourite job in the shop is pressing headsets, my plan was as straight-forward as it was time consuming.
After riding each of these bikes stock, I would supervise the pressing of the -2° Angleset. Then I'd ride the bike with it's new geometry. Then I'd whack out the Angleset and my daughter would press back in the stock cups. Does 2° of head angle make that big a difference? I think so but maybe more so on some bikes than others. Is it enough to push a budget hardtail into another realm of viability without other component changes? Probably not, but who's to say without actually trying it. At the very least, it's a real world test of my opinion that most budget hardtails should have more aggressive geometry. It doesn't add cost, it doesn't take away from all around ride-to-the-store use, and it makes them more fun on the trail.
On that note, as the 'anglesets in everything' guy, I'll note here that I'm using a Wolf Tooth headset but I've also had great experiences with Works Components, which I've reviewed, and also, for the integrated headset bikes out there, the SLACK-R from 9point8. These are all products I recommend, with the caveat that they all require an extra degree of patience to install compared to a regular headset. That's especially true if we're comparing dropping in IS bearings to the process of aligning and tightening the SLACK-R.
Finally, a big thanks to Pete for putting in the leg work to get a bunch of budget hardtails lined up and of course to brands that committed to coming up with something in a year when selling budget hardtails is absolutely not a problem whether they're awesome bikes or not. And also thank you to Wolf Tooth for sending a -2° GeoShift headset, I have it put aside until I can un-park this project. Very much looking forward to it.