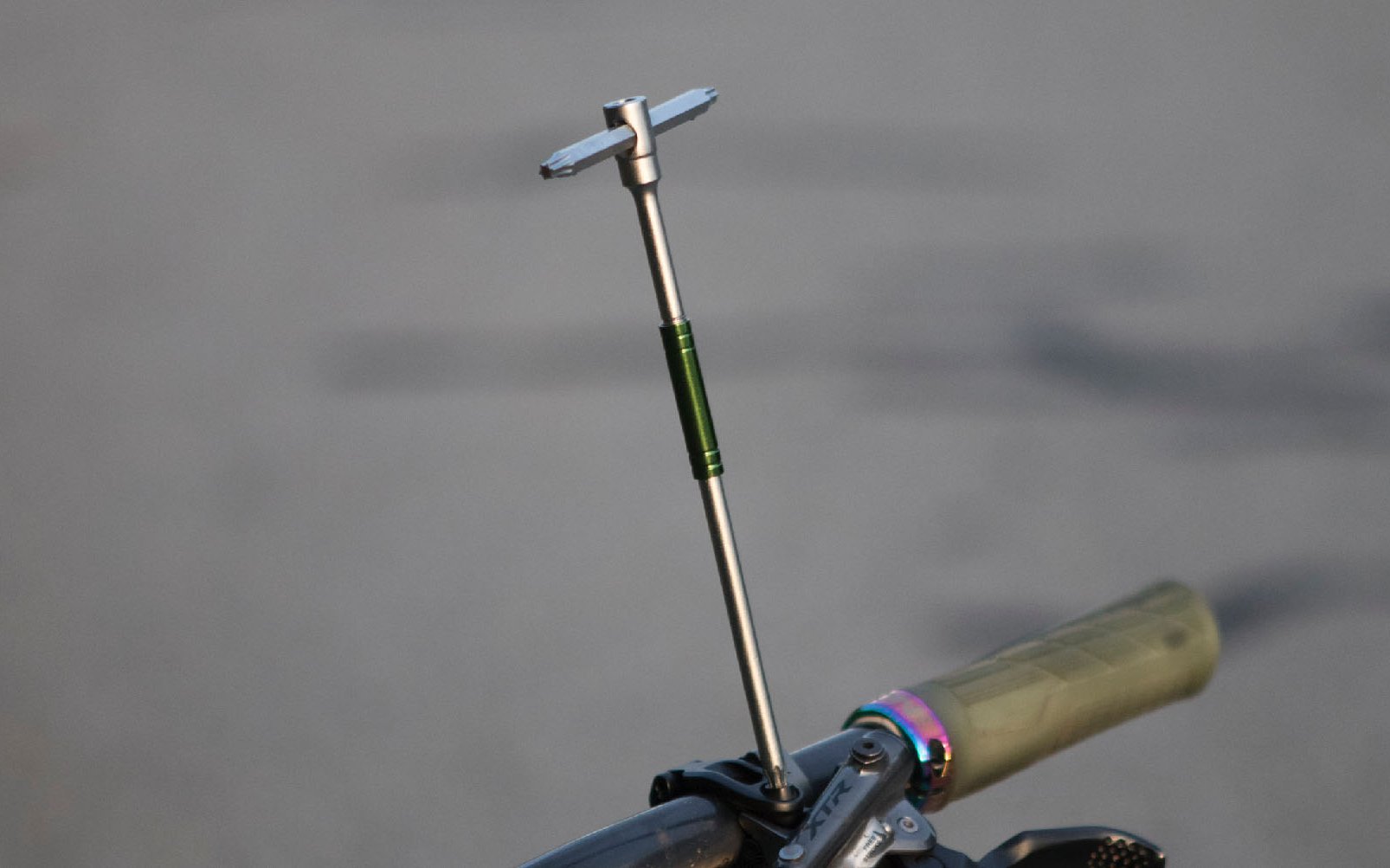 Quick Hits
Park Tool Sliding T-Handle Torx Set
Initially this was going to be an article about two items that were totally unrelated to one another. Working title; Odd Couple.* But as I began writing about this beautiful set of tools from Park, I realized I had too much to say; they couldn't share the spotlight.
Park Tool may wish I had less to say, but here we are.
*probably kidding
Sometimes things arrive without any preamble or request. That was the case with this 8-piece set of sliding T-handle Torx tools from Park Tool. These things are ridiculously beautiful and oozing with quality. A detent and ball keep the sliding section centred and a stopper at each end prevents each from sliding off. A green-anodized aluminum sleeve allows the tools to spin in your hands to reach the friction point of the fastener, or once you've overcome it if you are removing. So much to love. In theory.
Here are the features, as related by Park Tool:
Carefully selected combination of Chrome Vanadium and S-2 tool steels
T6, T8, T10, T15, T20, T25, T30 and T40 Torx compatible wrenches included
Unique anodized aluminum Speed Spinner makes running long bolts in and out quick and effortless
Sliding T-handle creates increased leverage and multiple access positions
Tool holder is included with the set and mounts to any wall, bench or tool box, perfectly positioning each wrench for easy access and storage
The funny thing about an 8-piece Torx set for mountain bikes is that I can't recall using more than 3 sizes ever. Generally only 1. Occasionally 2. Very rarely 3 on the same bike if you happen to be bleeding SRAM brakes. So that's T8, T10 and T25, the last being relatively common. Which leaves 5 tools I will never use on a bike unless something changes drastically and pedals start to accept a T40.* Etc. We've had these for several months and the tool holder looks really good, but I can't bring myself to mount it. I may not be an accomplished mechanic, but I certainly don't want to be a poser displaying tools for which I have no use, simply because they are pretty. But let's move on.
*In my limited experience these are the only Torx tools required. Exceptions are inevitiable. I'm sure my error, if I'm in error, which I likely am, will be pointed out by diligent bike mechanics. Thanks in advance!
The tools work quite well for certain tasks. If you're assembling a bike from the bare frame and are without a bit driver of some sort, the green aluminum spinners speed tasks that involve long bolts, but for most tasks I don't like them nearly as much as I expected.
One issue is that the sliding T-handle isn't great for applying downforce whether you are using the tool as a T or as an L. As a T you can apply some pressure relatively well, but not nearly as much as a traditional t-handle or a screwdriver-style handle. And as an L, which would theoretically only be used when lots of leverage, and thus even more downforce, is needed, it's not possible to apply much pressure at all. An L might be needed when space is limited as well and in this situation having stability between the lever and the pointy end is even more helpful.
A detent does a good job of keep the T in the middle, but there's no such support when you need it as an L. Rather than detents on the ends, there is simply a stopper, with nothing preventing the shaft from sliding down if you apply pressure in that direction. It doesn't seem like it would have been difficult to have a detent at least at one end, which would not have precluded having stoppers at both ends, and perhaps even a small handle at the end that is without a detent. The beauty of the way Park has made the tool is that it's evenly weighted so it spins like a turbine, but I bet there are sharp engineers there who could figure out the balance to preserve the smooth spin even with these improvements.
The true test of a tool is whether you reach for when you are in a hurry. 10 out of 10 time for me that's my cheap, Mastercraft by Canadian Tire, screwdriver-style Torx drivers with nice beefy handles. Because downforce is so easily applied, it's easy to get lots of leverage. I don't recall ever failing to remove a rotor bolt, in fact. They came in a variety pack of screwdrivers that was discounted 60%. I think it was 39 different screwdrivers for 29.99 or something ridiculous. I didn't think much of the Torx drivers at first, and they weren't factored in when I bought the set, but once I started using them it became clear how great they are. For some reason I don't see this style of Torx driver in bike shops very much. In fact, a bike shop-owning friend once said something like, "look at you with your fancy tools," when I wielded mine.
My lack of affection for lovingly designed and crafted bike tools brings me no joy. Park Tool makes some excellent products and I admire their tenacity with which they chase the ever-shifting niche market that is professional-level bike tools. At the same time, this is just one guy's opinion. Please apply salt as necessary.
There are many screwdriver sets available online. My bike mechanic comrades used to call the aforementioned retail outlet, "Crappy Tire" and they sell these items for about 7 bucks apiece. A tiny tool (included with SRAM bleed kits) is more than adequate for dealing with a T8, which means you need two max; T20 and T25. You can find good complete sets online, even with a T40 for the pedals of the future, for a pretty good price.
Universal Cycles sells this beautiful but flawed set for 110 USD.
Some context for those of you from beyond the Canadian border is that Mastercraft tools are nothing to write home about. At least not at regular retail, but they are great value on sale. The quality is generally in the mid range but can be inconsistent. In fact I'd love it if this entire set became useful on a bike, because hex heads often suck.
I will reiterate that the bike industry is lucky to be blessed by Park Tools' commitment to quality specialty tools, as well as consumer level pieces that exceed expectations.