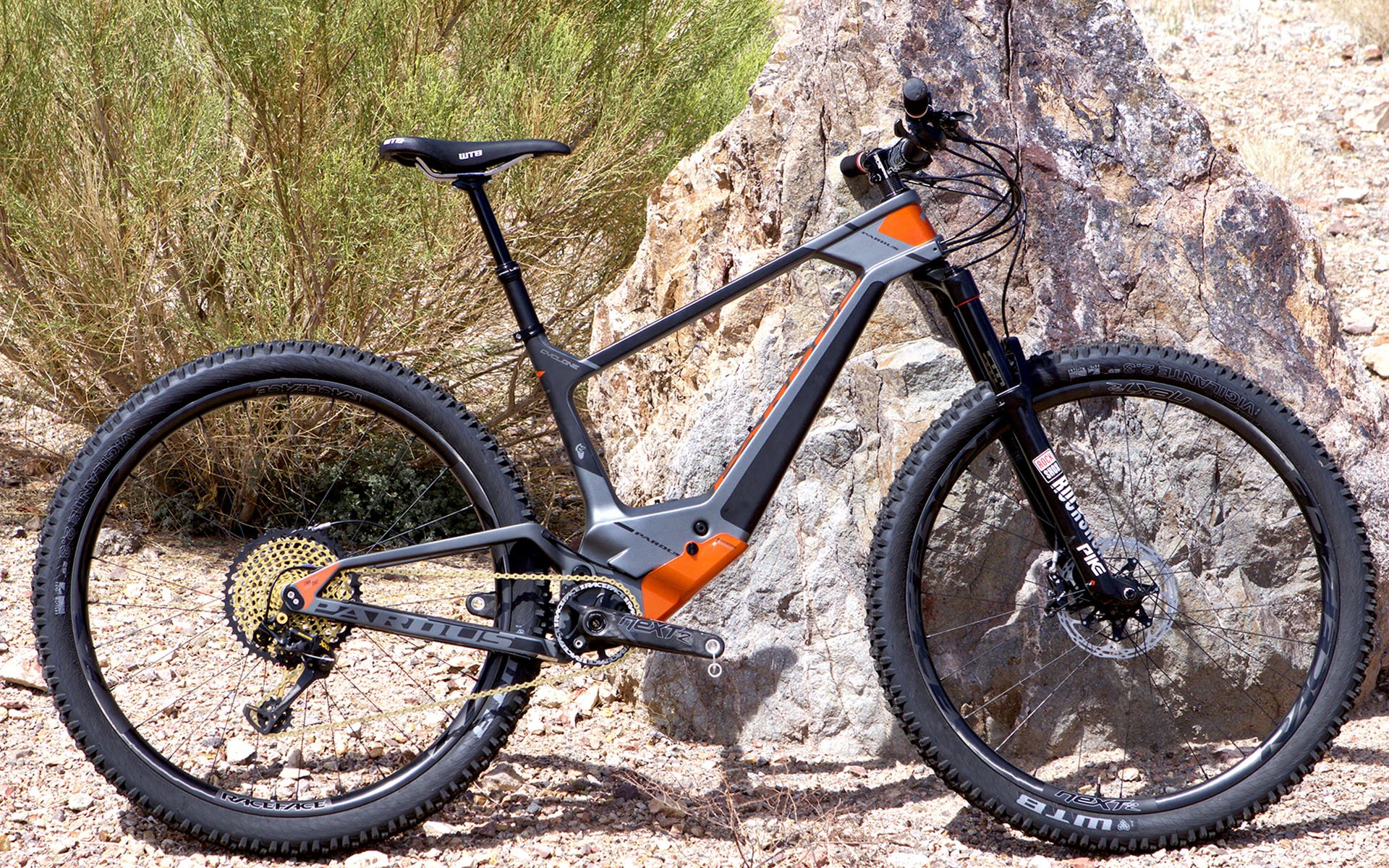 InterBIKE of the Day
Pardus Cyclone - I Swear It's Not An E-Bike
Some booths catch your eye and others you stumble upon. Despite the dearth of bikes at Dirt Demo we hadn't noticed the Pardus on our lonely circuits. When we spotted it we grabbed it for photos right away. The frame looks so clean it could at first be mistaken for a hardtail and then... you begin to think e-bike. But it's a meat powered duallie that means business. 

"We want a trail/all mountain bike" was about all the direction that I got." - Steve Domahidy
Pardus tapped Steve Domahidy, current proprietor of Viral Bikes, and co-founder of Niner, to design the bike. I asked Steve about the origin of the design; "My design directive was pretty broad. Pardus is a brand from Taishan, a carbon factory I've worked with before. They wanted a unique new full suspension bike that they could call their own and didn't want another 'me too' design. So they contracted with me to give them something unique but left the design parameters wide open for me."
Steve told me that hiding the rear damper came about organically: "The enclosed shock actually wasn't my initial design directive for this frame. I was working on the kinematics of the suspension and wanting to keep the center of gravity as low as I could. When I came up with the linkage design and leverage ratio and leverage curve I wanted, with the shock in the lowest position I could get it, it just made more sense for the frame to envelop and protect the shock instead of leaving it open."
The bike is designed around Fox's forthcoming electronic Live Valve system and there were some other benefits to the design; "Because of this big open cavity for the shock, this bike is the EASIEST internally routed cable design on the market. Also, the part of a frame that gets hammered the most is the bottom of the underside of the downtube, and now this is a huge ABS plastic skid plate that is replaceable."
Domahidy thought of some of the pitfalls of concealing the shock and engineered a window in the enclosure so a keen eyed buddy can help you set up your sag. While we didn't get geo numbers, Steve did give me some idea of the bike's shape; "In addition, the bb is super low, so much that I am building my size medium (I'm 5'11") with 170 cranks to gain ground clearance. The chainstay length is incredibly short, head tube is super slack, front and center is super long. Needless to say, this bike will be stable at speeds." 

"The low center of gravity is something that you'll notice right away. The bike handles much differently when it's that low and it's something that you can feel. Santa Cruz caught on to this concept when they changed the shock position radically on the new Nomad."
The Pardus Cyclone is scheduled for retail release sometime in the spring. At first glance the bike appears to have merit. We'll start collecting water bottles and try to get our hands on a tester as soon as we can - a rideable one that is. 
On top of designing bikes for his company and others, Steve Domahidy has become a children's book author. Check out his Kickstarter for A Bike For You - here...