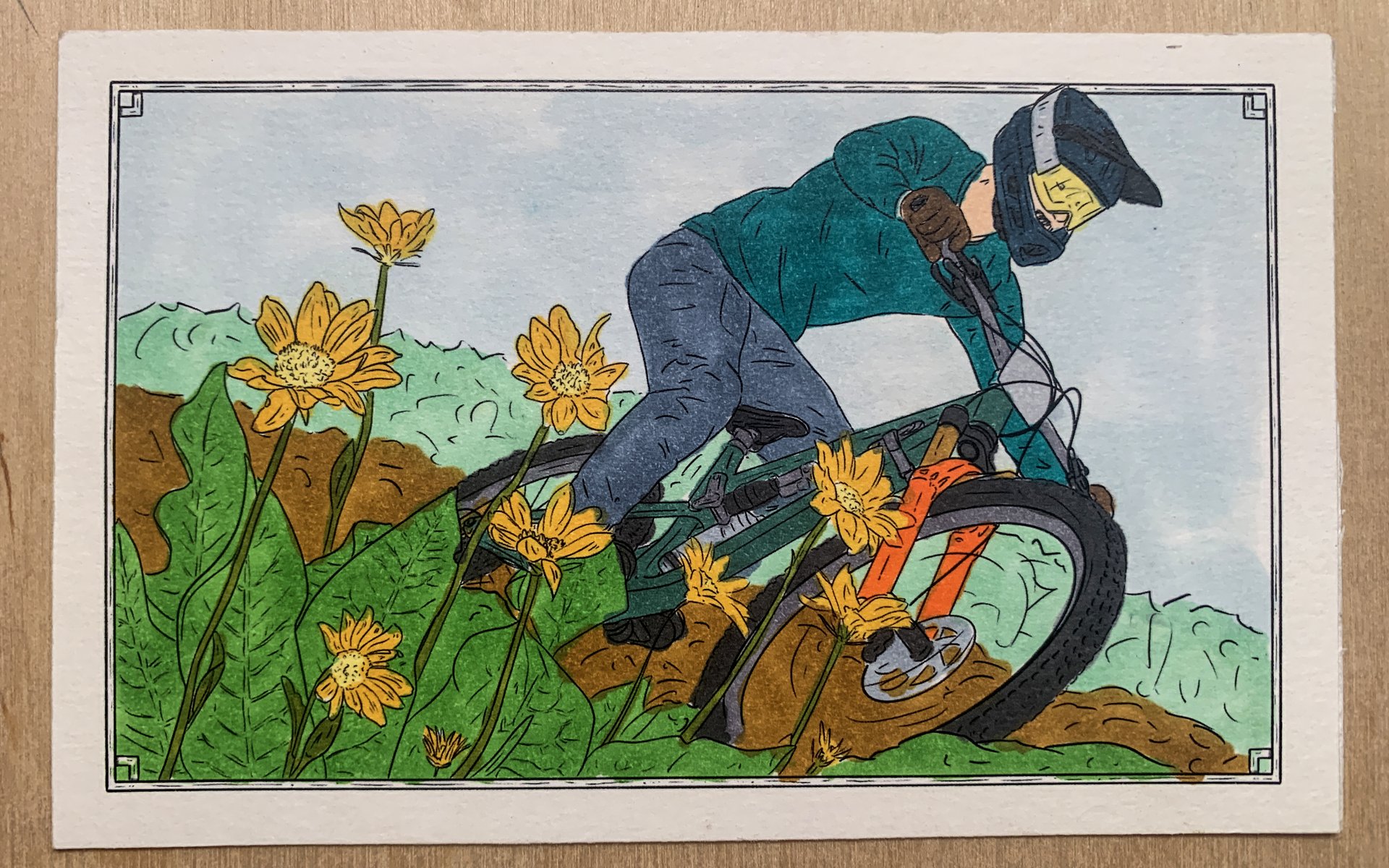 RACE REPORT + PAINTINGS
Paint Fast, Ride Slow - Rendezvous Enduro 2022
Rendezvous Enduro
It's September, hot, dry, and dusty in the Tetons. Last time I packed my brushes and paints into my bike pack we were dealing with wet roots, fresh trails, and a gloomy ambiance at my first race of the season, the NAEC. Now we've traded the roots and fresh-cut trail for craggy granite chunks and moondusted corners. The Montana Enduro Series has come to town, and it's time to throw the bikes in the rig and head to the Rendezvous Enduro at Jackson Hole Mountain Resort.
After a humbling summer flirting with the bleeding edge of high Sport and low Expert race results, I got to forgo the timing chip and ride with a "Media" plate instead. But even without partaking in any timed racing this weekend, the Rendezvous Enduro served up something special.
Friday's practice started out warm and only got hotter. We headed out for shakedown laps on the lower trails, reveling in the freshly watered berms and consistent lips that make the JHMR bikepark great. While these more traditional "bike-parky" trails aren't part of the race course, it's hard to pass up the opportunity to party train classics like Deepest Darkest and True Grit.
Then we're off to practice on Dirty Harry, the enduro's final stage. Dirty Harry is mean. Prepping to race it feels more like lacing up the gloves for a prize fight than the usual "debate which lines are faster" mentality. It's chunky, and relentless, with a few big features, exposed catch berms that barely catch, and a bunch of crucial moves throughout. The boys figured out their lines while I got a head start on painting.
Then it's back to the base area to queue up for a tram ride to the top. If you're unfamiliar with Jackson Hole Mountain Resort, or "the Village," the tram is somewhat iconic. It serves 4,100 feet of ski terrain in the winter, whisking skiers past classic lines like Corbett's and S&S couloirs. It's not open to mountain biking, except for one day of practice and one day of racing for the Rendezvous Enduro each year. So for one wonderful weekend we get to stack our bikes in the box, and sample the forbidden fruit, hiking trails that duck in and out of the resort's winter boundaries. That makes for as close to "blind" racing as you're likely to get in this day and age. Logistically, it's hard to get more than a lap or two in practice. So there's no real "local advantage." No one has these trails memorized, no one has the privilege of sessioning them day in and out.
So this practice is important, racing this high alpine scree blind is a recipe for road rash. But it's hard to concentrate on the trail. The scenery is absurd. I've spent plenty of time running at this elevation in the Teton Range, but never riding. And on long runs my mind always wonders: "Wouldn't this be so much more fun on the bike?" I've dreamed away so many hours jogging crunchily downhill, wishing I could ride these trails, play in this alpine environment. And now we are. Stage 1 drops south, out of the resort boundary, into terrain that has launched a hundred ski careers, starred in countless ski movies and edits. It's hard to keep track as we cruise the hiking trails. Is that the cliff band with Smart Bastard? There's Spacewalk! Also, here's a hairpin switchback that needs sessioning. I'm giggling, euphoric as we pedal through the meadow.
Then we climb a little back into the resort, descend another hiking trail, taking chances on fast traverses and rocky turns.
Another small climb, and then a long, long descent, traversing far across the resort and back. Stage three has it all. Plenty of pedaling, some techy moves, a few tree clusters too tight for modern handlebars, and a mama and calf moose, blocking the trail. We hike-a-bike to the ridge, bushwhack back down, and keep riding as the sun sets. The stage traverses so many microclimates with each change in aspect. We bounce through PNW-flavored ferns, lined with organic soil, and then out into decomposed granite and sagebrush. It's a long, hard stage. It doesn't feel like a traditional "enduro" stage, it's a different beast entirely. We're wiped at the bottom, cruise back to sleep on our Idaho side of the Tetons, exhausted.
First tram loads early on race day, and we sit in a warm breeze on the summit next to the waffle shack as racer after racer drops. Jackson likes to brand itself as "the last of the Old West" and whatever you think of that myth, there are times it does feel positively Western.
Racers spin out their gears on the first straightaway, tucking before the trail dives into the cirque. Then it's into the physical section, don't push too hard or you'll have the most scenic crash of your life.
Riders move through the first three stages efficiently. The transfers are short, the temperatures are perfect, and everyone is finding their groove. Stage Three is long, twentyish to thirtyish minutes, and everyone is ready for a respite before they head up to the final stage, Dirty Harry.
Then it's physical survival riding, the only stage that competent racers have truly memorized, trying to hit their marks and ride their lines. Chunk in the woods, a war of attrition in dusty corners, big huck out to a huge compression, pedal hard across the road, one more big wood roller and it's over.
Awards, beers in the sun. Discussions of Line of the Day. There's a little chatter over the nature of the course. Three stages of hiking trails, then a final stage that's arguably the hardest trail in the Tetons. The phrase "Spirit of Enduro" gets thrown around too much, but this course is something different. It feels raw in a unique way. These aren't trails made gnarly and eroded by generations of mountain bikers racing them. Instead they reflect the character of these mountains. The majority of the singletrack in the Teton Range feels like this, would ride like this, if we were allowed to ride it.
So no, it doesn't feel like your typical enduro at a typical bike park. Instead, it feels, to me at least, like a distillation of the region. It's got a little bit of everything that makes riding here fun. Wide open speed, complicated chunder, weird corners that don't really support high speeds, the full gamut of dirt types, and then some really, really hard bike-specific trail as the cherry on top.
I'm thankful to live in a world where once a year we get to sample the full spectrum of Teton mountain biking. Winners are crowned, overall series podiums announced. The kids are headed back to school, that's a wrap on bike racing in this part of the world for the year. My paintings dry in the car as I head home, euphoric with the experience of riding and painting. So much thanks to the organizers, promoters, sponsors, venues, and racers that make this sort of weekend on the bike possible.
---
Cy Whitling is a freelance illustrator from Idaho. He likes roots, chasing kids into new jumps, and buying art supplies that he doesn't really need.
Instagram: @cywhitling // Website: bemorestoked.com