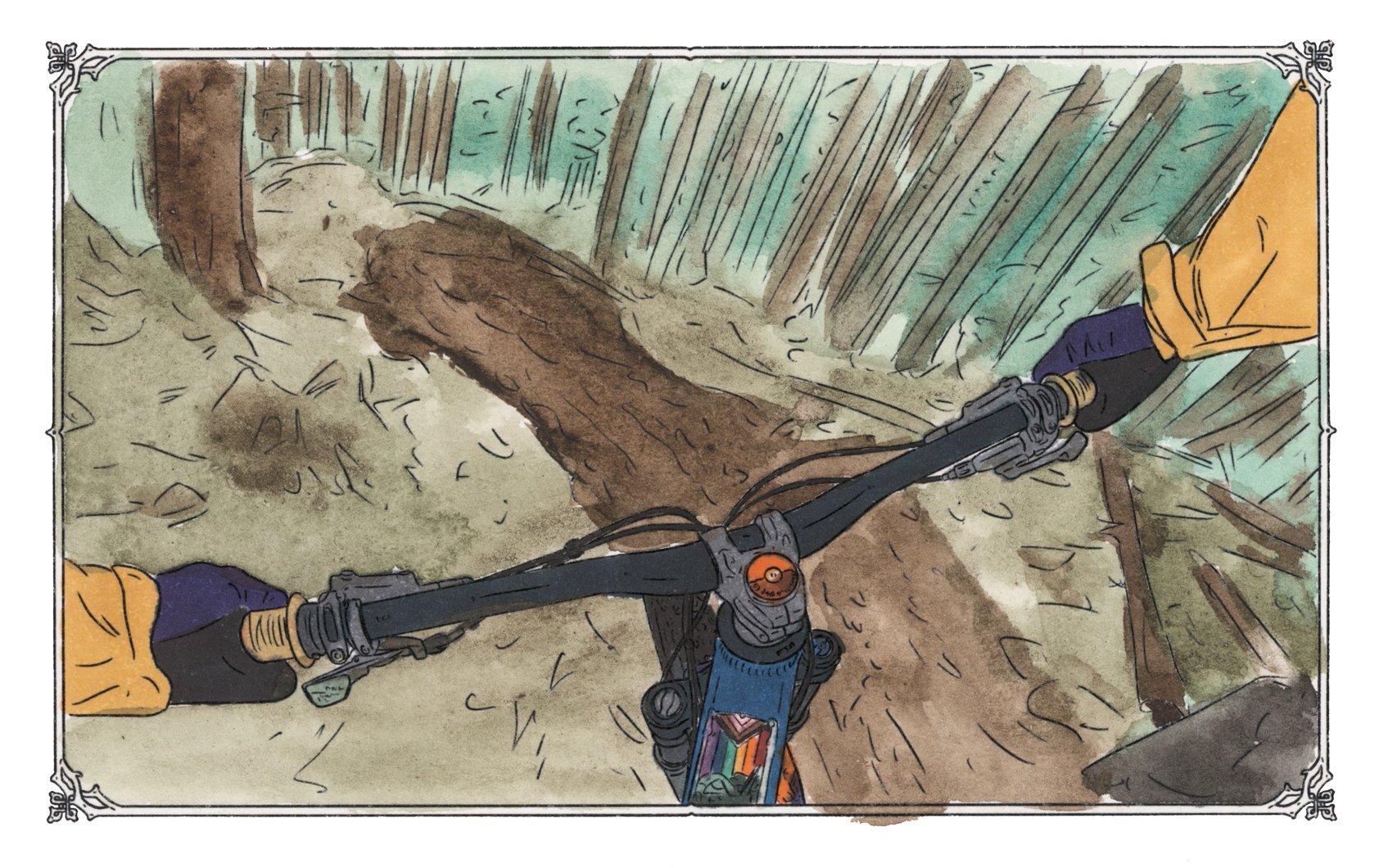 RACE REPORT + PAINTINGS
Paint Fast, Ride Slow - North American Enduro Cup 2022
Helmet? Check! Spare gloves? Got 'em! But where's my damn water brush!? My packing list for the North American Enduro Cup was a mix of bike racing staples (goggles, extra tires, do I have enough riding underwear?) and not-so-normal items. Like the aforementioned water brush. And my homemade plein air clipboard, and a tiny watercolor set, and a whole bunch of other gear that has no real place in a bike racer's duffle bag. Luckily, I'm not much of a bike racer. 
Instead I'm a lover of bike racing. I love the atmosphere, the scene, the vibe, whatever you want to call the ineffable experience of getting together with a bunch of other people who also love bikes and riding really hard for a weekend. So my reasons for packing both bike racing gear and painting gear were twofold: Most obviously, Silver Mountain is one hell of a place to ride bikes. Its trails are challenging, technical, and long. It's the closest riding to my home in the Tetons that feels a little like the Pacific Northwest, and it more than satisfies my longing for off-camber roots. On top of that, the NAEC is one of the only opportunities to ride some of the more raw off-menu trails in the area. And an all-star crew had been working hard, cutting in fresh trails.
And then, of course, there's the painting. I'm an illustrator by trade, and I'm working to establish more of a foothold in the world of mountain biking. I've wondered for a while if it would be possible to mix my passion for painting with my love for riding, and Silver Mountain, and this race, seemed like the perfect test piece. Most trails are accessed by a long gondola ride, ample time to slap some paint around. And what better way to test my live painting skills than to try to paint the biggest, hardest race I've ever attended, while also riding in it?
We rolled in Thursday night and set up camp in the parking lot. As we prepared for the inevitable rain, I cranked out my first painting of the trip, trying to get warmed up before things got too challenging.
It rained hard that night, and I lay awake, listening to the rain pounding our campsite, wondering what kind of idiot tries to paint outside in a monsoon. But things dried out a little as we ate breakfast and headed up for our first lap. The trails were sloppy, and fresh cut, wide taped tread immediately humbled me as I slogged through a rocky traverse and slid down the finish chute. We headed back up, for laps on more familiar trails, and I stopped to document the drawings I'd done to commemorate some of my favorite trail names.
The woods were still sloppy, and after a lap I headed back down to the Schwalbe tent to trade a painting for a mud spike to replace my worn Magic Mary. Then it was back up the hill to alternate practice laps and painting breaks. By the end of the day I was cautiously optimistic. I'd completed about half of my planned paintings, right on schedule. Sure, I was riding poorly, I'd crashed a lot, but I was also feeling better on some of the more challenging features than I ever had in the past, and most importantly, I was having a blast. I lurked by the trail, painting, as I ran into friends new and old stacking their own practice laps.
As we cooked dinner, I set the groundwork for a few more paintings, prepping myself for a long day of racing. I woke up early, more heavy rain, and I played the age-old bike racing game of porta-john chicken, trying to make sure that I wouldn't need to pee on a transfer, or in a lift line, or during a race run. There's something about racing bikes that makes folks need to go take a leak "just one more time" over and over again.
But when my age group rolled out of the village for our first transfer, all those nerves dissipated. This was just a bike ride, with friends, and their friends, who I was now meeting and forging my own friendships with. We climbed just long enough to get well and truly warmed up, and then waited in the drizzle, trying to keep our goggles clear before we dropped. Stage One was long. Over ten minutes of racing for many of us, alternating between tight, flat woods with pedal-grabbing roots, and a wide open section that rewarded the bold. I fogged my goggles high in the first traverse, rode nearly blind for a while, and then tore them off to dangle around my neck. During the next lap I painted my view, using the grit accumulated on my lenses as pigment.
A lift ride, a long cold wait at the summit. Tacos provided by the crew at Schwalbe. And then, with the taste of guacamole lingering on my tongue, I dropped into Stage 2. I know those trails reasonably well. I can ride them fast on occasion. But on race day, it all fell apart. I fell. I got up. I fell again. Straighten the seat out, slide down the chute on my back headfirst. Let friends pass me. Slipped a pedal on the run-in to the big drop. Scooted out the bottom bruised and giggling. I loved those tacos, but my run after was pure carnage.
Stage Three ran clean. Familiar trails, nothing left to lose. Back up the lift, into the challenge that was the fresh-cut trails of Stage Four. Pedal out the fire road, drop into the slippery jank of loamy, rooty sidehill. Dive into the chute as hecklers roared to "watch out for the tree!!" Compress into the finish line, riding it out, sternum to stem as my arms collapse. This, this is the point of racing bikes. 
A long transfer, shooting the shit with new friends, getting to know each other, learning about backgrounds and motivations and friends in common. One more stage, long, fast, with a big compression, then a long cruise back to camp. Day one wrapped. A few more paintings stacked.
I missed a weekend of Pride events at home to come paint this race. I missed last year's Pride to ride bikes too. I always feel a little guilty, like an inadequate bisexual, when instead of celebrating found family and queerness, I'm off riding bikes with a bunch of bros. And at this race I was especially aware of that divide. I grew up in Northern Idaho. I'm intimately familiar with this place's homophobia. Kellogg is not one of those mountain towns where every other business sports a rainbow flag. So I went out of my way to put ostentatious rainbow stickers all over my gear. Because June isn't just for drag shows and poetry slams (althought I love both), it's also a great month for queer people to ride their bikes.
On the first transfer I fell in with a friend of a friend who was sporting a rainbow flag on his downtube. We chatted, he passed me in the stage, and then we all rode as a big group for the rest of the race, making terrible puns, goofing off, and skidding around. I don't get to do that usually. I don't get to feel like a queer mountain biker when I ride on my home trails. So Saturday was special. And then as I rested at camp, wishing I had the energy to make the half hour drive to Coeur D'alene for their Pride party, I saw the news that 31 white supremacists had been arrested on their way to rough up the revelers. Northern Idaho, I love you, but you're bringing me down.
Sunday's race is just one stage. A top to bottom lap, all the best trails, all the vert. The only way to prepare is to get in shape over the off season. Instead, I sat around painting bikes.
This stage played all the hits. A little bit of traditional bike park trail, into the slippery mess of Goat Rodeo, lose a couple of pedal pins in the rocks of Mutton Conductor, and then barely catch your breath before you dive back into the killer combination of Soup Kitchen and Mom Jeans.
Another pass through the speed trap, another push through the physicality of War Gerbil, and then one last slog through Frog Trees before we broke through into the sun. I flopped down in the finish corral, dipped my brush in a muddy puddle, and finished out my last painting.
A brief respite, podiums, beer, pack the van, thank the race organizers, trail builders, and everyone else who made this race possible. Then seven hours through the rain to get home, scan all these paintings, air out my socks, and try to gather my thoughts. 
This race was incredible. I'm slow at riding bikes. I love riding bikes. I love spending time with other people who love riding bikes. I can paint a really hard bike race, while crashing a lot. My system worked. I want to paint more bike events. I want this to be my thing. 
Thank you so much to all the riders and organizers and diggers and timers and volunteers who make this sort of thing possible, and keep this spirit alive. You're the best.
---
Cy Whitling is a freelance illustrator from Idaho. He likes roots, chasing kids into new jumps, and buying art supplies that he doesn't really need.
Instagram: @cywhitling // Website: bemorestoked.com