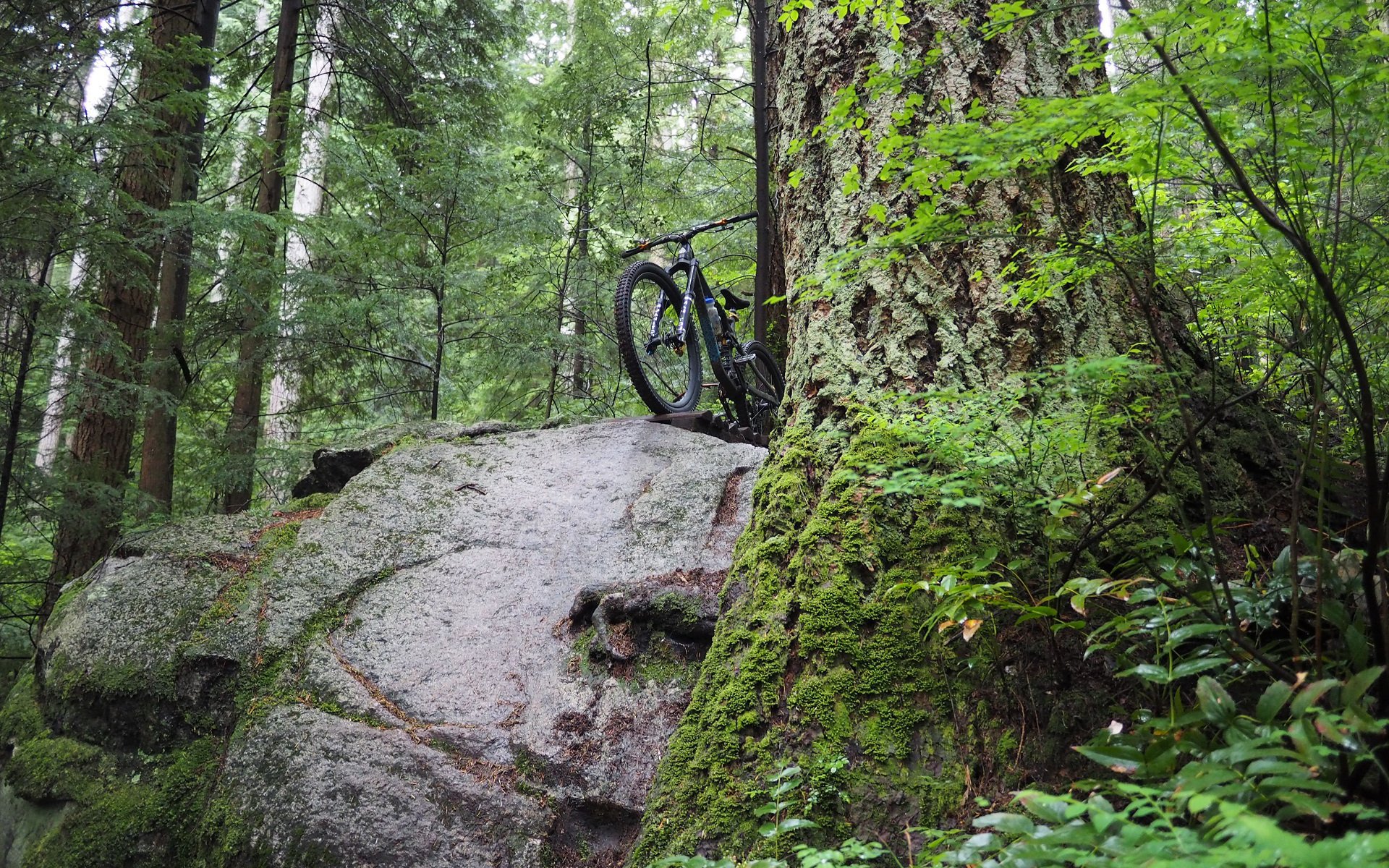 EDITORIAL
Over-Forking The North Shore
Standing Tall
The first bike I over-forked was a '00 Kona Roast. My local shop tracked down a frame from Kona's scratch & dent pile. I spent the better part of a day hand-filing an IS-to-PM adapter to fit the oddly sideways welded disc brake tab, which was well worth the cost savings, and then plugged a Marzocchi Jr.T onto the front. To this day I have a strange affection for hardtails with dual-crown forks.
Over-forking became part of my Tao when suddenly every second person I was regularly riding with owned a Knolly. Then I worked in a shop that sold Knolly bikes; a lot of Knolly bikes. And from there I started riding with even more folks who were full-on Knomers.* Just about every single one of these riders bumped up the front ends on their bikes. There were 150mm or 160mm Fox 36 forks on Endorphins, 170mm or 180mm Marzocchi 66's on Deliriums, and 200mm DH forks on V-Tachs.
*special Knolly fans
There's an argument to be made that Noel was too accurate about how much travel his frames were delivering, (or from his point of view how inaccurate some other companies were being) but I do note that in addition to plenty of riders I know, subsequent 'BC Editions' from other brands have bumped fork travel right from the factory.
Between 2011 and today I've met a remarkable number of Kona Honzo riders. A surprising number are running single speeds. and all of them have at least 20mm more travel than stock. I'm stupefied every year that the stock bikes ship with a 120mm fork. Particularly, a 120mm fork that can't cheaply and easily be bumped to 140mm.
On Mt. Fromme there are multiple generations bikes like the Specialized Enduro, Santa Cruz Nomad, and Kona Process - sporting 10mm, 20mm, 30mm, or more extra travel up-front. I'm starting to see more and more mullet bikes as well and 29" hoops on the front of a 27"-wheeled bike, jacking up the front end considerably.
Because seat angles are getting so steep on many bikes, significantly increasing axle-to-crown (a-to-c) height, via longer travel or a larger front wheel, doesn't ruin the bike's climbing position. For some of us, a taller front end actually creates a better seated pedaling position on top of any improvement to handling on steep terrain.
Seated position aside, over-forking a bike raises the Stack, shortens the Reach, and slacks out the head tube angle. But, it is absolutely key to note that these changes are all static. Bikes are usually set up with the fork firmer and faster - that is to say, less sag and faster rebound - than the rear suspension, on flat ground. Point the same bike down a steep trail and apply a whole lot of front brake and body English trying to negotiate the jank and the effective geometry ends up being pretty close to descending the same bike, with the stock fork travel, on faster downhill trails.
Unsurprisingly maybe, while these trends apply to North Vancouver, a funny thing happens when I use the magic of the internet to peruse trends in mountain bicycling elsewhere. There are Knolly's of every generation for sale with the 'proper' amount of fork travel, Honzos sporting 120mm forks and sometimes shorter, and a sea of bikes with 'balanced' travel numbers.
More and more bike companies are pushing platforms that have regular and limited production long-travel versions, (achieved through an increase in shock stroke) which run a 5-10mm longer travel fork v. rear travel right out of the box. Still, local riders are paying to bump forks to increase that gap to 10-30mm or replacing their forks altogether.
If the suspension buzz for 2020 wasn't about forks that sit higher in their travel, I would think the desire for a taller axle-to-crown remains a BC-only issue.
Whether it's a shorter travel rig like the new Process 134, Santa Cruz Tallboy, or Specialized Stumpy, or something longer like the Rocky Mountain Slayer, Specialized Enduro, or Trek Slash the trend os similar. Folks are not asking if they should jack up fork travel, but rather how much is the right amount. I always say it's worth a shot if your fork is easily travel-adjusted because in my experience over-forking is as North Shore as big brakes and sticky tires.
Has anyone gone too far, or ruined the ride of their bike by over-forking or mulleting? A Monster T on a dirt jumper?