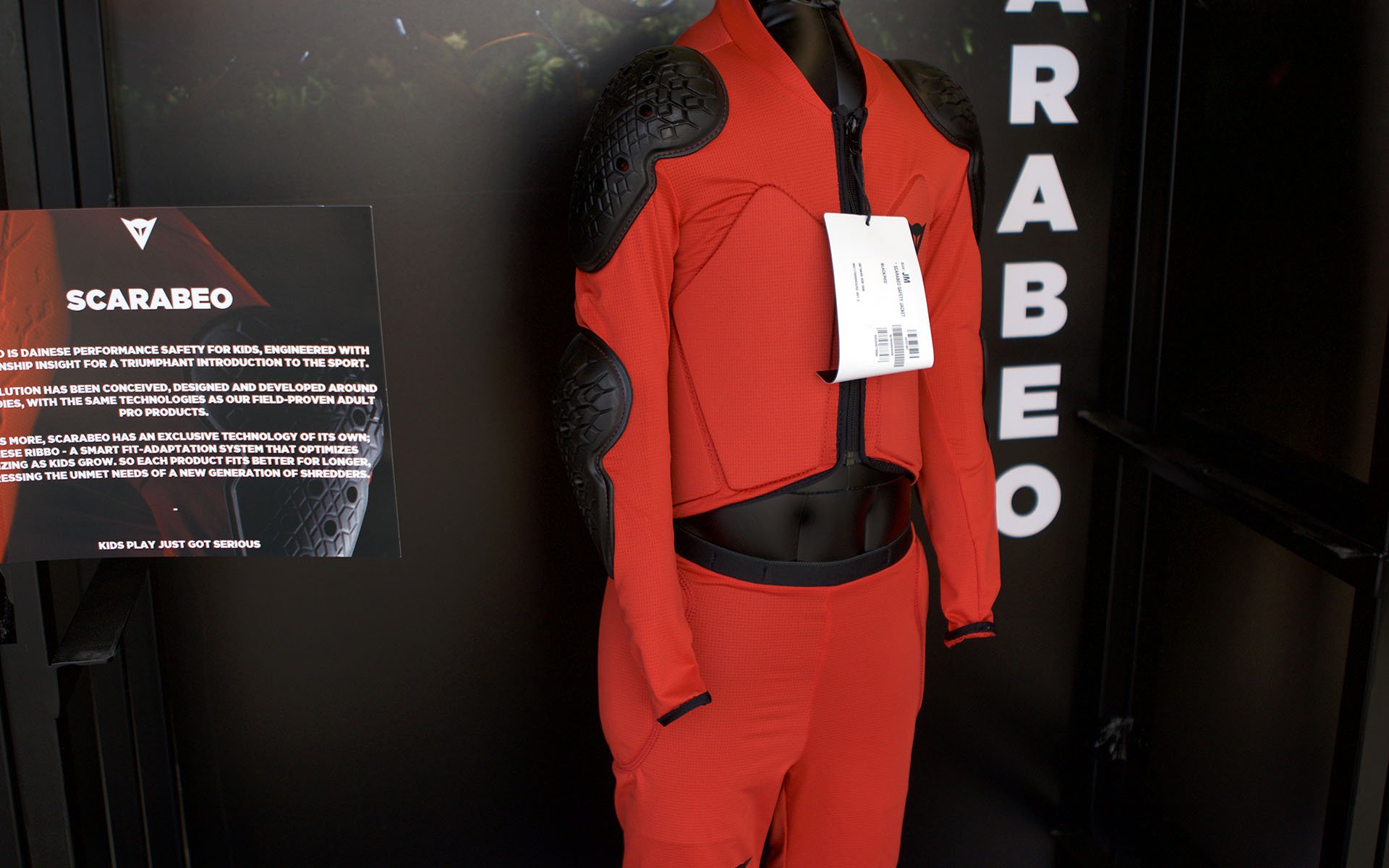 NEW STUFF
Outdoor Demo: Treasure Hunting
Sorting through the various products at Outdoor Demo is kind of like looking for One-Eyed Willy's treasure, except we're all kind of adults, no one is trying to murder us (unless you count the drunk people on eBikes) and the adventure lies more in the realm of how to avoid sunburn and score free beer, and less on evading a crazed Mama Fratelli. In other words, it's kinda fun, but also kind of a disaster. As you may have heard, this year's Outdoor Demo at Interbike is rather desolate. Most of the products have been covered before. Finding something that truly sparks interest has become a challenge. Fortunately for us, there are a few brands making products that stand out from the crowd in a sea of monoton-E.
Dainese Scarabeo
Starting off our short list of clever products is Italian protection brand, Dainese, with an entirely new lineup of gear for 2018. Parents should be thrilled with their Scarabeo collection, aimed at the mini shredder. Scarabeo, which translates to, "beetle," is engineered to grow with kids. By including internal fabric tabs on both their compression shirt and shorts, parents are able to cut the tabs, releasing more material as kids get bigger. The gear is rated at CE1- which is a standard rating for body armor used on motorcycle tracks. That should give parents a piece of mind when sending their kids down burly tracks. The other benefit? Because the apparel expands, Dainese says they expect kids to be able to wear the gear for an average of three years, meaning less money out the door while your kids continue to grow on and off the bike.
Crankbrothers Klic Floor Pump
Crankbrothers is another brand doing some cool, innovative work. They're introducing a slew of new products, including an addition to their Klic pump line. While pumps may not be the sexiest of products, this thing is pretty sweet. If you're a gear nerd or, like me, you loathe pumping your tire up for what seems like forever to get it to seat, you'll love their modular Klic floor pump. Reminiscent of a design worthy of Mr. Bond, the Klic has a removable burst tank canister that is designed to quickly inflate and seat tubeless tires. When ready to inflate a tubeless tire, you remove the hose, place it into its magnetic holder on the charging canister, inflate to the desired PSI, screw the hose onto your valve, and release the lever on the charger. With the capacity to hold up to 160psi, the canister acts as a manual air compressor. The canister is also easily removable so the pump can be used as a regular, lightweight floor pump. Bonus style points are given for the internal pump hose and gauge storage as well as.being able to lift the pump up by the handle and not having the entire pump expand awkwardly. Crankbrothers is offering a digital and analog version ($225 and $200) and will be available in a couple months. 
Tomorrow begins the indoor show and the final iteration of Interbike Las Vegas. We've been assured brands will be releasing shiny new toys and promising technologies that are sure to keep the masses intrigued. Stay tuned for more clever picks throughout the rest of the week.