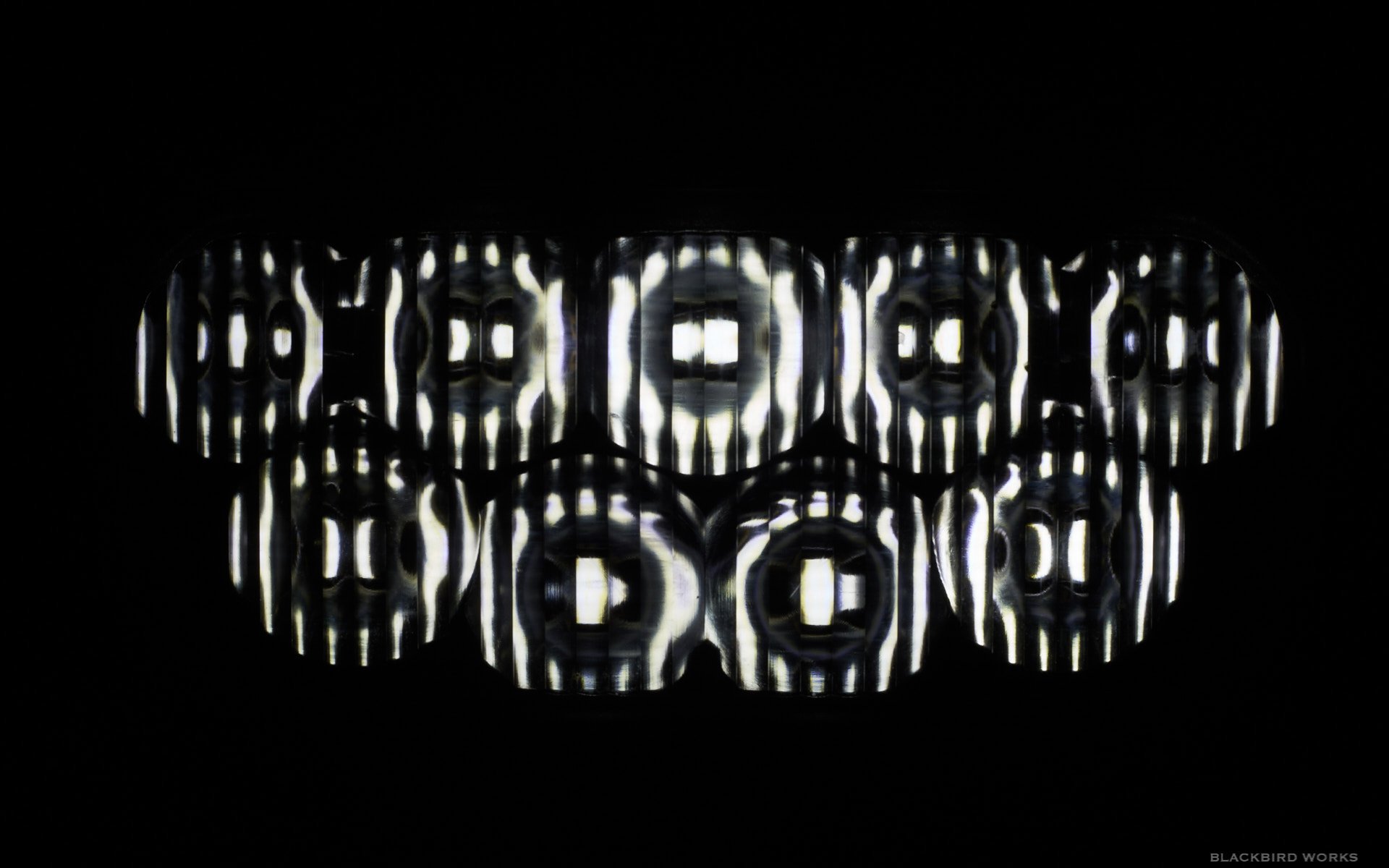 LAUNCH AND REVIEW
Outbound Lighting Hangover & Trail Evo Review
The Outbound Recipe
Quite a few ingredients go into a good night riding set up. It is a surprisingly easy recipe to mess up. Ask just about anyone who ordered themselves cheap lights from Amazon, the problems are many: unreliable electronics, poor integration, flimsy connections - and some are flat out fire hazards. Like my grandfather used to say: "I'm not rich enough to be cheap". Don't gamble on your night riding experience.
Outbound is a small, new player in the high-end light game. Designed and assembled in the USA, they have a utilitarian quality to them. While most of the other big lighting companies take design clues from tactical equipment, Outbound has Detroit design lines that remind me of the beauty of 70s muscle cars. The design, purchasing, marketing, technical, customer service and sales departments are run by a total of TWO people - that's an impressive amount of multitasking.
Hangover Helmet Light
100 gram (3.5oz) self contained helmet light.
Outbound Lighting's Hangover has 6 horizontal LEDs that put out approx. 1000 lumens of power. Tom at Outbound insisted on underlining the fact that lumen values do not represent the trail performance of a light. The shape and pattern of the light is what separates a centrally bright but spotty fire starter from a usable one.
Before MIPS, we had helmets that fit well and stayed put while we threw ourselves down the trail. And while it added a much-needed safety feature, MIPS made helmets a little wobbly and top heavy. Adding a light to the top of the helmet made matters worse and created a strobe like effect on night rides with certain light/helmet combinations. To make helmet lights weigh less, manufacturers moved the battery packs off the lighting units and asked us to store them in our backpacks attached with long cumbersome cords.
I said 'no' and mostly stopped riding at night. Self-contained units do away with those problems. Weighing in at 100grams, Hangover is barely noticeable. Outbound adopted the excellent GoPro mounting standard for their lights which makes any combination of light attachment possible on just about any surface.
Hangover on the Trail
With a single, thick-glove friendly button, it took mere moments to get used to the operation of the light. Outbound uses the same power/mode button and LED indicators for all their lights, which makes the operation across all platforms extremely easy.
There are four modes you can choose from:
Adaptive - a smart mode that allows for eyes to adapt to the dark as it gradually reduces the output brightness.
High - Full speed ahead
Medium - Half speed ahead
Low - Crawling speed
I found the Adaptive mode to work really well on solo night rides with no other light sources. My eyes adapted to the illumination of the forest and although the light gradually got dimmer over the course of 2 hours, I perceived none of that decrease in output.
High Mode worked well in group ride situations where everyone had bright lights that they forgot to turn off and looked right in your eyes at a trail head. In situations like that, your eyes have no time to adjust to the darkness between stopping to regroup and leaving again to become a glowing group of mountain bikers flying around in the forest.
Medium mode worked well for climbing and gave me the confidence to attack technical trail features on the way up and see all the bears that are waiting behind every tree (not a fact but it sure does feel that way on solo night rides). And finally, Low mode was too dim to ride on singletrack but was great for mechanicals on the trail and riding on the road amongst cars to and from the trail.
Trail Evo Handlebar Light
There is a new sheriff in town, boys. She is powerful, bright and has 9 LEDs with a flood beam pattern to light your way. I love everything about this light. The design, the details, the output, everything. The button and UI are identical to the hangover so the trail light experience translates well between both lights.
At approximately 2000 lumens, it is a bright light with a soft light beam and a gentle fall off. What sets this light apart is in the details:
Rubberized Magnesium cast body with very low heat conductivity. The light never gets hot to the touch.
USB-C interface with a stopper. No, you cannot damage the USB port by inserting the cable upside down. You can also not force it in more than necessary because it has a bump stop.
Incredibly fast charging: the Trail Evo can charge to 80% charge in 2 hours.
Hours and hours of play time.
Tripod head like attachment system.
Cable management hooks.
So far on a single charge, I have managed to squeeze 4 hours of runtime without sacrificing brightness! Outbound lights also use pass through USB charging, allowing you to charge as you ride. So you can squeeze hours of bike-packing run time if you carry an external USB battery pack. Brilliant!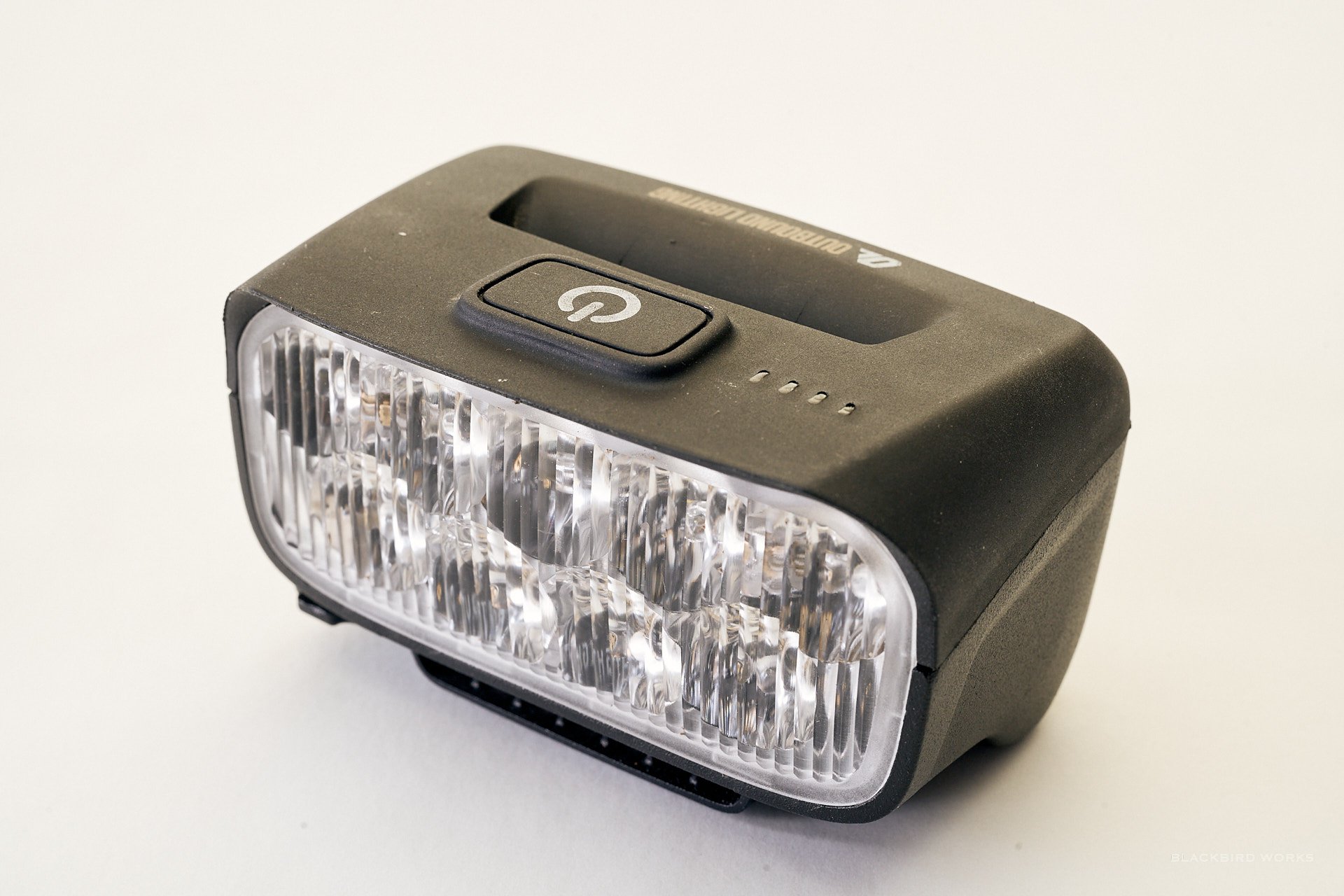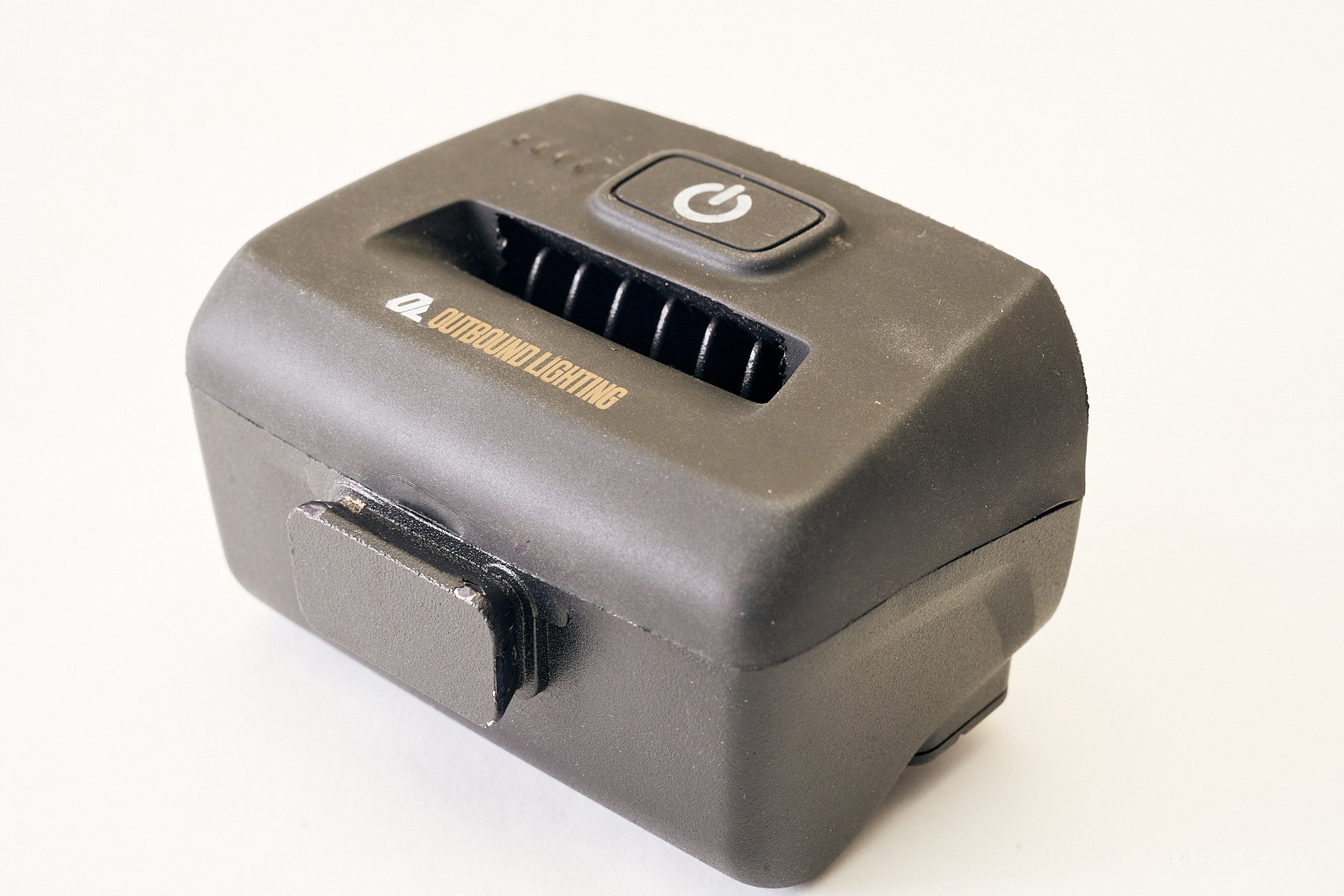 Trail Evo is a self-contained unit with no external battery pack to deal with. It makes planning night rides easier and eliminates points of failure in the system by getting rid of cables and connections. The light unit is about the size of a small orange and fits in fanny packs or backpacks with ease. There is a sturdy 31.8 or 35mm handlebar compatible mounting base with a swivel head that accepts the rectangular piece on the light body.
You hook the side of the piece in the groove and the brass button gets depressed to activate the locking lever. Very much like tripod heads of the photography world, so I needed zero time getting used to it.
Conclusion
Outbound will put the Hangover on your head for 132 USD / 175 CAD and the Trail Evo on your bars for 245 USD / 320 CAD
The "Evo DH Package" with both lights: the Trail Evo and Hangover, costs 365 USD / 477 CAD.
The guys at Outbound want your business for life. If you have a problem, they will replace your faulty light under warranty for 3 years and fix it or upgrade it past that period. They will probably also take you on a trail ride and buy you a beer if you happen to be in their neighbourhood. These guys are really passionate about making awesome lights. They don't care how many sleepless nights they have to put up with if it means they are putting out the best product on the market and learn from customers all over the world.
It is awesome to see two guys take on a saturated part of the market and knock the ball right out of the park. You are doing your night riding a disservice if you are not at least demoing Outbound Lighting products...Oh yeah! they will be demo'ing lights out of their North America touring Sprinter Van too (ed note: insert Covid asterisk here).
PS - I would love to see a speed sensitive light output mode. I think it would work great for people who don't want to switch between modes on the trail. Also maybe voice commands to change light settings while riding. GoPros work really well with this.