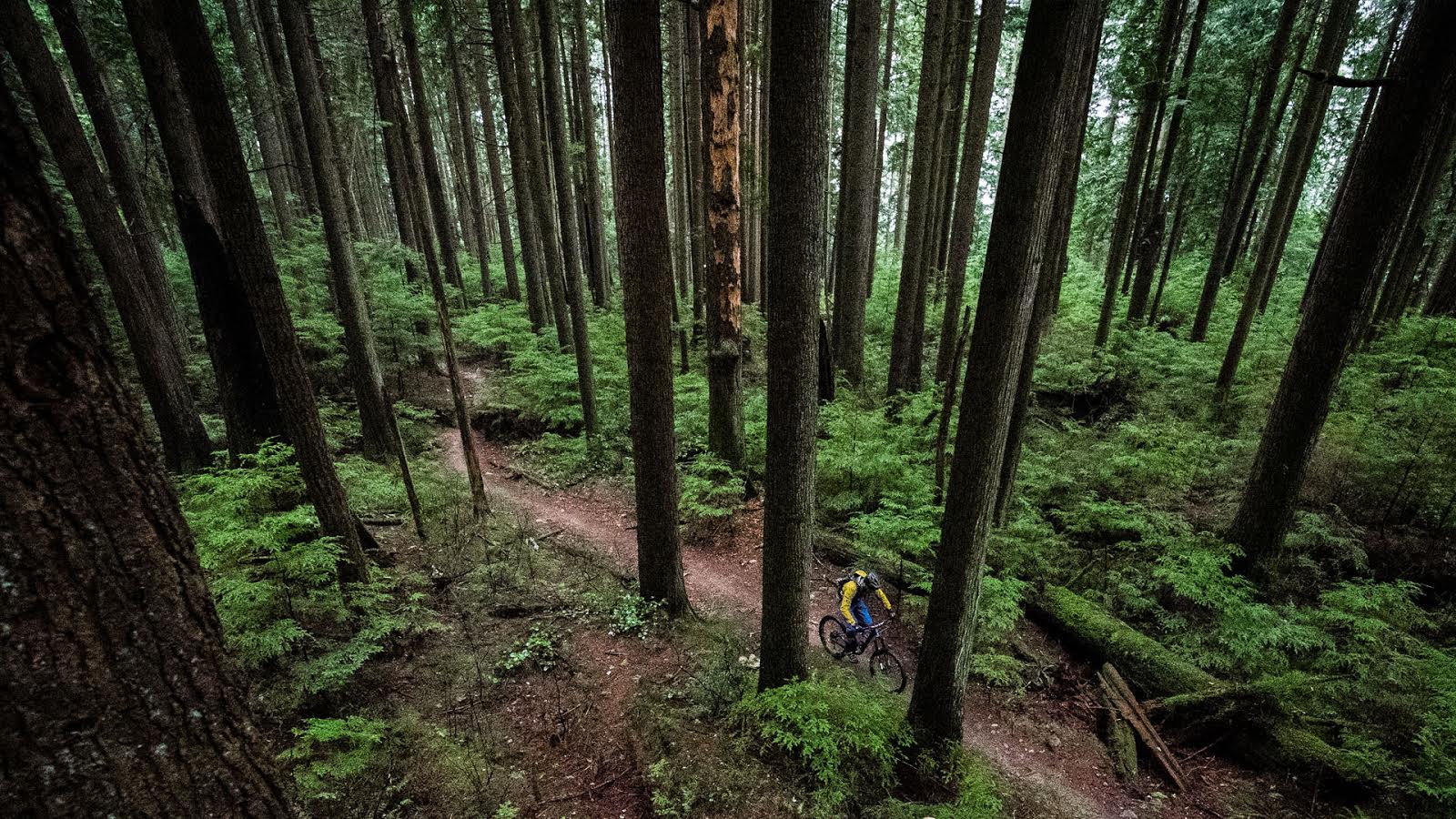 Out on a Limb
Sometimes you have to go out on a limb – to commit to a project with someone you've never worked with before, with no guarantees for what might come of it. With mutual interests and mutual friends, a few weeks of cross-Atlantic communications led myself and Paul Snyder to align an afternoon of shooting while he visited from Denmark to ride and document the Shore's old school trails. Part historian, part tourist, and armed with a Handycam, Paul's enthusiasm for the Shore of yore should get anybody stoked to ride stunts.
The slow technical side of riding the Shore is something that you can never escape. Even on trails considered to have new school flow, you might find yourself carefully picking your way down a craggy rock face or humping over a weird feature. To link up big loops on the Shore, you often have to ride sections of old school trail to access other trails – and the skills gained by riding historic trails are indeed transferable. However, with a lack of builders willing to truly restore these pieces of history, the trail building and riding style in question is at risk of becoming obsolete. We set out to document some of the characteristic features of the old school Shore – and possibly even make them look fun!
Paul writes:
"I lived in Vancouver in the mid-nineties, but got into mountain biking shortly after I moved to Denmark in 2000. I came back on vacation every year to visit friends and just be in Vancouver, and in 2005 started going up to explore the trails on Seymour. I was so taken with them and the whole North Shore riding movement back then, but what really blew me away was the trails and how they made you focus so hard that your brain hurt trying to move from one thing to another.
It was also the combination of the rough, rooty natural terrain combined with ladders and skinnies, and the way they incorporated natural rock faces and fallen trees. It was so imaginative and I've always loved to challenge myself. I used to hike avidly when I lived there, so loved being in the mountains, and exploring the trails was a great way to combine it all. The trails in Denmark seemed so boring by comparison, so the Shore really fuelled my imagination. I could go to bed dreaming about Pangor and Ned's for months after I got home or before I was leaving to come back. That's my love of the Shore in a nutshell."
There seems to come a point when you've conquered all of the features on a trail and can take it for granted, looking for a different thrill to keep the buzz alive. I will admit that while I've ridden Pangor dozens of times in the past few years, it's not my first choice these days. Sven Luebke and his Muddbunnies crew have done a great job of bringing the trail up to sustainable standards over the past few seasons while retaining much of its original character, and it remains a popular year-round destination.
When Paul suggested we film on this blue-black trail with a bunch of decaying but visually and structurally interesting wood features, I thought it would be appropriate to bring out my hardtail. Paul's enthusiasm for the project ramped up when he heard I would be riding the little Chromag Monk which had been sorely neglected all spring, and was soon to go back to dirt jump mode. The small bike is great for maneuverability, and can definitely put the fun back into a trail you'd been ignoring.
Paul's thoughts on the matter:
"As for documenting, I've long wanted to write a book on the history of the Shore, because until a few years ago info was scarce. Seb Kemp had the same idea and encountered the same problem with lack of info, but funnily enough all the people who know stuff are still around. I make videos as a hobby and thought what better way to record a little history than by filming people riding the trails and some of the old features before they rot or become decommissioned? And so I try to grab a few sweet shots in a video where the trail is the star and the rider is co-star."
After nailing the first curved skinny first shot, I decided I would ride all the optional lines on the trail during our shoot. It was a great afternoon of testing my slow speed tech skills. We had fun shooting on Pangor and I feel like that comes out in the video – and the purpose of documenting the trail was a success.
---
What's your take on the skinny story? Are you all about the tech, or are you fine with seeing skinnies go the way of the dodo?