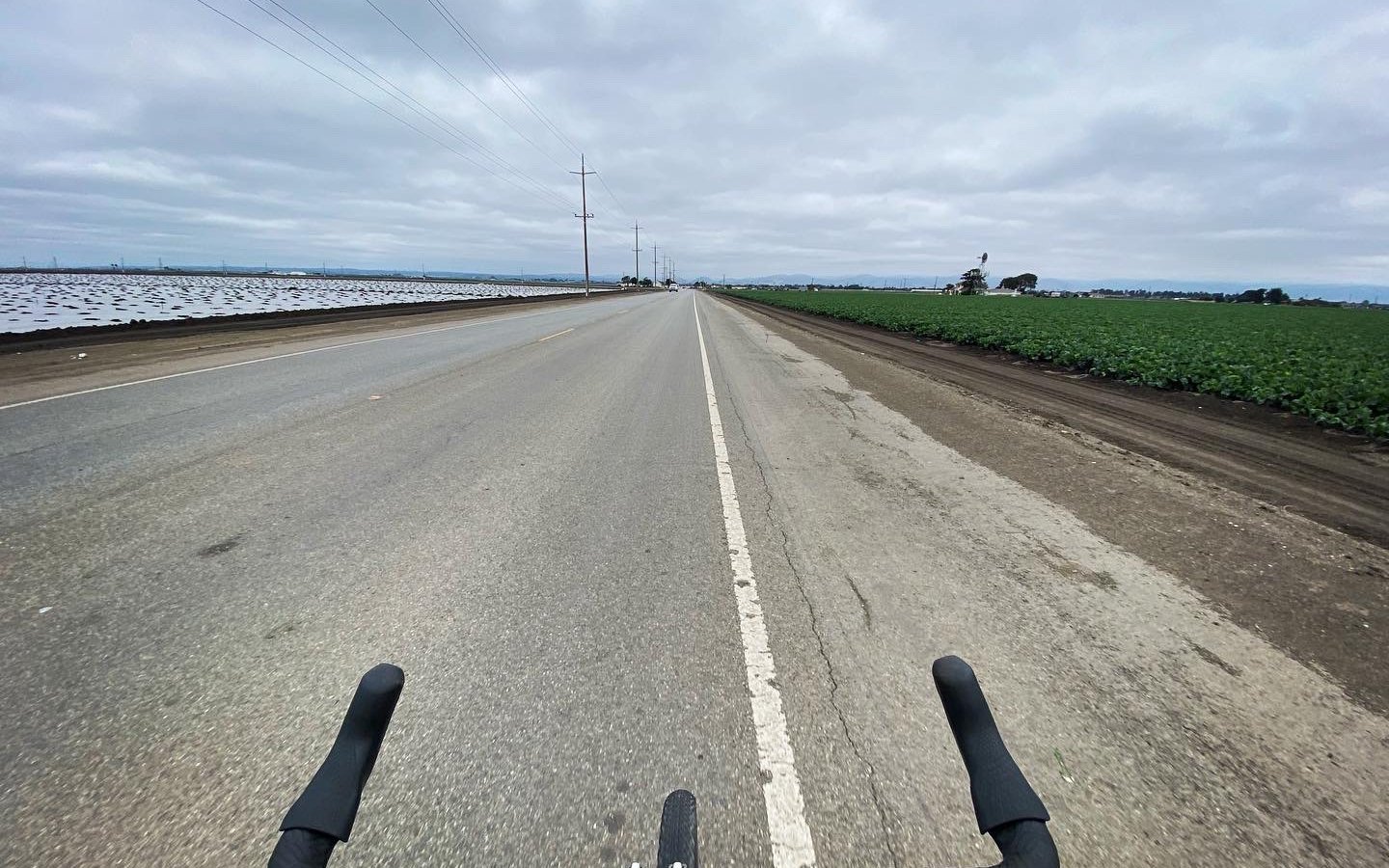 Beggars Would Ride
Ouroboros
Disclaimer: It's not an intentional irony that this column is showing up the week of Rampage, when brave and exceptionally talented individuals are redefining the very edge of what is possible on a bike. The bikes they are riding are in many cases the very same bikes that punters are gently noodling down blue trails. This is kind of an amazing thing in the bike industry. There isn't really "works" equipment like you'd find on the WRC or MotoGP circuits. Any Johnny Weekender with enough coin can pretty easily purchase a spitting image replica of the bike that Semenuk uses to shred reality to pieces. Is Semenuk's bike the right one for Johnny Weekender, though? Whole lot of variables stacked into whatever that answer may be...
Great White, the turbocharged slab of echoing sheet metal (otherwise known as a Transit van) that is my sole form of automotive transport, took a nap on me as I drove to town last week, necessitating a trip to the Blue Oval Day Spa. Fortunately the damage was limited to a throttle body that had gotten confused about its role in life. And so a couple days and a few hundred dollars later, Great White was ready to come home from the stealership. The Ford dealer is about 30 miles as the crow flies from home, but there's a long spine of ridge and valley running east to west packed with very expensive estate homes and private roads and tennis clubs and equestrian centers and other "We help keep Clint Eastwood rich" exclusivity between me and the dealership, so my route to retrieve Great White was a 65-ish mile spin.
I dragged the groad bike out from its hiding place, wiped off the dust and spiderwebs, pumped up the tires, started pedaling. As chance would have it, my route ran me through Fort Ord, home to the Sea Otter Classic. Since these are the closest trails to where I live, I've ridden them a ton. While it isn't exactly the place people dream of riding, I am thankful that Fort Ord exists, and it happens be a great place to snap off a few trails on a groad bike en route to retrieving one's car. A nice way to add some texture to the ride, if you will. Zipping through the oaks, tires slipping and knifing on the hardpack to sand transitions, the trails almost felt spicy for a change. Drop bars, steep angles, skinny tires tend to have that effect. I made a mental note to bring the groad bike here more often, add some variety to the regular diet, so to speak.
Fort Ord spat me out onto Reservation Road, and as I churned along next to the strawberry fields a stream of cars rolled past on my left, heading in the same direction as I was. On the backs and roofs of almost every car was a bike, or two, or three. Nice bikes. Transition Patrols, Yeti SB150s, Santa Cruz Hightowers, Specialized Stumpy Evos and Enduros. Expensive, high-spec, long travel, "we mean business" kind of bikes. In amongst the caravan of passing cars, rear racks sagging beneath their burdens, there was also a solid representation of the current, state of the art, long travel ebike species. They all wore the same light patina of dust as my groad bike, since they were all returning from a morning romp in Fort Ord.
This got me to thinking…
A good number of years ago, my friend Willie and I were in Moab and we decided to take some acid and ride Porcupine Rim from town on our singlespeeds. As you do, when in Rome, and all that. Grinding our way up Sand Flats Road toward where LPS connects with Porcupine Rim, we were passed by some vans and buses. The vans and buses were pulling trailers festooned with bikes. By the time we got to where the vans and buses were disgorging their several dozen passengers we were tripping pretty hard so decided the most prudent course of action was to quietly roll on through them and keep going. Being hyper aware of everything in the entire universe at that moment, I noticed that almost all the riders were sporting some sort of body armour, many had full-face helmets, and maybe a third of the bikes were running dual crown forks.
Willie and I stopped at the "Powerbar Overlook" or whatever it's called; that place where a Powerbar ad was shot a million years ago and where there's a pretty massive cliff and a spectacular view of Castle Valley stretching below. We cowered beneath a stunted Juniper to hide from the already blistering heat, for 17 minutes (yes, 17 minutes. Hyper aware of everything in the universe, remember, including time, even though we all know that time is a meaningless construct that we employ to fixate on our own mortality, right? Right), during which time several of the armor clad long travel mountain bikers clattered their way down the ledgy rocks to the view point. Realizing that we might be forced into conversations about base jumping or the shape of the cosmos, we decided it best to get riding again. Only now, there were pockets of mountain bikers spread out along the trail for the next few miles.
I remember at one point dropping down some steppy rocks into a sand wash with a similarly ledgy/steppy climb up the exit, sort of a mini-staircase that you needed to hop/lung up since all your momentum got killed in the sand. There were two guys pushing their downhill bikes through the sand, full face helmets raised up on their heads, rivulets of sweat streaking their faces as they boiled beneath their armored carapaces. As we slipped past them and up out of the wash, one of them drawled to the other; "How much do you reckon them little bikes weigh?"
At the time an answer eluded me. I was grappling with a pair of handlebars that were bending comically and trying to turn into snakes in my hands, and my Marzocchi Z3 fork was hyper-extended, like the stanchions had popped their retainers and were trying to pull out of the lowers. Except they weren't, and I was just hallucinating a bit. A while later, after whipping through another conga line of downhillers pushing their bikes through some rocky sand, Willie observed that those bikes must be pretty hard to ride if everyone had to push them like that. I think this was the first time I became conscious of the concept of overbiking.
Overbiking, for lack of any formalized definition, is the act of riding far more bike than is needed for the terrain or the occasion. Given the local focus and natural slant of this website, overbiking isn't something that I think really applies to the native nsmb.com environment. The equipment that is necessary for survival on the Shore also carries across to most of the Sea-To-Sky gnarl, and meshes well with bike park needs, so it makes sense up there. But down here, between the ocean and the Ford dealership in Salinas, opportunities to stretch the legs of that kind of bike are few and far between. It's a couple hours to the side of Santa Cruz where people are riding gnarlier trails that technically do not exist. It's a few more hours to the chunky granite of the Sierra, where there are big enough rocks and big enough lines to make good use of 160mm travel and DoubleDown casings. But here they are, labouring painfully around Fort Ord, albeit with massive traction and in plush comfort.
Maybe, I thought to myself as my tires hummed along cracked pavement, these people can only afford one bike, and they want to be prepared for when they get the chance to roam off-leash in the big country. But given the spec of the bikes, and the price tags of the cars hauling them, I doubt that was the case. They had chosen these bikes for a reason, but it is highly unlikely that the trails of Fort Ord were what motivated their purchasing decisions. They bought into an aspirational idea. They may not have been going big on Saturday morning in Fort Ord, but one day, somewhere, they intend to justify that bike. In the meantime, they get to indulge in something akin to going jogging with ankle weights. No harm in that. Character building, as my dad used to call it. And face it, underbiking just isn't market-sexy. The same way that almost everyone puts bigger tires on their trucks, MORE is always more appealing than LESS, when it comes to our lizard brain consumerism.

A while later, after whipping through another conga line of downhillers pushing their bikes through some rocky sand, Willie observed that those bikes must be pretty hard to ride if everyone had to push them like that. I think this was the first time I became conscious of the concept of overbiking.
Nevertheless, I couldn't help but wonder how many of these riders would have been happier that Saturday morning if they'd been aboard bikes that weren't quite so purposefully burly. Such as it was, I had a hunch that many of them were suffering from ebike envy. They wanted to keep the meaty tires, the 36 forks, because that is the aspiration they bought into, but maybe just add a few hundred watts of power in there to spice things back up, make those trails fun again…
Overbiking on mellow trails as a feeder for future ebike purchases? Well played, bike industry. Well played. Very sly. If you'd lobbed such a scenario at me that day on Porcupine Rim, even with my brain operating at 500 times its usual capacity, I still never would have seen it coming. Like a snake eating its own tail, means and end no longer matter. I just hope the snake isn't made out of a handlebar.