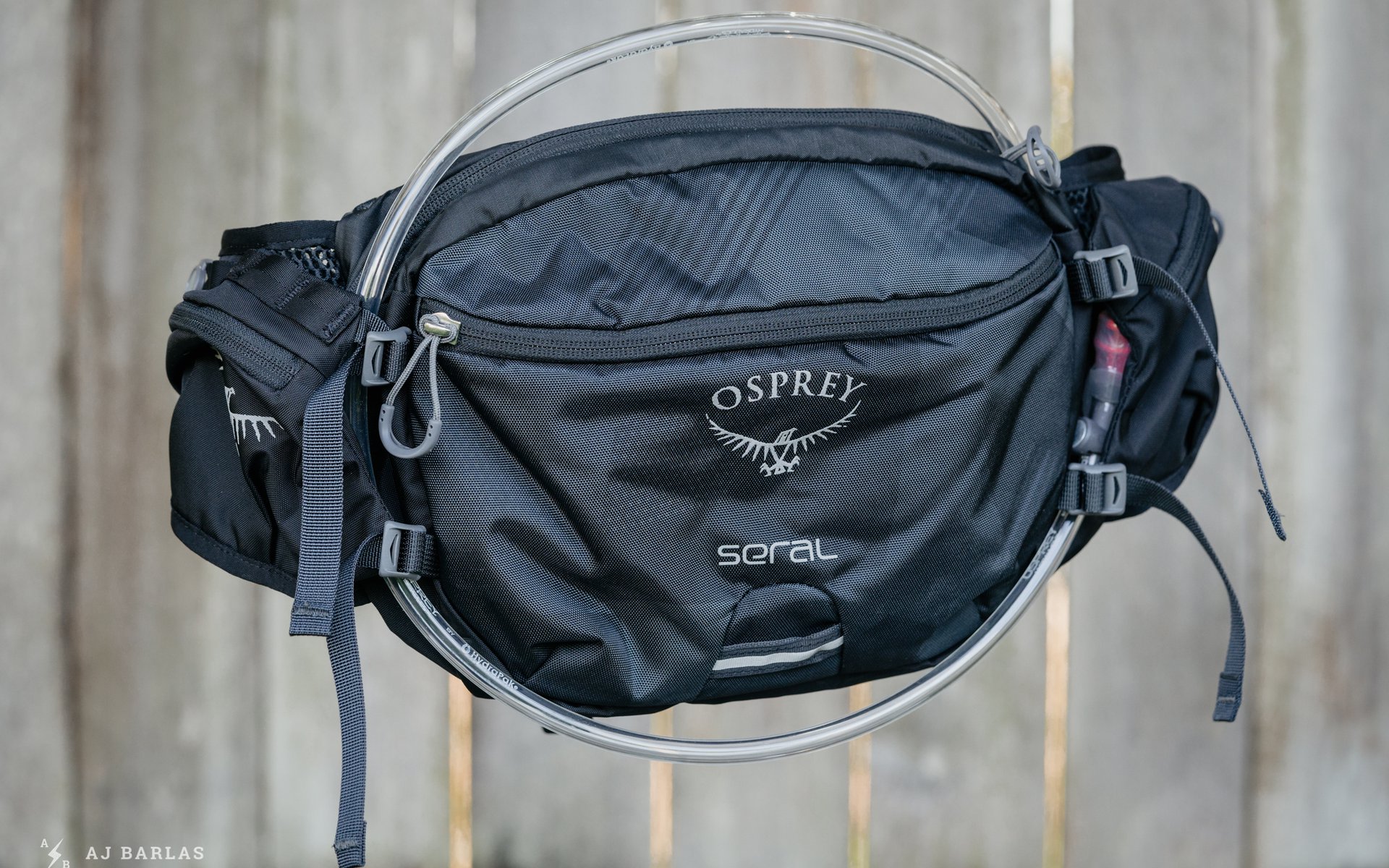 TWO-FER REVIEW
Osprey Seral and Savu Hip Packs Reviewed
Osprey sent us these two packs awhile ago for review. We asked for both because they're similar but for one key difference: the Osprey Seral comes with a hydration bladder and drinking hose, whereas the Savu comes with two spots for beer water bottles. Veronika tested the Seral, Pete tested the Savu. Below is an Osprey hip pack two-fer: two reviews in one place.
---
Osprey Seral w/ 1.5 L Reservoir - Veronika Voracek
Whether you love them or love to mock them (probably because you haven't tried one yet), hip packs are here to stay. The variety of sizes and styles is growing to suit any ride, whether it be a quick jaunt on your local trails or a full day adventure. The Osprey Seral is designed for the latter, with a 7L carrying capacity and a 1.5L water reservoir.
It has all the style and attention to detail we have come to expect from Osprey along with their All Mighty Guarantee, a lifetime warranty on any product, for any reason, from any era.
Notable features of the Seral
An Airscape back panel allows for air to circulate under the pack and the contoured lumbar wrap and mesh liner are paramount in the comfort of the pack overall.
Small compression straps on the bag keep it tight to your body which is key in the bag not sliding around all over the place.
The 1.5L Lumbar Reservoir by Hydrapak has a unique shape that stays compressed when full to keep weight evenly distributed and not take up too much space.
The magnetic hipbelt bite valve attachment is something I have always really liked about Osprey packs, making it easy to reattach the hose on the fly.
Multiple Compartments for easy organization. The Seral has no shortage of pockets and compartments for snacks, tools, clothing, camera etc. Two main pockets on the body of the pack provide space for larger items, while the two small zippered pockets on the hip belt provide easy access to smaller stuff.
Another cool feature is the ability to customize the length of the hose; waist circumferences will vary greatly and this keeps the hose nice and snug around your hips.
Blinker light attachment for safety when riding to and from the trails.
The Osprey Seral comes in 3 different colour options: obsidian black, molten red and slate blue. Available from Osprey for $115 CAD / $85 USD.
Trail Time with the Osprey Seral
The size of the Seral initially concerned me as I've always run more low profile bum bags but once I put it on, comfort trumped size. The pack sits snug and secure thanks to the compression straps and will not budge. I tend to loosen the waist strap on climbs for a little extra breathing room and even when I forgot to cinch up before the descent, I had no issues with the bag shifting.
Right away I was impressed with the water reservoir, the shape, design and ease of use was remarkable. The folding zip-style closure is fool proof and the shape is maintained with baffles that keep the load wide and low. The compartment in which the bladder sits is easy to get in and out of when the bladder is full.
When loaded with 1.5L of water, a tube, pump, snacks and phone, I did find that the front of the waist belt did get a little uncomfortable when climbing. I suppose this is to be expected from a bag that has a 7L carry capacity. As I mentioned, I loosened the belt a bit and all was well.
The hose was a bit of an issue as right off the bat it was constantly catching on things and coming loose from the magnet. After cutting it down, like Osprey recommends, it sat much closer to my body and wasn't in the way as much. I'm also not the biggest fan of the water on/off switch on the bite valve, as it's almost impossible to open and close with one hand, but as long as I kept it open for the duration of the ride, it was a non-issue.
V's Verdict:
I have two small hang-ups with this bag. First, I wish the hip belt pockets would fit a phone. It is advertised to be able to hold one but unless you are rocking an older generation iPhone, most models do not fit. Second, the magnetic clip for the bite valve could be stronger...way stronger. Not only would it keep the hose from being knocked loose but it would make trying to reattach it while riding so much easier.
Overall the Osprey Seral is a winner for those big days in the saddle. The ability to carry plenty of water and a smorgasbord of snacks is a major plus. It's so comfortable, there is no reason that it can't become your go-to pack.
Osprey Savu - Pete Roggeman
The moment I saw the Savu, I was interested in trying it out. As a longtime hip pack user and convert back to bottles, the dual bottle carry system seemed like the perfect way to either overcome a front triangle without a bottle cage, or be able to carry a lot more water for long rides. Both of those issues are rare: most bike designs now accommodate a bottle, and in our climate I only need more than one bottle for long rides in July and August. Mostly, I realized I'd be able to bring two beers along on rides now (one for me and one for a buddy, of course), or one spare bottle plus one beer. Or one of those, plus stuff a jacket into the other side if the main compartment was full with snacks, a thin extra layer, gloves, etc. In other words, the Savu is a very versatile pack that lets you extend its operating range - if you're nervous about giving up a regular pack for fear of not having room for everything, the Savu is the solution.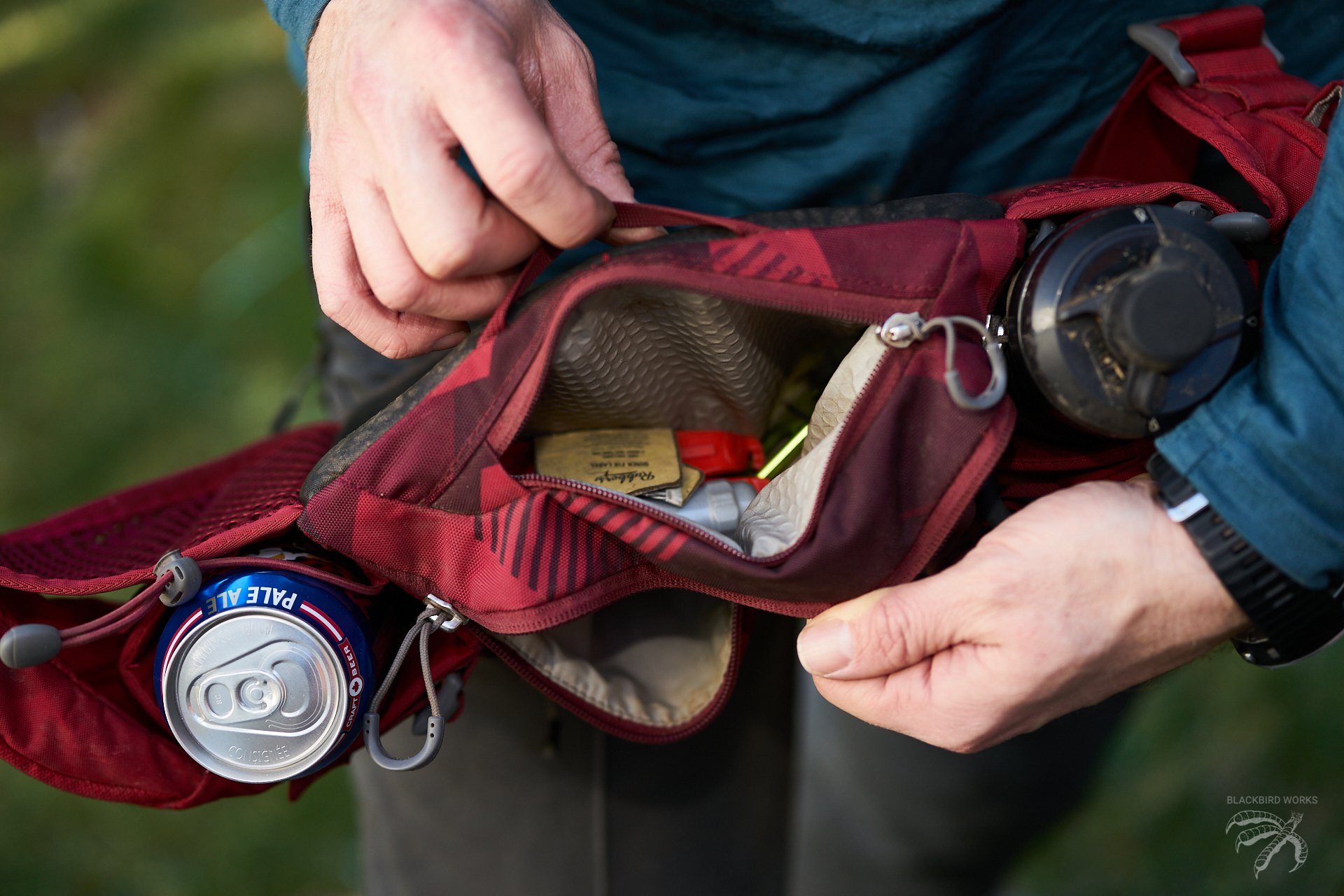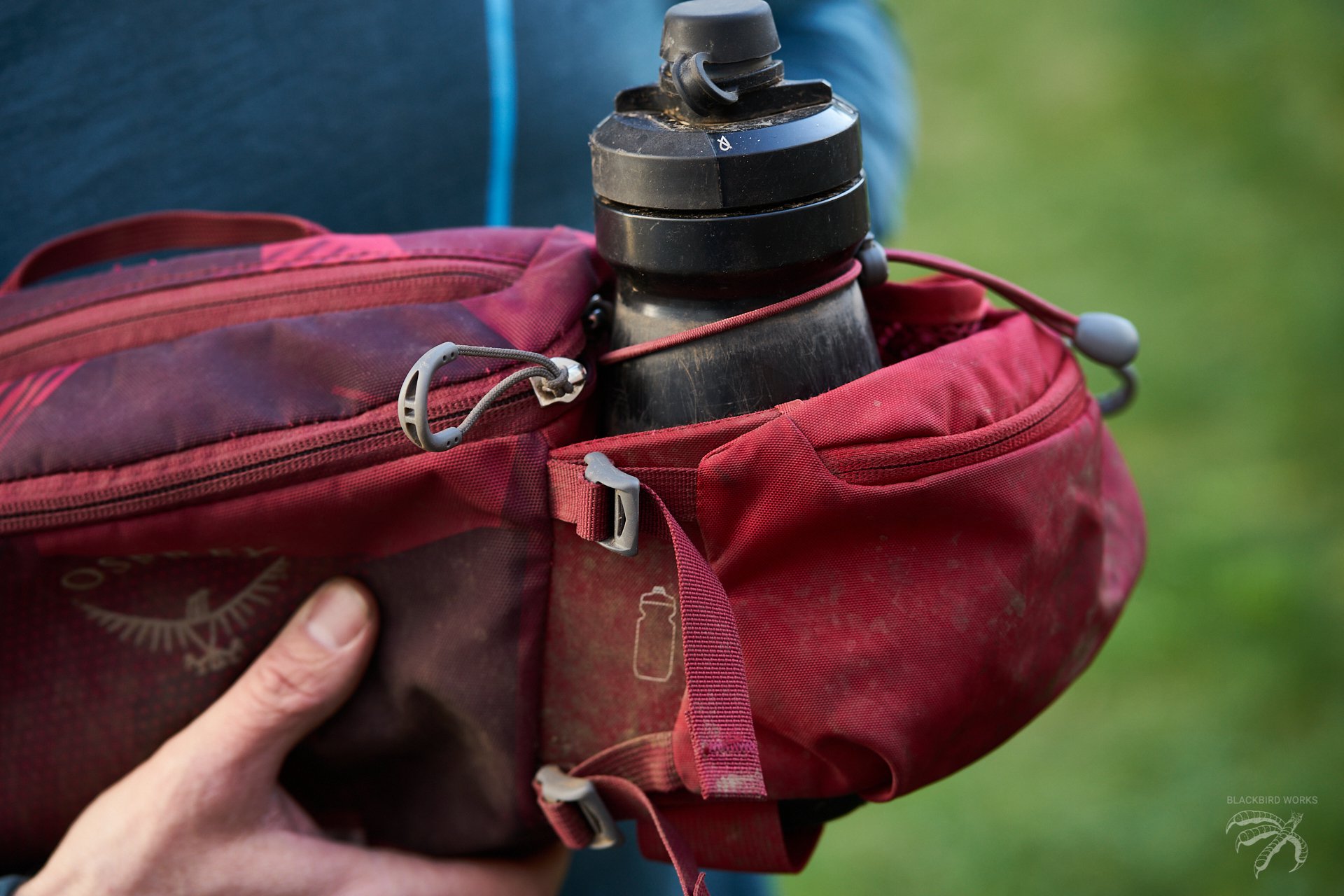 Notable features of the Savu
AirScape back panel with contouring lumbar wrap - ventilation is quite good and the lumbar wrap definitely fits snugly.
Dual snap-in-place or tuckaway water bottle sleeves. These are the key feature of this hip pack. Deploy one or both, or if they're not needed, unsnap and fold them in for a lower profile pack. It's a simple and effective design - classic Osprey.
Easily accessible zippered main compartment with internal tool organization.
Dual zippered hipbelt pockets. Always great to have these. Wish one of them was big enough for a plus-sized phone, but getting used to those not being accommodated in side pockets in most packs these days, unfortunately.
Blinker light attachment. I've actually used this when riding to and from the trail - and not just at night. It's feeling more and more like a necessity to have lights on the bike whenever on the roads for visibility.
The Osprey Savu is priced at $80 CAD / $55 USD. I'm not going to mince words - the Savu is a terrific hip pack. But at that price? Can't beat it. Osprey design and quality, all the flexibility and features, it's held up well, and a no-brainer price tag.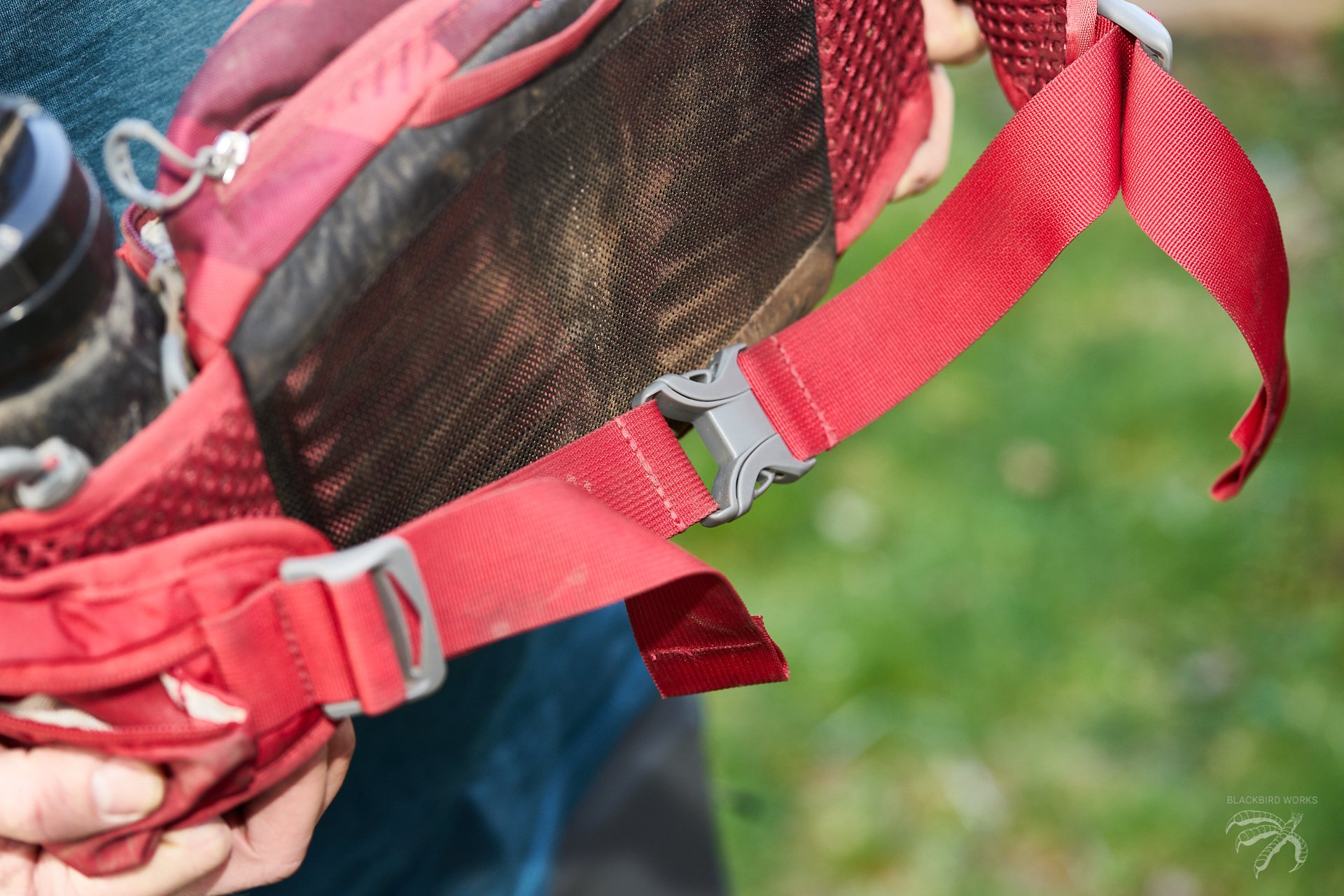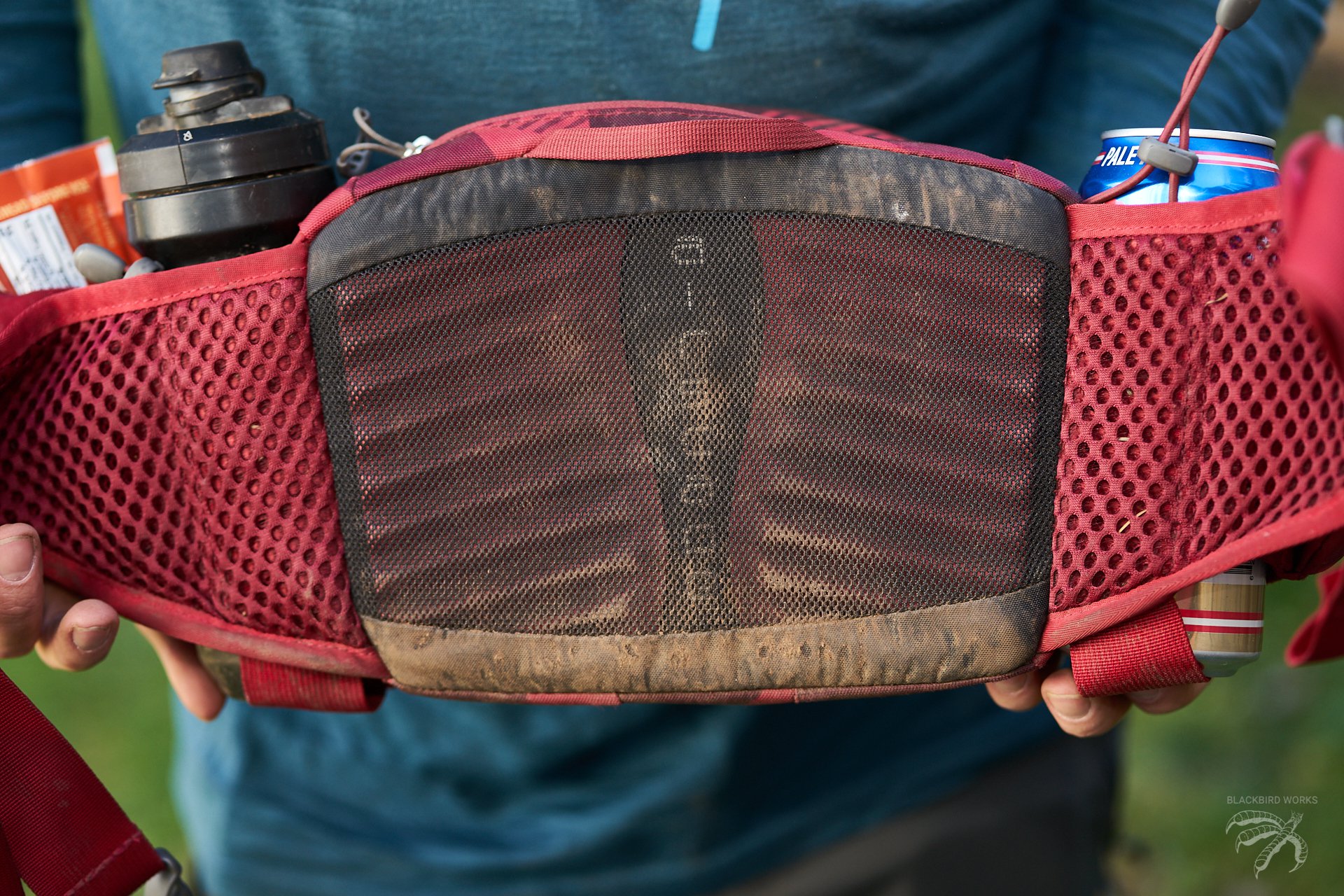 Trail Time
I'd have to be turning nitpicking into a sport to find fault with this bag. It fits well, stays in place, has a nice array of pockets and dividers, and I frequently rode with both bottle pockets filled with...things (beer, a jacket or other layer, gloves, a breakfast sandwich during a ride that started well before my intermittent fast ended, and even water!). Sure, with bottles in both sides and a full load inside, the Savu gets a bit portly, but still stayed in place, even in steep, chunky stuff. Was it a relief to remove a bit of that weight at the top of a climb? Yes. But was it a dealbreaker? Hell, no.
I used the Savu all last summer, fall, and this winter - which is when I normally switch to a pack - and it held up amazingly well. It's fairly easy to clean, and very durable. It is not waterproof, but does a pretty good job keeping water out until the rain gets torrential. It had space for a jacket, multi-tool, digital gauge, second multitool (with pliers and a blade), levers, spare tube, snacks, extra gloves, epi-pen (bees), and one or two water bottles.
Only two (minor) complaints: one, the aforementioned side pockets that don't accommodate a large phone (but they do easily accommodate all multi-tools, many snacks, car keys, and a sunglass cloth); and two, the waist straps don't come with any kind of gathering loop. Easily solved by just tucking them in against my body, but it felt like an oversight and a lack of refinement in what is an otherwise refined pack in every way. And if I really cared, making a loop for strap management would have been dead easy, but I didn't do it, so it clearly wasn't that big an issue.
P's Verdict (that works better when your first name starts with a 'V'):
Like Veronika, I'd love it if I could put my phone in one of the Savu's two side pockets, however I knew when I chose an iPhone Plus several years ago that it was going to make it harder to find pockets for it in certain bags and even shorts. So, that's not a knock I can give only to this bag, and I'm used to keeping my phone in my pocket if I'm going to need it for quick photos, or just tucking it away and focusing on the ride. Other than that and the strap issue, this bag is basically perfect. I could fit everything I'd reasonably need for a 2-3 hour ride (minus first aid and I know I have to do better there) and it fits well, stays in place, and looks good. Factor in the price and this is a front runner in the category.
---
So there there you have it - two great packs, reasonably priced, backed by a lifetime warranty, with great fit and features.
Dig the idea of a hip pack with a bladder and hose? Pickup the Osprey Seral here for $85 USD / $115 CAD.
Or, if carrying two extra bottles is your jam, you can grab an Osprey Savu here for $55 USD / $80 CAD.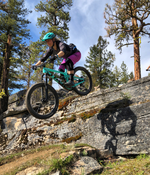 Veronika Voracek
Age: 38
Height: 5'9"
Home: Squamish, BC
Race Discipline: Enduro
Fav Trail: Somewhere Over There
Secret to Sucess: Candy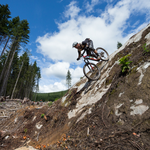 Pete Roggeman
Age: 43
Height: 6'1 // 185 cms
Weight: 195 lbs // 88 kg
Inseam: 32" // 81 cm
Bar width: 780 - 800mm // Reach: 475 - 500mm // Dropper: 170 - 190mm
Flats or clipless: both, but mostly flats right now
Trail(s) of choice: Dreamweaver, Boundary, Lower Digger, Ladies Only, 5th Horseman