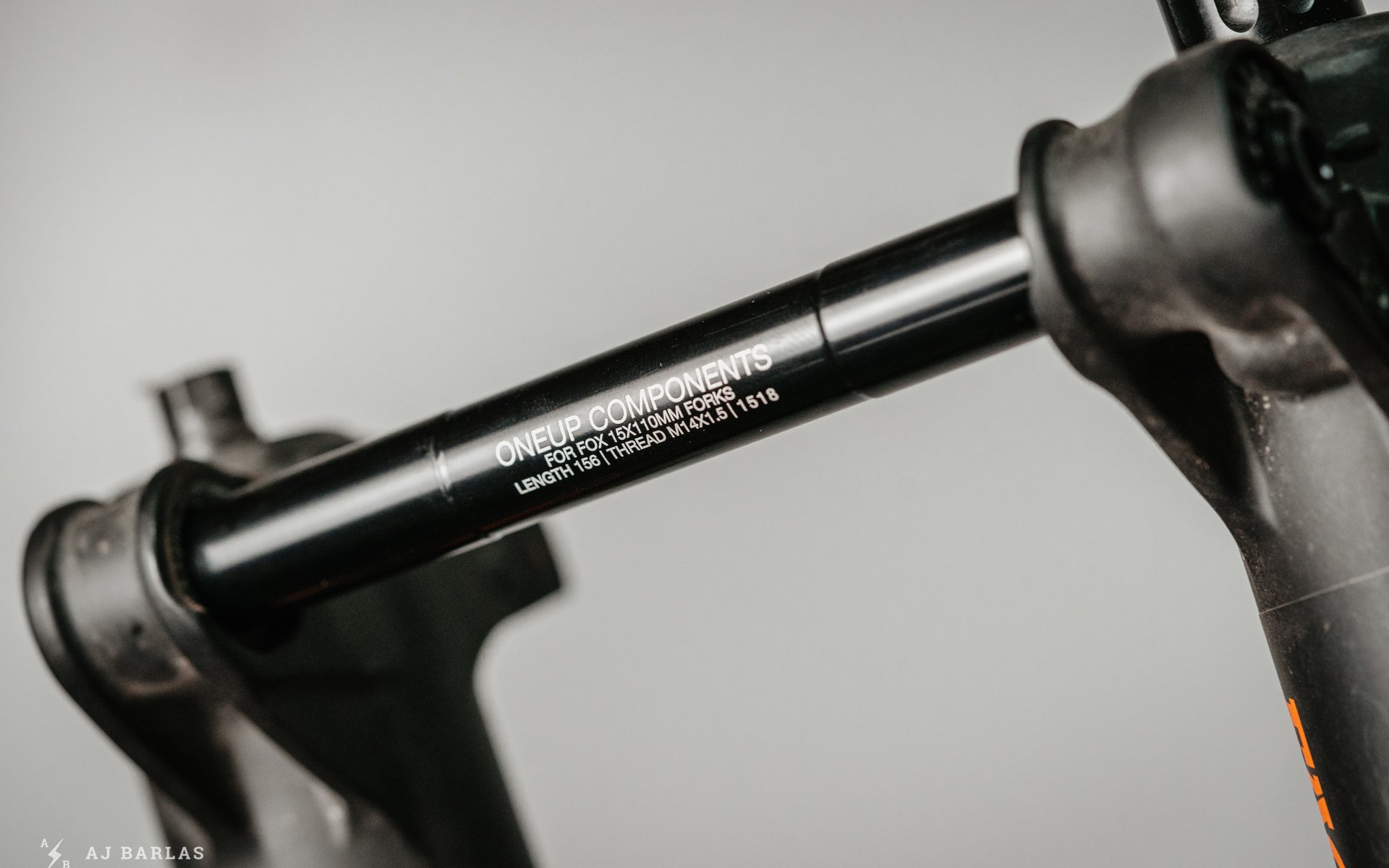 Two-Minute Review
OneUp's Axle F Thru-Axle

OneUp Components developed their Axle F* after team riders, including Richie Rude and Remi Gauvin, mentioned needing improved fork durability. OneUp staff had also experienced issues with broken or bent axles and knew there was room for improvement.
*Wondering what Axle F is? "Axel F" is the name of 1984's Beverly Hills Cop theme song (Note - this clip contains violence scenes and some nudity)
Features
Claimed 98% stiffer than stock 15mm axles

20g lighter than stock axles

Low profile hex head avoids catching on obstacles

Boost and non-boost options for Fox and Rockshox forks

Red and Black (Rockshox) / Orange and Black (Fox)

MSRP: 30 USD / 39 CAD
If you've read my musings on QR axles then you already know I prefer the bolted option. Multi-tools are everywhere and should be readily available for a well-prepared rider. The Fox Kabolt has served me well for twelve months; it's light and has remained secure during that time. A downside to the Kabolt is how gentle I've had to be when securing the axle—the material around the hex key is soft and began to round early on. It's still functional but the focus on making it really light—it was originally developed for the lighter bike duties of Geoff Kabush—has affected some aspects of durability.

On the other hand, OneUp was seeking something durable and strong and they've developed the Axle F for the rigours of the Enduro World Series. It shouldn't be a surprise that this weighs more than the Fox Kabolt, nor that this axle, specifically the hex key insert, has taken the wear and tear like a champ. For an additional 33 grams it has a sturdier feel during installation, and I haven't been gentle with the tools.

Weight:
Axle F: 61g

Kabolt: 34.5g

RS Maxle: 37g

Cost:
Axle F: 30 USD

Maxle: 37.99 USD

Kabolt: 45 USD

Riding the Axle F back to back with the Kabolt, it's hard to say if there is a notable difference. I'd like to say it feels better but it's more likely placebo. However, bent or busted 15mm QR axles from heavy bottom-outs or crashes aren't unheard of. Having an axle with more meat holding the front wheel is something that I'll happily pay the small weight penalty for.
If you are fine with 15mm QR axles or you need to remove your front wheel to transport your bike to the trails, this isn't likely for you. If you'd like an axle with more rigidity and you are okay using a tool for installation, the OneUp Axle F is an excellent option. The Axle F is another functional part from OneUp that saves riders money and that's something everyone can get behind.
Click here for more on the OneUp Axle F