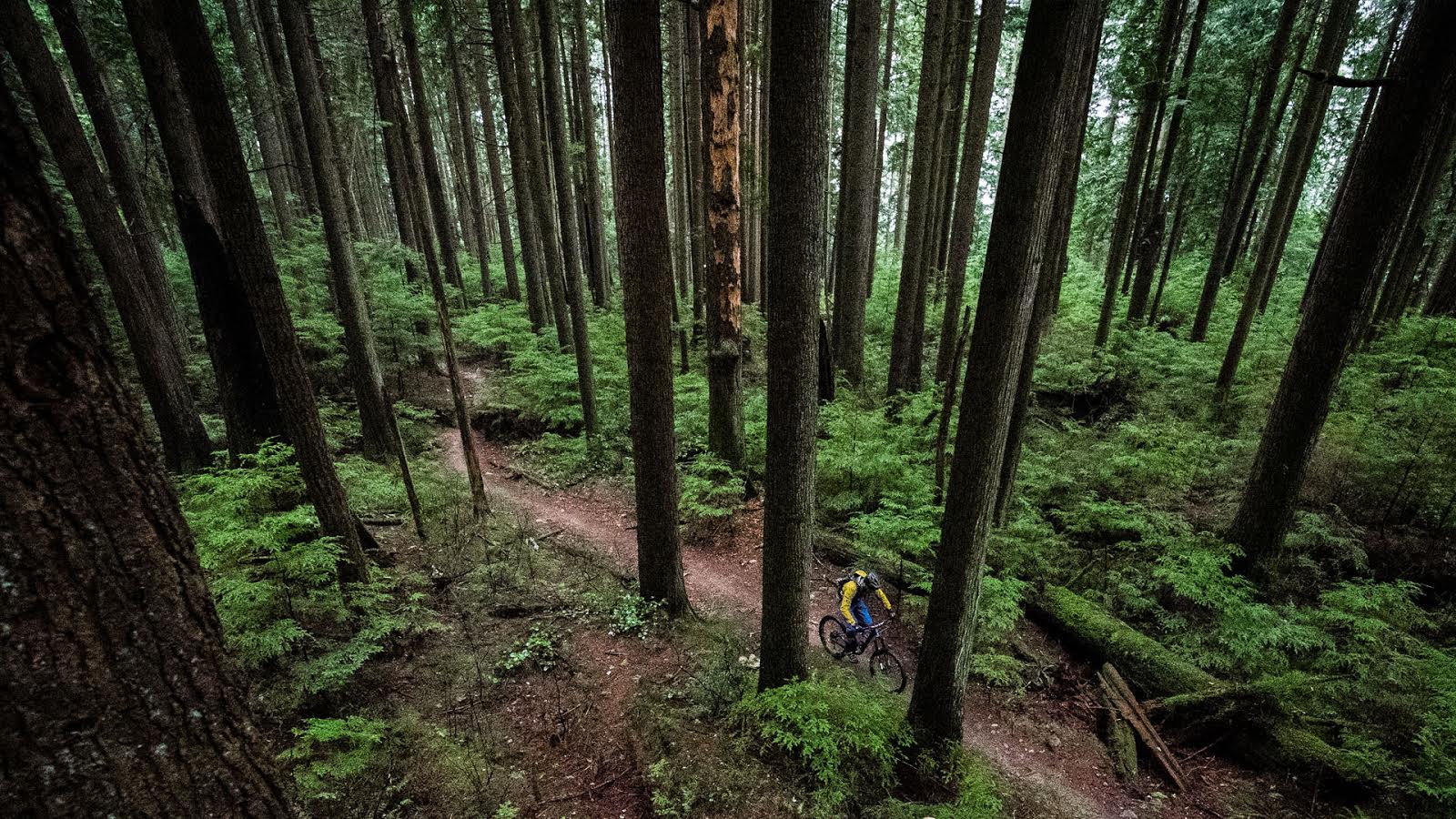 4 Reasons to run OneUp Shark
OneUp Shark
I like the massive gear range a front derailleur offers. I like simple 1x drivetrains. By extension I should love OneUp Shark as it combines the best qualities of both? Sort of.
In all honesty, I had to chew through my aversion to the marketing behind the new 500% gear range 1x setups, OneUp Shark and SRAM Eagle, to give them a fair chance. They are not panacea by any means. And yet I've got four reasons to run them, not run from them.
Wait, what is OneUp Shark and SRAM Eagle? Check out the NSMB.com introductions. You can read about Shark here and Eagle here and here.
Santa Cruz Nomad
The Santa Cruz Nomad is the perfect OneUp Shark test platform because it isn't front derailleur compatible. There's also the fact the Nomad's suspension works best if you don't use a granny-sized chainring. The bike is efficient enough, and light enough, that it isn't an excuse to avoid big all day rides. The rides that are a lot more pleasant with some low, low gears.
Lastly, the Nomad gets up to speed quickly even on tighter janky North Shore trails. Suspension performance aside, it benefits from having a higher gear than a 28-30t ring provides.
No Front Derailleur Compatibility
There are an ever-increasing number of bikes that are not compatible with front derailleurs. The reasons are myriad, from short stays, to massive tire clearance, to frame stiffness but the end result is the same.
For local riding I generally find a 28t or 30t ring up front with an 11-36t cassette is perfectly usable. That's location dependent though and on massive days on the bike or in faster locales with wide-open terrain the gear range is definitely lacking at both the top and bottom end. For bigger and or faster days I love being able to grab or dump a huge range via a well adjusted front derailleur. I know that isn't cool. Tough.
At my fitness level, big days on the Nomad call for an easier gear than a 30 x 36t. At the same time anywhere I could get the bike up to speed I was using the high end of the cassette with a OneUp 34t ring. Shark to the rescue as it improves riding the Nomad at both ends of the gearing range.
Chain Security
A bike like the Nomad can be ridden hard and fast. I won't pretend to have explored the full capabilities of the bike but it definitely makes the most of its suspension on chundered out trails and I could push the bike harder than normal in those situations.
The combination of the Shimano XT clutch that the Shark cage was installed on, the OneUp narrow-wide ring, and a OneUp upper chain guide added a high degree of chain security compared to a 2x system with a clutch.
Riding in a place like Moab where having a selection of low gears for crawling up long steep pitches at altitude along with high gears and chain retention to rip down massive high speed runs like the Whole Enchilada, the argument for Shark is strong. Likewise for a less fit rider trying to make the most of a big travel bike in an Enduro race.
Suspension Performance
One of the most common negative opinions I hear about Shark and Eagle is the additional unsprung weight. Basically, moving the weight of a front derailleur and granny ring on a 2x system onto the rear wheel to get the same gear range with a 1x system. Unsprung weight is bad for suspension performance.
The flip side is of course that most suspension designs function optimally within a small range of chainring sizes and designers tune these bikes around a certain sized ring. Santa Cruz's VPP suspension system is a great example of a design that does not perform as well with the chain angle of a granny gear compared to a 'middle' sized chainring.
A great way to test this is on a bike with a 2x drivetrain using Sheldon Brown's gear calculator. Find an equivalent gear in both chainring sizes, an easy example is 36t x 36t and 24t x 24t, and then attack the same climb and coast the same descent in both gears.
For many suspension bikes the benefits of riding in a larger chainring, vs a granny ring, overcomes the negatives of the increased unsprung weight.
Dropper Post Remote
On aggressive rolling terrain I use my dropper post remote way more than my front derailleur. I would much rather have my dropper post remote optimized for ergonomics.
On my own bikes when I run 2x I have my cake and eat it too by running my dropper in the front shifter position and my front derailleur using a thumb shifter. That's probably a bit esoteric for the average rider.
Shark provides the gear range you can achieve with a front derailleur and optimum dropper post remote ergonomics.
Why not Shark?
Even in the example of the Nomad, optimum test platform for OneUp Shark that it is, there are a couple of niggles worth noting. Firstly, being tied to a Shimano XT drivetrain, backpedaling in the three largest cogs will cause the chain to derail. This effect is accentuated on the Nomad as the rear DT Swiss hub has a huge 20-degree range for engagement using the standard 18t ratchets. It isn't an issue for everyone, but I regularly backpedal to set up for technical sections and it was a notable negative for me.
Wear is another issue. Sort of. With a 34t up front and the Nomad's 'sit and spin' climbing preference I am definitely in the 46t and 50t cogs anytime the climbs get steep and technical. Compared to my other experiences with Shimano 11spd I'm going to need a new cassette, or at least a new big cog, much sooner with Shark. The trade off is in the Nomad friendly high gears when the going gets fast.
Shark Vs. Eagle
Having ridden both OneUp Shark and SRAM Eagle I want to make a couple of observations.
The SRAM Eagle drivetrain does shift and feel like a more polished system. I don't think that's surprising given that Eagle was designed as a complete groupset whereas OneUp is building an aftermarket add-on to Shimano's 11spd drivetrains. But I think it bears noting.
The true beauty of OneUp Shark is the value of being able to buy a Shimano SLX or XT spec'd bike and achieve the equivalent 1x gear range of Eagle at a lower price and what many riders would argue is a longer usable life.
Shark Me?
Whether a 1x convert pining for a wider gear range or a 2x holdout lusting for a new frame with no front derailleur compatibility OneUp Shark is an answer. Combined with a wide range 11spd Shimano SLX drivetrain it provides an awesome value and matches the widest gear range available.
For more on Shark and other OneUp bits click here…
---
Are you hanging onto your front changer?