PRODUCT RELEASE
OneUp Jumps Into Pedals
OneUp Components is still a new brand, but they've been kicking out new products at a good pace ever since they first started taking pity on us and making climbs easier. After getting us all afroth by making multitools sexy again (nope - sexy for the first time), they've followed up their EDC release in April (coming soon - finally - to your mailbox) with another release, just in time for bike park season.
With the announcement of their two new flat pedals, OneUp has your bike's nether bits fairly surrounded: cassettes, chainrings, derailleur cages, and chain guides are all covered. I don't think we'll see chains out of them, and I don't know anything you don't, but I have to think there's a CAD drawing of a crank design sitting on someone's computer in their office-shaped-like-a-house at the foot of the climb up to some of Squamish's classic trails.
The full release from OneUp - and a badass short vid - can be found below.
---
OneUp Flat Pedals. Clip less from just $48 USD.
 Thin, durable, no-nonsense flat pedals at a price that everyone can afford. 
OneUp Aluminum Pedal - $125 USD 115mm x 105mm x 12mm
Bikes are getting lower, so pedals need to get thinner. Our ultra-thin design - only 8mm at the leading edge - gives you maximum clearance on the most technical trails. With 10 replaceable steel pins per side, your feet will stay planted through the roughest sections and with a weight of just 355g, OneUp Aluminum Pedals won't slow you down on the climbs.

Where reliability is concerned, there's no room for compromise. That's why we chose double-sealed, full-cartridge bearings and no bushings for ultimate durability. When it is time to service your bearings, the unique cassette tool lock ring system makes re-greasing the bearings a breeze.
Thickness: 12mm (8mm at the leading edge)

Platform Size: 115x105mm
Weight: 355g 
Pins: 10 Hexagonal steel pins per side (less surface area than a round pin = more grip)
Colours: Black, Green, Grey
Body Material: 6061-T6 Aluminum
Axle Material: Chromoly steel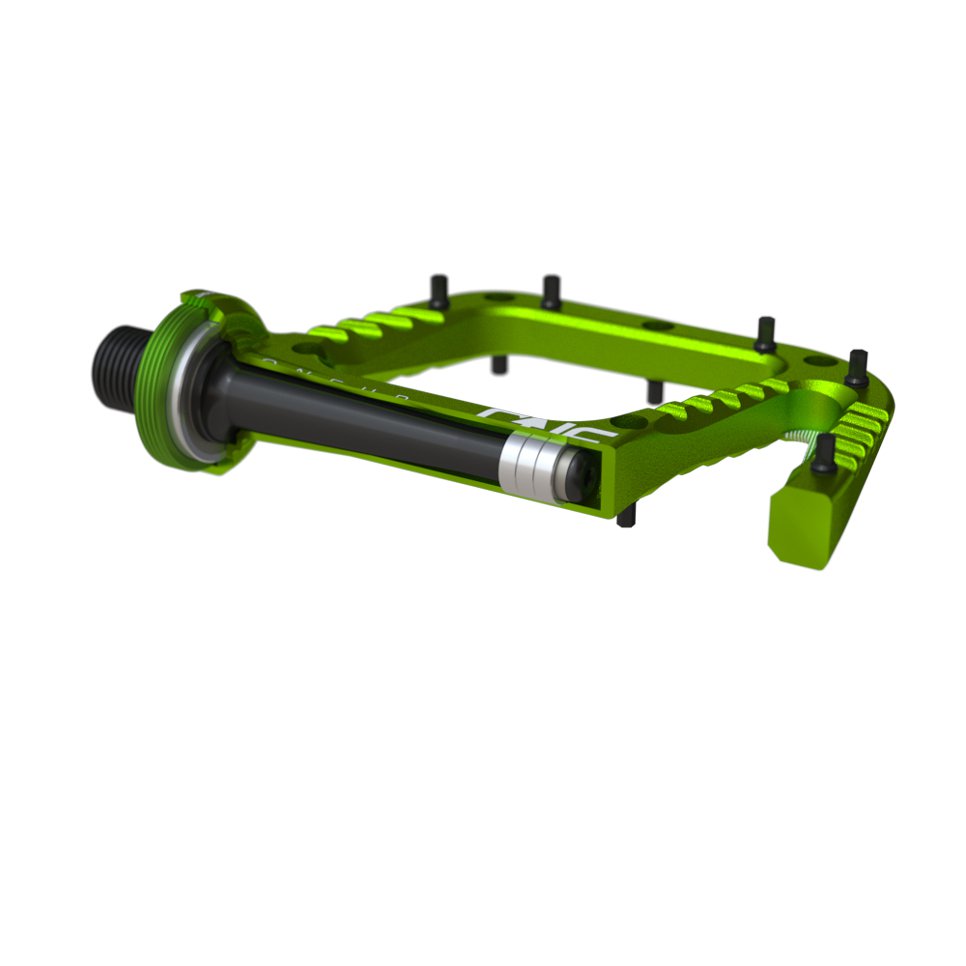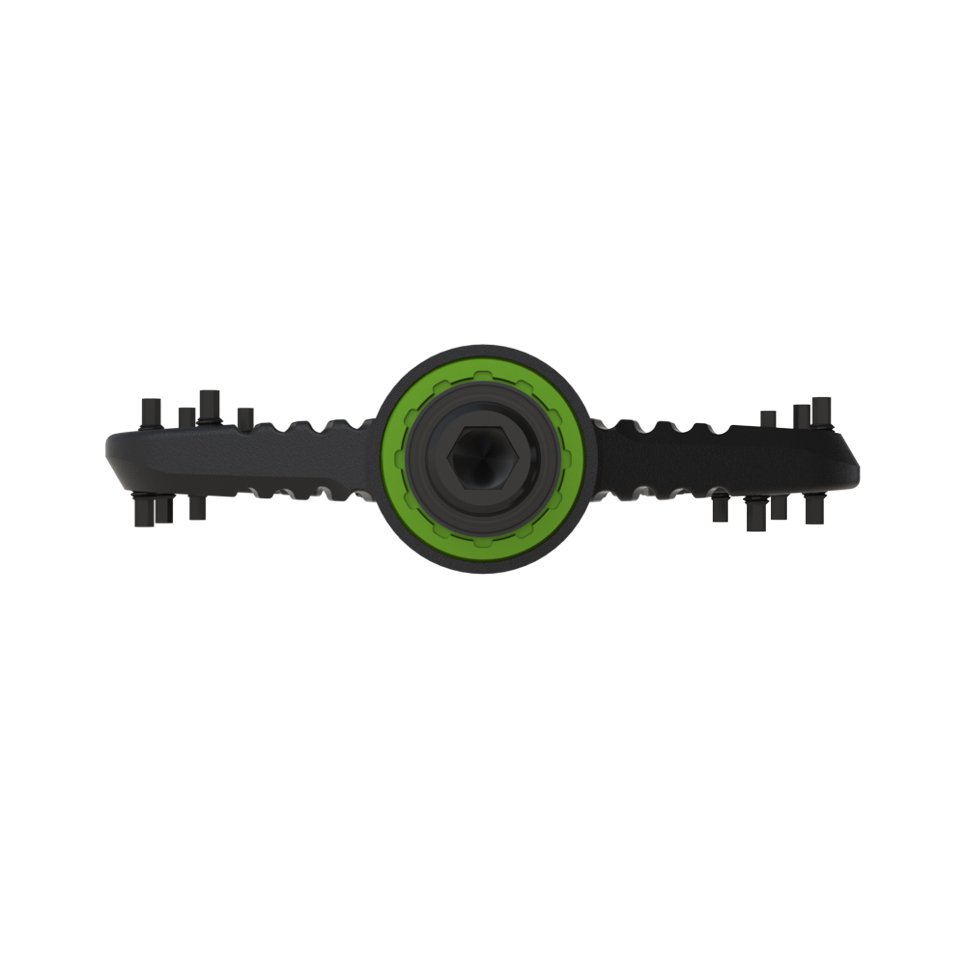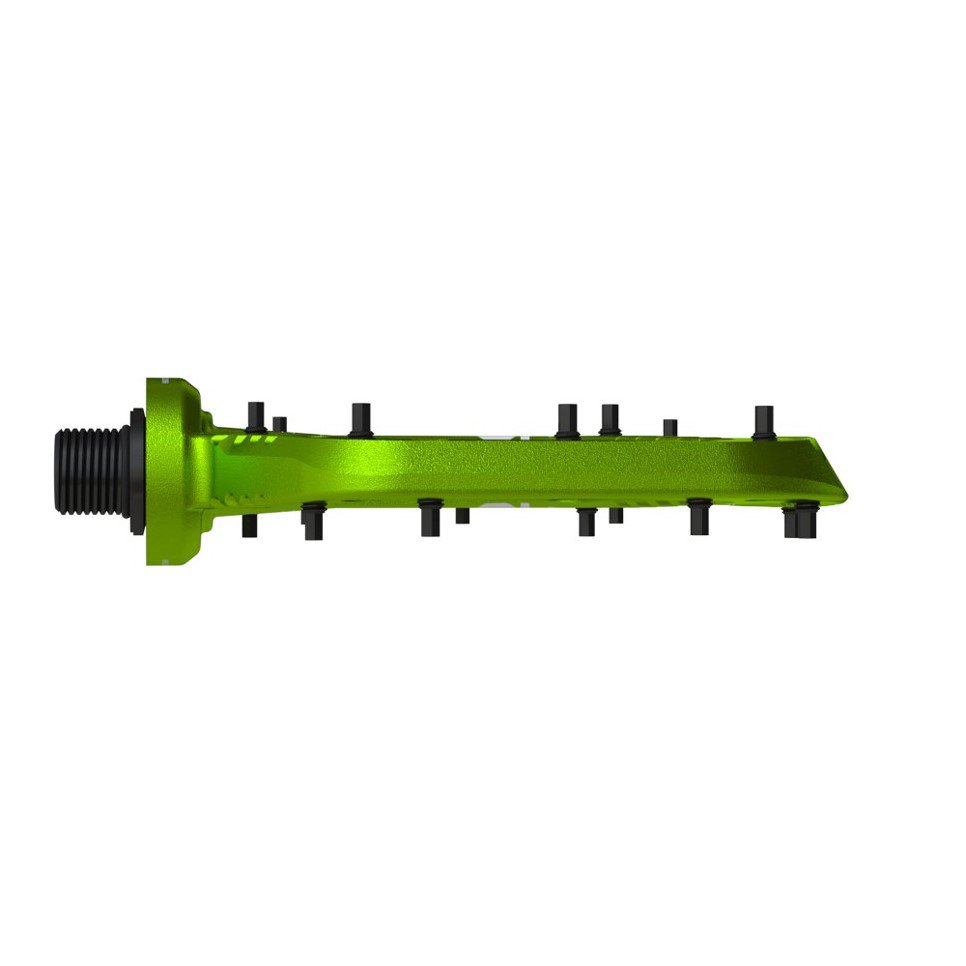 OneUp Composite Pedal - $48 USD 115mm x 105mm x 18mm

 The same platform size, weight, and replaceable pins as the Aluminum Pedal, but at less than half the price. What's not to like?
 Cartridge bearing and DU bushing internals
 Thickness: 18mm (13 at the leading edge)
Platform Size: 115x105mm
Weight: 355g 
Pins: 10 replaceable steel pins per side
Colour: Black
Body Material: Nylon Composite
Axle Material:  Chromoly steel
Both OneUp pedals have a very subtle convex profile. We feel that the convex shape gives you more grip and support as it allows the pedal to sit in the natural arch of your midfoot - where most flat pedal riders tend to place their feet. The convex profile also creates the thinnest leading edge and the best clearance for a given axle design.
 Rebuild kits will be available for both models, to ensure full servicing for years to come.
 Replacement pins and pin height adjustment kits coming soon. 
#getoneup
#cliplessshredmore