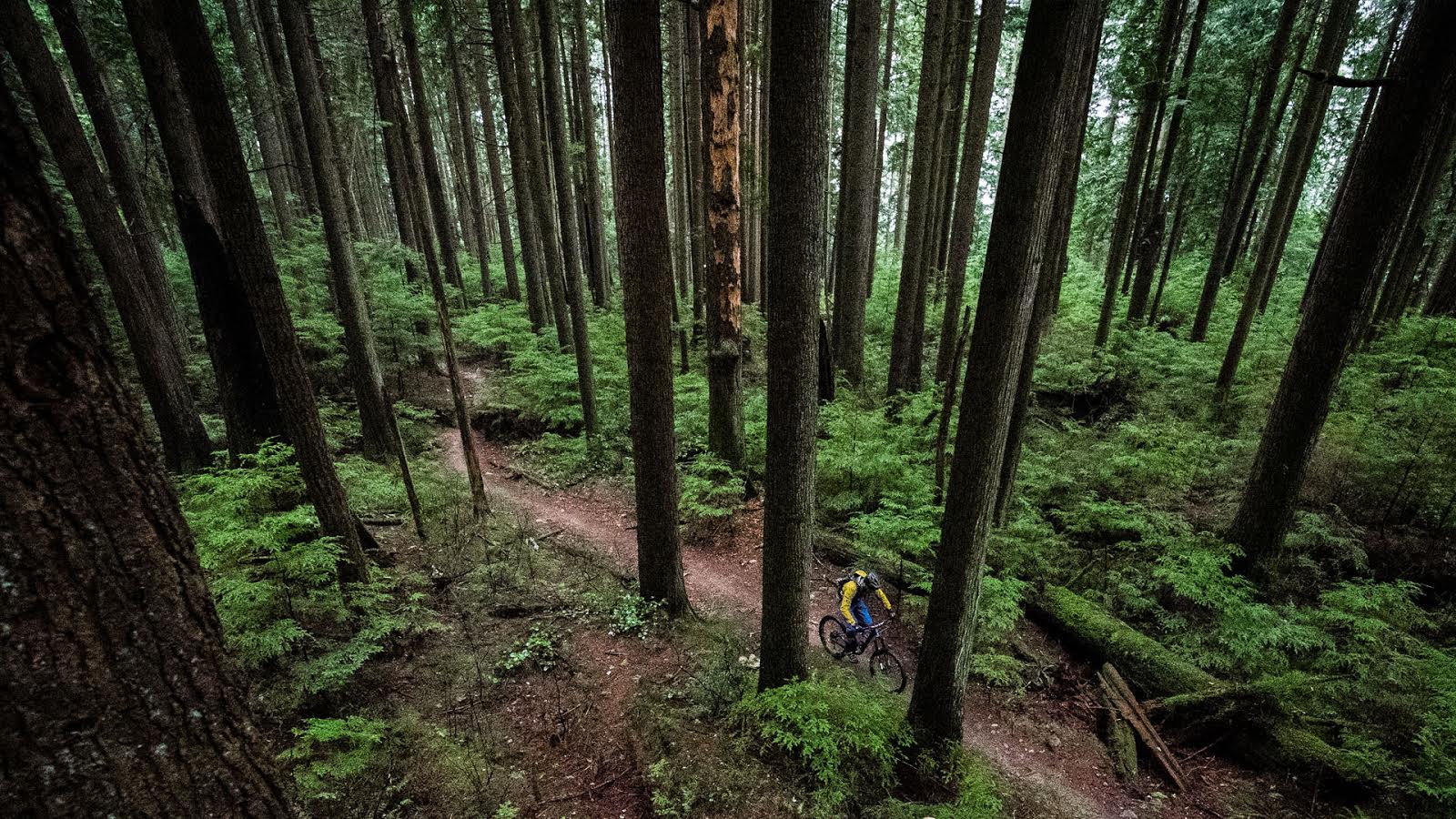 OneUp Goes to 10-50
OneUp goes to 10-50.
With the front derailleur being pushed nose first into the loam, the logical step in the drivetrain campaign is to attack from the back. The cogset wars are well underway and OneUp Components just dropped the mic: their new cogset is now available as a 10-50 and they're calling it Shark (great whites have about 50 teeth…that worked out nicely). In the process, they've left tooth marks in an Eagle (that'll make sense soon) and have one-upped Shimano's recently announced 11-46T cassette as well as e-13's 9-44. There are pros and cons in each case, but for now, OneUp can lay claim to the only 500% gear range, and it's available right fuckin now – none of this dicking around with availability months after a press release.
I headed up to Squamish earlier this week to jump the Shark myself and came away impressed – and with a 50T cogset on my Nomad, as well as a chainring jump from 30 to 34 teeth. Does everyone need 50 in the back? Hell no. But if your terrain goes up steeply in places and you'd like to be able to reach decent speeds on roads or wide open spaces of trail, then this represents a huge opportunity.
A 500% gear range rivals and surpasses many 2x setups. You have a large jump at the low end from 42 to 50 teeth to contend with – which won't be loved by racers especially – but in this age of increasingly trying to get one bike to do everything you want it to, this is another step forward. Shifting is surprisingly smooth and…there isn't too much else to say initially, except that it works as advertised without too much in the way of funky B-tension or other weirdness. You may have to play with crank spacing, and the chain does drop from the 50 when I backpedal (on the Nomad – the Yeti was fine) but I've had that issue with most SRAM 10-42t setups as well – nothing new there.
We're putting time into a variety of systems right now, with more on the way, and we'll report more on them all as we have a chance to evaluate them. But based on initial impressions on two bikes (a Santa Cruz Nomad and a Yeti SB-6c) I can endorse this $125 (US) upgrade as both money well spent and a reliable way to increase your range. You may need to factor in a new front ring (go up 4 teeth) and, maybe, a new chain. Still worth it. Note: the $125 kit gives you a derailleur cage which will work with a Shimano Shadow+ 11-speed derailleur and the 50 tooth ring. If you want to run 10-50, you also need to spring for their new MiniDriver freehub body and a 10-12 tooth cluster – $40 USD. Compatible already with Hope, DT Swiss, and Stan's (more on the way – it's open source and not a big deal for manufacturers to offer).
The press release from OneUp with a lot of detail is below.
---
OneUp Components Shark 10-50T: The widest range 11-speed 1X system ever.
A climb crushing, descent hammering, 500% of range.
OneUp Shark is a set of modular upgrades for Shimano 11 speed mountain cassettes. Extend the range of your stock Shimano 11-42T cassette by almost a third, by adding a 50T sprocket and cage kit, a 10T cluster or both. Shark allows you to build the perfect cassette for the trails that you ride.
Shark 50T Sprocket and Cage Kit
Increase your chainring size by 4 teeth, and still gain range on both ends of your cassette. This means a higher top speed, a better average chainline (you now spend more time in the middle of your cassette) and legs for days on your next backcountry epic. The converted 11-50T cassette is the widest range cassette available that uses a standard freehub body.
Shark 50T Sprocket Tech Specs:
Cassette Progression: 11,13,15,18,21,24,28,32,37,42,50
Sprocket Material: 7075-T6 Aluminum (50T), Nickel plated hardened steel (18T). Maintains the 42T as the smallest aluminum sprocket, preventing premature drivetrain wear. No major drivetrain manufacturer goes smaller than a 40T cassette sprocket in aluminum.
Compatibility: XT M8000 11-42T cassettes (For Shimano 11-40 use the OneUp 45T sprocket)
Freehub requirement: Standard freehub
Cassette range improvement: 19%
Colours: Grey or Green
Shark Cage Tech Specs:
Pulley Offset: 50% more than stock
Compatibility: Shimano Shadow+ 11spd rear derailleurs
Colours: Grey or Grey/Green
Shark 50T Sprocket and Cage Kit MSRP: $125 USD
Looking for even more top end? Add the Shark 10-12T Cluster and OneUp MiniDriver, to gain another 10% range on any 11-speed Shimano mountain cassette.
OneUp has collaborated with Hope Technology to develop a non-proprietary, freehub body standard that accepts a 10T sprocket. This shortened version of a standard freehub is available for Hope, Stan's and DT hubs with more coming soon. The MiniDriver open standard isn't shrouded in patents, making the production of inexpensive 10T equipped cassettes a future possibility.
10T Cluster Tech Specs:
Kit contains: 10-12 cluster, 14T and 15T
Cassette Progression:
– 10-12-14-17-19-21-24-27-31-35-40 (11-40 Shimano converted to 10-40)
– 10-12-14-17-19-21-24-28-32-37-42 (11-42 Shimano converted to 10-42)
– 10-12-15-18-21-24-27-31-25-40-45 (11-45 OneUp'd Shimano converted to 10-45)
– 10-12-15-18-21-24-28-32-37-42-50 (11-50 OneUp'd Shimano converted to 10-50)
Compatibility: Shimano 11-spd 11-40 and 11-42 cassettes and OneUp'd Shimano 11-45 and 11-50 cassettes
Freehub requirement: OneUp MiniDriver (or compatible)
Cassette range improvement: 10%
Colour: Nickel Plated cluster with Green Lockring
MSRP – $45
The 500% range of a Shark 10-50T cassette matches a typical 2×11 drivetrain, which should be enough to silence any remaining 2X hold outs.
MiniDriver Tech Specs:
Length: 4.5mm shorter than a standard freehub
Lockring Thread: M29
OneUp DT star ratchet compatible MiniDriver MSRP – $40

Ride faster, higher and longer with a wider range cassette.
Order yours today at www.oneupcomponents.com.
---
You're gonna want to brag about how big your booty is – OneUp's hashtags are below. While we're at it, are you following @nsmbteam on Instagram? Maybe you should be.
@oneupcomponents | #getoneup | #worklessridemore | #sharkattack
---
How do you like dem apples?