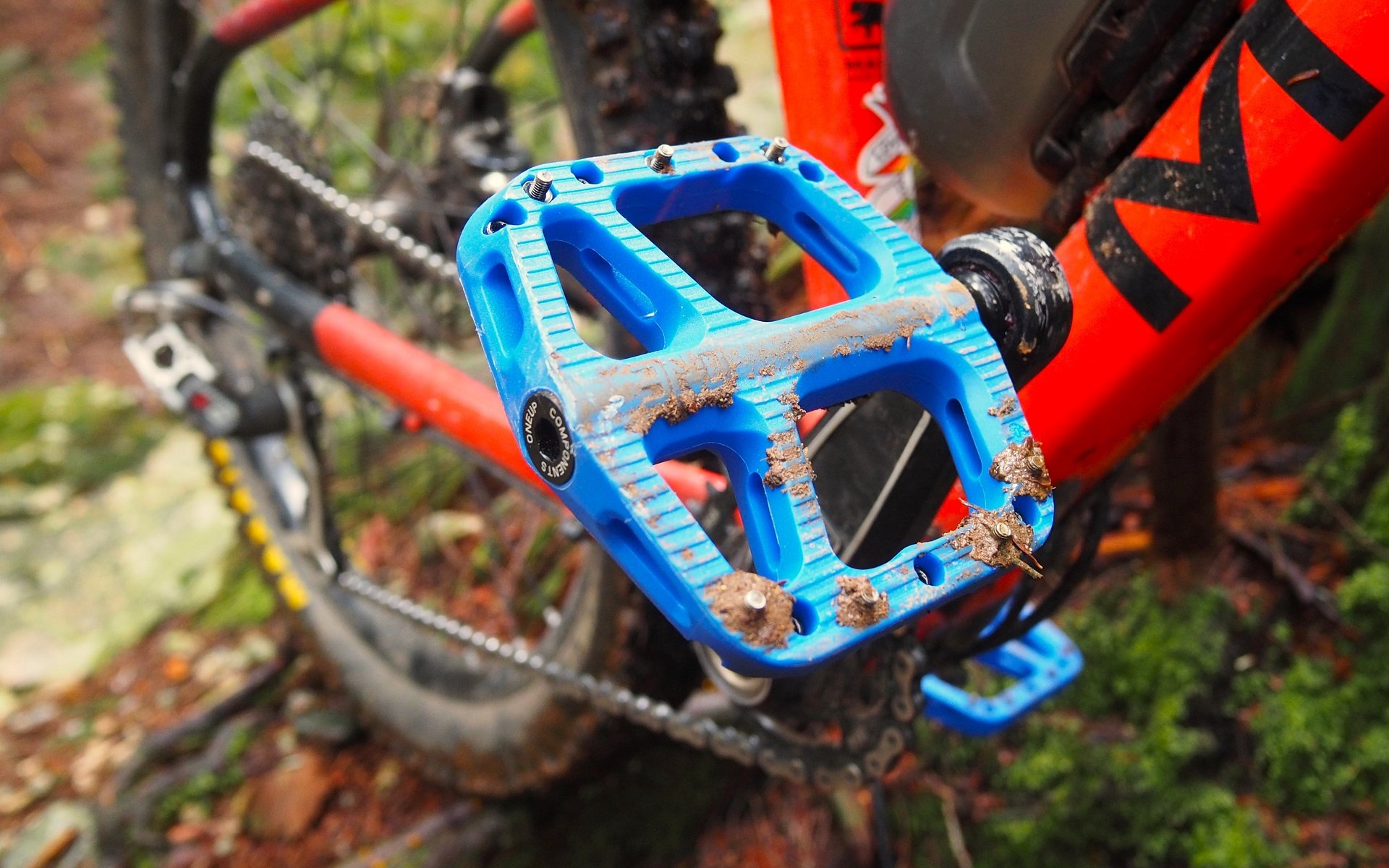 REVIEW
OneUp Composite Pedals For Smaller Feet
Reset
This is my second attempt at writing about these new, smaller, OneUp Composite pedals. The first devolved into a grumpy, grating, and circuitous rant that I realized, upon re-reading, wasn't fair to OneUp. I've gone back to a blank sheet and I'm going to try to focus on what these pedals are instead of what they aren't.
I'm very passionate about good kids' gear and I've been asking for years now for any pedal maker to create a composite competitor for my daughter's Chromag Radar. The market needs to deliver a platform with a similar level of grip and control for grom-rippers whose parents can't stretch to the 125 CAD price of entry.
While the Radar is designed for kids aged 4-10, OneUp has unapologetically hedged its SKU count on making a pedal that can work for teens and adults up to a size US-6.5 men's or size US-8 women's shoe. For reference, I'm writing about here about an eight-year-old just pushing out of a size 1.
BOGO
OneUp's new kids' pedals are being billed as two unique products for the price of one. They come stock with what I've been referring to as safety pins, even though they're really safety nuts, and I later learned that OneUp calls friendly pins. The standard short nuts are included in the box for those looking for more grip.
The idea here is to protect your child's delicate flesh from OneUp's infamously vicious M3x10mm socket head pins while they're learning to ride and then boost up their grip in the future. From a mountain biking perspective, it's certainly a tradeoff as the fat-and-smooth anti-traction nuts are going to mean significantly more slipped pedals whereas with the sharper setup, a slipped pedal has the potential to be much less common and also much more painful for your grom.
Recognizing that my kid comes to the OneUp safety pin situation from the privileged situation of being used to really good traction, the first test went poorly. Wearing her usual size one Five Ten shoes, she made it around one lap of the small underground parking garage of our building before she handed the bike back and shot me the 'that's enough of this nonsense.' look she's been auditioning for her teen years. The quote from the Clairebarian is "My feet just slide all over the place."
I asked the folks at OneUp what the deal is with the safety nuts in general and then why they shipped the pedals with them pre-installed. Their response was "We discussed which pins to ship the pedals with at length and landed on the "Friendly Pins" because we imagine that most people who ride these pedals will prefer the less-grippy versions. We tested them on the pump track with kids ranging from 5-10 and they all seemed to work well in that application." And also, "Keep in mind that not everyone's kids are shredding the Shore."
My prime concern here, and it makes me genuinely sad, is that out in the wild, I'm going to see kids struggling to find traction on these pedals because their bike shop or parent hasn't swapped out to the sharper nut setup.
Stay Sharp
I don't want to come across as too antipathetic here. I see an endless stream of kids riding shitty grip-less cheap plastic bullshit, and anyone reading this who has ridden flats can appreciate how deflating bad pedals can be on a ride. It's better to have more good-grip options and with the full-traction setup, OneUp has hit a sweet spot at 50 USD | 65 CAD that I know more parents, at least locally, will be willing to contemplate versus the 107 USD | 125 CAD Radar.
After swapping seven nuts per side, two sides per pedal, the small OneUp pedals deliver excellent traction. From the moment we dropped into our first trail, the Clairebarian had full-grip confidence and she actually put together a couple of sections of trail for her first time.
Climbing, both up gravel and single track there was plenty of traction but my kid had significant landmarking issues. Despite the wide body, or in my thoughts because of the wide body, she regularly had her feet hanging a centimeter or so over the edge, or at weird angles, and of course with all the traction resetting the foot position requires picking up and replanting a foot.
This was not an issue in terms of powering her bike along, but it is an ergonomic concern as her parent especially as we ramp up into some much longer rides this summer. For whatever reason, when descending her foot position was much more consistent.
So Why So Wide?
OneUp is selling this new Composite option as a small pedal as opposed to a kids' pedal. They say it's good for adults with a shoe size up to size 8 women's or size 6.5 men's, and also good for kids. The platform is 97.5mm x 92mm compared to the regular Composite Pedal which is 115mm x 105mm. For reference, Claire's pair of Chromag Radar pedals have a much narrower 70mm width with a 93mm length.
My initial concerns about reduced trail clearance, from the 2cm wider pedal bodies, have proven unfounded so far and the traction is at least equal to the Radar even with The Clairebarian's size 1 shoes not always contacting all the pins, particularly when climbing.
I don't know what the ideal shoe size for the size small OneUp Composite pedals is, but I'd guess it's somewhere around a size 3-4, or in other words, it's the ideal next size of pedal once my kid has outgrown her Radars. I'll confirm that a couple of years from now, as for now we've gone back to the Chromag pedals for the much more consistent landmarking for climbs.
These OneUp Composite pedals have excellent traction and the smaller pedal body is going to serve riders, including big kids, tweens, and many teens, much better than their full-size Composite option. But, I can't help but feel that there was already a plethora of small pedal options that cover that exact use case.
FiveTen makes seven sizes of kids' shoes smaller than The Clairebarian's size 1 Freerider shoes and for those kids, sadly, I don't see a pedal option in OneUp's lineup. It's with disappointment that I say that amortizing a Radar pedal over multiple years is still the winning solution if you're planning to start your little kid on trails. Here's hoping that some company steps up with a little-kid-composite option sooner than later.
If your feet or your kids' feet are looking for maximum traction from a pedal smaller than OneUp's full-sized Composite but larger than the little-kid-sized Radar then the small Composite could very likely be your unicorn. The body measures 97.5mm x 92mm, it's 18mm thick, they come in seven different colours, and they sell for $50.00 USD | $65.00 CAD.
You can pick them up at your preferred local bike shop or direct from OneUp.