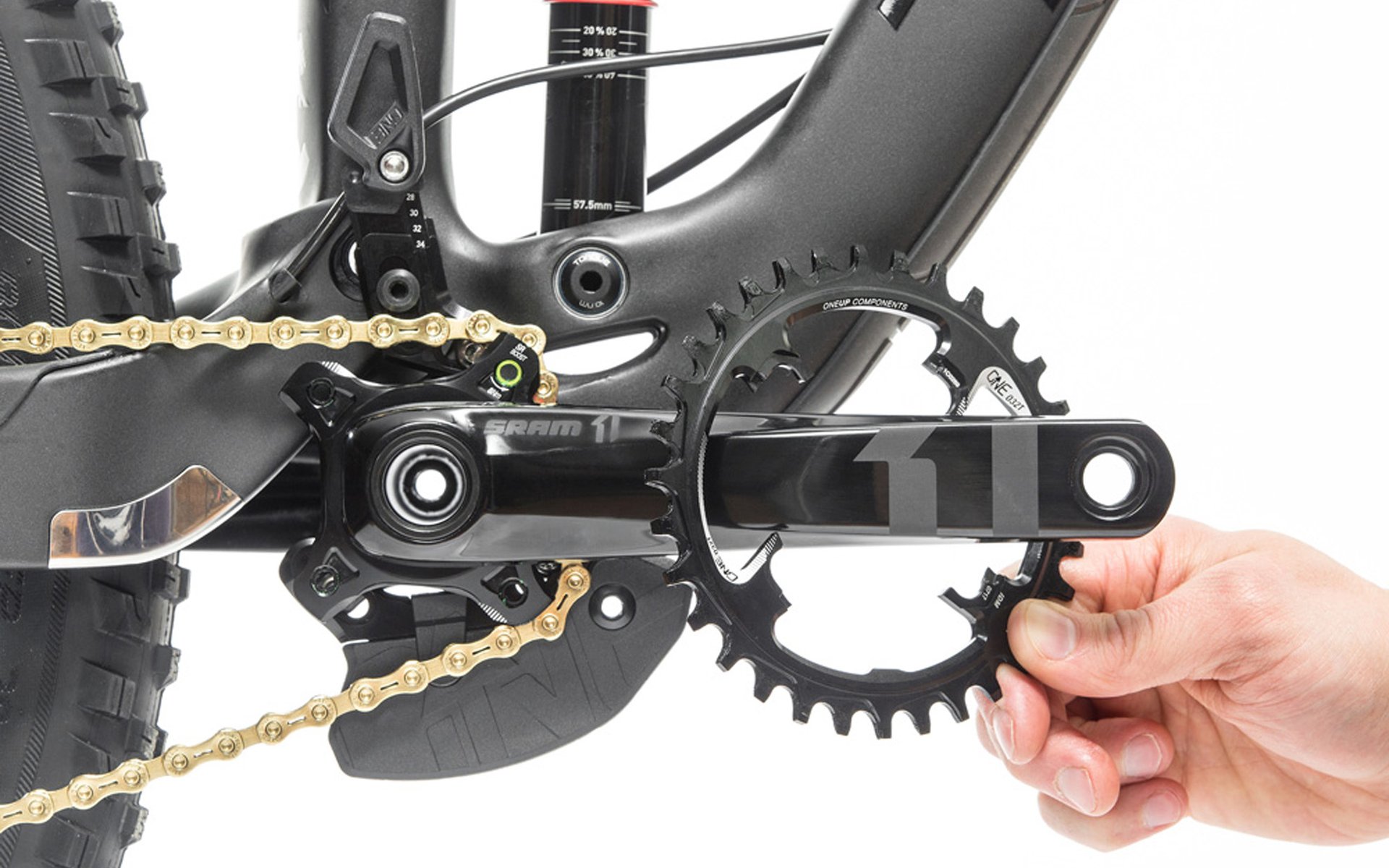 Fast Changes on the Rings
OneUp Components Launch the Switch
OneUp Components is well known for their aftermarket chainrings, cassette expanders, and other drivetrain add-ons. Now, they've launched a new quick-change system for chain rings called Switch. Designed to make swaps simple, it means riders and mechanics will be able to change out rings with just a 4mm allen key, and not have to keep track of proprietary tools. Get all the info after the break.
---
A quick-change direct mount chainring system from OneUp Components.
Switch was developed to reduce the cost of replacement chainrings, increase compatibility with new offsets and to make the process of changing a chainring much faster and simpler. Switch also makes it easier for local bike shops to cover the ever-growing number of chainring standards, without a huge investment in inventory.
Rings can be replaced in less than a minute with only a 4mm allen key, without removing your crank. Simply loosen the bolts 2 turns, unlock the ring by rotating it by 20 degrees and pull it over and off your crank. Reverse these steps to install your new ring. If you plan to ride a trail that you know is steeper than your local trails, you can switch to a smaller ring in the parking lot, in less time than it takes your friend to put on his riding shoes!
A Switch chainring is the same price as our existing direct mount chainrings, but the ring and carrier can be replaced individually at a fraction of the cost.
ALL the Major Mounting Standard, Sizes and Offsets in both Round and Oval 
(130 Direct Mount Ring Combinations)
5 Direct Mount Standards (SRAM, Race Face, Cannondale, E13 and Hope) 
5 Ring Sizes (28-36T) 
2 Profiles (Round and Oval) 
3 Offsets (Regular, Boost and Super Boost) 


EWS Proven 
Every EWS World Champion in the last 3 years has pedalled their way to series victory on a OneUp narrow wide chainring.
One Tool 
Many of the tools required to remove some cranks aren't part of a basic home tool kit and are definitely not on your multitool. Cannondale, E13 and Hope cranksets all require proprietary tools to replace their chainrings. Swap a Switch chainring with just a 4mm allen key
Not Another Standard

The two-piece system is the most efficient way to handle the expanding number of chainring standards. It is not a new standard in itself. With quick-change rings and a cheaper replacement cost, Switch has some real benefits over a one-piece chainring. At the same price as our old design, what's not to like?
Local Bike Shops 

We're offering discounted Switch Dealer kits in a custom storage case. Your shop can have a replacement direct mount chainring in stock for virtually any walk-in repair. No one wants to miss another ride while waiting for replacement parts. 
PRICE:

Switch Chainrings from $63 USD
Replacement Rings from $40 USD
CRANK STANDARDS

SRAM GXP (Regular / Boost / Super Boost)
SRAM BB30 (Short/Long Spindle)
Race Face Cinch (Regular / Boost / Super Boost)
Cannondale (Regular / Ai / FATCAAD)
E13 (Regular, Boost)
Hope (Regular, Boost)
CHAINLINE
Regular (49mm)
Boost (52mm)
Super Boost (56.5mm)
Not Another Standard
Next time you need a new direct mount ring, make the Switch.

Available now from oneupcomponents.com or your local bike shop. 
---
Does a quick change system have you itching to make the switch?