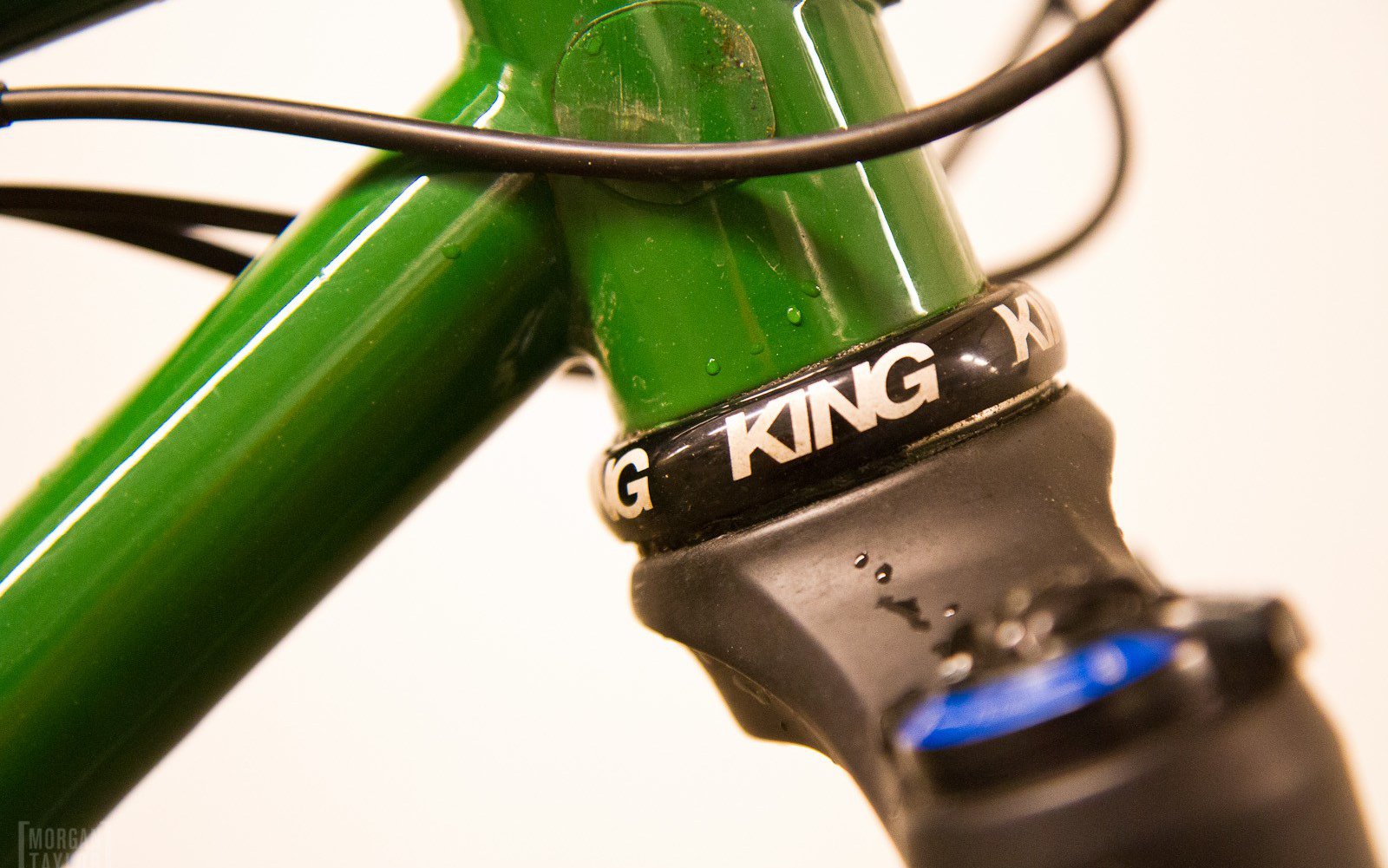 Editorial
One Headset For Life
Genesis
By the mid-90's almost every bike company had adopted the head tube standard we now call EC34. Tom Ritchey still liked it smaller and both Klein & Cannondale were doing their own thing but for the most part every bike from an XC steed to a DH sled could use the same threadless headset. 
In my case it is a black Chris King 1-1/8" NoThreadset. Before finding its current home in my wife's Chromag Sakura it graced the front end of a Kona Roast, Schwinn 4-Banger, Redline Monocog, Balfa 2-Step, Balfa Minuteman and... well... and then it took a long hiatus.  
The Flood
Starting with the introduction of EC49, and the corresponding 1.5" steerers, a flood of new head tube standards hit the market. As of today Chris King sells nine different varieties of mountain bike headset and that just includes varieties that use press-in headset cups. 
Even as riders serenely swallow new standards the multi-bike lifetime justification for some high end parts, namely hubs and headsets, is a lot harder to choke down than it used to be. It's easy enough to swap a couple bearing sets through a Cane Creek 40 series headset over the life of a single bike. 
*External Cup | Straight Head Tube | 34mm ID
**Print out the above photo of Jeff. Tape it to your mirror. Then practice, practice and practice. The facial expression is the key. 
The Second Coming
More than a decade after mountain bikes ventured off into the headset wilderness they are marching home in lockstep. The headset wars are largely over and despite pockets of resistance, press-in cups with a ZS44||ZS56*** are the obvious winners. Many companies have abandoned drop-in headset bearings and even a number of hardtail manufacturers are using steel and titanium tapered head tubes. 
More frames use ZS44||ZS56 headsets than don't. Investing in a King InSet 2, or a competing product from Hope or White Industries, once again means being able to use a headset on multiple bikes for years to come.  

A Slice of Heaven
There is a simple joy that comes from using things over-and-over until their initial purchase price is meaningless. Hubs that have been laced to all three mountain bike wheel sizes, cranks or pedals that are more scars than paint and of course the classic Chris King NoThreadset are three examples that come to mind. 
Whether my own or a friends I love pressing a history into a new frame. 
I'm as esoteric as the next guy but whether it's companies like Rocky and Niner going back to press-in headset cups or Chromag commissioning tapered steel head tubes this is one trend towards bland uniformity I can get behind. 
I just purchased 44||56 King headset and I'm looking forward to pressing it into a lot of frames to come and then giving it to my grand kids.
***44mm internal upper with zerostack cup. 56mm internal lower with zerostack cup.