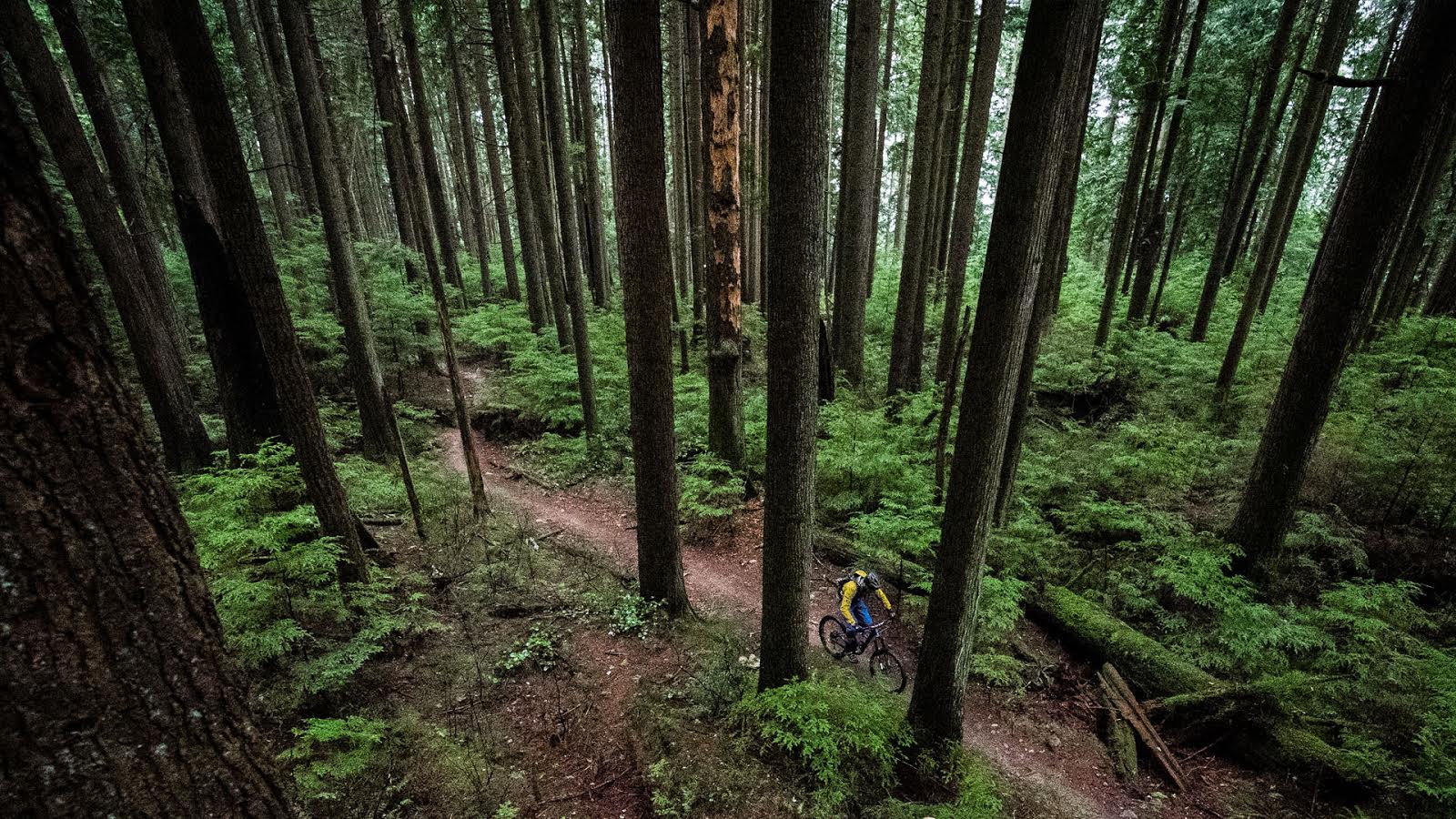 Ollie Jones Goes to Nelson
Welcome to Nelson, BC – tucked away in the Selkirk Mountains on the west arm of Kootenay Lake, it's known as the 'Queen City' and famous for its impressive heritage buildings, I couldn't help but wonder what we would find here. Along for the ride were Scottish photo genius and chief magic maker Mark 'Magz' Mackay, all-time lady shredders Hailey Elise and Trish Bromley, and and king of flat tires/enduro racer Adrian Camposilvan.
The 788km drive over from Whistler felt long and tiring. Thankfully with good conversation and the constant beats of hard trance pounding over the stereo, we neared our destination full of fire for the start of our riding adventure.
Arriving in the early hours of the morning at the beautiful Alpine Motel, we checked in and quickly got to bed eager to see what the following day would bring. Everyone was awake early ready to get on the saddle, so we packed up and headed to Gerick Cycles. After getting some suggestions on where we could start our Nelson adventures, we made our way 10 minutes out of town over the famous Bobs Bridge into a unique zone named Kokanee Glacier.
The 12-hour drive left us craving some serious bike time and Kokanee Glacier didn't disappoint. Riding lap after lap we eventually got our fix.
By this time, everyone was laughing and screaming their way down each and every trail, clueless to what might be around the next corner. There's something truly breathtaking about bombing trails you haven't ridden before. Everyone in our pack was in the same boat and the shouting didn't stop, even after we jumped back in the truck to start our shuttle back up.
On our way back into town we figured a short stop by the bike shop to say thanks and ask about the myth of something called the "Kootenay Gold." High altitude trails with endless views over the mountain tops and one hell of a descent is what we wanted. The Kootenay Gold sure sounded like the real deal.
In the meantime, we still had plenty of opportunity to explore, so we checked directions and headed to the Morning Mountain zone. It's a government-funded area, and is a smooth 10-minute drive out of town. It has everything from buff single track to machine built jump lines, so there's something for everyone to ride.
We passed a few of these trails on the climb up and really couldn't believe how well everything was built and maintained. There were lots of alternate lines around, which would work out perfectly for the kind of guy who wants to tempt his lady down something she may not be overly keen on at first.
We all had a killer time playing on the bikes at Morning Mountain. Earning your turns is always rewarding and it's definitely an area we'll be visiting again.
Stopping by an organic grocery store en route back into town we bought some fine food to make a big crew dinner. This was the perfect opportunity to talk about what trails we were stoked on so far, and where we'd go next. Of course we still had no real direction but that's what makes a great adventure, right?
Looking forward to a relaxing day, we headed North of Nelson to the Ainsworth Hot Springs. After splashing around in the pools and 160 foot horseshoe cave it was back on the road with our eyes on the prize. We'd been given a strong lead on trail in Kaslo, which sounded long, steep, loamy and awesome. Trekking as far up the road as possible we were presented with endless views over Kootenay Lake. This is when you are truly thankful for the Tacoma that didn't miss a beat on our ride up.
Soon after we arrived, the clouds started to open up and a glimpse of sunlight shone through. It felt like we were supposed to be there at that exact moment.
Not being able to put his camera down, Magz and I walked around in search of the trail entrance, which we found nearby. Whilst the others gathered their gear, we scoped some angles to shoot photos from. I definitely needed to capture this special place.
The Monster trail is 7 km of singletrack (built by the late Sam Brown -Ed.) winding down from the meadows into an old growth forest, harbouring the deepest brown loam. This is definitely what we wanted to see, but we still had our eyes open for the Kootenay Gold…
The trail took around 45 mins to reach the valley bottom and yes, it was a wild ride the whole way. I dropped into numerous sections fully locked up just praying it would mellow out enough to re-adjust my feet on the pedals before I rode the bull. It never really did but we eventually made it out to the road. The highest of fives got handed out and our smiles couldn't have been bigger.
With several days of shredding under our belt, experiencing some of Nelson's night life was next on the agenda, if we were to get a proper grasp on what this place is all about. Cantina Centro was where we needed to go; a Mexican place serving delicious food and top notch tequila which would make a great end to a sweet day.
Our guide Mark Holt mentioned a zone up near Baldface Lodge that evening which potentially had the Kootenay Gold. Arranging to meet up again the following day, Mark agreed to guide us up into the alpine and show us the ropes. This of course came with a price: a 5am start after a 20 hour day.
It was still dark when we set off to pick Mark up from the shop and everyone was pretty quiet on the drive over. Nature turned against us that morning as it started to rain. Clouds were filling up the mountains for as far as you could see and the road to Baldface was incredibly loose. During the drive up to the lodge it was hard to see a mere 10 ft, in front of you. That was when our hearts started to sink. Clawing your way through a rainstorm with pea soup vision didn't feel like fun, but this was going to be our last chance to find the Kootenay Gold so we took it, fun or not! Suddenly out of nowhere we broke into the heavens and the light was firing. There we sat taking it in, above the clouds, mist and rain right in the glorious sunshine.
Astonished as to what just happened it was like the crew had been given a new lease on life. It was like being on another planet but you get to bring your bicycle, best pals and your camera too!
From the lodge it was about a 15 minute hike to the trailhead and Mark lead the way into the thick of things. Nobody could keep their eyes off the cloud filled valley, it was truly breathtaking.
Mark Holt proved that the Kootenay Gold is no myth. I didn't think we were going to find what we were looking for, especially with how the morning had started. I recommend checking this trail out above Bald Face Lodge if you are in the area. It's an unreal descent from top to bottom and has everything for even the pickiest riders; but let's be real, how can you be picky with views like that and Kootenay gold under your tires?
---
Looks like Ollie Jones and company found the motherlode in Nelson. Who else is planning their expedition right now?