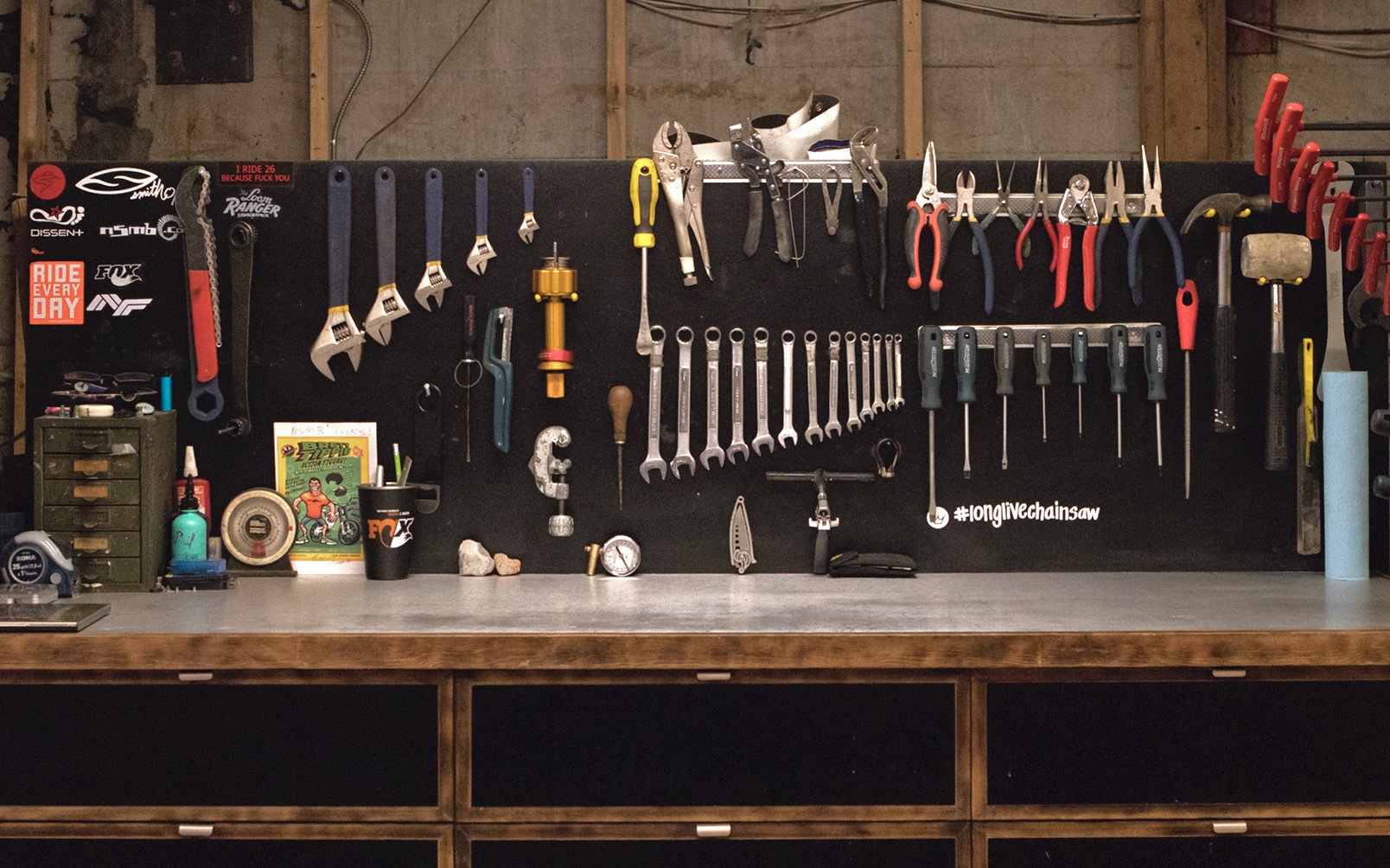 Editorial
Old Tools and the Evolution of the Bicycle
If they were anywhere, they were in my old Rubbermaid toolbox.
Despite rarely cracking it open, I've kept my old tool storage box as any good (but semi-functional) hoarder should. Sifting through the stack of obsolete steel implements, reproducing the sound of shopping carts mating, I eventually found every 1980s era bike tool I needed.
An aging family friend came down with a case of Marie Kondo recently and decided two 10-speed bikes, a Norco and an Apollo, had to go. Knowing I was a 'bike guy' he asked if I could use them. Obviously! I just had to figure out how. Eventually I decided my kids could ride them to navigate the neighbourhood with newfound freedom.
Sadly my teenagers' interest in the dusty jalopies paralleled Don Cherry's fondness for cricket. So they sat, gathering even more dust, until my sister-in-law asked me about riding to work on a truly worn out old mountain bike her husband had abandoned. Terrified of that ghastly job, I steered her toward the Norco and surveyed the damage wrought by years of neglect.
It was difficult to turn the cranks by hand and I was certain the low quality grease had turned to glue. The headset was notchy, the cables rusty, and the hubs were over-tightened. When I worked in shops, bikes like these were a huge part of our business. Mountain bikes were beginning to take off but unless you spent a lot of money, and I mean $400 and up, they were heavy enough to have steered Lance toward golf. And the parts were generally pressed steel crap.
I'm not proud of having worked in a shop that sold the unfortunately named Raleigh Portage (you weren't carrying that anchor anywhere). It was made of pipe rather than tubes and the easily dented steel wheels and crappy tires weighed 9 lbs apiece. The brakes may have been noisy, but that was the only evidence of them being applied. All this for 199 CAD. A Norco Monterey, with aluminum rims, derailleurs that worked, and upright bars swapped in for a small fee, was an easy upsell for people who were never going off road. And talking someone out of a Portage meant I didn't have to perform the impossible task of making it rideable before it left the building.
Most of my bike shop time was in the prehistoric era before even front suspension was common and the revolution in stopping was cantilevers, so I knew my way around this simple Norco very well. The original build was a done poorly; bearings weren't adjusted and the fenders were improperly installed. I knew the shop* was to blame because it was clear the Monterey hadn't travelled more than 10 miles in almost 40 years.
*no sticker identifying the shop could be seen and I understand why
I dug cone wrenches out from a cabinet I use more regularly, and got busy bringing this under-appreciated machine back to life. I almost needed a chisel to remove the old grease from the bottom bracket but once I thoroughly scoured it, reassembled it with fresh grease, and adjusted it just to the point where there was no play, it spun effortlesly. It wasn't Campagnolo-smooth but it should improve over time. Once adjusted properly, the headset and hubs spun similarly so I decided against repacking them (let's see how much my wife's sibling actually rides before going too deep). I replaced the derailleur cables, lubed the brake cables and gave the drivetrain a good degrease and lube. Etcetera. Finally I gave the geriatric Norco a bit of a spit and polish and she looked very nice indeed.
The trickiest job was the bottom bracket. Handling the lockring and pin tools at the same time with neither slipping off, is tricky on its own. Having to worry about folding back the metal supporting the shoddy steel slots on the lockring or stripping the pins on the cup is an added bonus. And that got me thinking about modern bikes and how they well they mesh with the tools we use to assemble and maintain them.
The last bike I built didn't require a headset press because the bearings just dropped into the top and bottom integrated cups. Press fit bottom brackets aren't well-loved but with a press of some sort* they are a breeze to install or remove. Even the nicest bikes from just a 10 years ago might have needed threads chased, bearing surfaces and disc tabs faced and possibly even a good reaming of the seat tube and head tube. The 2015 Giant Reign I owned wouldn't work with a set of Magura brakes I was trying to test because the tabs weren't sufficiently precise. I'm certain that would no longer be an issue; manufacturing has taken some big leaps in recent years. Precision now reigns.
*my example is a fancy press but you could use adjustable wood clamps or even a mallet in a pinch if you are careful – but don't quote me...
Many elements of modern mountain bikes are a massive pain in the ass of course. Tubeless tires are at the top of the list and keeping suspension, droppers, and brakes in fine working order can be challenging and time consuming. Not to mention the messy fluids each of those jobs can involve and the extra complication caused by internal routing. But parts are made so much more accurately, that there are many areas that now require little thought. Headsets were often a nightmare in the past, regularly coming loose mid-ride, and ovalized head tubes, which doomed your frame to the glue factory, were common. Chains rarely break (in my experience) these days and the failure rate for derailleurs and hangers has plummeted as well.
The best part for me though is ditching finicky tools and adjustments. Cup and cone bottom brackets require four or five tools for installation or removal and even the best sealed poorly. Headsets had to be pressed firmly into steel or aluminum, were tricky to adjust and required two large tools that were tricky to carry in a jersey pocket. Adjusting one now likely requires two Allen wrenches that you'll find on every multi-tool. Shimano still uses cups and cones in their hubs but those are relatively easily adjusted and cared for. Not as easy as the cartridge bearings found on most new bikes though, until the bearings need swapping out that is. Nuts and bolts used to hold bikes together but I rarely need my set of metric wrenches any longer.* There was a time when today's pocket tools would have been useless in many situations, but now even a compact one will do most everything you'll need on the trail.
*the last time was an 8mm box end for the compression nut on a set of Hayes Dominion brake levers
(One thing I lament is the lack of consensus on fastener heads. It seems to me that much of the bike, and certainly the entire cockpit and headset, could be handled with T-10 and T-25 Torx head fittings. For me Torx are easier to use, less likely to strip, and I've never had a Torx tool become noticeably worn, a regular issue for Allen head tools. Hex heads make sense for 6mm and above, but for everything else can we just use Torx please?)
It's easy to lose sight of how far bikes have come mechanically over the din of (often well justified) complaints about new standards. Modern mountain bikes, even at the low end, are marvels of elegance and strength and most everything that needs to be done can be completed by ham-fisted home mechanics like me, with inexpensive and common tools.
Niggly bits aside, a little perspective made me very glad to be working on and riding bikes in what is in many ways a golden age