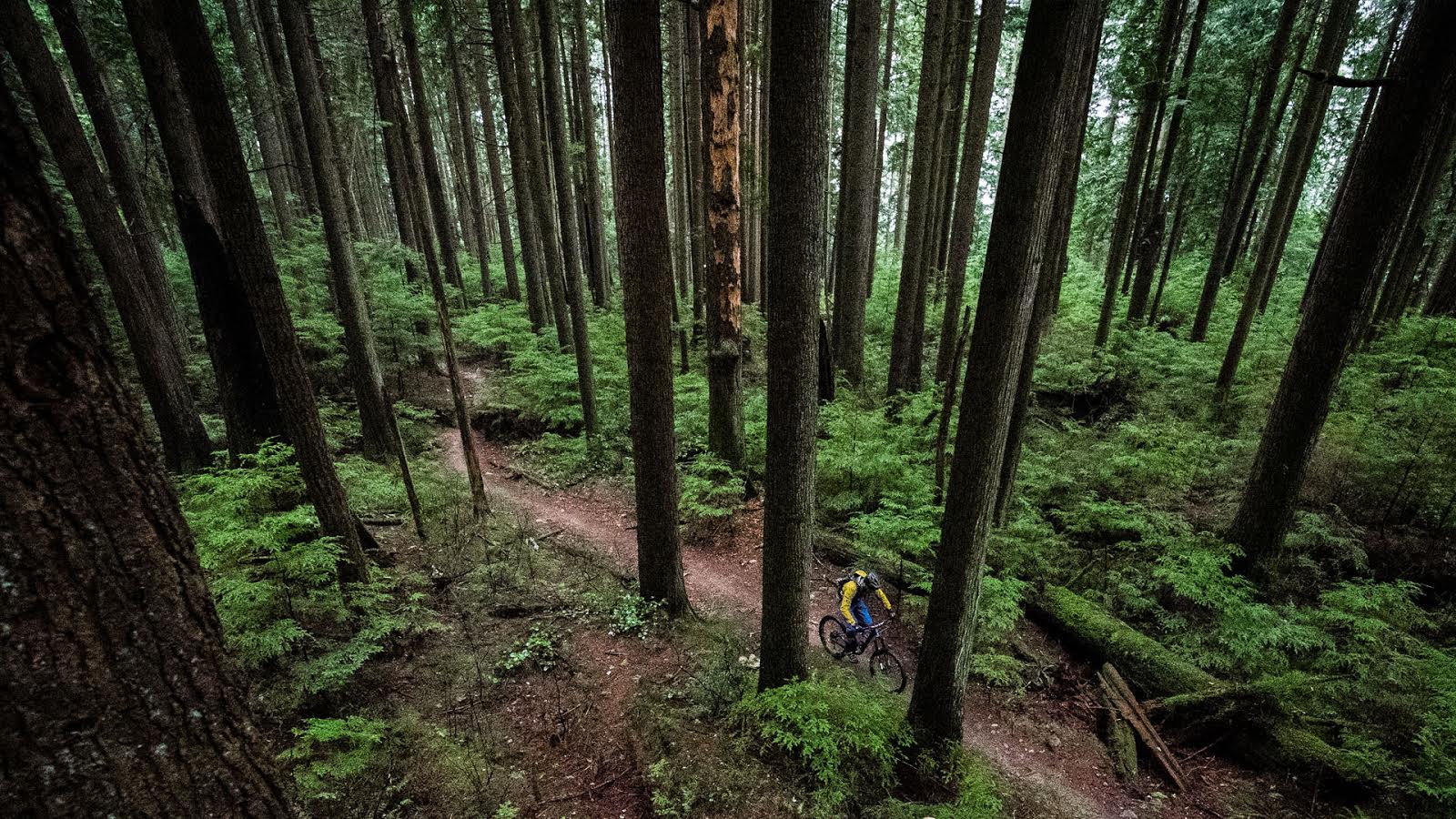 Öhlins RXF 34: Long Term Review
The temptation to just phone it in with this Öhlins update was almost overwhelming. I could just write that the "RXF 34 is an awesome, high-end, high-performance suspension fork" and then go for a bike ride. Actually, my plan was a little more involved and included dazzling you with some nice Kaz Yamamura photographs of a stick he found to prop up my bike and then bribe the few commenters who actually read articles before posting to keep their collective mouths shut with sardonically phrased compliments about their hairstyles and body odour. Oh, and then apologize profusely to anyone who actually noticed and was offended.
I mean… hey, look! A Stick!
Nice stick Kaz! Thanks for loaning me your bike Jimmy!
The RXF 34 is now well and truly broken in having served time on the front of my '14 Kona Honzo, the Intense Carbine 29'er I borrowed for the first impressions article, and my friend James' personal Carbine 29'er. I'll be putting together one more brief update come summer when we rip down the RXF 34 to see how it has fared through some months of North Vancouver liquid sunshine, but with settings dialed in and the fork working beautifully this seemed like a good time to review it at peak performance.
Seals are still looking great. My long term goal is to replace them with a set of SKF seals as a performance comparison when the fork is serviced.
The Öhlins seals are still running smooth and leak-free, there has been no notable degradation in damper performance, and the air system is still impressively devoid of stiction. One of the advantages of swapping the fork between a number of bikes is that I've had the opportunity to regularly inspect the direct interface steerer tube for wear and there is none thus far. I do lube up the bearing/steerer interface with waterproof bearing grease and would recommend you do the same.
There's that one-piece machined crown-steerer assembly with integrated crown race again. No wear at all from the bearing/crown interface thus far.
Someday I'd love to write an article on the Seeker-ization of test-writing, but for now, I'd like to just give some props to NSMB.com reader Chris from Another Bike Shop in Santa Cruz, California, who was happy to share some setup tips that had come to him through the grapevine of riders who had more hours on the RXF 34. On his recommendation, I abandoned experimenting with the base settings and significantly increased the air pressure in the secondary air chamber. This is still a relatively linear fork compared to many other options on the market; however, I am very happy with the settings I'm running for my 185lbs. On my shock pump, they are: Main chamber ~130psi, Secondary chamber ~260psi, Rebound -15 (15x clicks from closed), Low-Speed Compression -7 (LSC 7x clicks from closed), and High-Speed Compression in the mid setting (HSC +2 clicks from open). I decrease the main air chamber setting and LSC slightly for use on my Honzo, but I think it is an easily recommended starting point for a rider my size.
Mmmm… talk damper with me.
More secondary chamber air pressure… like WAY more.
Up, Down, Across: the Öhlins twin tube damper provides great support.
I find that the HSC setting, which is more of a mid-stroke adjustment as I noted in my first impression write up, now sits in the middle position (open + 2 clicks) all the time. I'm not a knob twiddler generally, but I never find the need to pop the fork into its Climb setting (max HSC) even for out of the saddle climbing efforts. The Öhlins twin-tube damper provides great support.
Traction galore and lots of travel left for the exit. The RXF 34 has gotten even smoother since it came out of the box.
I find I use full travel regularly with the RXF 34. This hasn't turned out to be a negative, and I never bottom harshly, but compared to a Pike with 2-3 tokens the Öhlins' is much more linear. It's interesting because the fork has excellent support, as evidenced by the photos Kaz took, and at the same time, full travel is available when needed.
Full travel is being used, however, support is excellent at the same time.
WHOOOooooSH! Gratuitous puddle shot!
Every time I do a fork review I am asked to offer comparisons to other products on the market.
Based on their winning heritages at the very cutting edge of motorsports, similar layout and design, and similarly super high quality, the fork I would love to compare the RXF34 to is a BOS DeVille 29'er. Sadly, that fork doesn't exist. But, if you're a fan of the BOS DeVille, like I am, and you WISH it was available in a 29'er option then the RXF 34 is a great surrogate.
An oldie but a goodie. Thanks for all your trail work Pete! Every winter I pray for awful skiing conditions solely because it means I know you'll be slinging dirt, rock, and lumber!
If you love the bottomless ramp-up of the RockShox Pike/Lyric forks or the huge range of tune-ability (air volume and damper) of the Fox 36 then you may not consider the more linear and more set-and-ride characteristics of the RXF. If you are looking for a high-performance air fork with the most coil-like ride, Öhlins owns that category.
The Black & Gold.
Should you buy an Öhlins RXF 34 fork? Stiffness is excellent, performance is on par with the best-of-the-best and the fork has proven to be very resilient thus far. The brand has legendary suspension heritage, it looks great, and the price is in the same ballpark as other top-caliber suspension products. Oh, and your riding buddy probably doesn't have one.
Check with your local dealer as to how after sales service and support will be in your area and if they're behind the product then I wouldn't hesitate to go with the newest player in the high performance fork wars.
---
You had me at coil-like feel…