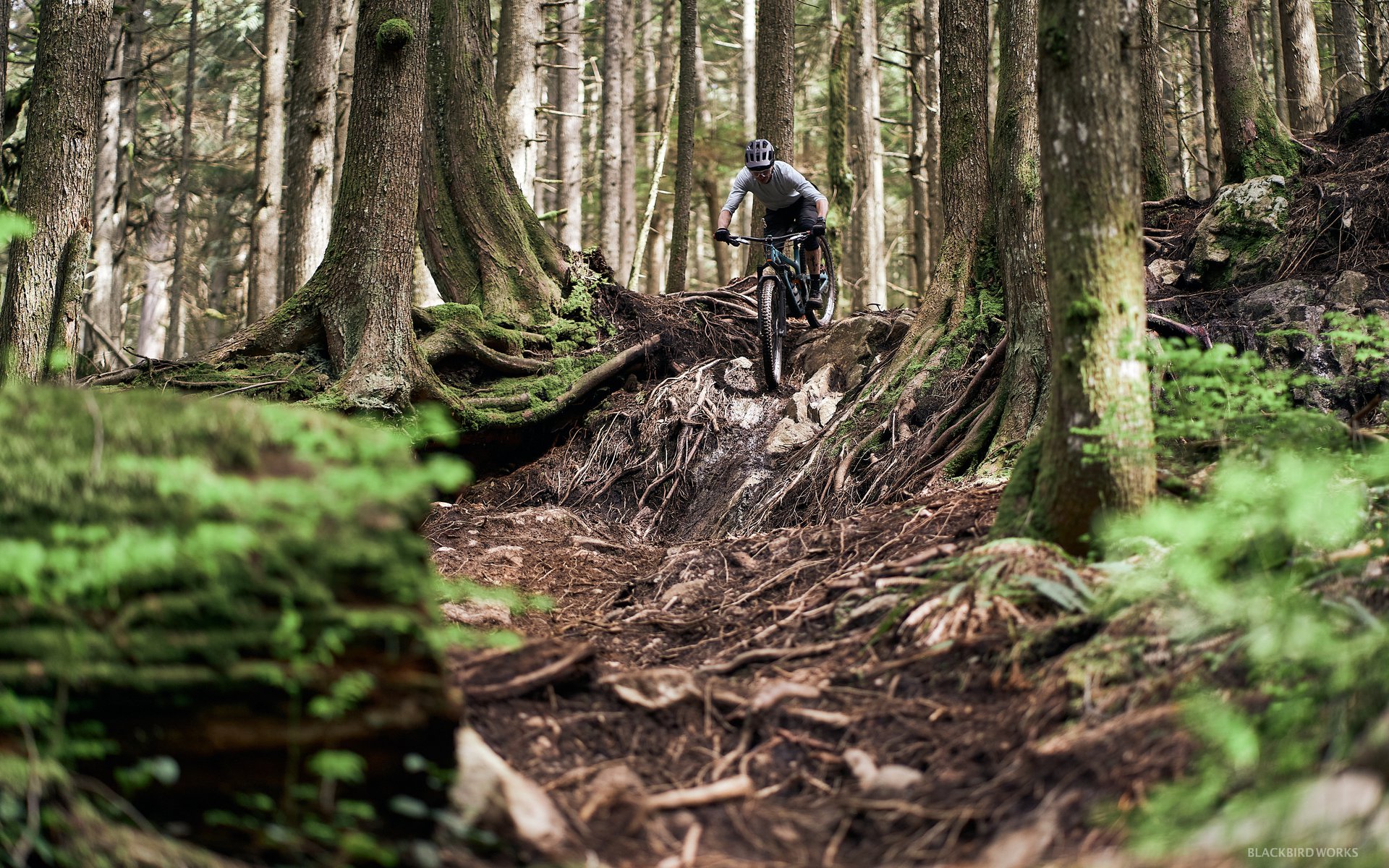 REVIEW
OEM Alternative Brake Pads : One month later
In my first article on this topic, I talked about a few after-market brake pads I'd received to test and went over my break-in and testing methodology. These companies are trying to fill the gap during the current shortage of bike parts which includes brake pads.
Mountain bikers, in North America in particular, are more likely to choose OEM pads over alternatives. In the automotive world, the idea of running OEM brake calipers and pads is laughable in high performance applications. In that arena you can choose more pistons, more pad surface options, more rotor sizes, more fancy materials, more more more... To me it seems like a company that focuses on making brake pads and nothing else, could produce a better product than Shimano, Sram, TRP or Magura could offer.
A month of riding has gone by. That's about 20 rides on the good ole test platform. Conditions changed from hot and dry to wet and muddy and back. I increased the frequency of shuttle rides to get as much downhill riding as possible. Anything in the name of science!
These are the pads I've been riding and comparing to OEM Shimano D02S Metallic XTR-XT-DEORE pads (also fit Saint and Zee).
KoolStop Sintered Metal
MTX Red Label Race Ceramic
Jagwire Extreme Pro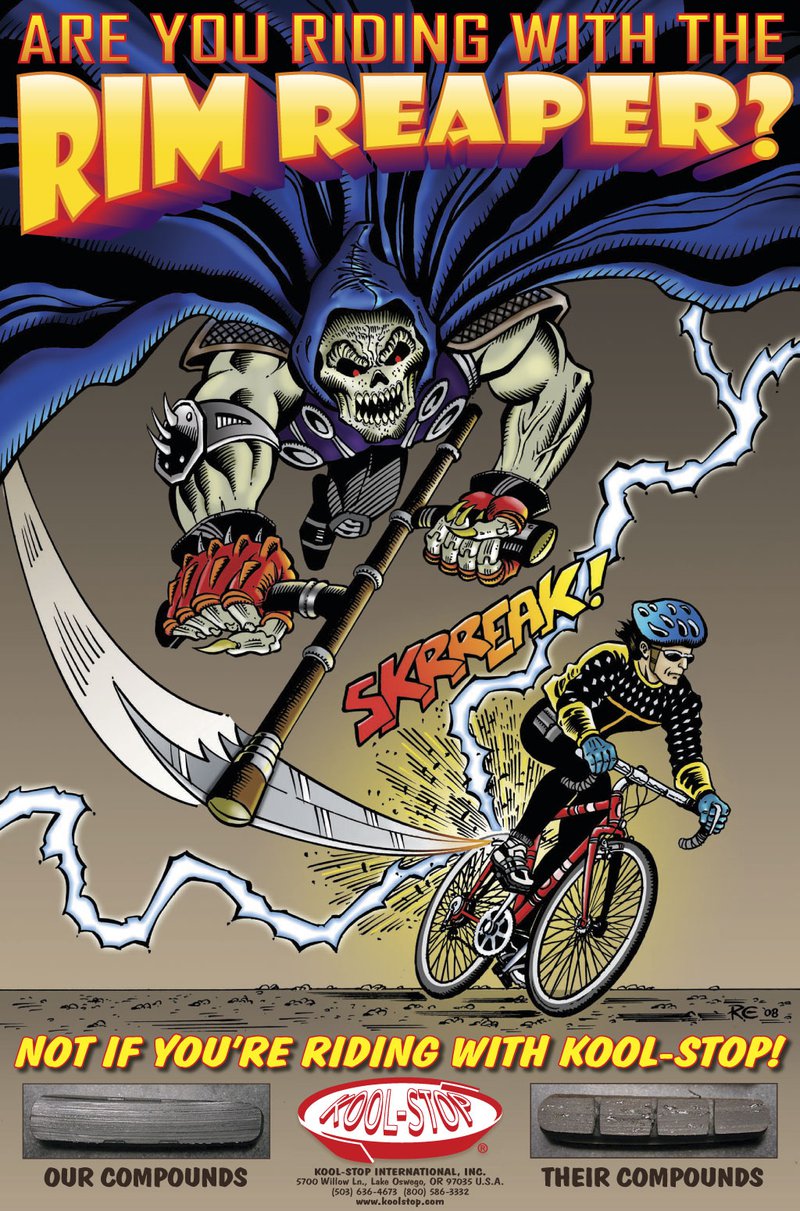 The Rim Reaper poster was a great wall art for the shops I've wrenched at.
Koolstop
The first pads to go on the front of the heavy hitting Druid were the KoolStops. I've always liked the old-school simplicity of the brand. The bedding-in process was quick and uneventful. 5 or 6 pulls down a steep road with a squirt of water did the trick. I was ready to jump in the deep-end immediately after. Steep trails where a 29er rear tire occasionally buzzes my derriere were on the menu. Koolstop pads didn't do anything that surprised me. The on/off nature of shimano brakes was preserved, and the levers still had a light feel after the initial bite. There was enough friction to stop a moving train. Under hard braking there was no more fade than with the OEM pads.
If you dragged the brakes for minutes on end, a 'woody' feel would poke out its grainy head, but late and hard braking was accomplished without any loss of lever feel or stopping power. I would not hesitate to have these pads in my regular rotation even though I didn't see any improvement over Shimano.
After about 6 rides, I took the pads off and remeasured the thickness and was happy to see no measurable wear. They measured the same as they did out of the packaging.
Koolstop has been making pads since 1977 - which is also when they designed their website. Prices will vary depending on the continent you ride on. Here in Canada they are around $36 a pair at local shops.
Jagwire Extreme Pro Sintered Pads*
With a name like 'Extreme Pro,' I expected sparks to fly out of the brakes on each squeeze. Sadly, I was not rewarded with that fireworks show. The bedding in process took more or less the same time as the KoolStops but the initial brake squeal was quite loud. So loud as a matter of fact that the neighborhood dogs got upset. Fortunately this noise issue didn't continue on the trails.
If the ride was wet, there was a longish period before the pads heated up to silence things. Once they did go mute, they mostly stayed that way. The stopping power was on par with the Shimano pads. There was plenty of power on tap and I could feel the Extreme Pro compound digging into the seemingly soft surface of the Shimano Icetech Rotors. I run 203mm front and rear FYI. Prolonged brake bdragging here also provoked a woody feel at the levers and hard heavy braking was again a better choice.
Jagwire makes excellent bulk brake pad options for some of the more common brake pads. (Shimano B01S, V-Brake, Road Calipers) It would be interesting to offer a bulk option for higher-end brake calipers as well. It would sort out your yearly brake pad usage once for all.
These Jagwires are about 32 CAD in North Vancouver and they have a much more modern web presence hatched in 2003.
*A rotor clean and resurface was done and then on went the pads.
MTX Red Label Race
I wasn't thinking much about these pads and the unassuming packaging they come in. But don't judge wine by its label. These pads take a compound approach. Unlike the more common metallic materials, MTX pads offer a mix of Kevlar, ceramic (CeraEvo®) and special japanese sauces to brew the stopping surface. Ceramic is used in high-end car brake systems quite regularly to stop 2 ton super cars. I'm sure it'll do fine stopping my 155 lb body and 35 lb bike.
The bedding in process was quite similar to the rest of the field but it took a little longer. It took a few pulls to get the system heated up enough to generate power. Ceramic seems to resist heating more than metallic pads and the transfer of the material to the rotor took more effort. Heavier riders may have an easier time with this.
When I dropped into the trail, I initially thought I didn't have enough stopping power and regretted my pad decision. There was nothing else to do but get down the trail, I focused on riding on the cautious side. And then there was an off-camber rock move to high-speed chute run-out. You have to scrub as much speed as possible to avoid a bronco ride out and a potential wreck. You can't over brake either because the rock is at 45º and is often wet. Modulation is the absolute key.
Shimano XTs aren't known for excellent modulation, but what I thought was improperly bedded pads turned out to be increased sensitivity. I rode the rock smoother than ever and have done so repeatedly since. I like to run my levers close to the bar and added modulation meant I had to push them out a click or two. These are not a cheap option in the grand scheme but nothing is when it is actually an upgrade from stock.
MTX red Label Race and the Gold Label (harder wearing compound for e-bikes and heavier riders) deliver on their promise. There was no noticeable fade on long descents. That combined with excellent lever feel will make these pads my go-to for added performance. Recent discussion with the most recent Loam Ranger about switching to 220mm rotors were interesting and many of my peers seem to embrace that path.
I'd stick to 203mm rotors and MTX pads for my journey.
I'd also like to try these pads in Code RSC brakes and the TRP EVO-DHs.
Some Additional MTX Red Label Comments (Cam McRae)
I used a set of MTX Red pads long enough to wear them down to the point where pad retraction was compromised in the rear* on my Yeti SB150, riding almost exclusively steep and challenging trails. Like Deniz I wasn't incredibly impressed at first, although the near silent operation caught my attention. I gradually noticed that I was able to access a new level of finesse in situations where grip was compromised. Off camber wet roots or loose over hard conditions that normally caused me to panic, became relatively low stress moments. It often felt like I had sensitivity super powers.
I noticed this even more acutely when I switched them out for another after market brand.** They were grabby and chattered against the rotor, despite careful cleaning and bed-in procedures. And strangely they got worse as they heated up, becoming louder and skipping over the disc surface. I exploded at the bottom of a rock face that I was terrified to enter because of the tilted rock entry. I was sure my front wheel was going to slide if I applied the brakes so I pointed my finger and went.
They were so grabby but had so little power, they made my suspension feel terrible because my forearms were constantly shredded. Riding similar trails on the MTX pads and then switching to these on consecutive days, I felt like I'd never ridden them before. Moves that were in my back pocket became terrifying. This experience, and switching back to some OEM SRAM pads, made me realize how much I appreciate performance of the MTX red label pads. They might have a little less power than stock SRAM Code pads, but the increased control and sensitivity allowed me to brake later and more effectively in challenging circumstances. As soon as I can get another set of MTX reds for my Code RSC brakes*** I will.
*apparently I'm using my rear brake too much
**more on this later – I'm going to try another pair to see if there was a one-off problem with my set
***the set I installed on the front of my hardtail with Shimano brakes broke in poorly on the first ride and didn't recover which makes me wonder if there's something wrong with my bed-in procedure since I didn't bed in the first set of MTX pads
MTX shockingly seems to have designed their website in this decade
Concluding Thoughts
There have never been as many brake pad options in the history of bikes. This kind of entrepreneurship can only benefit the end-user. No matter if you buy your pads from Uncle Lou or Ali Baba.. (I'd err on the side of caution for the latter)
If you are in search of OEM-like performance, there are many options in the market including those I haven't had a chance to try. I am sure you'll point those out in the comments. Loamgoat, bikeco, galfer, etc...
And yet there seems to be a lack of better-than-OEM performance pads options. MTX seems to fill that void. I am likely keeping this set on, and hope to keep a few more in reserve.

Deniz Merdano
5'8"
162lbs
Playful, lively riding style
Photographer and Story Teller
Lenticular Aesthetician