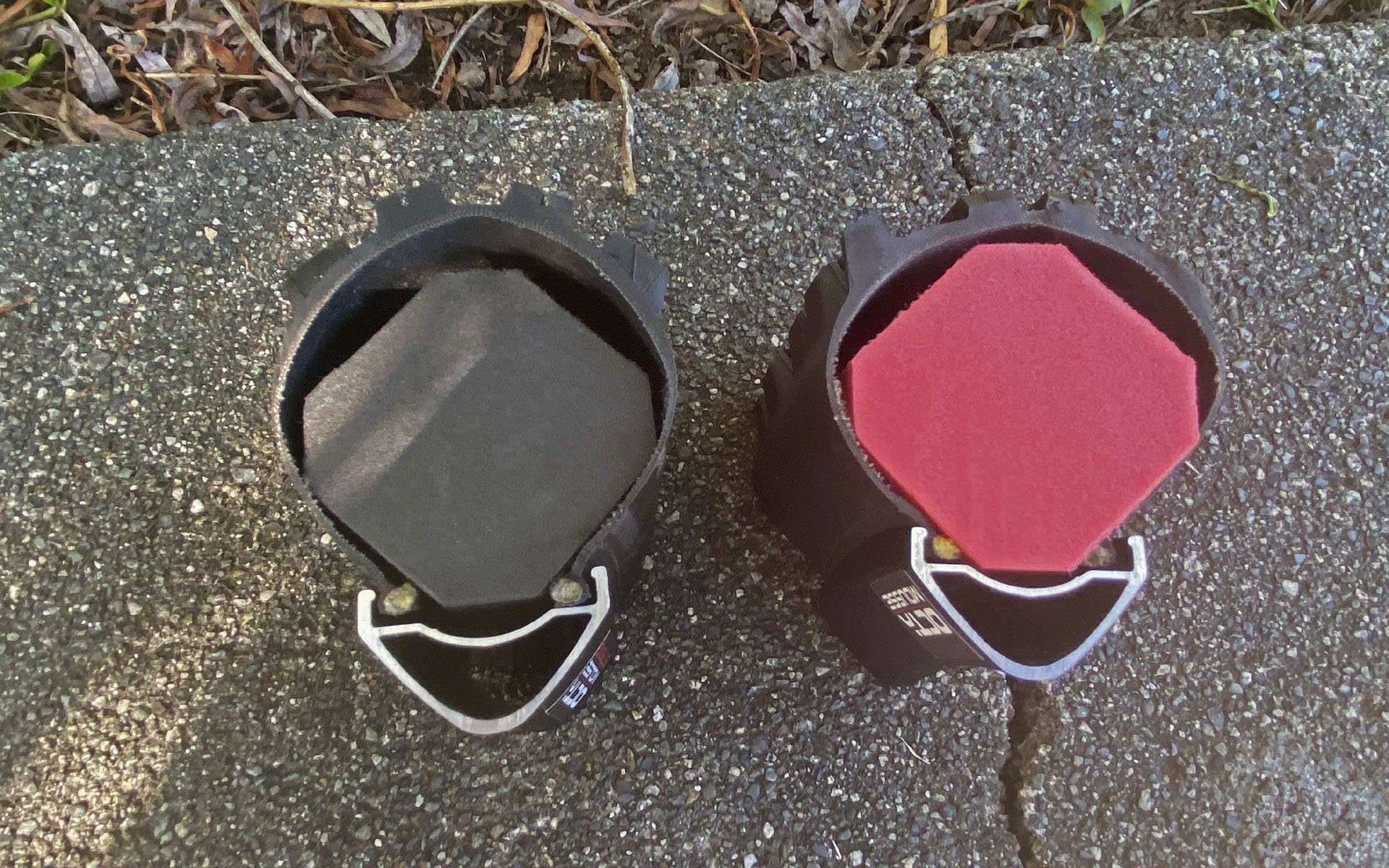 REVIEW
Octa Mousse Insert Review
Octa Mousse looked too good to be true when I saw the specs. They appeared to be lighter than most other inserts while having enough volume to take up much of the void inside the tire. I'd seen other inserts with this approach but I had only tried those that fill the rim bed and extend up to press against the sidewall of the tire leaving more than half the tire available to fill with air, and Tannus tubed which line the entire inside of the tire but have a conventional tube inside.
Octa Mousse is aptly named because it is shaped like an 8 sided pool noodle made of foam, and foam translates to mousse in French and Spanish. The 8 surfaces alternate between wide and narrow and the idea is to place them inside the tires so that the narrow surfaces face the rim bed, both sidewalls and the rolling surface of the tire, while the wider surfaces are meant to span the gaps between those locations.
Octa Mousse inserts, unlike some other similar products, are shipped in their final circular form, rather than needing to be glued together by the user. Picking up one of the smaller models, the Octa 45 for example, which is designed to fit 2.2 to 2.4" tires, is a little shocking because they weigh only 110 grams in 29" size. To give you some perspective, most conventional 29er tubes weigh 250 grams or more. There is a firmer version in the same size which weighs closer to 150 grams. There is also an Octa 50 in both kinds of foam, for 2.5 or 2.6" tires and an Octa 55 for plus tires, at 2.8 to 3.0". In most cases the harder charcoal versions are recommended for enduro or e-bike use while the lighter red versions are recommended for XC to enduro use in the Octa 45 size and for enduro, e-bike, or DH in the Octa 50 size. Confused yet?
Originally I was sent a pair of Octa 45 reds and one in charcoal. First I tried the two reds together and then I put the charcoal in the rear after a bit of time. Before I began riding Octa Mousse I had an expectation of limited sidewall support, based on inserts I'd tried with good support, like Tannus and CushCore, and Rimpact which had less. Octa Mousse is shaped a lot like two Rimpacts put together and the shape doesn't allow the foam to press firmly against the base of the sidewall like both CushCore and Tannus, which are shaped more like a champagne glass.
Installation was relatively straightforward with one exception. The procedure involves installing one side of your tire and then inserting the Octa Mousse all the way around the tire. This is where it gets tricky. You might find the insert wants to sit in the rim bed on the wider face rather than the narrower one that Octa Mousse recommends. Twisting the insert to align it this way once it's in the tire is harder than it sounds and I often found that part of the foam was properly lined up while a final portion resisted the twist to the diamond orientation. Another challenge was that I was sometimes unsure if the final push to get the second side of the tire installed had misaligned the foam. I never noticed any difference when riding but there was one time when I removed an Octa 45 and it seemed to have the wide side against the rim.
The volume of air required to pump up a tire with Octa Mousse inside is tiny, meaning the pressure will ramp up very quickly on impact. For most days. I settled on 16 psi front and 18 rear. I would go a little firmer or softer depending on the conditions and the terrain but I didn't veer dramatically from those numbers.
The first thing I noticed is that the feel of Octa Mousse is very different from the others I've tried. Unlike the grippy, almost spongy feeling the damping of Tannus or Cushcore provides at at low pressures, Octa Mousse feels quite firm. Because of the low pressure, there is additional grip but the sensation is much less damped. I would liken it to a fork that is very supple off the top but then gets more supportive more quickly than you are accustomed to at the beginning of the mid stroke. This will be a positive for riders who dislike the damped feeling of other inserts, and although I enjoy that sensation, I also appreciated the more immediate and firm trail feel of Octa Mousse. In that respect I wouldn't call it better or worse, but it is undeniably different. For very challenging winter conditions with plentiful slick rocks and roots, Tannus or CushCore are likely a better choice, but I was able to ride Octa Mousse in those situations capably as well.
I was surprised to discover very capable cornering support at low pressures with Octa Mousse. It's not as firm and confidence inspiring as Tannus or CushCore, but certainly better than Rimpact. My guess is that the large volume, while not directly supporting the sidewall under pressure during a hard corner, the entire carcass is supported which prevents the tire from deforming under pressure. As I'll explain below, I discovered that, like Tannus, a certain amount of tire pressure is required to keep those side knobs biting, while CushCore does okay without any pressure at all.
I had an AHA! moment during the final stages of testing a set of ENVE M630 rims recently, but it was similarly illuminating for Octamousse. I messed up my speed and pop going into a step down on Cypress and cased hard and loudly. So much so that I assumed I had destroyed the rim. There was another gap coming up fast and I had about two seconds to decide whether to send it. Because I couldn't hear spokes pinging out and my rear wheel seemed to be turning fine, I went for it. I made the same decision on the next one and although there is no definite gap, I didn't send it far enough and landed on the uphill and hard. The last of the four pack was an easy one and it went fine. My buddy had stopped before the next move, a step-down off a rock, and I assessed the damage.
Despite the horrendous impact, my rim was not only intact, it remained round and dead true. The tire was going flat but wasn't completely there yet, which was the very least I expected. This was a moment I was waiting for with Octa Mousse because over several months it was my first and only flat. I let Mike lead and he pinned it pretty hard. I wasn't close enough to hound dog, but I kept him in sight for the rest of the trail, despite my rear flat. I had to be careful to weight my bars even more than usual in corners, because the rear tire would fold under excess pressure, but in a straight line I could stay on full gas. This confirmed my hope that these would work well as a ride flat solution. They don't have the cornering bite.of CushCore without air, but they are better in a straight line and much better than Tannus. The most important consideration is that they are good enough to allow me to leave my tube and tire levers at home. This is really what you want from an insert so you don't have to wear it home as a bandolier or carry a tube with a valve long enough to be pushed through the insert, which seems like a challenging proposition for Octa Mousse. I'm certain a front flat would be worse because of the cornering challenges.
I had a very light Specialized Eliminator tire on the rear, which made the puncture even easier to explain, and once I peeled it off and inspected both the rim and the insert, there was no damage visible at all. Unlike CushCore and Tannus, a hard hit to an Octa Mousse-equipped wheel sometimes makes a noise that sounds like a rim strike on a conventional tubeless set up, and my very hard hit made a very loud noise. It's surprising that all that volume can be pushed through hard enough to make that sickening clacking sound without incurring any damage; it's almost like there is some voodoo going on.
I also spent some time on Octa Mousse 50s, which arrived after I'd been testing the 45s for a few weeks. Once again I received a red (light) and a charcoal (burlier) and I mounted them up to give them a try. I used them on similarly-sized tires as the 45s, so these were more appropriate, but in the end I wasn't sure I liked the larger size more. It certainly would be a better option for rim strikes or to ride flat, but the smaller air pocket didn't seem to have the same grip.
As good as Octa Mousse is, I can imagine it being even better. If the bottom of the insert, the portion that sits within the rim and then rises up along the sidewall, was shaped more like CushCore or Tannus, and provided better sidewall support, it would be a world beater. The material itself, apart from being nice and light, also seems very tough. Unlike CushCore, there was no evidence of damage from hard hits, not even my violent rear wheel case. The material appears to have been extruded as a circular shape, or possibly a square, and then cut into the octagon. This process may not transfer well to a more complicated shape with curves and straight lines combined, but it's likely only a matter of time before someone cracks that code with a similar material.
The insert realm seems to be moving so fast it seems likely that even more impressive solutions are on the horizon. Every insert I have tried is made out of a material that differs greatly from all the others. This leads me to believe there are material options and manufacturing processes that haven't yet been tried in this application, and that will push down weight, improve function and durability, and hopefully make carrying a tube entirely optional.
You may want me to pick a favourite, but I don't think my favourite has been invented yet. I appreciate the weight, ride flat performance, and more robust trail feel of Octa Mousse as well as the rim protection and flat prevention, but the sidewall support of both Tannus and CushCore is superior, and their low pressure performance is more suited to nasty and wet winter conditions. The balanced attributes of Octa Mousse make them a very impressive entry to the market, and a product I plan to keep using on test bikes and my personal rigs.
Octa Mousse ships from Spain and each insert costs either €42 or €44. Octa Mousse also makes compatible valves.