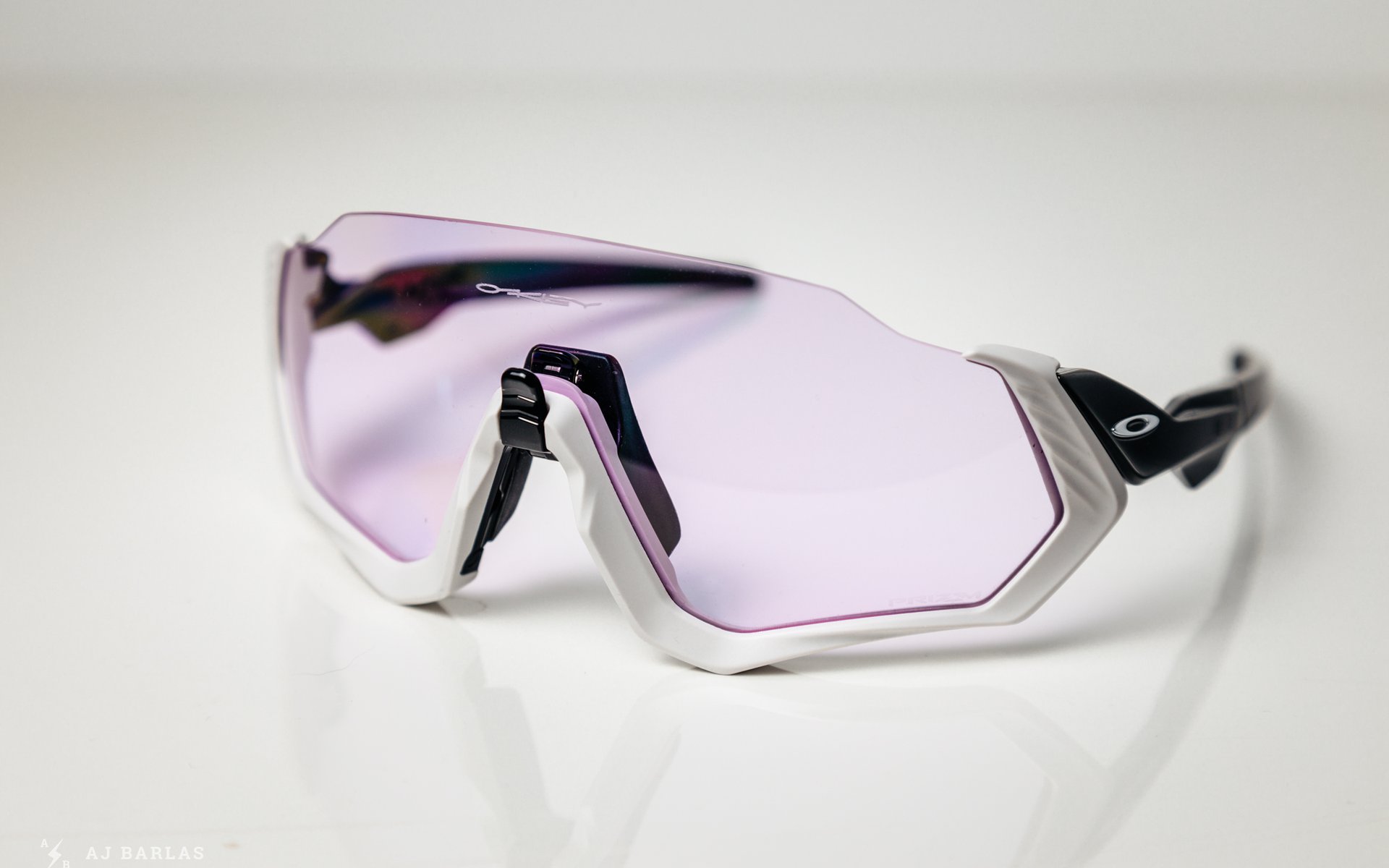 Review
Oakley Flight Jacket Prizm Glasses
Oakley is renowned for producing high quality eyewear and their products carry a price tag to match. If you're reading this and thinking either a) I don't wear glasses riding, or b) Oakley are overpriced; then this review isn't for you. But there are heaps of riders that swear by Oakley's products and believe that you get what you pay for. While I can't bring myself to throw down large sums of money on a jacket, I'm all for protecting my eyes. And visual clarity when covering them is important to me, something I had no idea about until trying something different.
In 2018, Oakley released the Flight Jacket, a new design that adds to their impressive collection of options for cyclists. Flight Jacket glasses feature a reasonably tall lens, providing ample coverage, and what Oakley refer to as the Advancer nosebridge—a simple lever at the top of the nose. Flipping the lever down elevates the glasses, providing additional airflow in steamy situations.
Within the Flight Jacket range are options to select from a Prizm, Prizm Polarized or Photochromatic lens. Prices range from 203 USD for the low-light Prizm lens tested, to 253 USD for the Prizm Polarized option. A pair with the photochromatic lens is 243 USD and there are a number of options between.
Highlights
Brow-less design allows for an improved upper field of view
Advancer™ nosebridge positions the frame to block light while opening airflow
Interchangeable temple lengths for improved helmet compatibility
O-Matter™ frame material
No-slip nosepads and earsocks:
Frame suitable for medium to large faces
Optimal precision and impact resistance that meet or exceed ANSI Z80.3 optical and impact standards
MSRP: 203–253 USD / 248–308 CAD
What's Prizm?
Prizm lenses are created by baking a mixture of dyes with the powder mix that makes a lens. Oakley says that including this during the creation of the lens, rather than adding layers to the finished lens as some companies do, results in a sharper, clearer view. Depending on a lens' intended use, the ratio of dyes added to the Plutonite mixture will vary.
Prizm technology takes advantage of our natural ability to see colours. The lenses attempt to tune the colours we see, adjusting where needed and tuning out a colour that can create a "murky" appearance, which can create problems with definition. This happens between the three primary colours (red, green, and blue). Enhancing the details and minimizing the muck allows us to better see what's happening on the trail ahead of us.

I've previously spent time in the Prizm Trail lens and found it too dark for the woods around B.C. The colour shift was also quite drastic and actually made definition under the canopy weaker. Close friends that I've had try them shared similar experiences with the trail lens.
After the release of the Prizm lens series, Oakley-supported World Cup Downhillers began showing up with a light pink lens. Knowing there was a low-light version of the lens coming—I'd questioned Oakley on it early during the Prizm launch—I assumed this was it. It was, but it still seems a way out for all of their goggles and eyewear. However, the new Flight Jacket offers the low-light Prizm lens. It's also the cheapest option in the new range.
Riding with Rose Tinted Glasses…
Unlike other glasses in the Oakley range, the Flight Jacket is not available with a standard lens. This makes the low-light Prizm the closest thing in price and performance, with a very subtle colour shift noticed through the lens. They're almost clear and work very well in the depths of the Coastal BC rainforest. As with anything not totally clear, there is a mild loss of light when wearing the glasses. Initially, this concerned me. But after months slogging through the forest during winter's dark months, I needn't have worried.
While the light transmitted through the lens is a fraction less than a proper clear lens, the low-light Prizm tune provides great clarity. Reds are bumped up a touch while greens and blues, to my naked eye, see little change and are perhaps slightly desaturated. For me, the simplest way to describe the change is to relate it to adjusting the tint in a photo. Slide it toward the green and things can become muddled, slide it toward magenta and it can clear up visually. Too much either way isn't going to look good but the light pink Prizm lens has a great balance and errs on the magenta side.
Under the canopy in bright sunlight, the lens balances out hotspots while retaining shadow details. I don't find a darker lens necessary to ride mountain bikes with, even currently in Australia, and have found the low-light Prizm lens to perform great in a wide variety of light conditions. If in an area with little tree cover, a darker lens might be preferred. But if there's any tree cover and especially in darker environments like the dense woods of the PNW, the low-light Prizm is ideal.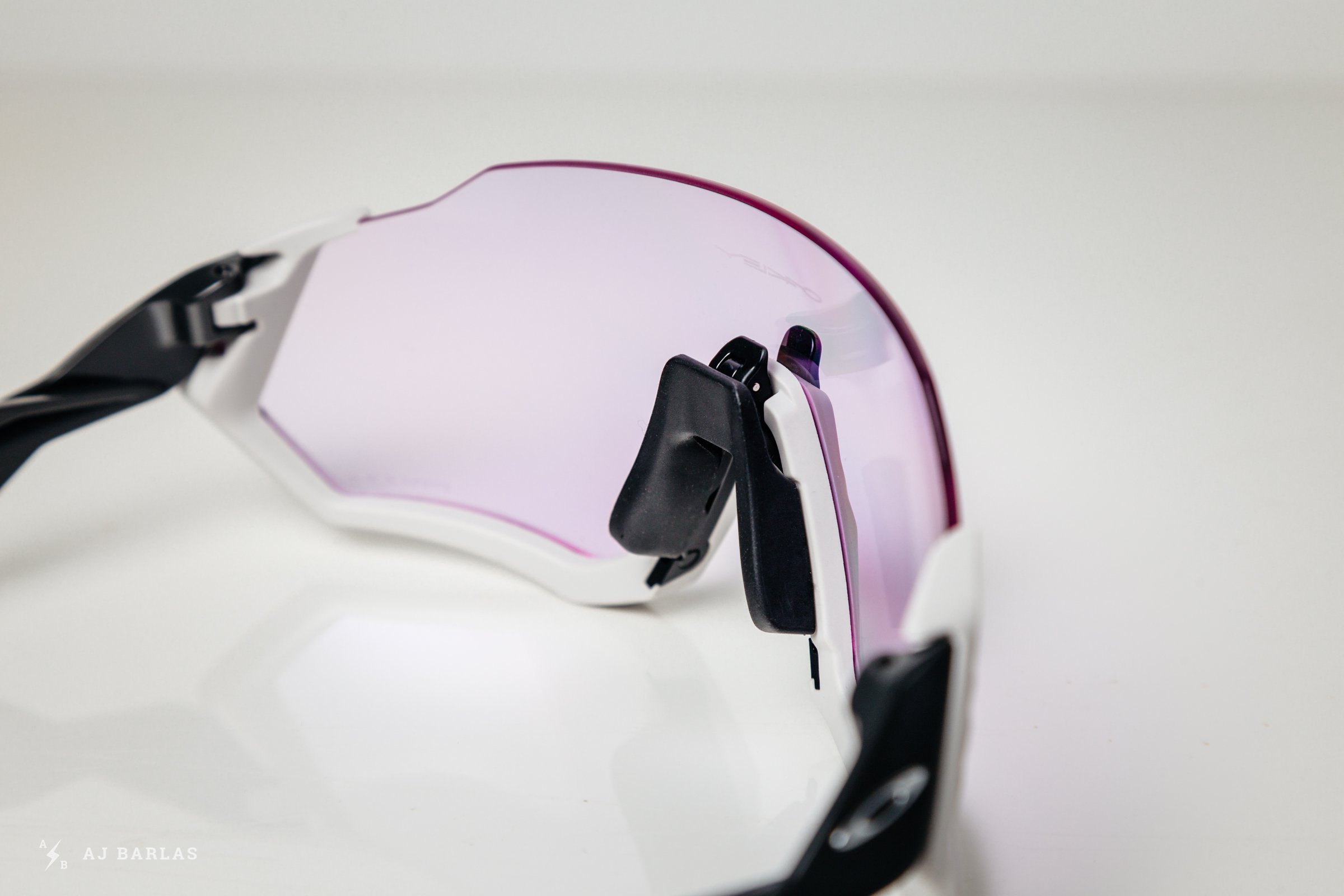 Compared to a couple of clear lens setups, I found the low-light Prizm to be on par. While light transmission is cut down slightly, the pop in clarity makes up for it. As such, during late rides, I began to reach for these rather than my usual clear lens. The optics are really nice and easy on the eyes.
Lens and frame shape preference will vary but Oakley claim these are best for medium to large faces. I've struggled most of my adult life for the perfect fit, made more difficult thanks to multiple broken noses, but I'm plenty happy with these. Two sets of arm temple pieces are also provided with the Flight Jacket, each offering a different fit with helmets. The connection to split off this part of the arm is very firm. They're actually on the tough side to break apart when you want but it's better than something flimsy. No one enjoys losing small parts like these and there's no risk of them coming apart during use.
The Advancer nosebridge is new with the Field Jacket—a full framed lens option—and the Flight Jacket. This is a flip switch that lifts the glasses away from the face, allowing greater airflow. It's Oakley's solution to lens fogging and while the concept is sound, I didn't find it necessary. That's not to say these don't fog up, because stopping in the most horribly humid and damp conditions experienced during the winter proved otherwise. Removing them at these points and putting them back on when about to get moving again was my solution and they quickly clear once moving. I never had a problem with fog in these while moving, no matter how hard I was working and regardless of how overdressed I was.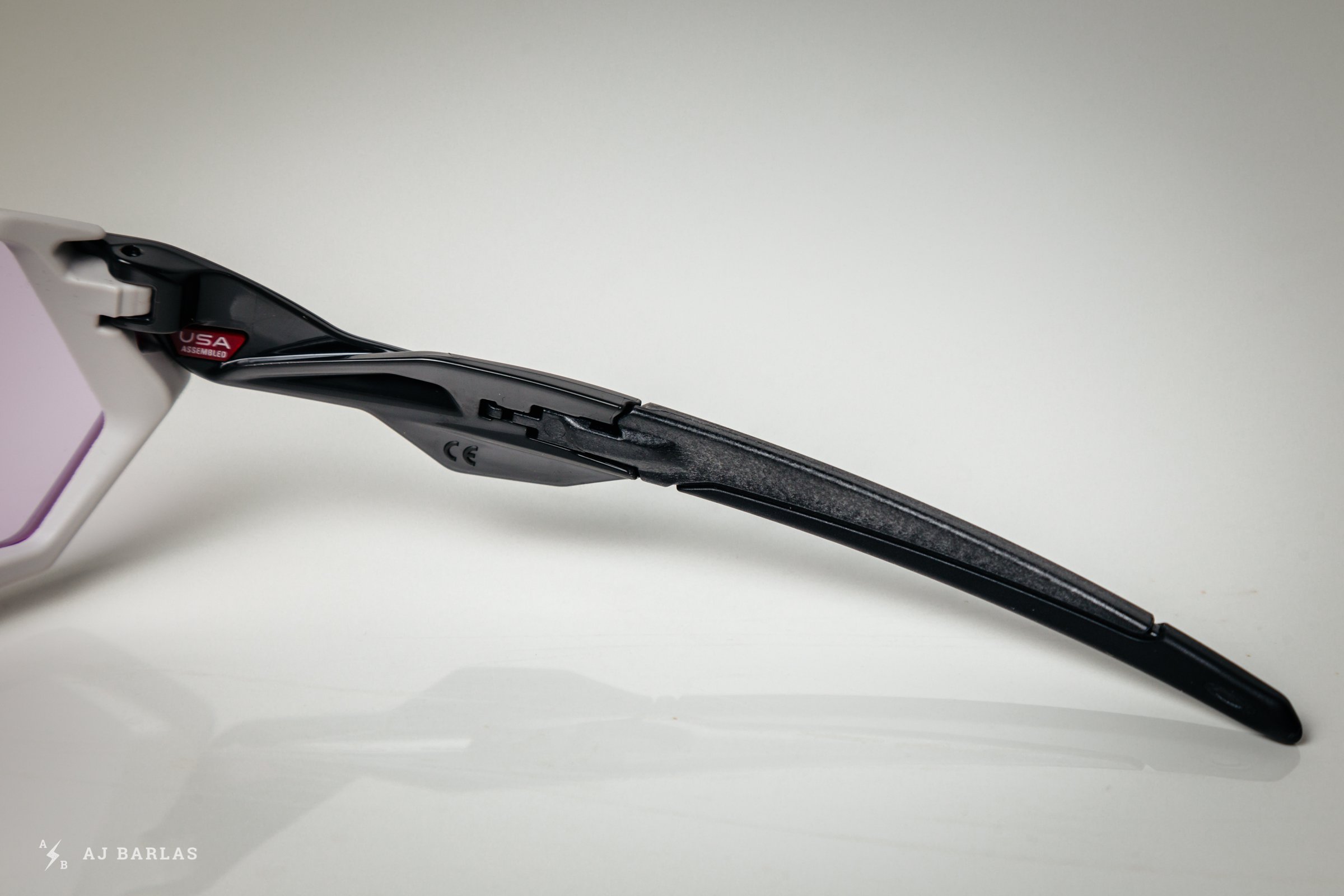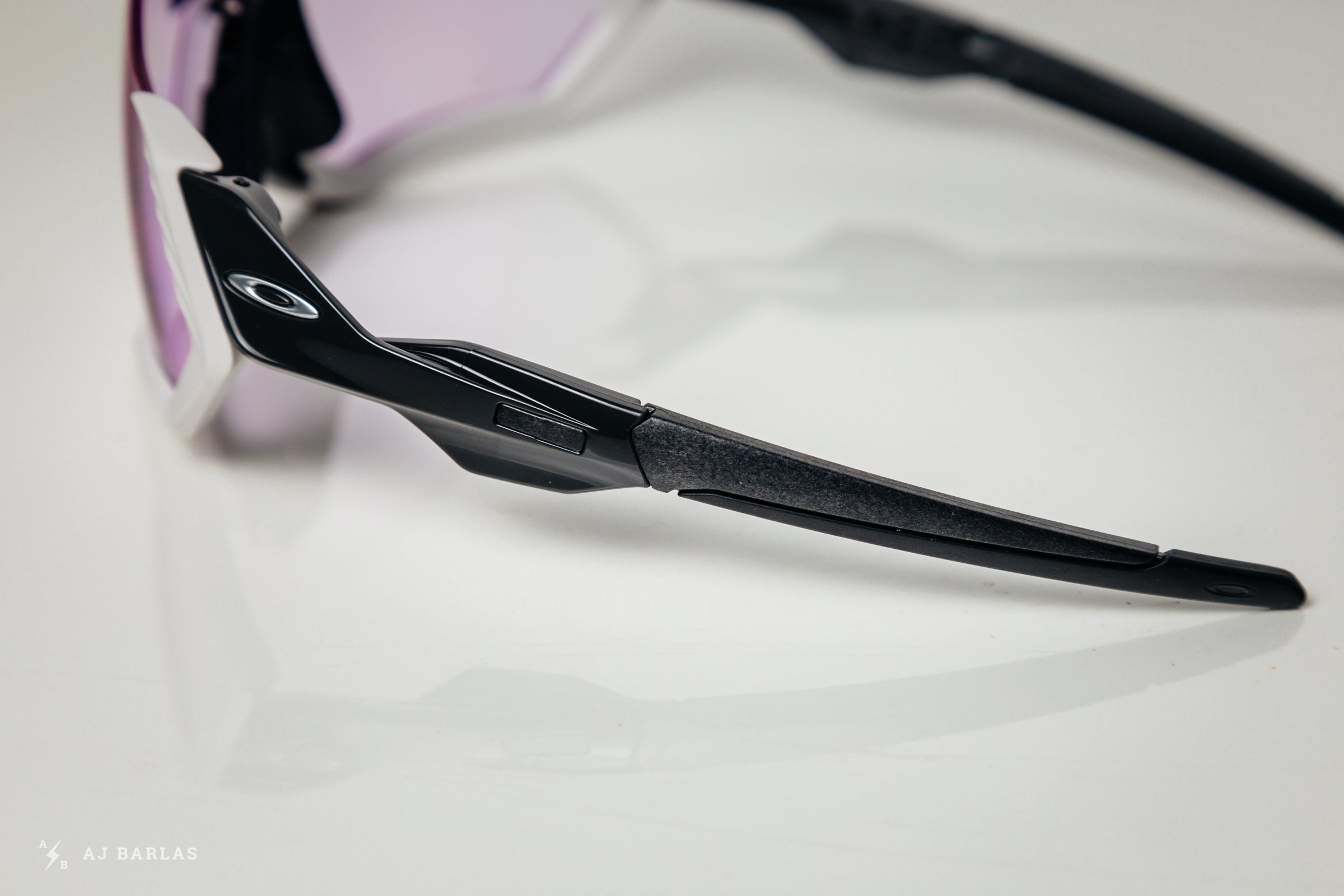 Flipping the Advancer in these situations proved helpful to some degree, but it also meant dirty, muddy hands hitting the lens. Removing the glasses to flip the switch avoided this problem but now they're off anyway. I can see this being a great option for road cyclists but for most mountain bikers, it doesn't appear very useful. Riders with a face where the lower portion sits closer or even against the skin may find more use for it.
Field of view is good in the Flight Jacket, though the lower frame takes some time to adjust to, especially if coming from a frameless design. I've spent some time in Ryders' Roam glasses and opted to remove the lower frame on those. That's not possible here and while it's at the bottom and we tend to look ahead and slightly up when riding, it's still distracting with my fit. That said, I'm aware that glasses sit further from my face than others and it will likely be less in view for some.
A minor nit-pick is the weight. I'm no weight-weenie and it's honestly not noticeable once on and riding. But coming from frameless glasses, and switching back and forth during testing, I was surprised to notice the Flight Jacket's weight. After months in the Flight Jacket, jumping back to my EVZero glasses left me shocked when putting them on. They're also more flexible than the Flight Jacket and for me, that made them more comfortable.
Verdict
The new Flight Jacket glasses from Oakley offer plenty of tech. Some of it won't be as useful to everyone but the low-light Prizm lens option here is excellent. Not only do these protect your eyes but this lens removes lots of strain when it's darker. While labelled as a low-light lens, it performs well in the bright, spotty light we also often experience on mountain bikes. They remain securely in place, even during headbang hucks with a heavy sweat and the frame is capable of taking a solid hit without issue.
Over the years I've learned that you do indeed get what you pay for when it comes to riding glasses. A pair from another brand which retail for a similar amount, and Oakleys, including these, have provided the best performance. They've also proven the most durable. If you're keen to protect your eyes when riding, the Flight Jacket is an excellent option.
More information on the Oakley Flight Jacket is available on their website.