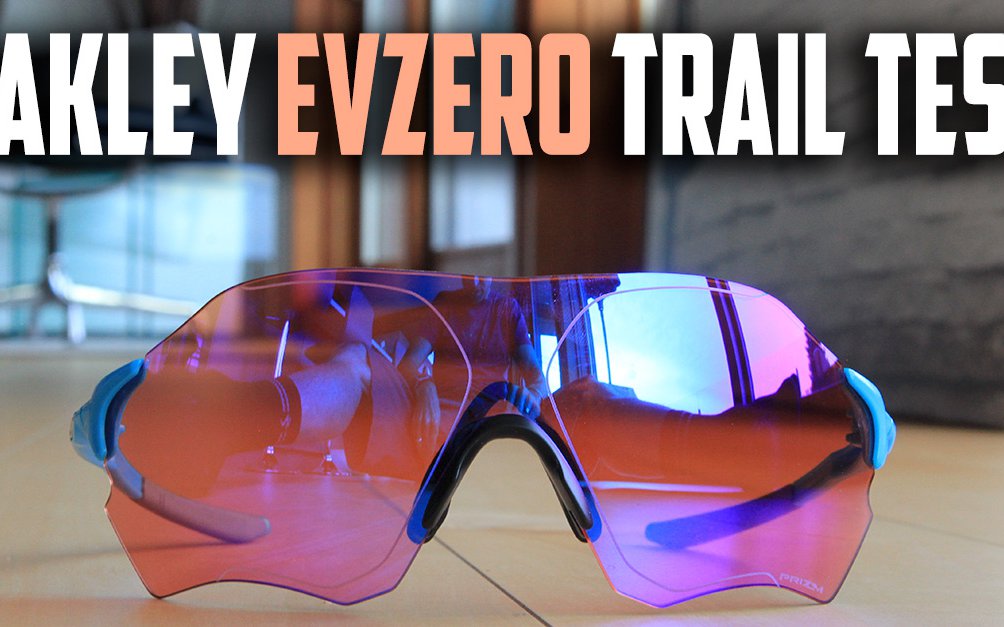 REVIEW
Oakley EV Zero Eyewear
I shunned covering my eyes for rides for a long time. My first forway was wearing goggles on the DH bike. Initially I didn't like it. It seemed to take something away from the experience; wind in your face, mud under your eyelids, a stick scratching your cornea etc. Now I often wear goggles when it's cold out and I wear some sort of eye protection for every ride. It can be a hassle  dealing with fogging and keeping them clean and scratch free, but it's safer and faster. Gradually I have come to trust having my eyes covered and it allows me to direct more focus to the trail.
There is no completely clear version of the EVZero but the photochromic version lightens up well in low light zones.
Recently, I've started noticing what my eyes are doing as I ride in aggressive situations and it's quite intense. I strain to widen my lids for more light entry and peripheral vision and my focus alternates between scanning the trail generally and attending to specific objects to avoid or treat carefully (that slippery root or jagged rock, your fallen buddy's cranium). Blinking happens quickly and at moments of relative calm but not at all when things get hairy.
Prizm technology is Oakley's effort to add more contrast to your life so you can distinguish between a nice hard corner and a sandy wheel grabber.
Without eyewear, our eyes learn to protect themselves and close reflexively. And, if you are a sensitive lad like me, you may have to deal with your eyes tearing up. This makes keeping up with your loud-mouthed goggle-wearing riding pal almost impossible. At least you can say, "you dropped me when I started tearing up." That's always a winner.
Oakleys distinctive wavy lower lens shape may not look clean and tidy but it provides excellent coverage.
Goggles are sort of a blunt instrument in that they generally stay in place and do the job asked of them, if we remove fogging from the equation that is. With only three points of contact, keeping performance eyewear in the right place is a trickier proposition. Getting the right amount of coverage is also important. Too much wrap and fogging becomes an issue. Too little and you don't get the protection you need.
I didn't even want to resemble Lance Armstrong before his fall from grace (I know, I know… he's better looking). But it's a price I'm willing to pay. Photo – Cristina Piccone
With this background, I was a captive audience when I was introduced to Oakley's new EVZero model. Rimless optics make you look like an extra from a 90s sci-fi flick, or worse, like a triathlete, but they work very well. Airflow seems better than rimmed models, keeping the fog down, and of course, peripheral vision is excellent. Beyond that the EVZeros are incredibly light at only 24 grams. This is the sort of gram counting that actually means something because less mass means less bounce when things get rough.
Legit. Oddly the photochromic version measured 25 grams.
Coverage-wise these are excellent riding glasses. The characteristic M shape keeps airflow and debris out of your eye balls. The fit is also close to the forehead, which again protects and keeps air out. The cost of this solid coverage is that fogging can be an issue. I generally remove any eyewear when there is a pause in the ride, and I like to stop and smell the loam quite often, and this is enough to keep the fog at bay with EVZeros. I wore them the other day on a rainy cold June adventure and I was surprised that in this worst case scenario I had minimal issues with condensation.
I first rode with the Prizm lens (right) and the lens was so distinct that I had trouble recognizing the trail I was on in the dark forest. The Photochromic model, on the other hand, was perfect in low light.
The two models I've been using are the photochromic and Prizm Trail. The latter is the big push for Oakley right now because they are said to aid contrast between the colours you normally see on the trail, helping you notice the important details, like moisture, soil type and hazards. Unfortunately, I've been riding in thick forests and even minimal blockage of light transition can be a deal-breaker in our Mirkwood-like woods. I gave them a shot though and the lens contrast was so distinct that I had a hard time recognizing where I was on a trail I have ridden hundreds of times. I'm looking forward to trying these in appropriate conditions, but the photochromic lenses were perfect in low light situations.
Unlikely Smith's excellent Pivloc models (which are only slightly heavier at 29g), these lenses are not interchangeable. If you scratch them or break them it doesn't appear that you can swap out parts.
It makes sense to put substance over style for riding eye covers, and I have to say that I don't really like the aesthetics of the odd, wavy EVZero lens shape. Protection was excellent though and I was unable to detect any distortion and I keep reaching for them when I head out the door. The paltry 24-gram weight keeps them from banging around and clarity is excellent. Oakley optics aren't cheap of course but the price includes a nice hard case, a spare Unobtainium nose-piece and a soft lens case/cleaner.
CDN#215/US$170/ £140 / AU$220 for the Prizm lens
CDN$235/US$190 / £170 / AU$270 for the photochromic lens
---
Do you cover your eye holes?