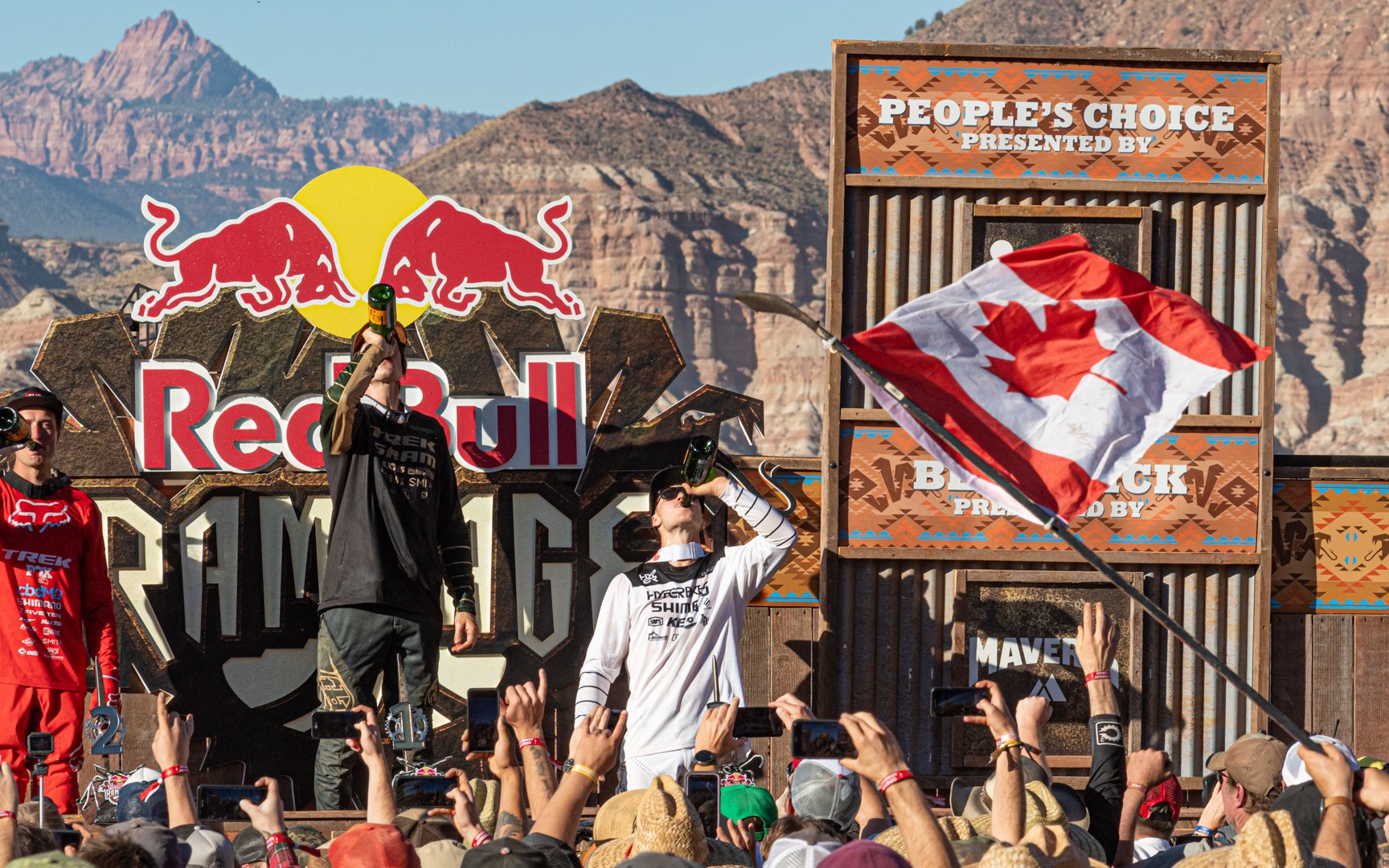 A brief history of Canadian dominance at Rampage
Not Sorry
Beginning with the first Rampage held in 2001, Canadian riders have dominated the podium steps at Rampage. This is not a subjective statement; Wade Simmons, Tyler Klassen, Kurt Sorge, Brandon Semenuk, and Brett Rheeder have combined to win 10 of the 15 total Rampage events held over the event's 20 year history.
Relative to its population, and compared to results in other mountain biking disciplines, this is a remarkable achievement.*
*It's hard to imagine another sporting event where Canada has fared so well. The World Championships of curling perhaps? The Canadian men have won 36 out events while the women have won 17 out of 41. Interestingly Canada has never won a mixed doubles curling title.
Digging deeper, all but one Rampage podium features at least one Canadian rider on the steps. The list is long and spans generations: Shandro, Bearclaw, Bourdon, Romaniuk, Vanderham, Agassiz, van Steenbergen, a veritable who's who of Canadian freeriding. In fact, the only year the Rampage podium found itself bereft a maple leaf flag, 2013, happens to coincide with Stevie Smith's World Cup DH Overall title. Coincidence?
In the 20-year history of Rampage there have been two Canadian sweeps of the podium, both led by Brandon Semenuk. The first, in 2008 featured Brandon Semenuk on the top step, Kurt Sorge 2nd, and Thomas Vanderham in 3rd. The most recent, at the 2019 event, featured Semenuk again on the top step with Brett Rheeder and Tom Van Steenbergen in 2nd and 3rd.
What is it about riders from the great white north that has led to so much success in the red, hot desert? Is Kamloops dust really a secret analogue to the Utah red rock? Does the Whistler Bike Park actually breed a mutant ability to fly? Why do Canadian riders consistently ride so well at Rampage?
"I feel like a lil Krazy Kanuck flows through all of us, whether it is jumping off a roof, building a big jump or riding down a huge hill we have it flowing in our veins" explains Kurt Sorge.
Back on the podium in 2nd place at this year's event, Kurt Sorge is one of the most decorated Rampage riders of all time with 3 victories and two 2nd place finishes.
"We have some of the best, technical and demanding trails in the world, not to mention some of the most unique landscapes" says Sorge "When you challenge yourself on these tough trails and big mountain lines on a regular basis it puts you in a good position to ride well at Rampage."
This a common theme that helps explain the foundation Canadian riders are able to develop on terrain that at first glance appears nothing like the Utah desert.
"I try to ride everything from trails, jumps and natural terrain to get me ready for whatever the Utah Desert has to offer. In the off season I spend a fair bit of time in the gym. I also love to spend as much time snowboarding and snowmobiling as possible which helps with cross training," Sorge added.
Geoff Gulevich, a 3-time Rampage competitor from the North Shore of Vancouver feels that Canadians have been on top for so long thanks to the environment that riders have progressed from. "Most countries around the world focus on developing racers, but Canada and specifically BC is the birthplace of freeriding. The mindset that has developed from that and influenced a generation of Rampage riders is completely different and has given Canadian riders an edge".
Brett Tippie echoes that sentiment, adding, "most of the top mountain bikers in Canada have pursued freeride instead of racing. There are so many diverse trails and types of terrain, riders are out exploring a varied mix of trails instead of ripping the same track over and over." Tippie also points to the widespread development of bike parks that has allowed riders to progress on features, get comfortable with airtime and speed, and then take those skills to big mountain settings.
This perspective raises an interesting comparison of Rampage and World Cup DH success, and Gully's take led me back into the results archive. To take nothing away from the racing side of things, Canadian's have indeed had more success at the top of the freeride world than the DH racing circuit.
Against the clock, Stevie Smith is perhaps the most notable with his iconic 2013 World Cup Overall title and podiums at World Champs in 2010 and 2011. Miranda Miller won the 2017 DH World Champs, Finn Illes and Jackson Goldstone have combined to capture multiple WC Junior Overall Titles, and Cindy Devine won DH World Champs back in 1990 in a different era. All due respect to these incredible accomplishments, but it is clear that freeride events are where Canadian talent has shone the brightest.
"The terrain and freedom to ride and explore in Canada is so beneficial to continually progress yourself in the mountains and your sport" adds Sorge. "We are most definitely lucky to have grown up in such a spectacular country for riding bikes and exploring the outdoors"