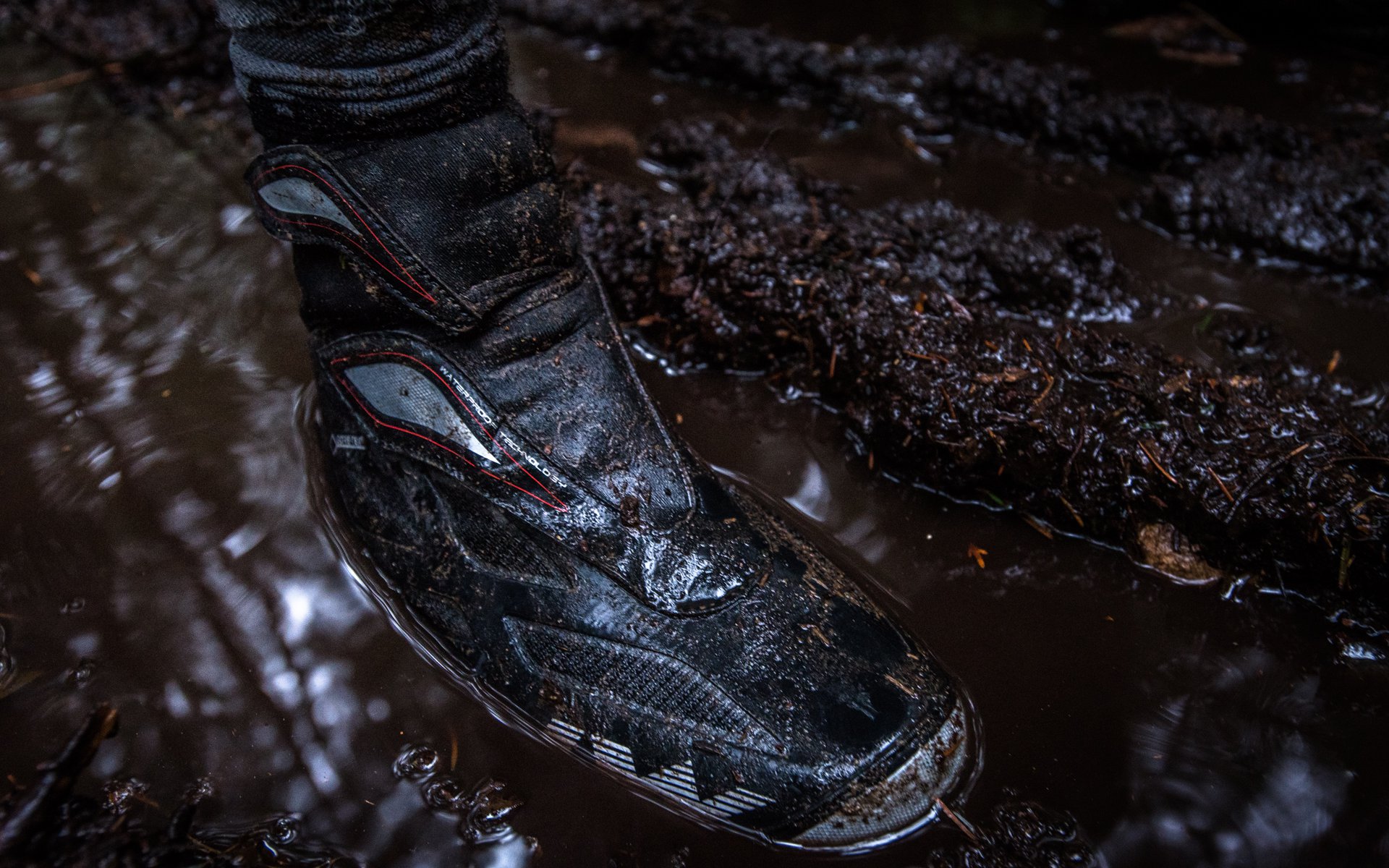 Italian Mudders
Northwave X-Arctic GTX winter shoes: Reviewed
Winter shoes are not getting their share of credit. The more I wear them, the more I realize that calling them 'winter shoes' is selling them short. Since waterproofness is more important than warmth around here, and the wet season is about 8 months long, maybe this type should be your primary shoes - the ones you wear the most. Only in our warmest weather would the insulated Northwave X-Arctic GTW shoes be too warm for my feet, and it's not usually warm and wet here at the same time. If this sounds like a false epiphany, it probably is - there are some riders in these parts that already know that their waterproof shoes are worth every penny.
Northwave have been making quality riding shoes for a long time, so it was no surprise that the X-Arctics look well-made and feel very sturdy in the hand. A synthetic leather upper with mesh cutouts looks sharp, and it's only the neoprene cuff that gives away their winter shoe pedigree. The uppers and insole are lined for warmth, and a gore-tex membrane keeps water out, while helping usher away sweat vapour. A speed lacing system snugs up the forefoot, making it as well-cradled as the heel, which is held in rather well, but which also contributes to a bit of extra effort required to pull them over your foot.
That neoprene cuff interfaces smoothly with a double hook-and-loop strap system which covers the laces and pulls everything together into a tidy package. Reflective accents abound - these will be seen at night on the streets.
The X-Arctic GTX has a sole shod with Michelin rubber which provides great grip and a lug pattern that isn't aggressive but does bite well and hike comfortably. The midsole is stiffer for better pedal performance, but the sole is more flexible as you move forward, for walking comfort.

They are rated to -3ºC according to Northwave, but I'd gladly wear them in temperatures at least five degrees colder. The fit runs a bit small, so if you plan to wear thick socks, order a size up (they're not offered in half-sizes).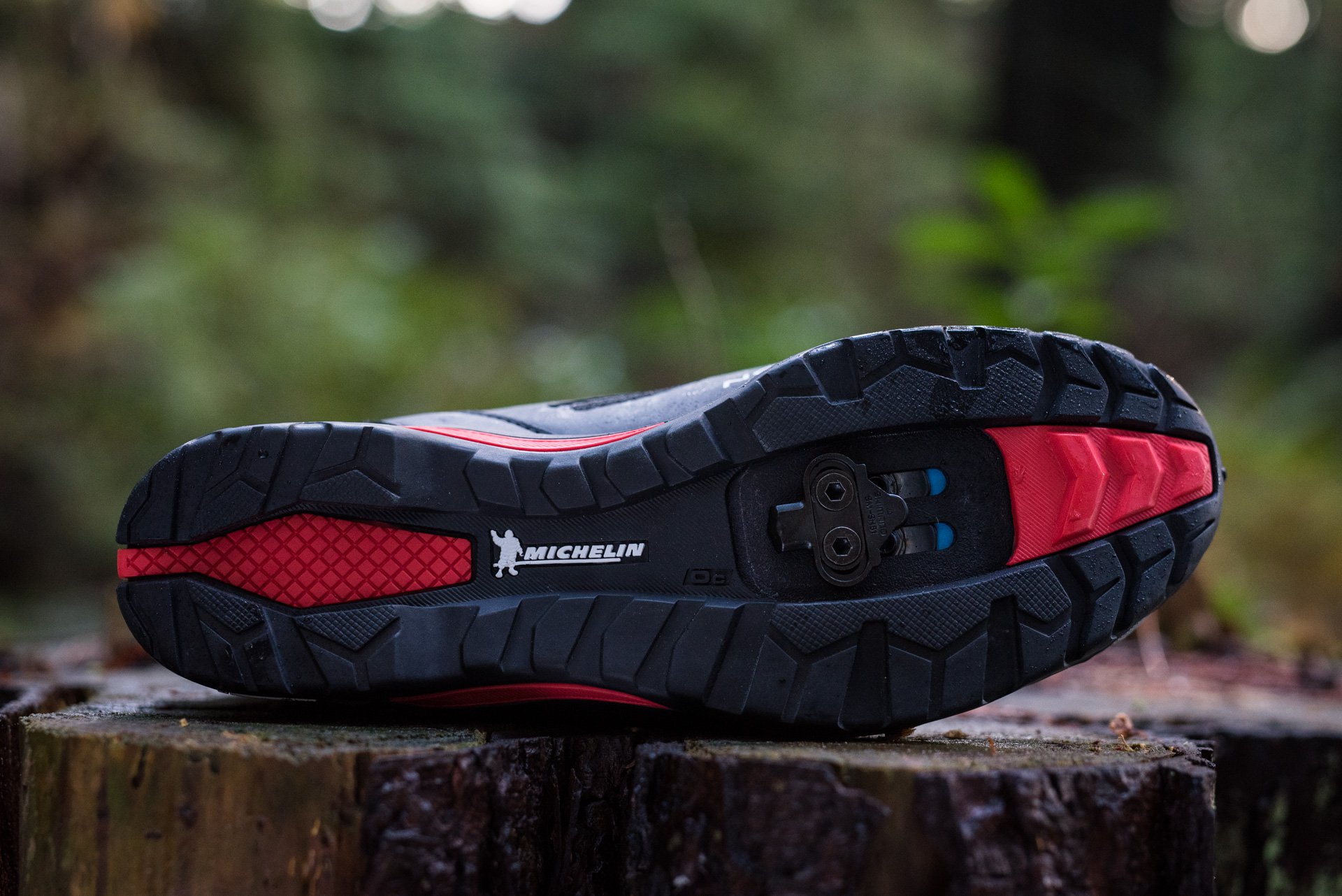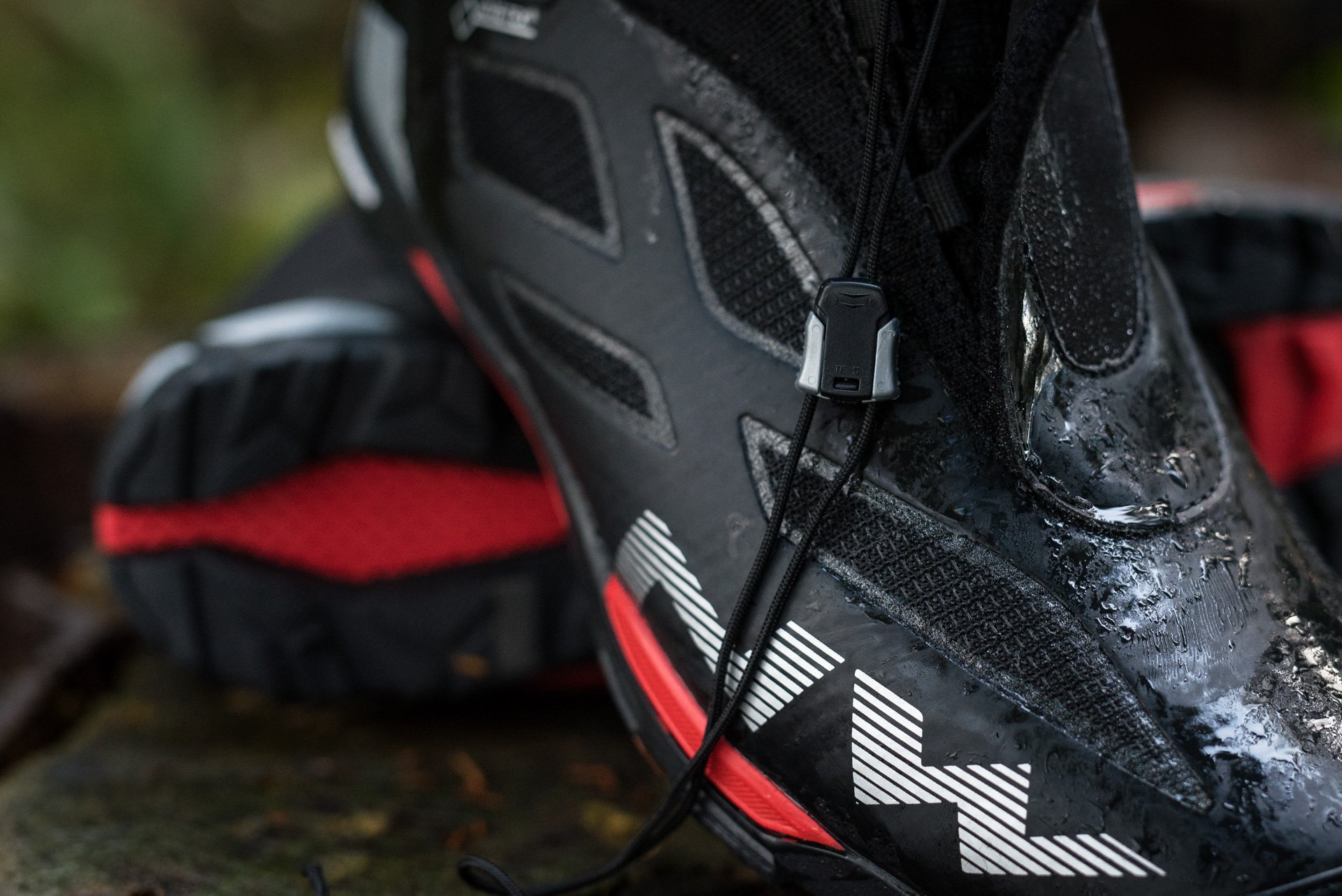 Fit
Pull them on, yank on the speed lace, tuck it in, fasten the two straps, and you're set. The heel cups are snug and the rest of the shoe conforms nicely to the foot. What I did feel was lacking in the X-Arctic GTX shoe is arch support. As usual, with a shoe investment like this, aftermarket insoles like those offered by SQ labs or others are a worthy investment that will greatly enhance arch support, comfort, resistance to fatigue, and a feeling of precision when you're wearing the shoe. You would lose out on the Gore-tex footbed, though, so you'd have to weigh that option slightly.
Riding
The outsole is slightly stiffer than the Shimano MW5s I just reviewed - not so much that it makes hiking uncomfortable, nor will they replicate the stiffness of your summer XC shoes, but they're plenty firm for pedaling. The cleat recesses offer a decent amount of fore and aft adjustment, and I had no problems with cleat interface on Shimano XT and XTR trail pedals - they are easy to clip in and unclip.

Waterproofness
The mesh cutouts on the side of the shoe may make them look like water can sneak in, but it's a deception. I stood in water, crossed ankle deep streams, and rode on some extremely wet days in the X-Arctics, and my feet did get wet, but only on days when the water was coming in from the top. The neoprene cuff was up to the task of keeping the water out once when I chose a foothold poorly and stepped in a hole, but otherwise, it will let water in eventually. However, below the neoprene, they're impervious. And, since they breathe well and aren't bulky, I really can imagine using them in the fall and the spring on days when I expect to get wet feet.
Unless you're riding in truly cold weather (lower than -8 C), the Northwave X-Arctic GTX will make a fine choice. Even better if you need stalwart waterproofness and will be able to appreciate the extra breathability of the gore-tex membrane, which will keep your feet more comfortable in warmer temperatures. At 315 CAD / 220 USD, they're sneaking into the upper echelons of shoe pricing, but if you value your riding comfort in bad conditions, these will certainly help you stay out there longer with drier, warmer feet.
Find out more about the Northwave X-Arctic GTX here. They are available in sizes 36 - 47. Northwave have gone consumer direct in North America, and their selection of shoes available is listed here. It doesn't include the X-Arctic GTX (now known as X-Cross) but if you hunt around a bit with online stores, you should be able to find one that'll ship them to NorAm.